If you're in one of the nine midwest or East Coast states with access to The Edge Fitness, then it's probably one of the gyms you've considered joining.
Memberships are affordable, especially at the lowest tier, and there's a lot of appeal thanks to the numerous classes, the women-only classes, the women-only fitness room, and a great variety of equipment on the main training floor.
Showers are also a must for most people considering joining a new gym, so let's see if The Edge Fitness has showers, and if so, what they're like.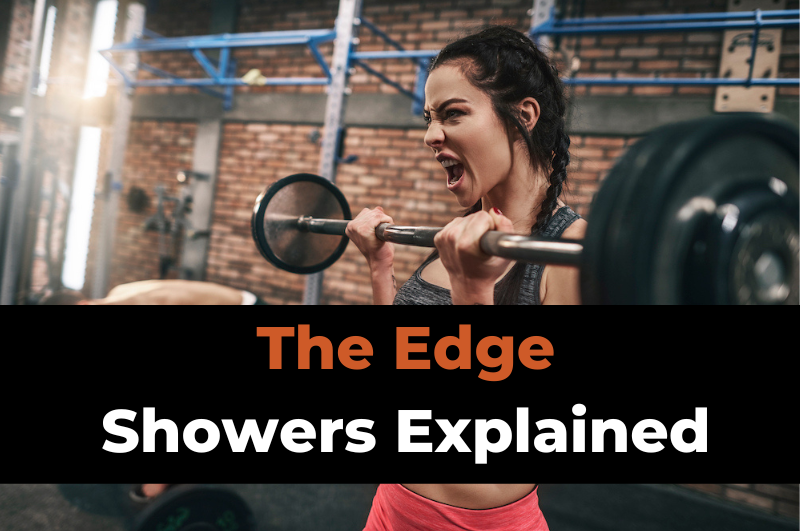 Good news for commuters — all The Edge Fitness clubs have clean, private showers and spacious locker rooms. Just don't expect to find soap or complimentary towels in most locations. Plan on bringing your own toiletries.
Let's take a closer look at The Edge Fitness showers with photos and more!
---
Does The Edge Fitness Have Showers?
Thankfully, all Edge Fitness locations have showers with state-of-the-art locker rooms and changing rooms alongside.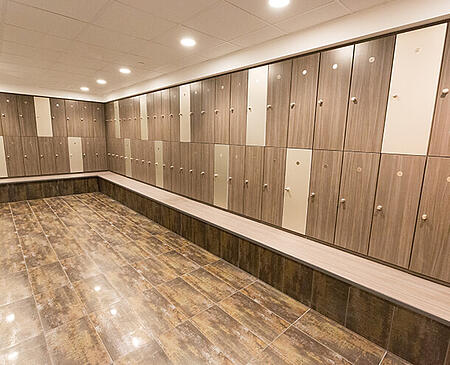 You can hop right in after your workout — perfect for helping your muscles recover and looking your best if you're headed into the office.
The showers are all side by side but the stalls are separate and pretty private, so you'll have no problem feeling secure when you're washing off after a workout at The Edge Fitness.
---
Does The Edge Fitness Provide Soap or Shampoo?
Nowhere on The Edge Fitness website states there's soap or shampoo available at the gym. No members have posted on social media about its availability, either.
There's also an article on The Edge Fitness's website describing what you should pack in your gym bag, and soap/shampoo is listed.
With all of these factors in mind, it's pretty safe to assume you'll have to bring your own soap and shampoo to The Edge Fitness.
This shouldn't be a dealbreaker, though—memberships at The Edge Fitness are pretty affordable compared to some larger gyms, so it's reasonable to expect you to bring your own stuff.
The lowest-cost membership is under $20, and it's pretty rare to find a gym that affordable. Most gyms in that price range don't provide soap or shampoo in the shower area, either.
So, your experience at The Edge Fitness is perfectly standard in terms of the lack of soap/shampoo availability.
(Read more about a membership at The Edge in our full review.)
---
Does The Edge Fitness Provide Towels for The Shower Area?
There's also no mention of towels provided in the shower area, so again, it's safe to assume you should bring your own.
Once again, it's not unreasonable to have to bring your own towel to an affordable gym that already has so much to offer you in terms of classes and ways to work out.
Some towels are available at the gym, but these are just workout/sweat towels and won't be big enough to use after a shower.
Well, not unless you forgot your towel and have no other option!
Although, you should note that even basic sweat towels at The Edge may incur an extra cost for all members
Having to buy your towel will help you remember to bring your own next time, that's for sure!
---
Photos & Descriptions of The Edge Fitness Showers
The showers at The Edge Fitness are simple, but they're nice.
They have a similar look across many, if not all locations, with dark tiled floors and light walls. They look very clean and approachable, and members have described them as clean, too.
The shower stalls themselves have frosted doors that nobody will be able to see through. They're frosted to the extent that you won't even be able to see your silhouette through them while you're in there — providing plenty of privacy.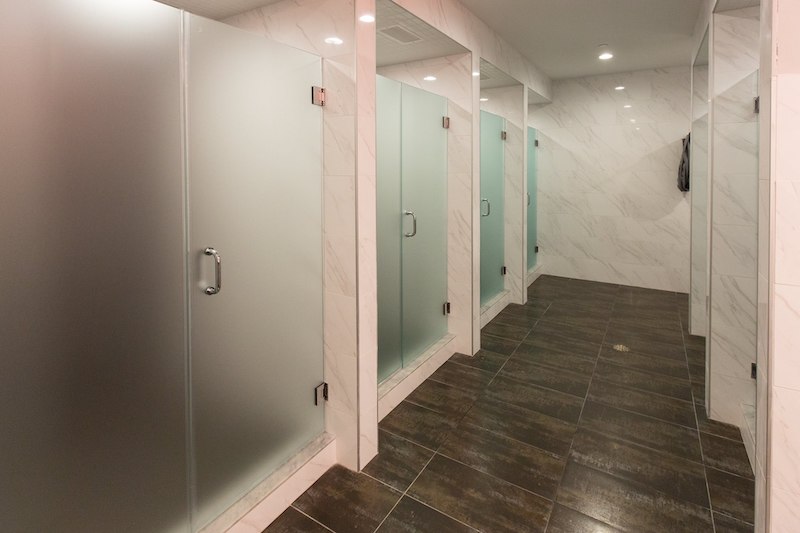 Each stall is also pretty wide, so larger-bodied people will be able to shower comfortably.
That's a major plus, as there are some gyms with tiny shower stalls that aren't fit for bodybuilders or anyone overweight.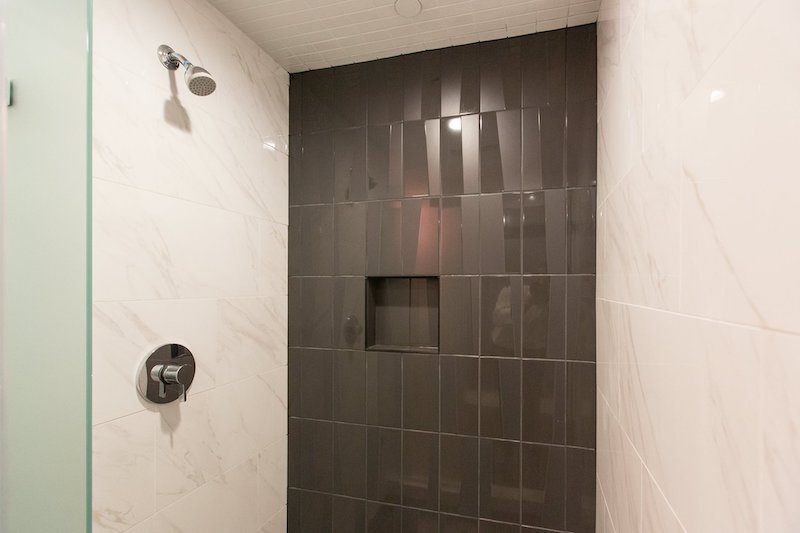 There are railings inside the showers, too, so if you need a little extra help staying upright, then you'll be very pleased.
The showers are attached to spacious locker rooms that, even at crowded times, will feel pretty accommodating.
Like the showers, light walls and dark floors give the place a very clean and straightforward feel.
The lockers themselves are also dark with the occasional light one thrown in to form an aesthetic pattern that feels a little luxurious. In terms of configuration, the lockers are stacked in rows of two.
Benches run all the way around underneath the lockers so you'll have plenty of space to sit down and dry off, rest, or get dressed.
The locker rooms also have trash facilities you can use if needed, so you won't have to carry home empty shampoo bottles if you run out while at the gym.
All in all, the locker rooms are pretty nice and spacious, the shower stalls are clean and roomy, and you'll have no problems with the facilities in general.
---
Wrapping Up
The Edge Fitness has appealing showers and a nice locker room for its members to use before or after a workout.
You won't find any fancy toiletries or towels available, but there are sweat towels available for sale in an absolute emergency. Hopefully you'll never be in that situation, though!
Getting clean and winding down after your workout will be a comfortable affair, and the facilities are clean and visually pleasing enough to ensure you're not put off by this area of the gym.
For more guides, check out:
Hope this helps!