Planet Fitness is one of the most-known fitness franchises in the US.
It regularly increases in popularity and excels in enticing non-gymgoers to start working out left, right, and center.
It's one of the best and most welcoming gyms for beginners, plus the pricing is incredibly affordable, so it's no wonder PF is so popular.
But have you ever wondered who's behind this incredible franchise and where it all started?
Let's take a look at who owns Planet Fitness, current CEO and board members, corporate, and franchise details.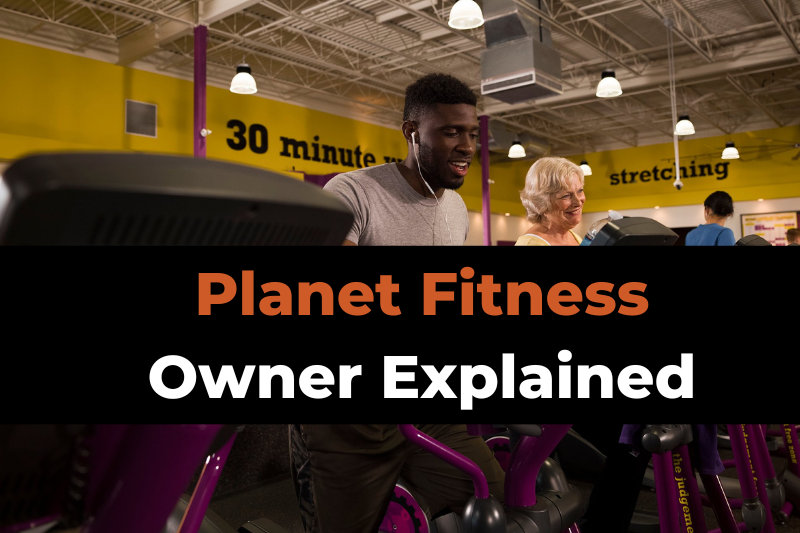 Planet Fitness is a publicly traded corporation that owns and operates about 80 commercial gym locations. The rest of its over 2,000 facilities are independently owned and operated by franchisees that follow strict branding and financial requirements. The current CEO of Planet Fitness, Chris Rondeau, has been with the company since its humble beginnings in the 1990s.
Let's dive deeper!
---
Planet Fitness's Origin
Planet Fitness was founded by brothers Michael and Marc Grondahl in 1992. They opened the first location in Dover, New Hampshire.
However, Planet Fitness wasn't always the Planet Fitness you know and love today.
In 1993 they took on college student Chris Rondeau, who worked at the front desk. However, he later took on a much more important role.
In 1994, the brothers officially changed the gym's name to Planet Fitness, although they didn't own the name at the time.
It wasn't until 2002 that the Planet Fitness you know today came around. They purchased the name Planet Fitness from another gym owner, Rick Berks.
Despite not owning the name Planet Fitness for the first decade of their operation, the Grondahls and Rondeau had their branding on point from the start.
The current Planet Fitness franchise is known for being a judgment-free zone; it's a place where everyday people, not just fitness fanatics, can go and work out.
The Grondahls and Rondeau but in the work to refine this brand for over a decade, ending up with a thoroughly low-cost, non-intimidating environment that caters to people of all fitness levels.
By 2003, they had four Planet Fitness locations open, although they had yet to officially franchise.
They opened their fifth location in Florida in 2003, with Eric Dore and Shane McGuiness, and they officially began franchising.
As of this writing, there are about 2,000 Planet Fitness locations worldwide!
---
Corporate Owned Planet Fitness
The team has expanded since the original group that franchised back in 2003.
The Grondahls have stepped away from working at the franchise, but Chris Rondeau took over as CEO of Planet Fitness (PFIP LLC) in 2013.
Chris Rondeau is currently, as of this writing, the CEO of Planet Fitness.
There are now over 2,000 locations open now across North America, Canada, Mexico, Panama, the Dominican Republic, and Australia.
Clearly, they've come a long way since the Grondahls acquired that struggling Gold's Gym back in 1992.
Planet Fitness Board of Directors and Other Key Employees
The franchise now has a vast board of directors and numerous key employees making it the success it is today.
The board of directors at Planet Fitness is as follows:
Stephen Spinelli, Jr. (Ph.D.), Chairman
Chris Rondeau (CEO)
Bernard Acoca
Enshalla Anderson
Craig Benson
Cammie Dunaway
Frances Gregg Rathke
Christopher Tanco
Many of the people above also hold (and previously held) notable positions on the boards of other large companies such as El Pollo Loco, Starbucks, DuoLingo, 7-Eleven, and more.
All current board members joined between 2016 and late 2021, with the exception of the CEO.
Other notable parties within the company include:
Dorvin Lively (President)
Ray Miolla (Chief Development Officer)
Tom Fitzgerald (Chief Financial Officer)
Bill Bode (Chief Operations Officer)
Jamie Medeiros (Chief Brand Officer)
Justin Vartanian (General Counsel)
Shane McGuiness (President of Corporate Clubs)
Kathy Gentilozzi (Chief People Officer)
Sherrill Kaplan (Chief Digital Officer)
Mary Bradley (SVP, Corporate Clubs)
Brian O'Donnell (VP, Chief Accounting Officer)
Chris Lavoie (SVP, Technology)
Jennifer Simmons (SVP, Business Strategy and Analytics)
McCall Gosselin (SVP, Communications and Corporate Social Responsibility)
They each have a hand in keeping Planet Fitness running as the corporate entity it is.
However, there are some independently owned franchises that they don't have a hand in.
---
Independently Owned Planet Fitness Franchises
As of 2019, about 80 Planet Fitness locations were corporate owned and operated, with the rest being independent franchise locations.
This includes other gyms bought out by Planet Fitness.
For example, Planet Fitness's acquisition of over 100 independently franchised locations owned by Sunshine Fitness made news in 2022.
Shane McGuiness co-founded Sunshine Fitness and its 114 Planet Fitness locations in 2017, and he now oversees these locations plus several more in the corporate Planet Fitness portfolio.
Distinguishing Between Corporate and Individual Planet FItness
Currently, it's impossible to distinguish between independently owned and regular corporate Planet Fitness locations.
(Most are independently owned, however.)
This is because Planet Fitness has such solid branding across every single location, be it corporate or independently owned.
Each location offers similar amenities and services, has similar-looking facilities, and has more or less the same pricing.
Even independently owned franchises charge only $10 a month for a regular 12-month contract membership or $24.99 for a black card membership.
One minor difference you may find when researching Planet Fitness gyms is that gym A might let you pay upfront for an annual membership, but gym B won't have this option available.
There's nothing to indicate whether either gym is corporate or individual.
Some locations also have a $15/month "No Commitment" offer where you can cancel your membership at any time, but once again, it's impossible to tell if it's an individual or corporate gym.
Who Can Own An Individual Planet Fitness Franchise?
The solid branding and near-identical nature of corporate and independently owned franchises may be due to the requirements that anyone wanting to start a franchise must meet.
All potential Planet Fitness franchisees must have a minimum net worth of $3 million alongside one and $1.5 million in liquid assets.
Corporate-owned Planet Fitness truly wants to ensure that any independently owned franchises are in good hands.
Franchisees must also pay a 5% royalty fee to corporate on all sales made at any of the independently owned and operated facilities.
This is alongside paying a $10,000 franchise fee to obtain a renewable 10-year agreement.
It's likely there are numerous independently owned franchises as despite the requirements and costs, owning a Planet Fitness franchise is highly lucrative.
Plus, the 5% fee individually owned franchises must pay to corporate is very fair.
It's this low fee that most likely makes it possible for independently owned franchises to maintain that low $10 a month cost for regular members.
However, as of June 2022, Planet Fitness is not accepting franchising offers in the US.
---
Wrapping Up
Planet Fitness seemed to perfect its business model early, and the current CEO has been working at the franchise almost right from the start.
They really got their branding nailed solidly so that it's impossible to differentiate between individual and corporate-owned franchises and locations.
Although the brothers who founded the franchise are no longer involved in its running, it's safe to say Planet Fitness is in good hands and its reputation is in keeping with the vision the brothers had for it three decades ago.
For more, read a full Planet Fitness review here! And don't miss:
Hope this helps!