Crunch Fitness is a popular US and international gym franchise with over 400 locations worldwide.
These 400 locations are a mix of individual and corporate-owned franchises.
It's a popular choice for fitness fans looking for an affordable gym option. Even its highest-tier membership is more affordable than many of the mid-range gyms out there.
But who's behind this fitness franchise?
Let's take a look at who owns Crunch Fitness, current CEO and board members, corporate, and franchise details.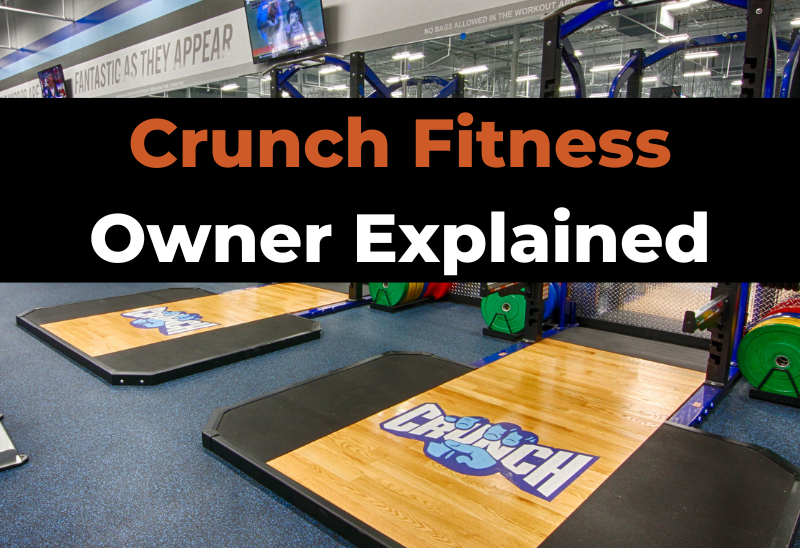 Crunch Fitness was founded in 1989 by Doug Levine. Today, Jim Rowley operates as worldwide CEO while Keith Worts is CEO of Crunch-operated clubs. Ben Midgely is franchise CEO at Crunch Fitness. Crunch clubs are a mix of corporate owned and franchise clubs, with branding and facilities being near identical across all locations!
It's good to know who's in charge before you join a gym, so let's dive into the history behind Crunch Fitness and find out.
---
Crunch Fitness's Origin
Crunch Fitness has been around since 1989.
It was founded as a single fitness studio by Doug Levine, and it quickly became a popular choice for young, upscale members to attend.
The chain sold logo merchandise these younger members found appealing, and that vastly helped contribute to the company's growth.
Several more Crunch Fitness locations opened over the years, before the brand was eventually sold to Bally Total Fitness for $90 million back in 2001.
It passed hands several more times over the years; it was acquired by Angelo, Gordon & Co in 2005, then TPG in 2019. Both of these are private equity firms.
It's fair to say that the franchise has come a long way from its humble origin of being opened by a former humble stockbroker.
Currently, Mr. Levine is the CEO and board member of several companies, but he appears to have moved on from Crunch Fitness. On his LinkedIn, he displays his Crunch position as ending in 2002.
---
Corporate Owned Crunch Fitness
These days, Crunch Fitness has several CEOs behind the company.
Jim Rowley is Worldwide CEO of Crunch Fitness.
Keith Worts works as CEO of all the company's owned and operated clubs. He's also CEO of the overall Crunch Signature Brand, and president of the company. Lastly, Ben Midgely is CEO of the Crunch Franchise.
Crunch Fitness Executive Employees
Alongside the CEOs mentioned above, there's a vast team of other employees working for the corporate franchise, too.
There's currently a team of executives operating the franchise:
Tony Hartl (Chief Executive Officer)
Daniel Gallagher (Chief Financial Officer)
Jay King (Chief Operating Officer)
Derek Gallup (Executive Vice President)
Chad Waetzig (Executive Vice Presidents of Marketing and Branding)
Crunch Fitness Vice Presidents
Crunch Fitness also has a vast team of Vice Presidents working in various branches of the company to keep it running smoothly.
Brent Saul (Vice President of Construction)
Mike Neff (Vice President)
Dean Moloney (Vice President)
Craig Pepin-Donat (Executive Vice President & Partner, Crunch Franchising, LLC)
Brian Kunkel (Vice President of Real Estate)
Dan Managan (Regional Vice President)
Lynn Cunningham (Regional Vice President NY & Mid Atlantic)
Michael Blouin (Senior Vice President, Corporate Development)
Kerrie Breslin (Vice President of Construction)
William Coker (Vice President of Fitness)
Dustin Gutkowski (Regional Vice President of Sales and Fitness)
Maggie Stevens (Executive Vice President)
Ron Alterio (Vice President of Personal Training)
Peter Cosentino (Vice President of Personal Training)
Scott Morris (Vice President of Operations)
Jennifer Renfroe (Senior Vice President of Group Fitness)
Tim Welsh (Senior Vice President of Development)
Adrian Barlett (Vice President of Training and Development)
Kate Weis (Vice President of Marketing)
Other Notable Employees
Lastly, there are several other employees holding a position of power within the company. They're named below.
Lauren Altiera (Director of New Gym Openings)
Liz Effert (Director of Marketing)
Terry Merriett (Director of Compliance)
John Merrion (Director of Sales)
Luis Vega (Creative Director)
Michele Bastos (Regional Group Fitness Director)
Kevin Fraser (Regional Director, East Central)
Kendall Hogan (Regional Group Fitness Director)
Hannah Karass (Regional Director, East)
Percy Reynolds (Regional Director, West Central)
---
Individually Owned Crunch Fitness Franchises
Crunch Fitness isn't shy about sharing information regarding how to start your own franchise.
As of this writing, all partners planning on starting a franchise together must have at least $1 million in net worth between them. The same applies to any individual prospective franchisee.
On top of the net worth, they must also have between $300,000 and $400,000 in liquid capital. This is to ensure they get the proper financing required to own and operate the chains.
Franchisees are required to obtain their own financing, although corporate Crunch Fitness may introduce franchisees to companies who lent to franchise owners in the past. They're also responsible for their own marketing.
Crunch Fitness is so open to people opening their own franchises that they've even got a franchising page on the Crunch Fitness website.
There's also an FAQ page that answers many questions potential franchisees may have.
Distinguishing Individually Owned from Corporate Crunch Fitness Locations
It's difficult to distinguish individually owned and corporate locations, as Crunch provides franchisees with a construction manual.
Corporate Crunch puts together the floor plan, and they provide a branding package to ensure all individually owned clubs are identical to corporate locations.
They also advise franchisees to charge the same for a membership as corporate locations. However, pricing can vary at both individually owned and corporate units.
This helps keep marketing consistent and it reflects on the attention to detail that the entire Crunch Fitness brand holds dear.
Who Are the Individual Crunch Franchise Owners?
Most Crunch Fitness franchisees have chosen to remain anonymous. Despite the anonymity, they seem to enjoy owning and operating their franchises.
Three separate anonymous franchisees have weighed in on the franchising system here.
Despite most franchisees remaining anonymous, there are, however, a few names you can find online.
Daniel Caskey is a franchise owner, and Maria Turco is an NJ and NY franchise owner. Chris Pacifico also made news in 2020 for opening a Crunch Fitness location.
Crunch Fitness also announces a Franchisee of the Year annually to celebrate the hard work put in by individual owners. The 2022 winner was owned by Crunch Fitness CEO, Tony Hartl.
There's no list of previous winners available online, and it's unclear whether or not those who win are always a part of the corporate team. However, it does show that other corporate team members may also own their own Crunch franchises.
---
Wrapping Up
Corporate and individually owned Crunch Fitness franchises are heavily interlinked, and that's what makes their overall brand so solid.
It's the solid branding that helped launch Crunch Fitness into success back in the 90s, too.
Although ownership has changed hands a few times and Doug Levine, the original owner, is no longer involved, it's safe to say Crunch Fitness remains in good hands and good standing.
The franchisees are well-supported, and corporate-owned franchises are doing their best to create a welcoming environment for all.
Now, see:
Hope this helps!