Not everyone can hit the gym during typical business hours, so that makes 24 Hour Fitness a popular choice for many busy people across the US.
It's currently the fourth largest chain based on the number of clubs it has open, with somewhere around 300 stretching across 13 states.
However, it's the second largest club in terms of revenue, sitting only behind LA Fitness.
It's a good idea to know who's behind any company you get into business with:
So let's take a look at who owns 24 Hour Fitness, current CEO and board members, corporate, and franchise details.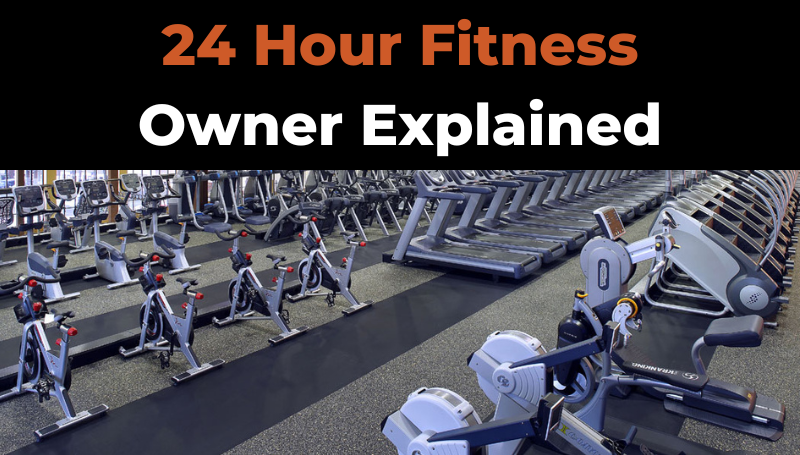 24 Hour Fitness is a big box gym chain owned by Sculptor Capital Investments LLC, Monarch Alternative Capital LP and Cyrus Capital Partners LP. Karl Sanft is the current CEO, COO, and President of the company — good for him! Research indicates 24 Hour Fitness locations are corporate/privately owned and not operated by franchisees at this time.
As such a popular option for many gym-goers, you might start to wonder how 24 Hour Fitness began and how operations are looking today. Let's explore its origins and see what it's taken to keep it running over the years.
---
24 Hour Fitness's Origin
Back in 1983, Mark Mastrov founded 24 Hour Fitness, but it wasn't always the 24 Hour Fitness you know of today.
Mastrov had a knee injury that required rehab. He found using a local gym was very helpful for his rehabilitation, and apparently, he became so fond of the place that he bought it out and turned it into a 24-hour Nautilus facility.
Not long after he bought out the gum, he renamed it 24 Hour Nautilus. It wasn't until many yers later that the name "24 Hour Fitness" came along.
The company merged with "Family Fitness," a California-based company, in 1996. Both bands came through the merging as the solidly rebranded 24 Hour Fitness it's known as currently.
It's kept its 24 Hour Fitness branding over the years despite changing ownership several times.
It was bought by Forstmann Little & Co in 2005, then again to Ontario Teachers Pension Plan and AEA investors in 2014.
24 Hour Fitness took its biggest hit in 2020, when it was forced to file for bankruptcy.
However by the end of the year its new owners—Sculptor Capital Investments LLC, Monarch Alternative Capital LP and Cyrus Capital Partners LP—had it back up and running.
Since then, corporate has changed a lot of their positions and let numerous employees go in an attempt to recover from their bankruptcy.
---
Corporate Owned 24 Hour Fitness
The 24 Hour Fitness USA Inc. gym chain is still owned by Sculptor Capital Investments LLC, Monarch Alternative Capital LP, and Cyrus Capital Partners LP as of August, 2022.
The current CEO of 24 Hour Fitness is Karl Sanft, who has been in his position since June of the same year.
Karl Sanft is also the COO and president of the company and took over his role from acting CEO Tony Ueber. It took five months for the company to find a CEO willing to take over.
24 Hour Fitness Board of Directors
The current board of directors has been in place since 2021. They were welcomed to the company under Tony Ueber's operation and remain there working under current CEO Karl Sanft.
The board of directors is:
Michael Barnett
Patrick Fallon
John Rapaport
Dolf A. Berle
Deepen Parikh
Lori Tauber Marcus
Each board member has vast experience in heading large companies across various parts of the business world. Deepen Parikh in particular has vast experience funding fitness and wellness-based companies.
They've all had long and successful careers holding high positions in the business world, and they seem to be doing the newly-revived 24 Hour Fitness the world of good as it's still as popular as ever post-bankruptcy.
Other Key Employees at 24 Hour Fitness
Some other notable employees at the company include:
Jeff Boyer (Executive Vice President and Chief Financial Officer)
Chris Schmidt (Senior Vice President of Club Operations)
Jill Rankin (Senior Vice President of Marketing)
Meredith Klausner (Vice President of Human Resources)
Nico Drohojowski (Vice President of Finance)
Beth Smits (Senior Vice President of Operations and Services
Stefanny Gonzalez (Regional Vice President)
Stefanie Chenok (Regional Vice President)
Andrew Dewey (Regional Vice President)
Dean Myatt (General Counsel)
Kathy Deibert (Vice President and Corporate Counsel)
Bruce Banker (VP Real Estate)
Matt Calchera (Sr. Director, Club Fitness Experience)
Most of the employee lists you'll find online are several years out of date, and many of the employees have moved on. This is the most up-to-date list you'll find as of late 2022.
---
Individually Owned 24 Hour Fitness Franchises
Unlike many other large gym chains, 24 Hour Fitness hasn't shared a lot of information regarding franchising or franchisees.
Although, 24 Hour Fitness is noted as being privately owned, so the lack of information may be because there are no individually owned 24 Hour Fitness franchises.
There's also no information available on whether or not 24 Hour Fitness plan on franchising in the future. As the company has partnered with Special Strong, it seems unlikely.
Special Strong seems to be focusing on partnering only with individually and privately owned gym chains, hence the unlikelihood of 24 Hour Fitness franchising any time soon.
Corporate 24 Hour Fitness is currently focusing on keeping as many clubs open as possible after filing for Chapter 11 bankruptcy in 2020. In fact, they had to close over 100 locations at the time.
They're also focusing on opening more corporate clubs right now, so franchising doesn't seem like it's on their minds. They're a little behind other 24/7 gym chains such as Snap Fitness and Anytime Fitness in that regard.
However, they have stated that the sky is the limit going forward, so franchising may be in the company's future. Maybe they just haven't found the right franchisees to help out just yet.
Plus, as one of the highest-earning gym chains in the United States, it seems they're doing well enough without any independently owned franchises helping boost cash flow.
---
Wrapping Up
The 24 Hour Fitness brand you know today has come a long way since it opened in the 80s. It changed hands a few times, and it's been through one of the toughest things any company can go through — bankruptcy
Despite the hardships, 24 Hour Fitness members still love the convenience of a 24-hour club, and it seems the company is coming through its hardships stronger than ever.
It's possible that one day 24 Hour Fitness will take on some franchisees to open individual 24 Hour Fitness franchises. However, right now the company is focusing on recovering after its bankruptcy scare.
For more, check out:
Hope this helps!