In the digital age, fitness classes are more accessible than ever. Peloton is leading the way, with digital classes people can access from home, along with state-of-the-art bikes, treadmills, and now rowing machines that all but eliminate the need for a gym membership at all!
Peloton is pretty new as far as fitness companies go, so let's take a look at just how new the company is. And if you're curious:
Who owns Peloton? What's the corporate structure and is there a parent company behind the scenes?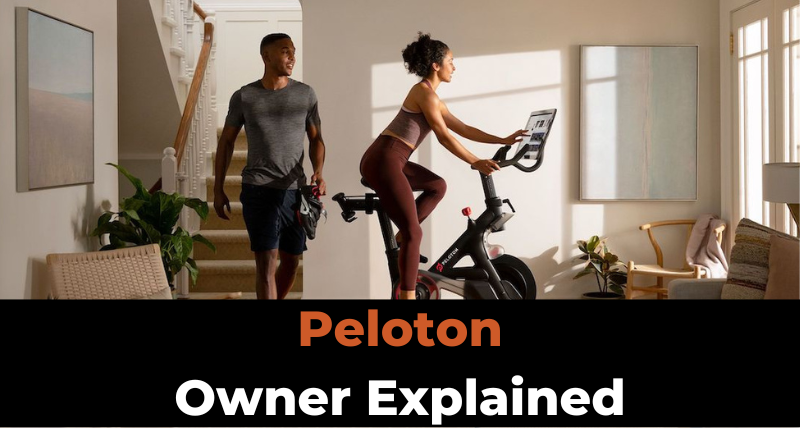 Peloton was founded in 2012 by Tom Foley and others. However, after massive disruptions and challenges posed by the pandemic, Barry McCarthy has taken over as CEO. Peloton is still privately owned and is not under the control of a larger parent company.
Let's learn more about the origin and ownership of this cutting-edge fitness tech company!
---
Peloton's Origin
Peloton Interactive, Inc. only got its start in the early 2010s, making it a very new fitness company compared to many of the notable ones out there.
John Foley had the idea for Peloton Back in 2011.
At the time, he wasn't in the fitness industry at all. Instead, he was a New York Barnes & Noble executive.
He pitched his idea to Tom Cortese, a colleague of his. His initial idea was of technology that would enable people to experience a high-end studio cycling class from home.
John Foley, Tom Cortese, Yony Feng, and Hisao Kushi officially founded the company in 2012, and people had high hopes for it.
The company managed to raise $400,000 to help it grow in February 2012. By December, it was big enough to be able to raise another $3.5 million.
The company wasn't yet officially in business. It wasn't February 2013 that it sold its first bike via Kickstarter. It sold at $1,500.
The company officially began selling bicycles in 2014, after releasing Internet-connected stationary bikes complete with a tablet.
Peloton was an immediate success. It had showrooms in malls all around the United States, letting people try out the bicycles and giving them a taste of the workouts.
It wasn't just people who bought the stationary bikes that got to enjoy the workouts the company had to offer. People could also stream the online classes for a fee, even without one of the company's signature stationary bikes.
After only four years of selling the bicycles, Peloton released a treadmill in January 2018, called Tread+.
In May of the same year, the company announced it was constructing a flagship studio in Manhattan West, and it also had plans to expand into the UK and Canada.
It wasn't all smooth sailing for Peloton, though. In 2019 it faced a significant lawsuit of $300 million because it used copyrighted music in some of its videos.
However, the company quickly recovered after settling the lawsuit in 2020, and it's still going strong today. As of April 2022, the company was valued at $8 billion.
Part of the company's success is due, to how it was founded as an online-only company and has remained a largely online-only company ever since. It's one of the few fitness companies that didn't take a major hit when the COVID-19 pandemic hit in 2020.
In fact, the company's sales soared in 2021, so much so that there were shipping delays that led to numerous canceled orders. Those in charge did what any smart team would do and invested $100 million into shipping solutions to keep customers happy.
Now, Peloton remains popular, although the rapid increase of sales seems to have slowed for now and the company actually had a loss during a later quarter of 2022.
The company has since looked into alternative ways of distributing its products, such as on Amazon, in the hopes that it can continue to grow.
It also released a rowing machine in 2022 to help keep things fresh and hopefully increase sales.
---
Corporate Owned Peloton
Tom Foley was the main founder of the company when it was officially founded in 2012, and naturally, he was the first CEO.
He seemed to have an easy time as CEO as the company's success snowballed, but he stepped down in February 2022.
He still had around 35% voting power in the company after stepping down and becoming the executive chairman.
The new Peloton CEO and president, Barry McCarthy, has been in charge since Foley stepped down.
McCarthy used to work as the chief financial officer for Netflix and Spotify, so he clearly has plenty of experience in working with large streaming-based companies.
McCarthy has done some great things for Peloton. For example, starting in March 2022, Peloton started testing a new pricing structure to help them increase sales and retain customers. It began a bike rental scheme so members no longer had to buy the equipment outright.
In April it also had some major pricing changes, raising subscription prices for those who already owned Peloton gear, while lowering the cost of buying new pellet on equipment outright.
This was just the start of some major changes that the new CEO made within the company.
Over the next few months, hundreds of jobs were eliminated or outsourced, as was the manufacturing of Peloton products.
Many of these changes were made in the hopes to decrease expenses and increase profit. The new CEO's top priority seems to be getting profits back up and selling used inventory to help do so.
Changes in corporate workings are still occurring. John Foley stepped down from his position in September, along with chief commercial officer Kevin Cornils, and chief legal officer Hiaso Kushi.
A couple of FAQs people have about Peloton:
Is Peloton a Chinese company? No, Peloton was founded in the United States and is headquartered in New York. It does have international offices and studios in London, Germany, and other places.
Does Amazon own Peloton? No, Amazon does not own Peloton, nor does any other parent company. Peloton did recently begin selling its equipment on Amazon, though, in an effort to move more units.
Peloton Board of Directors and Key Employees
Due to all the changes Peloton's corporate team has gone through in 2022, many employee lists you'll find online are outdated.
Even the list on Peloton's own website has yet to be updated after the employee departures in September 2022. For example, Hiaso Kushi is still cited as both co-founder and chief legal officer, when he no longer holds the latter position.
The current Board of Directors is listed on the Peloton website. The website is only a little outdated in some areas, so it's highly likely the board below is still up-to-date:
Karen Boone (Chairperson)
Erik Blachford
Jay Hoag
Pamela Thomas-Graham
Jon Callaghan
Angel L. Mendez
Johnathan Mildenhall
The Current CEO is also on the board.
Many stakeholders and online publications believe the board is in dire need of a refresh, as all of its members currently have direct connections to former CEO John Foley.
Other Key Employees
There are also several other key employees that Peloton deems noteworthy on its website. These people are all cited as leaders:
Liz Coddington (Chief Financial Officer)
Tom Cortese (Co-Founder and Chief Product Officer)
Jennifer Cotter (Chief Content Officer)
Dion Camp Sanders (Chief Strategy Officer)
Shari Eaton (Chief People Officer)
Andrew Rendich (Chief Supply Chain Officer)
---
Wrapping Up
Peloton's corporate team remained static for most of the company's lifespan, but in 2022, things started to shuffle around.
Hopefully, these major changes, which are the first in the company's history, will see Peloton finding even more success as time goes on.
The last few years have been a struggle for most companies in the fitness industry — all industries, really — but Peloton's popularity remains as strong as ever.
For more guides, check out:
Hope this helps!