LA Fitness is a gym chain that, despite the name, has over 700 locations dotted across the US and Canada.
Although it started in LA and is based in California, the gym chain is one of the most popular all across the United States.
You'll find LA Fitness on almost every list of peoples' top gym choices, and for good reason. It's a well-managed chain with clean facilities and a lot of appeal, so let's see where it all started.
Let's take a look at who owns LA Fitness, current CEO and board members, corporate, and franchise details.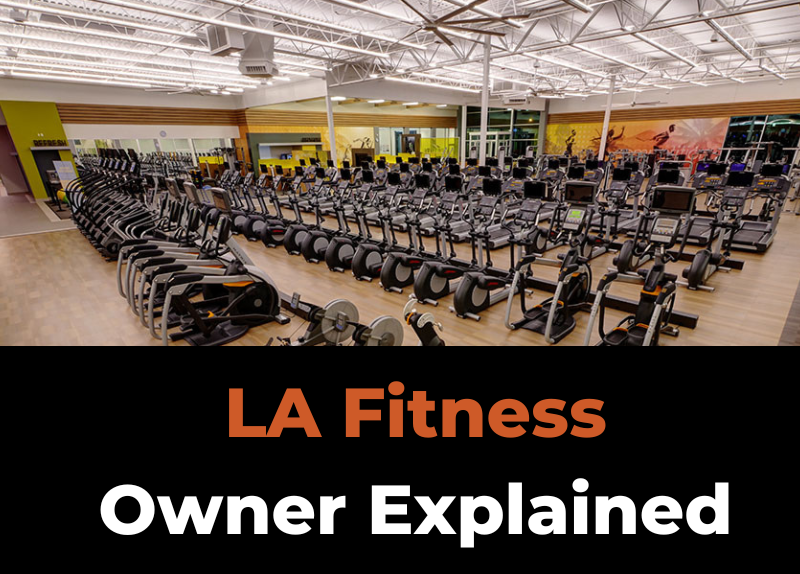 LA Fitness is a private, corporate gym chain owned and founded by Louis Welch and Chin Yol Yi. The brand has been around for nearly 30 years and has expanded rapidly by buying up struggling gym brands and converting them into LA Fitness clubs.
Let's look a little closer!
---
LA Fitness's Origin
LA Fitness was founded in Covina, Los Angeles, California, back in 1984.
It was founded by Louis Welch and Chin Yol Yi, and some sources believe either Lisa Maria Novins or Paul Norris were involved in the founding, too.
Louis Welch and Chin Yol Yi are the ones who are typically noted as the founders of LA Fitness.
Not much is known about Lisa Maria Novins, but Paul Norris has made the news a few times over the years. He's said to have accommodated the two most-mentioned founders in creating the gym chain.
It's believed that Paul Norris was involved with Louis Welch and Chin Yol Yi back when LA Fitness was founded, and he was, at the very least, still involved in LA Fitness's quiet ascension back in 2011.
LA Fitness began its expansion in the mid-1990s. The owners' primary tactic was to quire fitness clubs in southern California that weren't doing very well on their own.
It was during this time that they branched out of California and into Arizona and Florida.
There were also several newly constructed LA Fitness properties opened during this time to help further the expansion.
This tactic of opening new clubs and acquiring less popular clubs is one LA Fitness has used successfully all along.
For example, acquiring six clubs in Toronto, Ontario, Canada is how LA Fitness officially went international in 2007.
Other notable times LA Fitness has acquired clubs from other chains include when they acquired ten Pure Fitness locations in Arizona in 2010, and 171 Bally Total Fitness clubs in 2011.
The company even acquired every Lifestyle Family Fitness club back in 2012, plus several more clubs from various chains in 2013.
In more recent years, LA Fitness began opening up Esporta Fitness locations to compete with budget gyms (like Crunch and Planet Fitness).
This tactic of acquiring other clubs and closing them or converting them has clearly been working for the founders of LA Fitness—and it's believed that it's the original founders that have been dealing with these acquisitions all along.
However, although the acquisitions and expansions of the LA Fitness chain have been public knowledge since the 1990s, information about the intelligent minds behind all of this has not.
The owners and founders of LA Fitness mostly stay private and out of the public spotlight.
---
Corporate Owned LA Fitness
LA Fitness (LA Fitness International LLC) is a privately owned business that's still heavily overseen by founder Louis Welch.
It's currently the biggest non-franchised group of gyms in the US, and it has a vast array of corporate employees running the show behind the scenes.
Despite having two or more founders initially, Louis Welch is the only one mentioned on the LA Fitness website as Co-CEO.
He's also noted as the president.
Currently, there's no information stating who Mr. Welch is Co-CEO with anywhere online.
LA Fitness Board of Directors and Other Key Employees
Despite owning this impressively sized company, Mr. Welch doesn't handle the operations all on his own.
There's a vast executive team behind the company's quiet and rapid ascension.
There are over 3,000 employees at the company, including the executive team and key decision makers listed below.
Louis Welch (CEO/President)
Todd McSevenly (Chief Operating Officer)
Kathy Polson (Chief Financial Officer)
Greg Gill (Senior Vice President, Development)
Bill Horner (Senior Vice President/Cheif Real Estate Officer)
Ed Hustad (Senior Vice President)
Todd Sprecken (Senior VP/Chief Development Officer)
Tyler Long (Senior Executive Vice President)
Paul Newman (Senior Executive Vice President)
Henry Veloz (Senior Vice President of Personal Training Sales)
Ramon Florez (Racquetball Director)
Nehal Kaiser (District Vice President)
Kane Atkinson (Vice President)
George Bedar (Chief Information Officer)
Andrew Estes (Personal Training Director)
Gregory George (Vice President of Real Estate)
Will Klocke (Executive Vice President)
Kirt Linington (Executive Vice President)
Patrick McGonagle (Regional Vice President)
Andrea Ojeda (Vice President of Marketing)
Mark Seaman (Vice President)
Joe Torrecillas (Vice President)
Jeff Willett (Regional Vice President)
Bryan Douglas (District Vice President)
Dustin Pidgeon (Vice President, Sales and Marketing)
George Kingland (Executive Vice President)
Joe Quinn (Senior Executive Vice President)
Edward Hustad (Senior Executive Vice President)
Sean Paxton (Fitness Executive Vice President)
Eric Fleischner (Regional Vice President, Fitness)
Robert Wilson (General Counsel and Senior Vice President)
Justin Rivers (Fitness Executive Vice President)
Chris Kelly (Executive Vice President)
Steven Butler (Regional Vice President, Fitness)
Many of the current team have been working at LA Fitness since the early-mid 2000s, with fewer being recent additions to the team.
---
Is LA Fitness a Franchise?
No, LA Fitness is not a franchise. Each location is corporate owned and operated.
Independent entrepreneurs can not buy into LA Fitness as of this writing.
---
Wrapping Up
LA Fitness is a privately-owned chain of gyms that takes "private" to the next level.
The public knows almost nothing about the founders, and the operations and expansions over the years have been a quiet affair over the years, too.
It's safe to say, though, that the enormous list of employees know exactly how to handle things even while keeping operations quiet. LA Fitness wouldn't be the behemoth it is today without their expertise.
All in all, it's highly impressive that a non-franchised, privately-owned company has become the fitness staple that it is today.
For more, find out:
Hope this helps!