Most fitness-minded people in the US have probably heard of Equinox.
Some will have brushed the brand's gyms off as overly lavish and expensive, whereas others are huge fans.
Although pricey, Equinox gyms are meccas of health and luxury, with amenities that far surpass your average commercial big box gym.
But who's behind this luxury fitness brand? Who actually owns Equinox Fitness?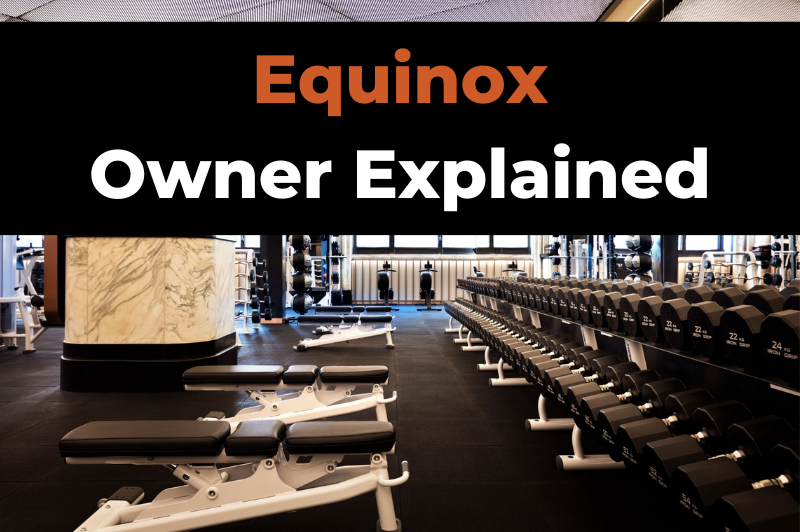 Equinox Group is currently owned by Stephen M' Ross's The Related Companies. The most recent official CEO of Equinox was Niki Leondakis, who stepped down in 2018. Officially, the company appears to be run by a management committee, with no publicly-named CEO.
Let's look at where Equinox got its start and how it became the massive success it is today.
---
Equinox's Origin
Equinox hasn't always been the immense chain, with numerous subsidiaries, that you know it as today.
It got its start back in 1991 on the Upper West Side of Manhattan.
Although it was founded by Lavinia, Daniel, and Vito Errico, Lavinia is often cited as the visionary behind it.
The siblings opened a single fitness center, ensuring it was aesthetically pleasing, upscale, and welcoming. They wanted it to be a place where you could work out and hang out in comfort and style.
Although none of them had a background in fitness, they had a shared idea: to make an alternative to "Happy Hour" where clients could gather at their prime locations to socialize and get fit.
They wanted to destroy the image that large gyms were badly lit, dingy, unpleasant places where only bodybuilders worked out.
Instead, they replaced this image in people's heads with the bright vibe of an aerobics studio, with upbeat music playing and an atmosphere that welcomed all types of people.
The siblings had to do everything themselves as they began to grow their business. There were no outside investors to help with its initial growth.
Luckily, they didn't need anyone else—the clubs were considered cutting-edge, and they were the first to incorporate indoor cycling, massages, dance cardio, and even reiki under one roof.
This led to Equinox finding incredible success fast.
They even put a significant investment into creating a program to ensure they had only top-quality personal trainers working for them.
They also had several core values they focused on, some of which included celebrating diversity, challenging the status quo, a supportive approach to everybody's goals, and more things to help clients, trainers, and managers alike feel respected and fulfilled.
The siblings attribute their great success to sticking to these core values.
Over the years, several investors came to take interest in Equinox.
By 2000, Harvey Spevak, who'd worked for Equinox since 1998, led the company to a buyout by J. W. Childs and North Castle Partners. In 2006, he led the company to be acquired by The Related Company.
Although now the siblings were no longer owners, or interested in being owners of the company, Equinox stuck to the core values the trio created.
Under new ownership, Equinox began making substantial changes to further its growth.
Equinox purchased Pure Yoga in 2008, its first separately operated subsidiary.
It also acquired several other fitness companies over the years, including Soul Cycle, Blink Holdings, and many more.
Equinox truly became a behemoth in the late 2000s and early 2010s, and that has hundreds of clubs in large cities all across the United States, London, and Canada.
On top of that, Equinox no longer just operates fitness clubs and centers. There are several brands under the Equinox name, including Equinox Lifestyle and Equinox Hotels.
Every single Equinox brand has the same mission: "Create the possibility for people to maximize their potential within themselves."
Outside of the fitness and lifestyle realms, Equinox has also been giving back to the community. It's worked with Cycle for Survival since 2007, to raise money for cancer research. It also works with The Heroes Project and have done so since 2014, which Works with Injured veterans.
So although Equinox started as a single fitness club on the Upper West Side: it's now a world-known brand that's one of the most successful in the fitness industry.
It's good to see that it has yet to lose its client-focused charm even though many rapidly growing, large businesses quickly devolve into overly corporate minded entities.
---
Corporate Owned Equinox
Of course, there is a long line of corporate figures behind the success of Equinox. However, it's a little hard to nail down exactly who is behind that success currently.
Harvey Spevak comes up for anyone looking to find out the current CEO, but he actually stepped down as the CEO and was replaced by Niki Leondakis in March of 2017.
Leondakis served as CEO for less than a year and a half. No new CEO of Equinox Fitness was officially announced. Bloomberg reports that a management committee runs the company, as of 2018.
As it stands, there are two big names heading the company, with no whisper of who the official CEO is:
Harvey Spevak (Executive Chairman and Managing Partner)
Scott DeRue (President)
It's possible Spevak returned to his role as CEO of the Equinox Group without making an official announcement.
Many websites listing Equinox's executive staff cite him as still holding the position.
Equinox Key Employees
As all the information about Equinox's corporate staff is muddy, it's hard to say who remains a part of the executive team. Much of the publicly available information is likely outdated.
However, here are many current and/or recent executives of note:
Scott Rosen (Chief Operating Officer)
David Phllipps (Executive Vice President and Chief Financial Officer)
Yen Chu (Chief Legal Officer)
Khidir Abdalla (Senior Vice President, Construction)
Gianfranco Pozzolini (Executive Vice President, Operations)
Shirley Romig (Group Vice President, Ancillary Operations)
Matthew Plotkin (Regional President, NYC Operations)
Eswar Veluri (Executive Vice President, Chief Technology Officer)
Christian Fortucci (Vice President, Technology Operations)
Keith Irace (Vice President, Group Fitness)
Ashley Marlowe (Vice President, Real Estate)
---
Is Equinox a franchise?
Equinox gyms are not available for franchise opportunities.
Each of the 300+ locations around the world are owned and operated by the Equinox Fitness Group.
However, Equinox does own Blink Fitness, a smaller, budget-friendly gym. Blink offers franchise opportunities for investors and entrepreneurs looking to get into the fitness space.
---
Wrapping Up
It's genuinely hard to believe that Equinox, the owner of so many brands and companies, once started as a single club opened by three siblings.
It's also mind-blowing to believe that once, Equinox was considered cutting edge by being clean, neat, diverse, and approachable for all types of people.
Equinox truly has created a brand new landscape in the fitness world, and the company will only continue to grow. Although it's pretty luxurious and pricey for most people, its core values remain as down-to-earth as the original founders intended them to be.
For more guides, see:
Hope this helps!