When you look at majorly successful companies, it can be hard to believe they didn't pop up as they are overnight.
They all had their humble beginnings at one point or another.
Life Time Fitness is one of those huge names that seems to have been around forever. Life Time focuses on a lot more than just health clubs, though that's probably how they're best known.
The company has 161 luxury athletic country clubs across the US and Canada, open for all ages—"90 days to 90 years" as the brand's website states. But of course, it had to start small somewhere.
So let's check out: Who owns Life Time? And how did this fitness giant get its start?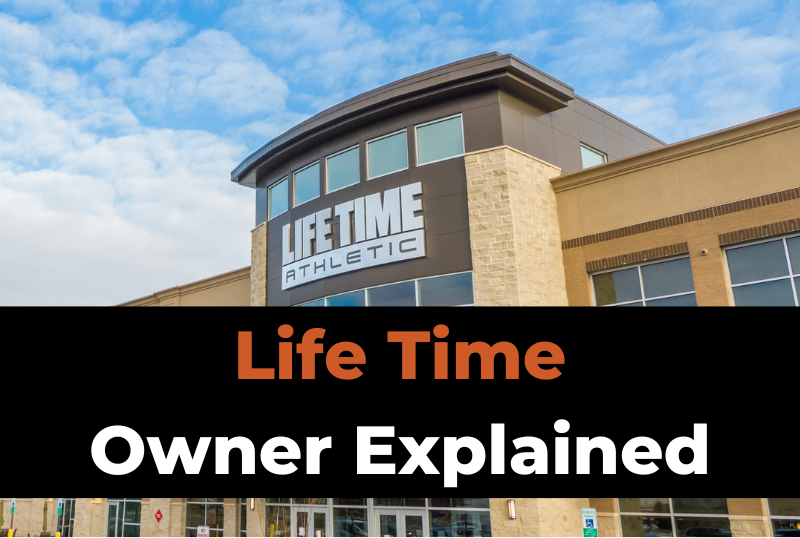 Life Time is currently owned by Leonard Green & Partners and TPG Capital, along with several other key investors. In 2015, a massive merger was finalized to the tune of nearly $4 billion, solidifying the new ownership. However, Life Time founder Bahram Akradi still serves as CEO of Life Time.
Contrary to popular belief, Life Time is NOT a franchise — all clubs are corporate-owned as of this writing.
Let's learn more about who's behind Life Time and how this elite gym got its start.
---
Life Time's Origin
Bahram Akradi, an Iranian immigrant, found his fitness calling young.
He arrived in the US at 17 and paid his way through college working in restaurants. He then began working in a fitness center and knew this was the career path for him.
In 1990, he made moves towards opening a center of his own. He wanted a fitness club focused on helping its members live happy, healthy lives.
To incorporate and make his dream happen, he liquidated all his personal assets and lined up some shareholders, including John Driscoll and Wheelock Witney.
In 1992, Akradi registered his company name and opened the first Life Time Fitness Center in Brooklyn, Minnesota.
It was around 30,000 square feet in total and built in a spot where three earlier fitness clubs had failed.
By the end of the year, there were 2,702 members at the club—two more members than Akradi set a goal for, so he was right on track.
The second Life Time club opened two years later. It was located in Egan, Minnesota, closely followed by a third club in Woodbury in the fall of 1995.
It wasn't until 1996 that the chain began building "big box" gyms, at 94,000 square feet in size.
This was after the company received a $6.5 million investment from Norwest Equity Partners.
These big box gyms, the size of two football fields, helped Akradi's dream come true. He wanted to have places where entire families could have some recreational time at great prices.
Also in 1996, the city of Plymouth, Minnesota made a contribution so Life Time Could start work on their largest center yet.
This one would be 110,000 square feet in size, complete with an eight-lane competition pool, leisure pools inside and outside, a diving pool, two gyms, two basketball courts, racquetball courts, an aerobics room, 120 resistance training machines, and 160 cardio machines.
Those resident in the area were given membership discounts and the option to use daily passes.
The city's contribution made this a a public–private business model that had never been seen before in the fitness industry. It was then used to open other large clubs in Savage and Champlin, Minnesota, with Akradi wanting to use the same model in other states across the US.
In 1998, the company received another round of venture capital financing which it planned to use to open another 6 units within the next year.
By 2000, Life Time had established a model and all clubs were over 100,000 square feet in size. By the end of the year, the chain now had 21 clubs open and operating.
The company also moved into Chicago for the first time in 2000, and it began to expand its brand beyond just clubs. It started selling nutritional supplements, food lines, and apparel.
Two years later the company opened a club in Tempe, Arizona, with plans to expand further into the state. In 2004, Life Time expanded even further, opening several centers in Texas.
Life Time was on an upward trajectory that didn't look like it would end any time soon, and little by little over the next almost two decades, the company grew into the major brand you know it as today.
---
Corporate Owned Life Time
Life Time is currently owned by Leonard Green & Partners and TPG Capital. They acquired it in March of 2015 under a merger worth nearly $4 billion.
However, Bahram Akradi still serves as CEO of Life Time and has done so since 1996.
Akradi is also chairman of the board, working alongside the following directors:
Jimena Almendares
Joel Alsfine
Donna Coallier
Jonathan Coslet
John G. Danhakl
J. Kristofer Galashan
Paul Hackwell
David Landau
Stuart Lasher
Alejandro Santo Domingo
Andres Small
The longest-serving members of the board have been on it since 2015, with others joining between 2019 and 2022.
Each member comes from a vast business background, some of whom have been working high in the ranks of various companies for almost 30 years.
Life Time Key Employees
There are several other executive employees that work alongside the board to keep operations running smoothly, some of whom are listed below:
John M. Brennan (Senior Vice President, Human Capital)
Jeff Zwiefel (President and Chief Operating Officer)
Eric Buss (Executive Vice President, Chief Administrative Officer)
Parham Javaheri (Executive Vice President and Chief Property Developer)
RJ Singh (Executive Vice President and Chief Digital Officer)
Matthew J. Brinza (Senior Vice President, Architecture and Engineering)
Brain J. Everson (Senior Vice President, New Business Development)
John Griffith (Senior Vice President, Real Estate and Development)
Bryan M. Janowiec (Senior Vice President, Facility Operations)
Matthew Heinrichs (Senior Vice President, Technology)
Mike Kaiman (Senior Vice President, Construction)
Mark W. Laylin (Senior Vice President, National Sales)
Erik A. Lindseth (Senior Vice President, General Counsel)
Kevin T. Logan (Senior Vice President, East Region)
Steven Larson (Senior Vice President, Club Operations)
Lisa Pollock (Senior Vice President, Human Resources)
Kimo Seymour (President, Media and Events)
Jason Thunstrom (Senior Vice President, Public Relations and Corporate Communications)
Amber N. McMillan (Senior Vice President, Fitness and Weightloss)
---
Is Life Time a Franchise?
Can franchise entrepreneurs open their own Life Time gyms? No, as of this writing, all Life Time clubs and gyms are corporate-owned and operated.
There are not currently any franchising opportunities with Life Time, per the company.
Many websites claim to have information and details about franchising with Life Time, but a PR rep for the company confirmed to Trusty Spotter that Life Time is not a franchise.
---
Wrapping Up
Life Time started with an idea in mind: provide a place where people of all ages can relax, work out, and socialise all at the same time.
It's safe to say that Life Times luxury athletic country clubs provide the perfect place for people to do so. These clubs are truly among the most luxurious yet surprisingly affordable places to go and work out.
For more, check out:
Hope this helps!