When you think of fitness in Europe, you probably think of the few US chains that have made it across the Atlantic.
However, you may also think of David Lloyd — a big name in fitness and leisure all across Europe.
With 129 clubs operating across nine European countries, there's no larger leisure, health, and fitness company on the continent.
So, how did this company come to dominate fitness in Europe, being the number one market leader in terms of revenue?
And who owns David Lloyd Clubs?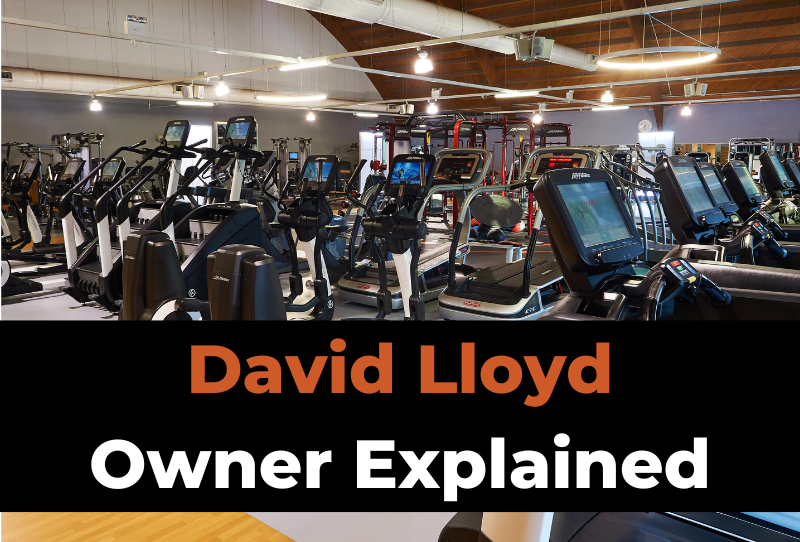 David Lloyd Clubs are owned by the private equity firm TDR Capital, with the company having changed hands many times over the years. David Lloyd himself, the renowned tennis player, no longer owns the company, but may soon be involved in an expansion into the U.S. As of this writing, it does not appear that David Lloyd offers franchise opportunities.
Let's learn more about how the UK's biggest fitness brand got its start, and who's behind the curtain!
---
David Lloyd Gyms Origin
Who is David Lloyd, anyway?
David Lloyd, a former professional tennis player in the UK, is the entrepreneur behind the company officially known as David Lloyd Leisure Ltd.
He and his brother John dominated the UK tennis scene throughout the 70s and 80s.
But in 1982, David Lloyd officially established his fitness company and opened his first club.
He wanted to provide fitness to families, but he also put a focus on providing leisure, too, which most fitness centers (or centres!) at the time lacked.
It was no surprise that the gym also put an emphasis on racket sports. Lloyd, of course, wanted to stay close to his roots in the pro tennis scene.
The first club was situated in Heston, West London, the United Kingdom. However, the number of clubs would soon grow, exploding to 18 across the UK by 1995.
David Lloyd gave up ownership of all the clubs in 1995 when they were acquired by Whitbread PLC for £182 million.
The new owners incorporated it into their Restaurants and Leisure division.
Whitbread began opening further clubs and went international for the first time, expanding into Spain, Belgium, and the Netherlands. Unfortunately, the company began to see poor financial return by the mid-2000's, so it was sold in 2007.
The next owners, London and Regional Properties and Bank of Scotland, paid £925 million for the gyms.
London and Regional Properties merged David Lloyd's clubs with their other established property, Next Generation Clubs.
Incidentally, Next Generation Clubs' Management team was led by David Lloyd's son Scott, so it certainly seemed like a logical merger.
The company continued to grow until it was sold to TDR Capital on September 5, 2013.
From there it expanded further, going from 90 locations to 125 pretty quickly. Some of the new clubs were freshly built, but others were acquired and converted.
As of now, there are 101 clubs in the UK and 29 internationally. Specifically, these 129 clubs are made up of three different brands: David Lloyd Clubs, Harbour Clubs, and David Lloyd Meridian.
At the time of writing, the most recent club opened is David Lloyd Bicester. It opened in September, 2022.
There are also plans to start expanding into the US, as David Lloyd himself announced plans to open a $54 million facility in Florida back in 2020.
He plans to partner with John Kriek, an Australian Open champion, for the venture.
It's unclear whether or not the pair have made any moves towards opening this facility, and if they have, there are no estimates as to when this club will open.
Despite this, it remains an exciting next step in the company's history, and it could certainly be the opening line of a brand new origin for a new David Lloyd business.
---
Corporate Owned David Lloyd Gyms
So, it's clear that David Lloyd started small and received steady growth throughout the years despite ownership changing hands quite a few times.
Currently, David Lloyd Leisure Clubs are owned by TDR Capital, a private equity firm from London.
The current corporate owners have put a significant amount of time and money into providing top-notch facilities at each location so gym-goers can truly have the best.
The corporate team is led by CEO of David LLoyd clubs, Russell Barnes, who took over the position in April, 2021. The former CEO, Glenn Earlam, was in the position from June 30, 2015 until Barnes took over.
A lot of people still think Earlam is the company CEO, as he is who is listed when you actively try searching for the CEO of the company.
The company didn't make a big deal of announcing the CEO change, and Earlam Remains an executive chair in the business.
David Lloyd Gyms Key Employees
The key and executive employees at corporate David Lloyd locations aren't made public knowledge, and it seems a lot of them are either missing from LinkedIn, or burried deep in the sea of regional general managers and other non-executives.
However, there are a select few important people in the company who make their roles within it known publicly, and they are as follows:
Patrick Burrows (Chief Financial Officer)
Martin Evans (Chief Commercial Officer)
John Mullen (Property Development Director)
Brijesh Khanna (Food and Beverage Manager)
Mia Manson-Bishop (Member Experience Director)
Tom Davies (European Integration Manager)
Gemma Iles (Senior Marketing Manager)
Joanne Hayward (Operations Manager)
---
Is David Lloyd A Franchise?
Can you own your own David Lloyd Club?
Much like information about its executive employees, information about independently owned David Lloyd franchises is scarce—in fact, in this instance, there's none.
It's likely that David Lloyd has yet to take on any franchisees due to how often it's changed hands over the years, keeping clubs corporate-owned for the time being.
David Lloyd may very well branch into franchising in the future, and hungry entrepreneurs are welcome to contact the company privately and try their luck.
Just don't get your hopes up.
---
Wrapping Up
David Lloyd certainly is both a successful tennis player and entrepreneur, and his gyms have come to dominate the European fitness landscape.
He may no longer retain ownership, but he certainly set up a strong starting point for his future buyers.
Things haven't always gone smoothly for the company, and there's still a lot of opportunity for further growth, but David Lloyed Leisure Ltd. has always bounced back and will likely continue to do so.
It'll be interesting to see how the company grows in the future, particularly surrounding franchising—there's a lot of opportunity for potential franchisees across mainland Europe, but it's up to the company to recognize it.
For more guides, see:
Hope this helps!