If you are into fitness and you live in the UK or Europe, there's a good chance that you are familiar with David Lloyd fitness centers and gyms.
There are 123 of them dotted around Europe and the United Kingdom, offering full service fitness club facilities for all family members.
They're super easy to find, but the bigger question is:
Are David Lloyd fitness clubs actually worth it? Here's a full review.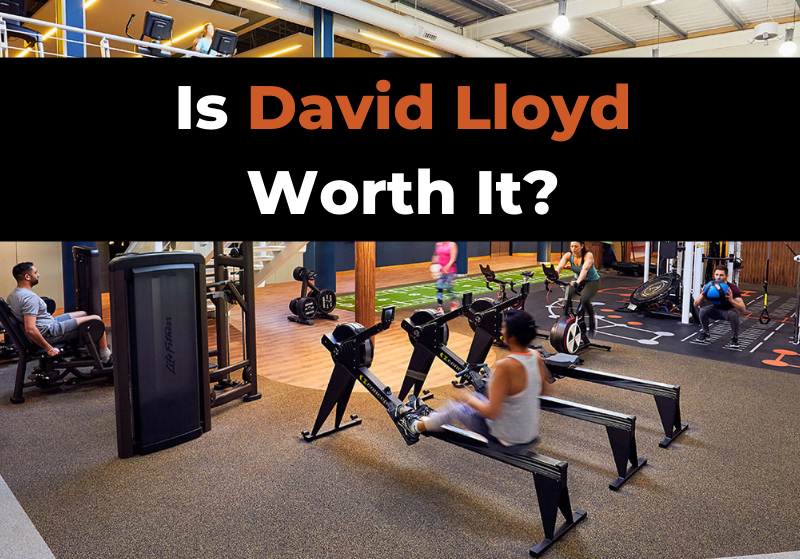 David Lloyd clubs are on the expensive side, especially for all access memberships, but provide a ton of value for the money. The equipment, group classes, and aquatic facilities are top notch. But what really sets David Lloyd apart is the abundance of childcare and other kid and teen-oriented fitness activities available.
However, for a solo person who just wants a nice place to work out, there are more budget-friendly options in the UK.
Let's take a closer look at David Lloyd clubs, prices, equipment, amenities, pros, cons, reviews, and more!
---
What are David Lloyd Clubs?
The first David Lloyd club was opened in 1982.
From the very start the focus was on providing a family friendly atmosphere, which was in stark contrast to the heavy bodybuilding trend at the time.
By 1995, rapid expansion saw the business grow to 18 gyms.
At that point, it was purchased by Whitbread PLC. It has since changed hands a further two times, with the current owners being TDR Capital.
Over the next few years, they plan to invest £50m into upgrades and expansion into more European countries.
There are currently 123 David Lloyd clubs, with 100 in the UK and 23 in the Republic of Ireland and Mainland. David Lloyd has a total of 660,000 members.
---
How much does David Lloyd Clubs cost?
There are a large number of pricing options at David Lloyd clubs.
There are tiers of membership which include:
Diamond
Platinum
Plus
And Club
You can also join on an annual, 12-month basis, or stick with a more flexible 3-month contract.
Diamond membership at David Lloyd gives you access to all amenities at all locations, at any time.
Platinum gives you access to all amenities, but only at your home club.
A David Lloyd Plus membership gives you access to limited amenities at your home club, while Club level membership is the cheapest option but restricts your visits at your home club to off-peak hours.
Platinum membership at David LLoyd gyms will cost somewhere between £94 and £129 per month for a full club membership.
Lesser membership tiers will steadily bring the price down, as will going with the annual membership as opposed to the flexible plan.
You can also get a membership for children under 18 — even babies and toddlers under 2 years old can get their own membership to access the kids club!
The younger the child, the cheaper the monthly fee.
Your best bet is to inquire at your local David Lloyd to get the best and most current deal.
With all that said, an extremely common question among gym-shoppers is:
Why is David Lloyd so expensive?
David Lloyd Clubs are so expensive because they're luxury gyms — this isn't your standard 24-hour budget gym with a bunch of cardio equipment and not much else.
Your expensive membership is going to cover top-tier amenities like pools (even outdoor family pools!), fitness classes, incredible equipment, and even childcare.
David Lloyd prices are comparable to high-end gyms in the US like Equinox or Life Time, which have similar amenities, so in that context I wouldn't consider it to be that expensive overall.
---
David Lloyd Clubs Equipment, Features & Amenities
A David Lloyd Leisure membership can be quite expensive, depending on your plan.
What does that hefty fee actually get you?
Equipment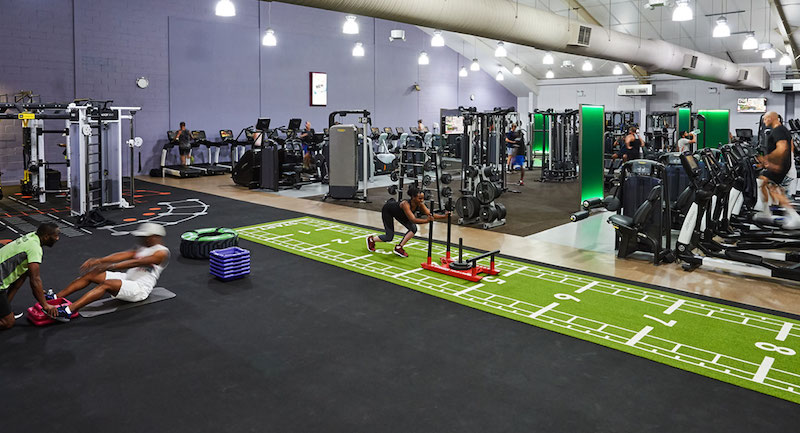 Each David Lloyd gym features a large free weights area as a well as fully equipped functional training zone.
There's also a spacious cardio training area that is packed with the latest state of the art low impact cardio training gear.
The cardio machines featured at all David Lloyd gyms include the following premium brands …
Woodway Curve treadmills
Concept 2 rowing machines
Wattbikes
Octane Ellipticals
SkiErgs
The free weight area provides you with an extensive range of barbells, dumbbells, kettlebells, power racks and resistance machines to meet the needs of even the most advanced weight trainer.
For beginners to strength training there is also an impressive range of popular strength training machines.
The functional training area provides you with an array of the latest function training gear including weight sleds, battle ropes, TRX straps, plyo boxes and synergy 360 training frames.
Group Fitness Classes
Group Fitness Classes are a highlight of the David Lloyd club experience, included with all membership plans.
Here's an overview of some of their most popular classes:
HIIT Cardio
Each HIIT class will see you performing a variety of different exercises to work lots of muscle groups, alternating between spurts of intense work and periods of rest.
Blaze Rebels
The all new Blaze Rebels classes allow you to take on the HIIT challenge as a family. Each 35 minute session combines mixed martial arts with cardio and strength training.
This class is NOT included with Plus and Club memberships.
Yoga & Pilates Classes
The David Lloyd Mind and Body studios also form the perfect environment for an extensive range of yoga classes.
There are also dedicated areas for pilates and reformer pilates classes to create strong, lean muscles whilst improving your posture and flexibility.
Outdoor Fitness Classes
Outdoor fitness classes bring the power of holistic, strength and conditioning, and HIIT cardio workouts to the open air environment.
In addition to these, there are also dance classes, tennis classes, aqua classes, strength and conditioning, cardio and cycling classes.
You are bound to find classes to meet your goals at a time that suits your needs.
Pool/Sauna
David Lloyd Clubs provide an extensive range of water based facilities and services to meet the needs of all family members.
They have both indoor and outdoor pools, so you can swim all year round, regardless of the weather conditions.
Most clubs also have special shallow splash pools and are attended by trained lifeguards. Great for the kids!
After spending time in the pool, you can go directly into the state of the art spa facilities, complete with saunas, steam rooms and whirlpools.
These facilities are all at premium level, representing high end pampering and luxury.
Childcare
David Lloyd gyms are a family oriented fitness organization, which means they provide a wide array of facilities and services for children.
These include kid's clubs, coaching in tennis and racquetball, along with specialist play frames and kid's areas.
From Baby Club and Tots Playtime, to creches, creative classes and sports coaching, the way that David Lloyd gyms cater to young ones is truly impressive.
David Lloyd gyms also provide for the needs of teenagers with their trainer led gym sessions, specialized training and hang out rooms specially designed for the teen crowd.
Because members pay separately for kid's memberships there are no childminding or childcare fees charged.
Other Amenities
From the very start, David Lloyd gyms included ball sports facilities as part of their set up.
Today, you'll find the largest selection of ball sports of nearly any gym franchise in Europe.
These include racquetball, tennis, squash and badminton.
Professional coaching is available for most of these sports.
---
What real people are saying about David Lloyd (reviews, pros & cons)
As with all gyms, there are good and bad reviews online for David Lloyd.
The positive reviews rave about the state of the art facilities, especially the pool and spa areas.
Many people are impressed with the latest fitness machine brands that feature on the gym floor.
When it comes to the negatives, a few people complained about how difficult it was to get out of their contract, poor customer service, and overcrowding during peak gym hours — extremely common complaints at most big box gyms.
David Lloyd Pros
Excellent facilities
Plush spa areas
Latest strength and cardio equipment
David Lloyd cons
Hard to get out of contract
Some customer service complaints.
Your mileage will vary greatly depending on location. Take a tour or try a free trial first before you sign any contracts!
---
Alternatives to David Lloyd Club
When it comes to getting a fantastic family fitness experience in the UK, there is some stiff competition for David Lloyd.
One of the best out there is Equinox, the American brand which opened its first UK gym in London in 2012.
(See a full Equinox review here.)
It now has four gyms in and around London that are priced comparable to David Lloyd.
Another option is KX, which also opened in 2012. Based in Chelsea, this high end facility features a multi-story space consisting of a statekly gym, fitness studio and holistic spa.
---
Wrapping Up
David Lloyd gyms are among the most popular high-end full facility health clubs for families in the UK and Europe.
If you can afford it, these gyms offer a paradise of pleasure, indulgence, and fitness training for all members of the family.
The excellent childcare and kid-oriented fitness and enrichment programs are truly unmatched almost anywhere in the world.
So for parents, families, and anyone who can afford a higher-end gym membership: Yes, David Lloyd is worth it!
For more gym guides, check out:
Hope this helps!