The Edge might not be as recognizable in the fitness world as names like Planet Fitness or LA Fitness.
But for those in the know, the name packs a wallop.
The Edge is one of the best-value gyms in the industry, which makes it an excellent option for those looking to stay fit on a budget.
There aren't many gyms out there that can offer you high-end gear and amenities for well under $50 per month.
But who actually owns The Edge Fitness Clubs? How did they get started and what's their story?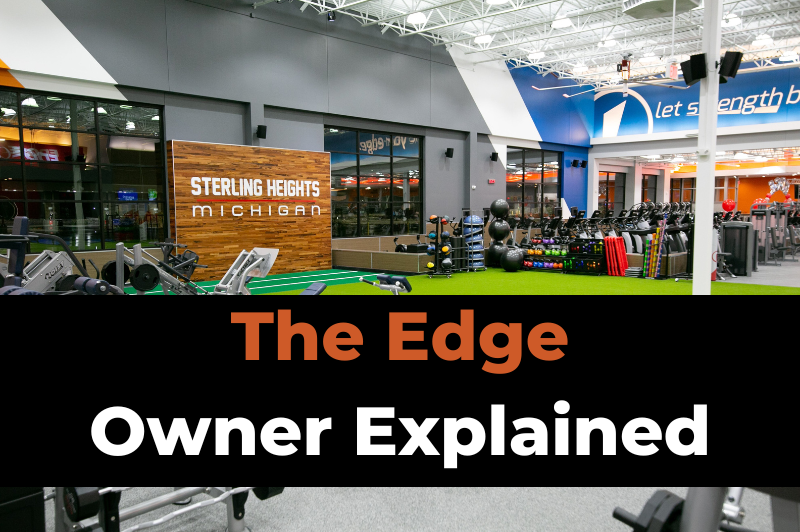 The Edge Fitness Clubs is one of the few fitness brands still owned and operated by its original founder, Vin Sansone. Sansone, after founding the company in 1988, remains President to this day. The current CEO of The Edge Fitness is Michael Copeland. Currently, all The Edge Fitness clubs appear to be owned and operated directly by the company, with no franchise opportunities available.
Let's learn more about how The Edge got its start and see who's pulling the strings behind this growing brand.
---
The Edge Fitness's Origin
Some people may find it hard to believe, but The Edge Fitness has been around since 1988.
It certainly seems like it would be a lot newer, given how it doesn't have as many locations open as other chains that got their start around the same time.
It was founded by Vin Sansone, who'd always dreamed of owning a gym. He was highly supported by his friends and family, who helped him open a club called Fitness Edge.
His wife Laurie was one of his biggest supporters and helpers in his venture.
He started with a single club in Connecticut, but as the years rolled on he opened several more locations along the Connecticut shoreline, focusing mainly on establishing new locations in Fairfield County.
He didn't officially change the name of the chain to The Edge Fitness until he had several clubs up and running. That, of course, is the name everybody is most familiar with today.
Each club was designed to give members a high-quality workout in a visually stunning space. Sansone wanted this to remain his main goal regardless of how big his company got, and clearly, he wanted to provide this service to his gym members at an affordable price.
The company mainly focused on opening clubs on a small scale throughout the 90s. Even in the early 2000s Sansone was being very particular about where he opened his new clubs so he could do what was most beneficial for his business.
He actually had two locations open in Middlesex County in 2001, but he sold them so he could focus further on Fairfield County, which seemed to be best for the business at the time.
It wasn't until The Edge Fitness had been up and running for almost 3 decades that it began to expand into the wider Philadelphia area.
In 2017 there were only 13 locations open, but since then the company has very much expanded.
There are now 40 locations open along the east coast and in the midwest.
There would likely be more, however, the COVID-19 pandemic really put a halt on expansion and operations for The Edge Fitness — as it did for many fitness brands.
Sansone is still focusing on expanding further to provide locations for more and more people. There was a time he planned to open a new location every month, although thanks to the pandemic, that plan didn't come to pass.
Although its growth over the years has been slow, The Edge Fitness has still managed to make a name for itself in the east coast fitness industry.
It goes to show that just because a company doesn't experience rapid growth, it doesn't mean it can't be successful for decades.
In 2022, it opened its first Massachusetts and its sixth Michigan location. No new openings have been announced since these two clubs were opened, but that doesn't mean there aren't plans the company is keeping quiet.
There's a page on The Edge Fitness's website keeping readers and members up-to-date on all new openings. As of October 2022, no new plans for expansions for 2023 have been announced.
---
Corporate Owned The Edge Fitness
Of course, Sansone hasn't been doing all this work alone. He may be the founder, owner, and president of The Edge Fitness LLC, but there is a vast team working with him to continue The Edge Fitness's expansion.
Corporate headquarters currently sits in Orange, Connecticut. The current CEO of The Edge Fitness Clubs is Michael Copeland, who's been in his role since 2018.
Copeland works alongside a vast team of other key employees and executives. He is also president of the company along with Vin Sansone.
The Edge Fitness Key Employees
As of 2022, there is no information available regarding The Edge Fitness's Board of Directors, but there are several people in high positions in the company that are noteworthy.
Some of the most notable employees at the company include:
Joe Moretti (Chief Operating Officer)
Peter Kushel (Chief Financial Officer)
Jeffrey Stone (Chief Marketing and Administrative Officer)
Terri Smith (Vice President of Facilities and New Club Opening)
James Sansone (Senior Vice President of Operations)
Larry McNellis (Senior Vice President of Sales)
Shannon Engel (Vice President of Human Resources)
Judith Friedman (Vice President, Real Estate Strategy and Development)
Bill Zanoni (Director of Real Estate)
Frank Dennis (Area Director)
---
Is The Edge A Franchise?
Right now, it does not appear that The Edge offers franchising opportunities for entrepreneurs and investors looking to get into the commercial gym space.
At least, publicly, there is no information available.
Sansone and his team are likely focusing on recovering from pandemic setbacks and solidifying the brand.
---
Wrapping Up
The Edge Fitness is one of the few older gym chains that hasn't changed hands half a dozen times over the years, and its current state is quite reflective of its humble origin.
It's still largely opening new locations around the area it first got its start, and the founder is still heavily involved in running and expanding the company.
It may be one of the most humble fitness companies currently operating, outside of mom-and-pop gyms.
There are plans to expand further, and perhaps one day we'll see The Edge Fitness hit the same popularity as some other big box chains, but for now, it remains a smaller, high-value, affordable fitness chain serving the east coast and the midwest.
For more guides, see:
Hope this helps!