If you pay attention to the world of fitness in the slightest, there's a good chance you've heard of Beachbody or one of its related companies.
Beachbody seems to do it all. There are workouts you can stream, and they sell dietary supplements and "superfoods" that aim to help you achieve exactly what the company named itself after: your ideal beach body.
It also recently acquired an exercise equipment manufacturer and a nutrition app. 
But there's still a lot of mystery about Beachbody and how the company is run, including:
Who owns Beachbody?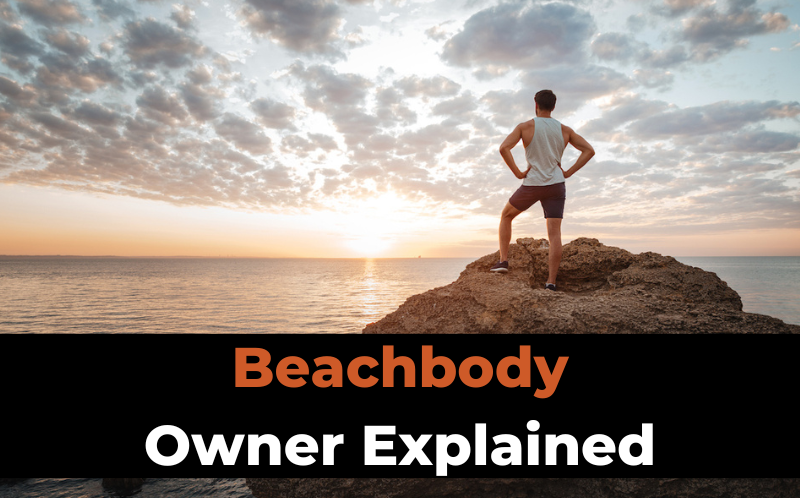 Beachbody, or formally, The Beachbody Company, Inc. is a corporation made up of the original Beachbody company, Myx Fitness Holdings, and Forest Road Acquisitions Corp. It encompasses the Beachbody On Demand streaming service, Team Beachbody workouts, coaching, and supplements, and many other subsidiary companies and products. The current CEO of Beachbody is Carl Daikeler.
Let's explore how this simple fitness startup grew into a massive player in the wellness industry.
---
Beachbody's Origin
Beachbody got its start in Santa Monica, California, back in 1998. It was founded by Carl Daikeler and Jon Congdon.
Daikeler already knew a little about the fitness scene, as he starred in Lifeline Gym and 8 Minute Abs infomercials all throughout the 90s.
It wasn't until Angel Investing backed Beachbody that both founders got their real start in owning a fitness company.
The premise was pretty simple at first. The founders bought Beachbody.com and developed several workout videos to go on the website, accessed for a price.
This isn't too unlike part of what Beachbody does now.
The company relied on infomercials and celebrity endorsements to grow over the years. It created new training programs, new videos, DVDs, and even a variety of supplements that it began to sell.
Nowadays, the company is one of the biggest names in fitness, and it has acquired several subsidiaries.
However, it's been a long and not always clear path for the company to get to where it is now. Alongside being a big name in fitness, it's also a highly controversial one.
For example, many people would consider Beachbody's sale of superfoods and nutritional supplements to be a pyramid/multilevel marketing scheme.
Beachbody uses its customers to act as "coaches" and sell the products.
In 2017, it was found that the company's distributors were making unsubstantiated income claims in order to promote the company.
The same year, Beachbody also had to pay over three million dollars to settle a lawsuit over automatically charging customers credit cards on a recurring basis without written consent.
Despite all the controversy, the company is still doing pretty well for itself.
As of February 2021, the company has been involved in a three-way merger. 
The other two companies involved are Myx Fitness Holdings and Forest Road Acquisition Corp. This merger, with the combined company now known as The Beachbody Company, Inc. has been valued at $2.9 billion.
---
The Branches of Beachbody
Beachbody has come a long way since its founding. It's no longer just a company selling workout regimes through a website.
There are actually four separate operations occurring under the umbrella Beachbody name. We'll look at these individually.
Team Beachbody
Team Beach Body is the one that receives the most controversy, as it appears to be the textbook definition of a multilevel marketing scheme.
Members of the general public are encouraged to become "coaches." However, the job doesn't involve any coaching—it's all in sales.
Coaches must purchase fitness packages and sell them to the public at 25% commission per sale. Carl Daikeler backed this idea by stating the sellers are "walking billboards and salespeople who want to help their family and friends."
However, it has been found that most coaches only spend about three months selling workout DVDs, meal plans, and food supplements. It's also been found that most coaches barely earn more than $2,000 per year.
Despite the apparent lack of success, the parent company's product sales went up by 60% within two years of launching Team Beachbody.
Beachbody On Demand
Beachbody On Demand is the service that is most similar to what beach body originally offered when it was founded in 1998.
Essentially, it's a streaming service that offers you access to a vast library of at-home workout programs.
(See my Beachbody On Demand review here.)
On this platform, which has been around since 2015, you can watch all of Beachbody's workout DVDs. Although, the CEO has stated that the company was hesitant to do this.
Clearly, though, Beachbody On Demand is something millions of people across the US find useful. They're especially useful for people who can't leave the house, or during times when leaving house is unwise.
During COVID-19, there was a 300% increase in subscribers to the service. There were over 2 million by April 2020.
Some of the classes the 2 million subscribers get to watch include Insanity, 21 Day Fix, LIIFT4, 80 Day Obsession, and Morning Meltdown 100.
There are even some children's fitness classes that the company released on Vimeo for free during the pandemic.
The on demand streaming service is quite good! And you can join without being involved in the MLM coaching aspect of Beachbody at all.
MYXFitness
MYXFitness, unlike the business ventures above, was not founded by Beachbody.
Instead, it's one of the companies Beachbody merged with.
The company manufactures exercise bikes and created a library of workout content to go hand in hand with its products. It's been working with Beachbody since 2021.
Openfit
Finally, the fourth organization owned under the Beachbody name is Openfit.
It's an app for nutrition and workout programming.
Openfit then acquired Ladder, a supplement company owned by Arnold Schwarzenegger and LeBron James. Ladder develops nutritional supplements designed to reduce cramping for athletes.
Schwarzenegger and James remain minority stakeholders in Ladder, even now that it's owned by Openfit, but they're not affiliated with the Openfit app.
---
Corporate Owned Beachbody
So let's summarize who owns Beachbody and take a look at some of the head honchos.
Beachbody is owned by The Beachbody Company, Inc., a merged corporation consisting of Beachbody Company Group, Myx Fitness Holdings, and Forest Road Acquisition Corp.
The current CEO of Beachbody is Carl Daikeler, who was one of the co-founders. He's also chairman of the board. 
The other board members are:
Mary Conlin
Kristin Frank
Michael Heller
Kevin Mayer
Ben Salter
Ben Van De Bunt
The longest-serving board member is Michael Heller, who's been a director on the board since 2012. The rest took their positions from 2018-2021.
Each member has vast experience working in high positions for companies such as Pixar, TikTok, and The Raine Group LLC. Although their experience isn't all in the fitness world, it's clear they've been heading successful companies for quite some time.
Beachbody Key Employees
Beachbody also has several other key employees that keep the company running successfully. Unlike many companies, Beachbody actually has a list of these employees on its main website.
They are as follows:
John Congdon (Co-Founder and Vice Chairman)
Kathy Vrabek (Chief Operating Officer)
Michael Neimand (President)
Marc Suidan (Cheif Financial Officer)
Irfan Ranmal (Chief Product and Technology Officer)
Blake Bilstad (Chief Legal Officer and Corporate Secretary)
Kit Boyd (Chief Supply Chain Officer)
---
Wrapping Up
Beachbody had a humble start as a pioneer in the fitness video/online video industry. These days, the Beachbody company name actually encompasses four separate companies in the fitness world, with a bit of a complicated corporate structure.
From workout videos to supplements to apps and fitness gear, you'll be hard-pressed to find something Beachbody isn't doing right now.
Some of the tactics may be controversial, namely the "coaches" selling supplements, but it certainly seems to be working for the company as it continues to grow.
For more, check out:
Hope this helps!