SoulCycle is a popular fitness company that really helped pioneer spinning or indoor cycling classes.
At its most successful point, SoulCycle was operating 99 studios across three countries. As of 2022, there are around 65 locations open worldwide, so the company is still going strong.
But how did SoulCycle get off to such a hot start? Who owns SoulCycle and how did the brand get started in the first place?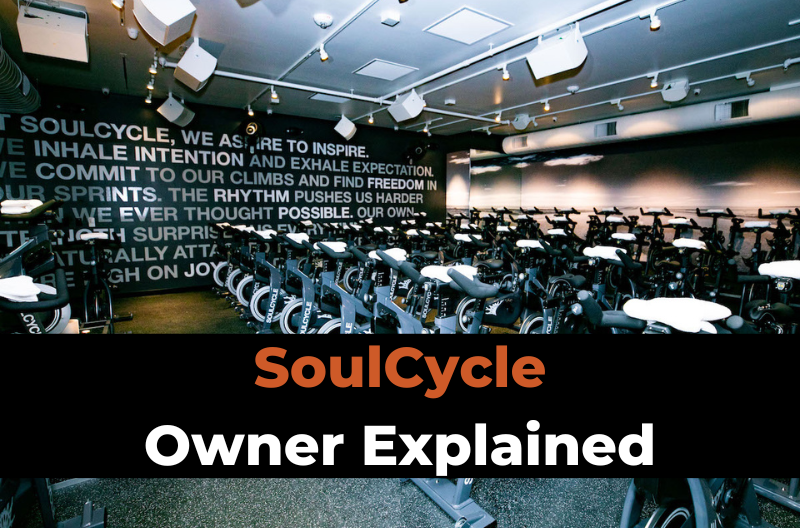 SoulCycle was founded in 2006 by the trio of Ruth Zukeman, Elizabeth Culter, and Julie Rice. Today, it's owned by Equinox Group (who runs Equinox luxury gyms and other fitness entities) and the current CEO is Evelyn Webster. Despite common misconceptions, SoulCycle does not currently offer franchising opportunities and prefers to keep full control over branding and studios.
Let's learn more about how SoulCycle began, who's running the show, and more!
---
SoulCycle's Origin
SoulCycle has only been around since 2006. It was founded by Ruth Zukeman, Elizabeth Culter, and Julie Rice.
At the time, it was only Zukeman who had any experience in the fitness world. She'd been teaching spin classes since 1996.
Culter and Rice were actually two clients of hers, whom she introduced to each other over lunch in 2006.
During that lunch, the idea for SoulCycle blossomed and the trio decided to start the brand. The first SoulCycle opened in Manhattan the same year, and and as they began to expand, they opened several other locations in the area. In the following years.
The premise of SoulCycle was simple: cycling to music.
Each class targets high-intensity interval training, resistance training, and strength training all from the comfort of a stationary bike.
The three founders decided against allowing people to take up a membership with SoulCycle. Instead, people would pay on a class-by-class basis, which contributed to the near immediate financial success of the company.
However, the SoulCycle trio didn't work together for long. The first of the co-founders to leave was Zukeman, in 2009. She took on two new partners and founded the now defunct Flywheel Sports, which was actually a competitor to SoulCycle until it went out of business during the pandemic.
However, SoulCycle didn't take a major hit. It continued to build its brand and goes strong. In 2011, The Related Company's Equinox Group took on a majority stake in the company.
Equinox is a luxury fitness brand with hundreds of clubs Across the United States. It owns several other fitness and lifestyle brands, so its acquisition of the majority of SoulCycle was very much a big deal and a major success for the smaller company.
Equinox's acquisition of the company only did good things for SoulCycle.
For example, one major complaint people often have about stationary bicycles is that the seats are uncomfortable. In 2012, Equinox-owned SoulCycle tackled this issue and released a split-seat bicycle so spinners would be more comfortable in classes.
Two of the original founders and Equinox continued to work together up until 2016, when Rice and Cutler stepped down. They had been working as co-chief creative officers for the company.
They cited their reason for stepping down as "to pursue new projects." However, they decided to continue serving on the board.
Their stepping down brought Equinox's stake in the SoulCycle company up to 97%.
Even with the two cofounders having stepped down from their co-chief creative officer roles, SoulCycle continued to go strong under Equinox.
It introduced its Next Generation Bike in 2017, further improving the equipment used in classes.
Also in 2017, the company went international for the first time, opening a studio in Toronto. It opened a second in Vancouver the same year.
The company also opened a non-cycling-based studio in 2017, with this studio incorporating strength training and yoga. However, the studio closed not long after due to noise complaints.
SoulCycle when further international in 2018, declaring it was opening a studio in London the following year.
It continued to expand the SoulCycle brand the same year by launching Soul Activate, which had more of a focus on HIIT.
The company continue to go strong until the COVID-19 pandemic hit in 2020, which forced them to close a number of their clubs, mainly in Manhattan. This brought the number of SoulCycle clubs down from 99 to 65.
Despite the hit, SoulCycle survived the worst of the pandemic and is still going strong, and it continues to be a hit with fitness fanatics despite the numerous competitor studios that are now open around the country and worldwide.
---
Corporate Owned SoulCycle
The current CEO of SoulCycle is Evelyn Webster.
She took over the post in December of 2020 after Melanie Whelan stepped down 12 months earlier.
Whelan served as CEO from 2015 to December 2019, having previously worked as COO for the company.
Again, the Equinox Group is the majority owner of SoulCycle, acting as parent company.
SoulCycle Key Employees
Alongside the CEO, there's a list of key employees that handle SoulCycle's running.
The names and titles of various employees aren't quite as readily available online as they are with other companies. Despite that, there are a couple of key employees who make their positions at the company known:
Halle Madia (Chief Talent Officer)
Amy Peck (Vice President of Culture and Training)
Drew Lesicko (Vice President, Product and Technology)
Blake Hill (Director, People Operations)
Brianna Kimball (Head of Field Operations, North America)
Dallas Simpson (Senior Director of Engineering, Data)
Erin Jones (Regional Director)
Jordan Wyckoff (Director of Bike Operations and Logistics)
Julie Liberman (Senior Director of Buying and Merchandising)
---
Is SoulCycle A Franchise?
Right now, SoulCycle doesn't appear to be open to franchising, despite many of its competitors doing so. It remains a privately owned company even now that the co-founders have left.
However, there seems to be a common misconception that SoulCycle is a franchise.
It's been referred to as such in several articles, including in the title of a notable Forbes piece from 2019 about the opening of SoulCycle's London studio.
In truth, SoulCycle is a private company that has refused to share sales and foot traffic information. So far, there have been no hints or announcements that SoulCycle plans to take on any franchisees any time soon.
With all the hot competition racking up, it's possible that SoulCycle may eventually take on some independent owners and allow them to open their own franchises.
(See: SoulCycle vs Cyclebar)
But for the moment, corporate SoulCycle seems to be focusing on expanding and maintaining control of the brand.
---
Wrapping Up
SoulCycle was a pioneer in the spinning industry, and it remains one of the most unique options today by not offering any membership options to fitness fans.
Although it had humble beginnings and was opened by three business-minded women, it's now majority owned by the behemoth Equinox and will likely continue to be under their control for many years to come.
The company took quite a hit during the COVID-19 pandemic, but it's likely the brand will open further studios and return to where it was before in no time.
For more, see:
Hope this helps!