When it comes time to set up a gym membership, you have plenty of options at your disposal.
You can go for one of the big chains, like Planet Fitness or 24 Hour Fitness.
Then again, practically every city has independently owned gyms that are certainly worth checking out, especially if you want to help out local businesses.
Then there are those smaller, regional chains that are somewhere in between those options. They're certainly worth your time to inspect, as they tend to offer the best of both worlds.
They usually don't cost as much as the independently owned places, and they tend to have many of the same amenities as the huge chains.
That's why you need to check out Amped Fitness. As of this writing, there are 11 locations found throughout Florida and Alabama. And you never know when more will pop up.
But is Amped Fitness worth it? Here's a full review and everything you need to know before you join.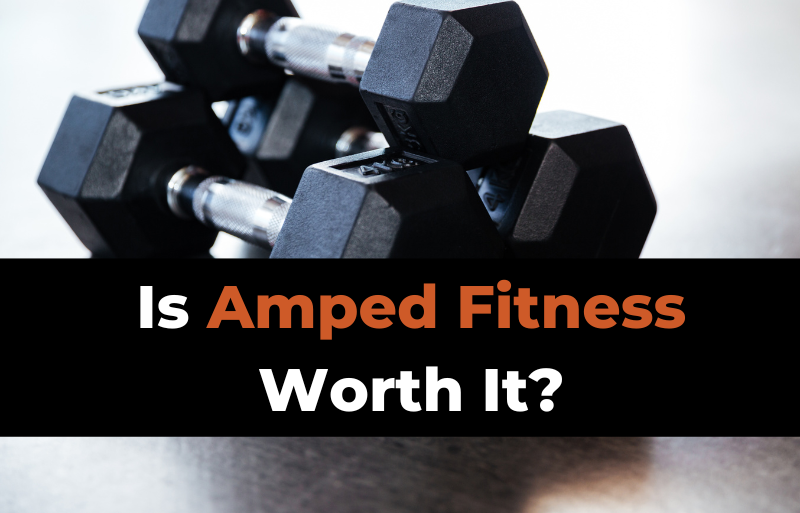 Amped Fitness has one of the lowest-priced and best-value memberships of any gym out there. The top membership tier is quite affordable compared to most big box competition and includes amazing amenities like childcare and group classes. The only thing you won't really find here is a pool, and if you're not a fan of Les Mills classes, you might be out of luck in terms of group fitness.
Here's a full Amped Fitness review and breakdown: Prices, equipment, amenities, pros, cons, and more!
---
How Much Does Amped Fitness Cost?
Amped Fitness is one of the more affordable options around when it comes to gyms.
The amount you'll pay all comes down to the tier you want, and there's a price point for everyone. 
The cheapest option is the Basic Plan, which costs $10.99/month.
This provides you with 24/7 access to the single facility of your choice. On top of that, you can utilize all of the basic amenities, including weights and cardio machines.
However, if you want a little more bang for your buck, then you can sign up for the VIP Package at $24.99/month.
In addition to everything you get in the Basic tier, you also gain access to:
tanning beds
AX3 classes
HydroMassage
sauna
childcare
and so much more.
Either way, Amped compares favorably to most budget and mid-range gyms. The VIP Package is impressive and a few bucks cheaper than membership at places like LA Fitness.
Before you make a decision, here are a few more points to keep in mind.
The Basic Plan comes with a $30 enrollment fee, while no such enrollment fee exists for the VIP Package. Both packages require a $39.99 fee that's due one month after sign-up. 
Both tiers provide a month-to-month membership, so you don't have to worry about spending a ton of money upfront.
You pay as you go, and if you ever move, you can cancel with ease.
But before any of that occurs, you'll want to sign up for a free guest pass.
This gives you access to the gym of your choice for a limited time, allowing you to see what it's all about before spending any dough.  
---
Amped Fitness Equipment, Features & Amenities
So we know all the ins and outs of pricing at Amped Fitness.
But what does your money actually get you once you've signed on the dotted line?
Equipment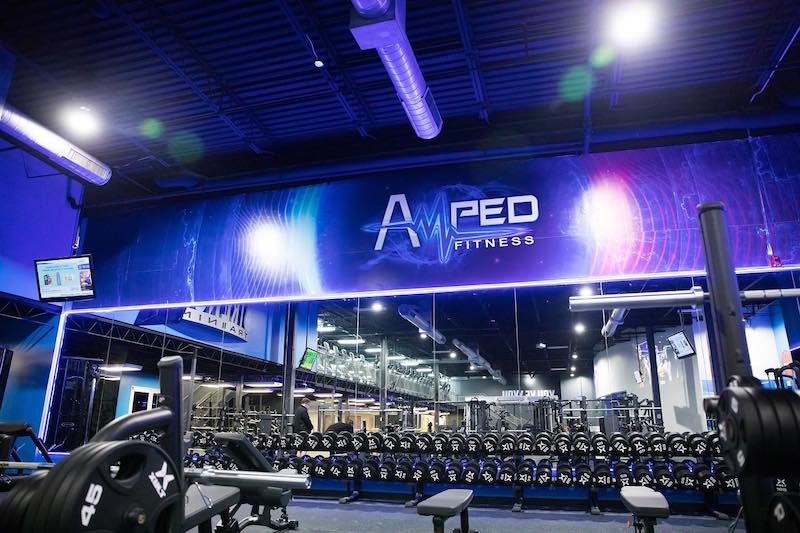 Amped Fitness offers all of the workout equipment you'd expect to see in a gym.
There's plenty of cardio machines like treadmills, rowing machines, StairMasters, and ellipticals.
If strength training is your game, you'll find a full circuit of resistance machines (pec deck, leg press, etc.) along with dumbbells, free weights, racks, benches, and more.
Most budget gyms skimp out on the heavy free weights, but not Amped!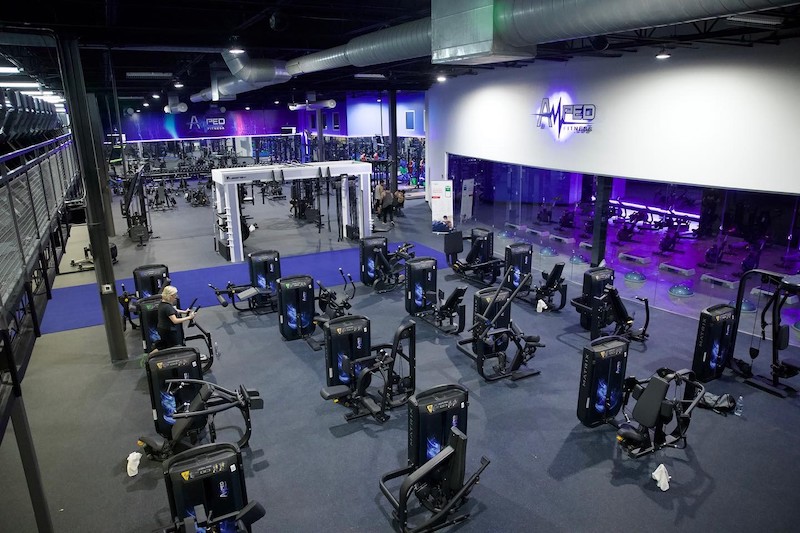 Group Classes
Amped Fitness also offers virtual and (at some locations) in-person LesMills classes like:
Core
Barre
Bodyflow
And plenty more
It combines a world-leading fitness regimen with intense music and motivation from some of the best instructors around. It leads to a truly immersive experience that will lead to amazing results in no time. And it's all included in the VIP Package. 
(The Basic package won't get you into the studio classes.)
Personal Training
Both membership tiers allow you to take advantage of a free workout assessment. This is when you work with a personal trainer to walk you through the ins and outs of an exercise regimen that's going to help you toward your ultimate fitness goals.
For an extra fee, you can sign up for personal training regularly. With their help, you can be more efficient at building muscle, losing fat, or whatever else you have in mind. 
Pool & Spa
The one thing you won't typically find at Amped Fitness is a pool.
No hot tub at Amped Fitness, either — sorry!
Other Amenities
But that's not all!
Some Amped Fitness locations offer tanning beds, HydroMassage, and childcare for kids between 1 and 12.
(Childcare is included in the VIP package, making it an excellent value for parents!)
Most locations of Amped are also open 24 hours, which is fantastic for night owls or anyone with an odd schedule.
You'll want to make sure you call ahead or schedule a free guest pass to see what all's offered to ensure it's the best fit possible for your needs.
---
What Are Real Members Saying (Reviews, Pros & Cons)
So much of what makes Amped Fitness so special are the people who work there. Many people who sign up choose to do personal training or the classes, so naturally, you want to be certain the people leading these activities are first-class.
For the St. Petersbrrg location on Yelp, one person wrote:
Love the gym and the trainers are awesome! The staff is friendly and encouraging.
Those sentiments were echoed elsewhere, with one user writing:
The trainers and workers are friendly- they greet you when you come in and when you leave.
The staff is only part of the equation.
The other thing people seem to love is the price point. Considering you can sign up for as little as $10/month, there's really no beating it. One user commented: 
Reasonably priced for a 24 hour gym with plenty of machines and equipment. I've never had any issues getting to use whatever I wanted no matter the time of day.
Naturally, not every review is rosy. Some people have had negative experiences at Amped, but those are few and far between.
Common complaints at most gyms like Amped usually involve a bad interaction with a single staff member or trouble canceling a membership.
Most people are happy to spend $10 per month to do the basics at this gym. When you're spending that little, it easily becomes the best deal around.
---
Wrapping Up
If you're lucky enough to live or work near an Amped Fitness, it's certainly worth your time to stop in for a free guest workout.
The gym chain offers some truly outstanding amenities at such a low price point. $10/month is as cheap as it comes, with really only Planet Fitness rivaling it. 
And if you decide to opt for the $25/month plan, you get some awesome perks. With HydroMassage or tanning, you can unwind after an intense workout. And it's one of the best deals for childcare around!
Here are some other gym reviews to check out:
Hope this helps!