If you are living in New York and are on the lookout for an affordable gym that still offers you top quality amenities and service, New York Sports Club is well worth checking out.
There are around a dozen New York Sports Clubs spread across the state, and even a few in Boston, Philadelphia, and Washington, D.C.!
Even though the club owners filed for bankruptcy in 2020, they have recently joined up with New York Athletic Club and the gyms are open for business.
But Is New York Sports Club worth it? Here's a full review.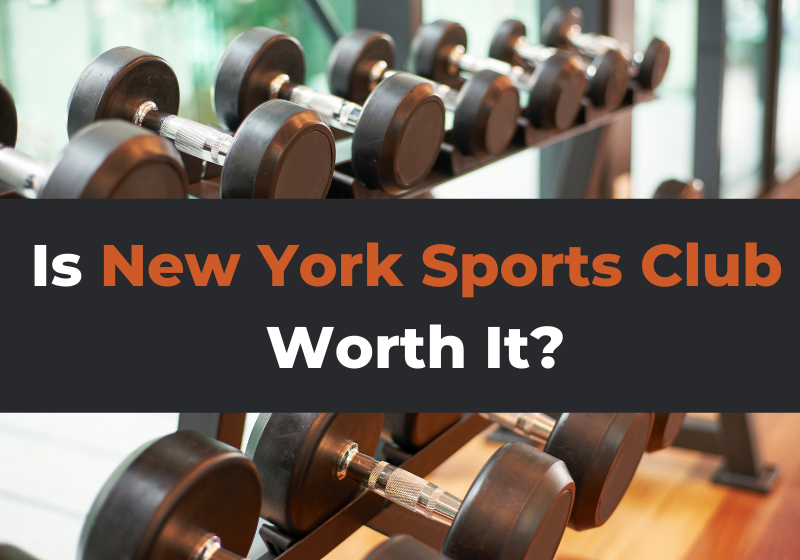 New York Sports Club gets high marks from members for an affordable price tag, a good selection of equipment, and indoor pool access at most locations.
However, members complain regularly about dirty facilities and broken machines. Plus, NYSC can get pricey if you need access to more than one club.
Let's take a closer look at the amenities and pros and cons of joining New York Sports Club.
---
How Much Does New York Sports Club Cost?
There are several membership options available to you when you sign up at New York Sports Club.
You can decide between joining just one home club (called the Neighborhood membership), or paying to access all New York Sports Clubs locations (called the Passport and Elite memberships).
No matter how you join, you'll likely have to pay:
an initiation fee of around $20
and an annual fee of $59.99
Expect to pay around $24.99 per month for Neighborhood or single club access at most locations.
Passport and Elite memberships (both get you access to all NYSC locations, but come with different perks), start at around $69.99 per month to $79.99 per month.
(Passport memberships may not include access to certain, exclusive Elite clubs — which actually led to a recent lawsuit!)
These are just estimates and can change depending on when you look or join, and which location you want to enroll at.
Call your closest club for the most up to date deals, and don't forget to negotiate.
---
New York Sports Club Equipment, Features & Amenities
So what do you get with your membership at NYSC? How does it stack up to other mid-range gyms?
Let's take a look.
Equipment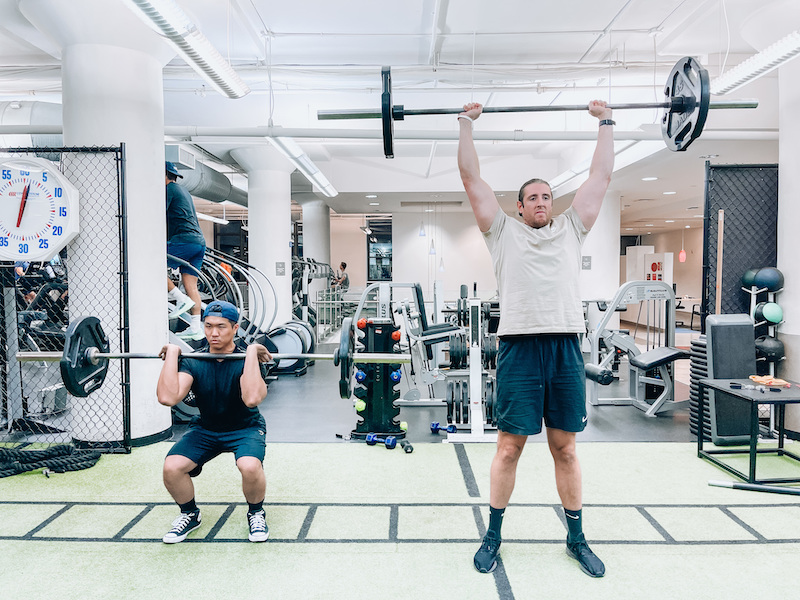 New York Sports Club is an excellent option, almost no matter what type of workout you like to do.
You'll find plenty of cardio equipment here, as you will at any big box gym.
Most clubs also have a terrific weightlifting area, with full dumbbell racks, power racks and barbells and Olympic Weights, deadlifting platforms, and resistance machines.
A few of the higher-end clubs will even have functional training areas with plyometrics equipment, battle ropes, etc.
Group Fitness Classes
Group classes at NYSC are included with your membership.
A basic membership allows you to reserve a spot 1 day in advance, while the high-end Elite membership lets you book up to a week ahead of time.
You'll find a ton of great classes on the schedule like:
Conditioning
Abs
Mat pilates
Reformer pilates
Yoga
Cycling or spin
Dance cardio
And more!
Pool/Sauna
Many (but not all) New York Sports Club locations have indoor pools set up for low-impacting lap swimming workouts.
A few select clubs in the greater New York area even have outdoor pools, making them a great summer option for the whole family.
Some selection locations have saunas, steam rooms, therapy pools, and more.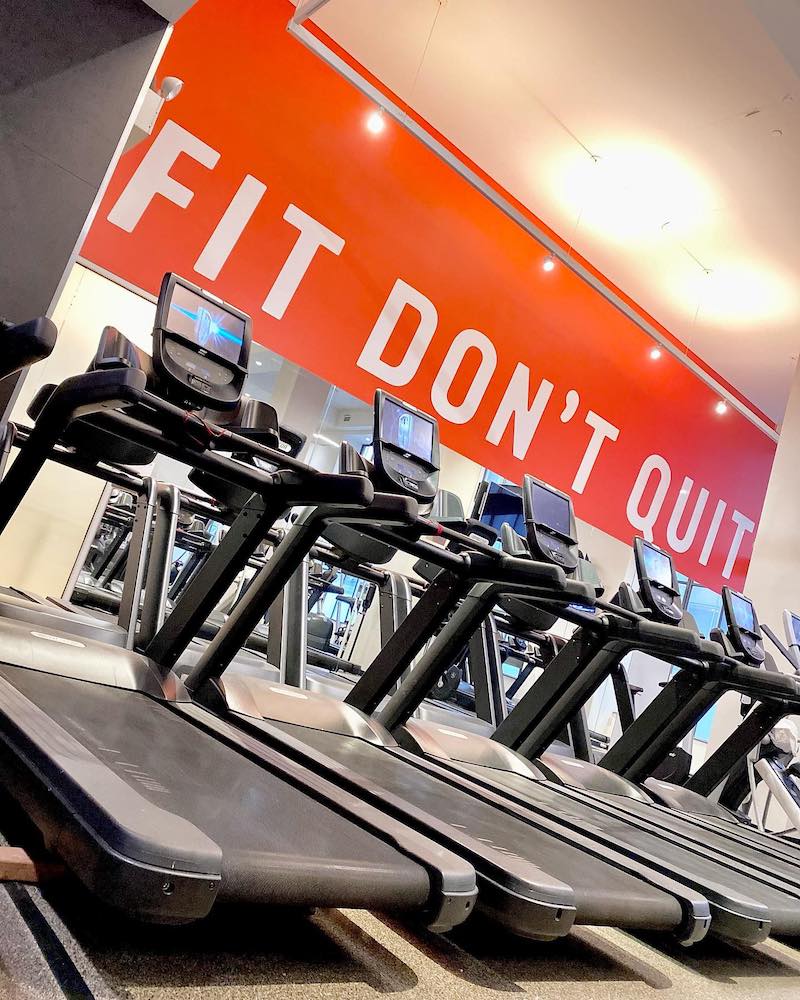 Child Care
New York Sports Club offers what's called a babysitting service at its clubs.
Parents who are members can sign up for a "babysitting membership" — unlimited child care for a monthly price — or pay for one single day of babysitting at a time, as needed.
Children 3 months to 10 years will be supervised in the playroom by AED/CPR certified staff while you work out.
It's a total gamechanger for parents!
(See more about the best gyms with childcare here.)
Other Amenities
It should come as no surprise based on the name, but New York Sports Clubs are big on… sports!
Most locations have awesome sports amenities like:
Basketball courts
Racquetball courts
Squash
Volleyball
Tennis
And more
You can even get lessons, clinics, or participate in leagues for many of these sports.
NYSC also offers great amenities like:
Personal training
Juice bars (some locations)
Overnight lockers (some locations)
Indoor tracks (some locations)
And more!
---
What Real People Are Saying (Reviews, Pros & Cons)
There are a lot of reviews for New York Sports Club online, with decidedly mixed results.
Here are a few common themes.
Pros
Affordable
Pools for lap swimming
Knowledgable trainers
Reviewers at most locations are fond of NYSC because it's affordable.
For a basic membership, you can pay as little as $15-20 per month at some locations. Even at $24.99 per month, NYSC is a little bit cheaper than most mid-range gyms that feature similar amenities.
Members love having access to the indoor pool, where available. It's a great low impact workout option, and some of the clubs even have steam rooms and saunas. Perfect for relaxing after a tough workout.
Finally, the trainers are New York Sports Club generally seem to get positive reviews. They're known to be friendly and knowledgeable, if you're willing to pay extra for personal training.
Cons
Cleanliness
Broken equipment
Cancellations and fees
Over and over, reviewers have slammed New York Sports Clubs for poor maintenance.
The facilities are often derided as being dirty, and equipment is known to be regularly broken. Management reviews some pretty rough reviews in regards to ignoring requests to fix or replace broken equipment.
If you join here, be prepared to alter your workout when certain machines are out of order.
A lot of customers have taken to Google, Yelp, and others to complain about cancellations. It's apparently very difficult to cancel your membership and if you try, you can get dinged with lots of hidden fees. So buyer beware!
It's worth mentioning here that no, New York Sports Club did not go out of business. It did, however, recently reach a settlement over complaints regarding unfair pricing policies, specifically around the COVID-19 pandemic, and has issued refunds to many customers.
---
Alternatives to New York Sports Club
Here are a few other gyms in the NY area you might want to consider before you sign a contract.
BQE Fitness
If you are in the Woodside area of New York, BQE Fitness is definitely worth checking out.
It features the largest fitness center in Woodside, featuring an indoor court, classes, turf section, spin studio, boxing studio, training, health cafe and more!
Planet Fitness
Planet Fitness is among the cheapest monthly gym memberships you will find anywhere.
If you just want a cheap place to work out, you'll pay even less at PF than you will at New York Sports Clubs. And Planet Fitness, for all its faults, is known to be clean and well-maintained. Most of the time, at least.
Just don't join Planet Fitness if you like to lift heavy weights.
Gold's Gym
Gold's Gym is well represented throughout New York.
The mecca of bodybuilding has become a lot more mainstream since it started back in the early 70s bit still provides a solid training environment for hardcore lifters.
They also boast pools, spas, Kid's Club, Cardio Cinema and group exercise classes.
---
Wrapping Up
There's a lot to like about New York Sports Clubs.
For a pretty fair monthly price, you get access to tons of equipment, indoor pools, and excellent group classes.
However, not all of the clubs score high when it comes to maintenance. Dirty facilities and broken machines are a common occurrence here.
And if you want access to more than one club, that affordable membership suddenly becomes not-so-affordable.
Before you go, don't miss:
Hope this helps!