Life Time is a chain of luxurious athletic clubs across the US.
These athletic clubs are packed full of incredible amenities and types of training for all the family.
The features are nearly unrivaled at this gym. It's truly a high-end place where you can expect to find a wide-ranging of amenities that appeal to you.
But if you prefer getting your exercise through sports rather than traditional workouts, you might be wondering:
Does Life Time have a basketball court?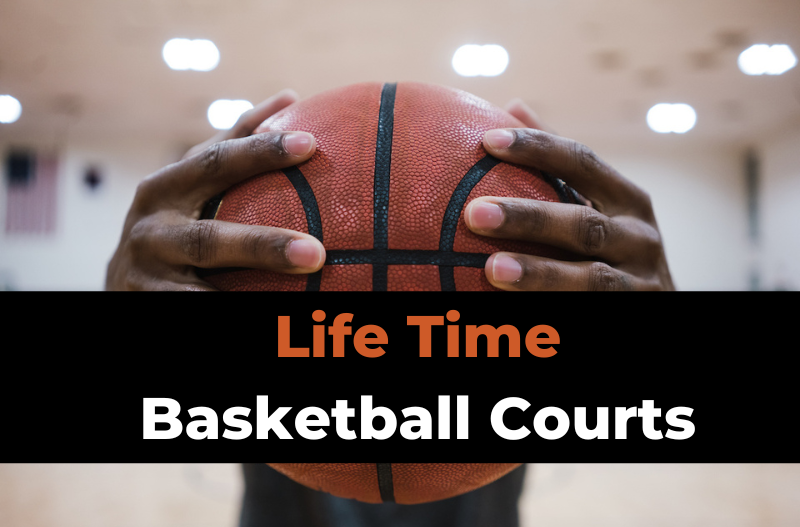 Not only does Life Time have a basketball court at nearly every location, members can also often take advantage of basketball training (for kids and adults), leagues, tournaments, and friendly pick-up games.
Let's take a closer look at the basketball amenities at Life Time.
---
Does Life Time Have a Basketball Court?
Given its high-end nature, it's no surprise that most (if not all) Life Time locations have basketball courts.
This chain takes its customers seriously and wants to provide the same amenities across all locations.
The courts are available to all ages and skill levels.
---
Does Life Time Offer Basketball Leagues, Lessons, Etc?
Life Time has scheduled pickup play games throughout the week for several age brackets.
These include age 12 and under, 17 and under, 18+ and 40+.
The court is open outside of the pickup schedule and any other events that are going on. You can practice your shooting and dribbling alone, play some 5-on-5, 2-on-2, or even play a full game!
But if you're looking for something a little more serious, Life Time's got you covered.
Please note not everything discussed below is available at every club, but they're all present in over 45 locations across the country.
If you join the Ultimate Hoops program, which is affiliated with Life Time Fitness, then this is what you'll have available to you:
Basketball Training
Kids are welcome to participate in monthly camps with experienced trainers, and there are also regular classes they can attend. These classes include private 1:1 coaching and progressive-level training.
But it's not just the kids that can benefit from training. Adults can also sign up for camps every quarter, and non-members are welcome to join them, too.
If that doesn't appeal to you, then consider of the 8-week courses with one class per week.
The classes have a 10:1 ratio with the trainer and are available for the following age brackets:
If you don't like that class size, then semi-private training is available with a class ratio of 5:1. Of course, you can also choose to have fully private training if you wish.
Basketball Leagues
If you're interested in leagues, then you're welcome to join in at Life Time. They offer the largest recreational league in the country. They're open for everyone over 18.
People of all skill levels can take part, and you'll feel like a pro in no time. You'll play in 8 regular-season games and be provided with career stats and a player profile.
You can join alone or show up with a team of your friends if you like. It's a lot of fun, especially if you like media coverage and feeling like you're truly a pro and there to win.
Basketball Tournaments
Are you more interested in national tournaments?
That's fine, too. There are several tournaments around the nation that take part over various weekends throughout the year.
There are also fun little 3-on-3 and 5-on-5 tournaments for kids that are a ton of fun.
(Wondering about the showers or pools at Life Time? Click to read more.)
---
Photos & Descriptions of Life Time Basketball Courts
Life Time takes pride in providing you with professional-like indoor basketball courts.
All the courts are official-sized, meaning they measure 91.86 by 49.21 feet. However, unlike typical basketball courts, there are four hoops for you to play with.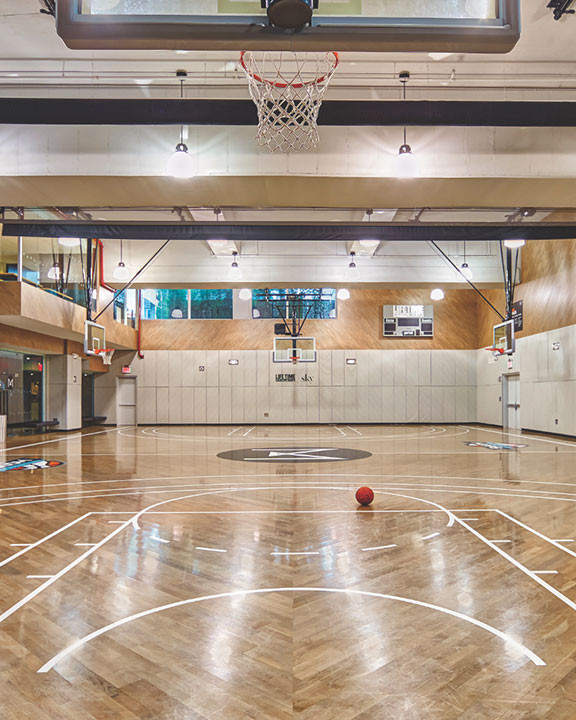 The courts at regular Life Time gems are visually light and welcoming. They lack posters and other decorations on the walls.
The walls are a mixture of white and wooden. It's a very minimalistic look with a lot of natural light leaking in through the high windows.
Some of them have a warmer tone, with orange and white walls rather than light wood and white. Others have grey instead of orange or wood.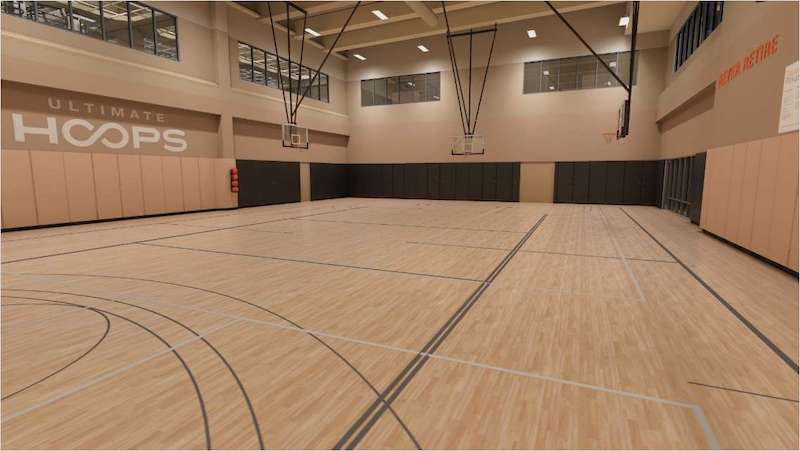 Regardless of how it looks, the minimalistic feel is the same. It creates an environment where you can focus on your training, and it feels very welcoming due to the light and airy atmosphere.
There are a couple of benches along the sides for you to take breaks and watch the games as they go on.
Courts at locations affiliated with Ultimate Hoops have similar courts. They're the same size as the regular courts and have four hoops, but the floors are marked with the Ultimate Hoops logo.
There are also more posters on the walls of players, creating a slightly more competitive atmosphere versus the minimalistic one you'll find on the regular courts.
---
Wrapping Up
If you're a serious basketball fanatic, then Life Time gyms affiliated with Ultimate Hoops are exactly what you need to have a truly fun time playing in leagues and tournaments.
Even if you've never played before, their training programs will take you from nothing to the top of your game with their weekly classes, quarterly camps, and group or private sessions.
Even if your local Life Time doesn't have the Ultimate Hoops program available, you can still play plenty of pickup games or hit the open court for some fun.
Call your local Life Time athletic leisure club and see exactly what's available to you on the court. You're guaranteed to have fun on whatever court they have available.
For more, don't miss:
Hope this helps!