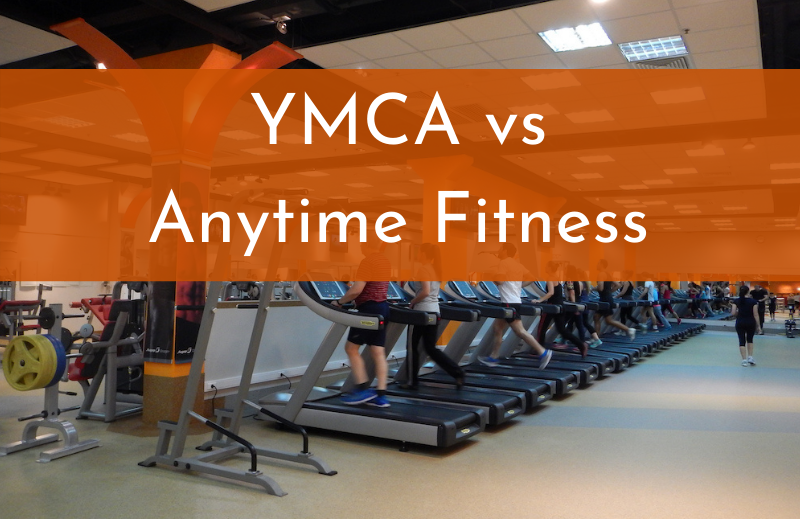 Working out at home is great.
It's free, convenient, and completely safe.
But if you're able to join and regularly get to the gym, it can be a big boost to your motivation to workout.
The question is… which gym should you join?
Below, we'll break down two options that you probably have near your home or office: YMCA vs Anytime Fitness.
Overall, the difference between YMCA and Anytime Fitness is simple. YMCA is a better fit for couples and families — it's got childcare, youth camps, pools, and more. Anytime Fitness is more affordable for individuals and a better overall "pure gym."
Let's take a closer look.
---
What is the YMCA?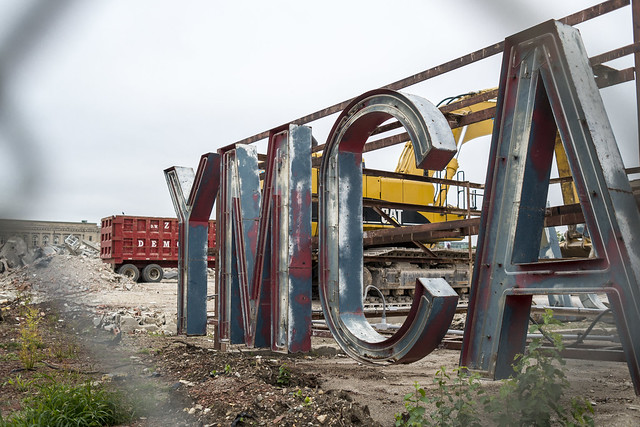 The Y isn't so much a gym as it is a community center, but it's still a great place to join up for regular workouts.
It's actually a nonprofit organization that serves a critical role in most communities.
If you join the Y, expect to get access to a surprisingly nice gym, a pool (sometimes), sporting courts, rec leagues, and more.
You'll also find classes and services for older adults, kids, and a lot more.
---
What is Anytime Fitness?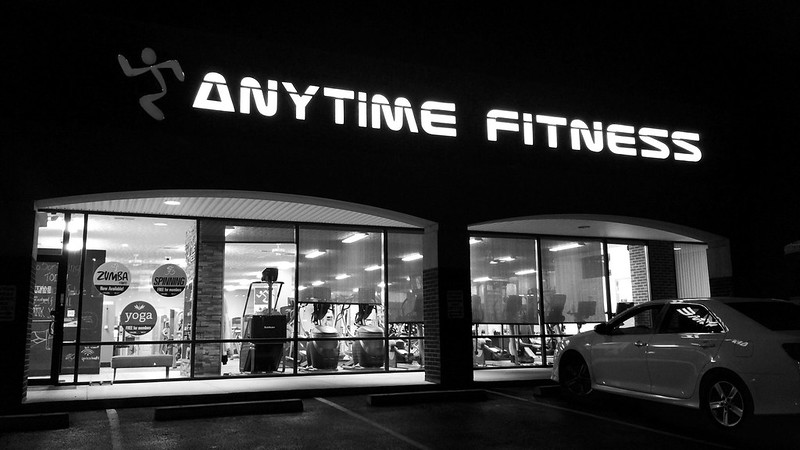 Anytime Fitness, on the other hand, is "just a gym."
That's not a bad thing!
Anytime, with over 3,000 locations in the U.S., is affordable and hyper convenient.
If you're just interested in cardio, strength training, or the occasional group class — you could do a lot worse than Anytime (which is not to be confused with Workout Anytime. Read more about the difference here.)
These clubs are almost always open 24/7 and they blow the equipment and amenities at budget gyms like Planet Fitness out of the water.
---
Cost
Your budget should be a huge factor in which gym you join.
The average cost of a gym membership is somewhere around $40-50 per month plus annual and joining fees — but some gyms go as low as $10 per month and others as high as $200 or more!
You don't want to get caught not being able to afford your gym membership anymore after signing a contract, so let's break down the costs of these two clubs.
YMCA cost:
Pricing at the YMCA is pretty simple.
Most likely, you'll pay around $50 per month for a single adult membership, plus an initiation fee (it could be around $60 depending on the location).
As an individual, that's definitely on the pricier end for a gym membership.
But if you're looking to join up with a spouse, or the whole family, the Y becomes a far better value.
Two parents and an unlimited number of minors can join the Y for around $75. That's a way better deal!
Another thing to like about the Y is that you can sometimes negotiate a discounted membership based on your income, or get one via a referral from another member.
Anytime Fitness cost:
Anytime also features really competitive and straightforward pricing.
Most members at Anytime Fitness pay about $40 per month in addition to sign up or initiation fees and an annual fee (these vary by location).
Save some money by paying for the whole year up front or joining up with a spouse or gym buddy.
Every location is different so call your local club for the latest prices, and don't forget to negotiate your gym membership!
---
Hours
Next up, we need to consider your gym's open hours and when you'll be going.
Pretty much every gym in the world opens up early in the morning and stays open until the mid to late evening.
But if you need something more (night owl, night shift, or just an unpredictable schedule) it helps to consider when you can access the gym:
YMCA hours:
The YMCA has shorter hours than a lot of pure big box gyms.
It's a family joint after all, and a nonprofit.
It's not likely you'll find a 24-hour Y. They usually open around 530am and close late in the evening on weekends, around 10pm or so.
On the weekends, the YMCA will usually close around 6 or 7pm.
Anytime Fitness hours:
Anytime Fitness, as you can guess by the name, is a 24 hour gym.
There may be exceptions but expect your local club to be open all night. Typically you'll receive a key card or fob to access the building during non-staffed overnight hours.
For more on this, check out the busiest hours and peak times at the gym.
---
Equipment
What types of workouts will you be doing at the gym?
Don't assume all gyms have the same equipment. Sure, you can always find a treadmill or or stationary bike — but if you like to lift or do functional strength training, not every gym will have what you need.
YMCA equipment:
Take a tour of your local Y and I think it'll surprise you — it's not just a gym for seniors!
You'll almost always find pretty heavy dumbbells, squat and power racks, barbell setups, and plenty of treadmills and other cardio equipment.
The Y also usually brings plenty of sports and recreation equipment to the table, with racquetball courts, basketball courts, and sometimes even batting cages.
Anytime Fitness equipment:
Anytime Fitness doesn't usually have a huge campus, but the facilities are well-stocked.
Anytime has all the usual stuff (cardio, free weights, barbells) but also boast fun extras like battle ropes, resistance bands, kettlebells, plyometric boxes, and more.
Anytime Fitness is also a great place to lift weights. You'll find heavy dumbbells, barbells, power racks, and more.
(You'd be surprised how many budget and mid-range gyms skimp on this.)
---
Classes
A lot of people overlook the group fitness classes at their gym.
If it's a part of your membership, you should definitely take advantage. You'll get a great workout and keep yourself accountable, all while enjoying lots of different types of fitness.
YMCA classes:
Group fitness classes are available at most YMCAs, however some locations with more space and better facilities have better class schedules than others.
You'll usually find:
Spin/cycling
Yoga
Strength
Interval training
Water aerobics
Core
Zumba
And more
At the Y, these are typically all included in your membership.
Anytime Fitness classes:
Anytime has a great selection of group classes for members to choose from.
Most clubs offer a mix of classes like:
Spin
Cardio
Boot camp
Pilates
Yoga
Zumba
And more
Beware that at some Anytime Fitness locations, these classes are NOT included with your membership. You may need to upgrade your membership to a higher level or pay extra for group classes.
This varies by location so check with your local club to see what's included and what extra costs might be incurred.
---
Pool/Spa Area
Anytime Fitness manages to keep their prices and space needs down by not offering certain amenities, a pool being one of them.
You will not typically find any pool, spa, or saunas amenities at Anytime Fitness.
The YMCA, on the other hand, is usually well-equipped.
Not every Y location has aquatic facilities, but many have large pools, hot tubs, steam rooms, saunas, and more. They're perfect for lap swimming, aquatic fitness, and even recreational swim.
(For more on this, check out the best gyms with pools.)
---
Showers & Locker Room
Most gyms have showers, but some actually don't!
Luckily, both the YMCA and Anytime Fitness have well-kept locker rooms and clean, private showers.
Perfect for the commuter crowd.
---
Childcare
For many parents, being able to bring their kid to the gym with them is an absolute necessity.
Check out my full list of gyms with childcare for more on this and how different big box gym chains compare.
YMCA childcare:
The YMCA has fabulous childcare, as you might expect for such a family-friendly gym.
They'll accept babies are young as 6 weeks old so new parents can get back to working out ASAP.
This is included in your family membership, so it's a big reason to think about upgrading and including the spouse and little ones in your package.
Anytime Fitness childcare:
No childcare services to be found at Anytime Fitness.
It's one of the amenities they cut to keep the membership affordable and facilities small.
---
The Verdict
The YMCA and Anytime Fitness are both really solid gyms.
But they're better fits for different people.
You might prefer the YMCA if:
You want to join with the whole family
Childcare at the gym is a must
You want to take advantage of pools and aquatic facilities
You might prefer Anytime Fitness if:
You're flying solo at the gym
You need late night, 24/7 access
You want to keep your gym budget down
Now before you go, read some other crucial gym guides like:
Hope this helps!