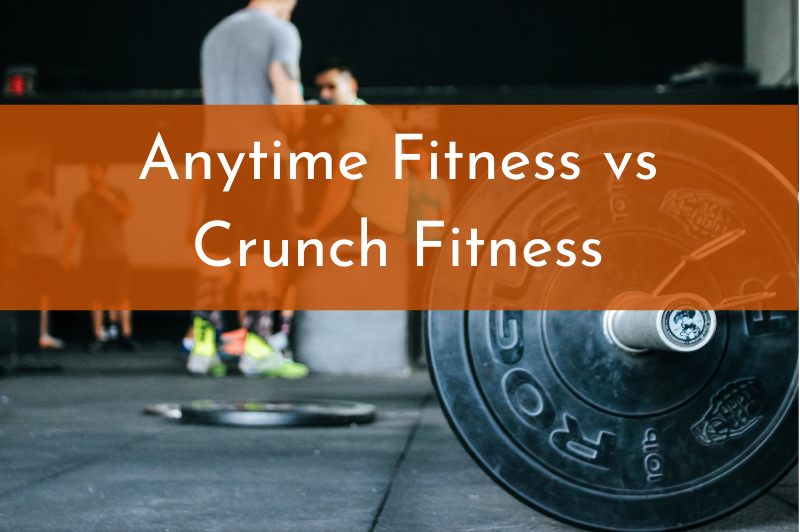 There's no reason to pay $50, $75, or more per month just to go to the gym.
While elite clubs like Equinox and Life Time have a ton of appeal, you can get a terrific value at plenty of budget and mid-range gyms.
If you're here, it's because you're looking to choose between two such gym chains: Crunch and Anytime Fitness.
The main difference between Anytime Fitness vs Crunch comes down to cost. Crunch actually compares really favorably to the more expensive Anytime and comes in at somewhere around half the price…
… however, Anytime Fitness has better hours and usually has larger facilities so you're more likely to find the equipment you need there.
Let's take a closer look at this comparison.
---
What is Anytime Fitness?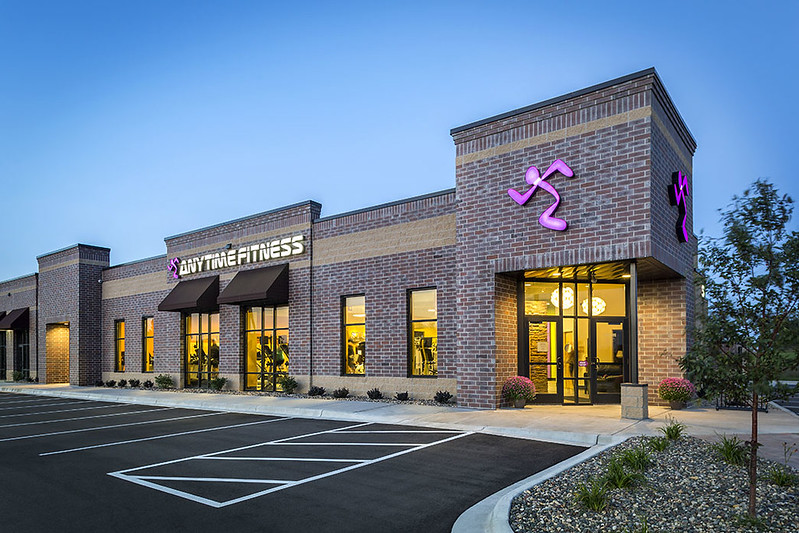 If you live in the United States, chances are high that you have an Anytime Fitness near you.
There are over 3,000 locations in the U.S. alone making Anytime one of the most popular fitness chains in the country, and even the world!
Anytime is what I'd call a "mid-range" gym, meaning it costs in the ballpark of the average gym membership cost and has a really good selection of equipment.
When it comes to amenities, however, Anytime is pretty lacking outside of 24/7 access.
However, if you're just looking for an affordable place to workout any time of day or night, Anytime is a big step up from most cheaper gyms (like Planet Fitness).
---
What is Crunch Fitness?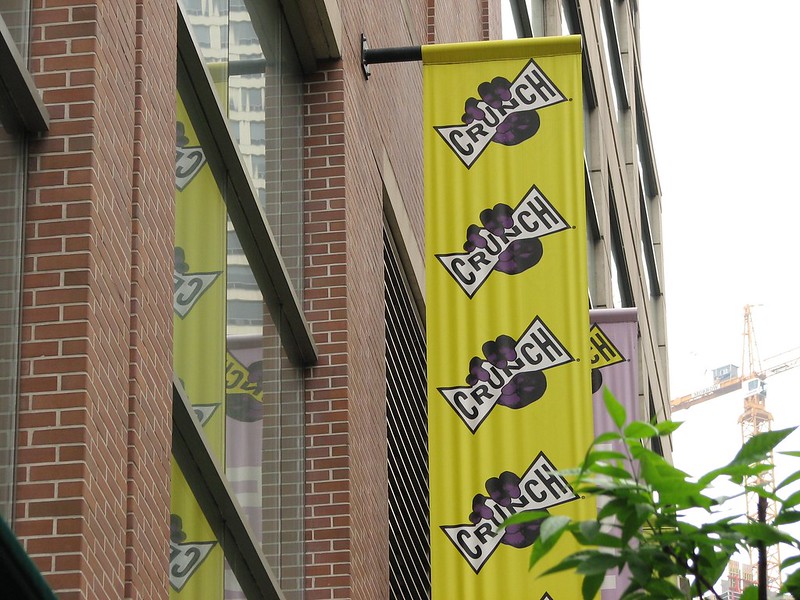 Speaking of budget gyms, Crunch falls into that category (depending on which membership you buy).
It's primary goal is to bring an affordable workout experience to as many people as possible.
Crunch isn't as common or popular as Anytime, with just around 300 clubs in the U.S., but that doesn't matter much if you have a Crunch near your home or office.
Primarily a competitor of Planet Fitness (see Crunch vs Planet Fitness compared here), Crunch is a great place to workout without breaking the budget — but you might be surprised at some of the amenities you can affordably grab here.
---
Cost
Joining a gym can be a big commitment.
Often (but not always) you'll need to sign a contract and agree to pay for 6 months, 12 months, or more.
Consider all the costs of joining a gym carefully before you sign up, so you don't end up not being able to afford it later on when it's too late to cancel.
Anytime Fitness cost:
Anytime Fitness keeps their membership options relatively straightforward.
(Some gyms have so many add-ons and membership tiers it's almost impossible to figure out.)
You should expect to pay about $40 per month to join Anytime Fitness, plus sign up or initiation fees and an annual fee.
You can save some money on your Anytime membership by:
Paying for a full year up front
Or joining with your spouse or partner
Crunch Fitness cost:
Crunch is sometimes known as a $10 per month gym, and it can be!
But the pricing is a little more complicated than that.
The most basic membership starts at just $10 per month for access to a single club WITHOUT access to the group classes.
If you want to bounce around to different Crunch clubs and take group fitness classes whenever you'd like, you'll pay more like $21.95 per month.
Throw in tanning, HydroMassage, and advanced classes and you'll pay $24.95 per month.
These are just estimates, I encourage you to check your local club for the most accurate pricing and, as always, negotiate!
One thing is clear: Crunch is cheaper than Anytime Fitness. But is it a better value?
---
Hours
Next up, you'll want to really think about when you plan to workout.
Most gyms have pretty standard hours, opening in the early morning and staying open late into the evening. Weekend hours are usually a little shorter.
If you need something outside of the ordinary, now's the time to decide.
Anytime Fitness hours:
The name "Anytime" wouldn't make a whole lot of sense if this gym wasn't open 24/7…
… but it is!
That makes Anytime a great choice for nightshift workers, night owls, or anyone with a wacky schedule.
Crunch Fitness hours:
Most Crunch locations run standard gym hours.
Each location is a little bit different, but you'll usually see Crunch open around 5am during the week and close around 10 or 11pm.
Weekend hours are shorter, often from around 7am to 7pm.
---
Equipment
What kinds of workouts do you like to do at the gym?
Every club has treadmills and stationary bikes, but if you like to do strength or functional training, you'll need to choose your gym carefully.
Anytime Fitness equipment:
Anytime Fitness may not be as large as heavyweights like Life Time or Equinox, but still boasts an impressive selection of equipment.
Anytime has all the usual stuff:
cardio (treadmills, bikes, rowing machines)
free weights
barbells
dumbbells
power racks
resistance machines
Some clubs even offer a functional training area with battle ropes, resistance bands, kettlebells, plyometric boxes, and more.
Anytime is a great place for strength training, which can't be said of many cheaper gyms that don't have power racks or heavy dumbbells.
Crunch Fitness equipment:
The equipment selection at Crunch is pretty impressive — far better than you might expect for the price.
You'll find all the usual cardio equipment, resistance machines, and a surprising arsenal of free weights and weightlifting equipment.
(At most locations, you'll even find power racks and squat racks.)
By no means is Crunch a powerlifting gym, but you should be able to do almost any kind of exercise you could want here.
Crunch locations are usually a little smaller than Anytime Fitness clubs and might not have the quantity of equipment, but select-wise the two compare nicely.
---
Classes
Group classes are a hugely underused aspect of many people's gym memberships.
They're great for learning and trying new workouts, meeting friends, and staying motivated.
But not every gym is a good pick for workout classes.
Anytime Fitness classes:
Anytime has a great selection of group classes for members to choose from.
Most clubs offer a mix of classes like:
Spin
Cardio
Boot camp
Pilates
Yoga
Zumba
And more
Just a quick warning: You might have to pay extra for these classes at certain locations. They're not always included with your membership.
This varies by location so check with your local club to see what's included and what extra costs might be incurred.
Crunch Fitness classes:
Most Crunch Fitness gyms will have a full and impressive class selection including:
HIIT
Calisthenics
Bootcamps
Pilates
Kickboxing
Yoga
And more
Remember, though, the basic $10 membership doesn't include access to the group classes.
You'll have to pay for the $21.95/month membership level for that.
For more on this, check out which gyms have the best classes.
---
Pool/Spa
Swimming laps in a pool is one of the best cardio workouts you can get.
And soaking in the hot tub after a workout ain't bad either!
Let's take a look at the aquatic facilities at these two gyms:
Anytime Fitness pool:
No pool or aquatic facilities to be found at Anytime Fitness, unfortunately.
Crunch Fitness pool:
A vast majority of Crunch locations do not have pools, hot tubs, or saunas.
There are a few, and they're called Signature Clubs – check to see if you happen to live near one, but chances are you're out of luck.
For more on this, check out which gyms have pools.
---
Showers
You might find it hard to believe, but there are actually some gyms that don't have showers.
It sounds crazy, but it's a good way to save space, keep the space more hygienic, and keep membership costs down.
Fortunately, both Crunch and Anytime Fitness have full locker rooms with private showers.
---
Childcare
For many parents, having childcare at the gym is a complete must-have.
When kids are too young for school and there are no babysitters around, it can be extremely hard to stay in shape without a little extra help.
Anytime Fitness childcare:
Unfortunately, Anytime does not offer childcare services at any of its locations.
Crunch Fitness childcare:
You might find it surprising for a $10/month gym to offer childcare, but Crunch actually does!
Of course, you do pay to pay extra for it on top of that membership fee.
As of this writing, it should cost you about $4 per child per day — you can also get a child membership for about $30 per month for your kid to come with you every time you exercise at Crunch.
For more on this, check out which gyms have the best childcare.
---
The Verdict
Don't assume that just because Anytime Fitness costs more money that it's necessarily the better gym.
Overall, I think these two chains stack up fairly evenly!
Of course, each is a better fit for a different kind of gym-goer.
You might prefer Anytime Fitness if:
24/7 gym access is a must
You prefer a more spacious gym with more equipment
You might prefer Crunch Fitness if:
You want inexpensive access to group classes
You live near a signature club with a pool
Childcare at the gym is a must
Before you go, don't miss some of these must-read gym guides like how to conquer your first day at the gym, the parts, areas and layout of the gym, and different types of gym amenities explained.
Hope this helps!