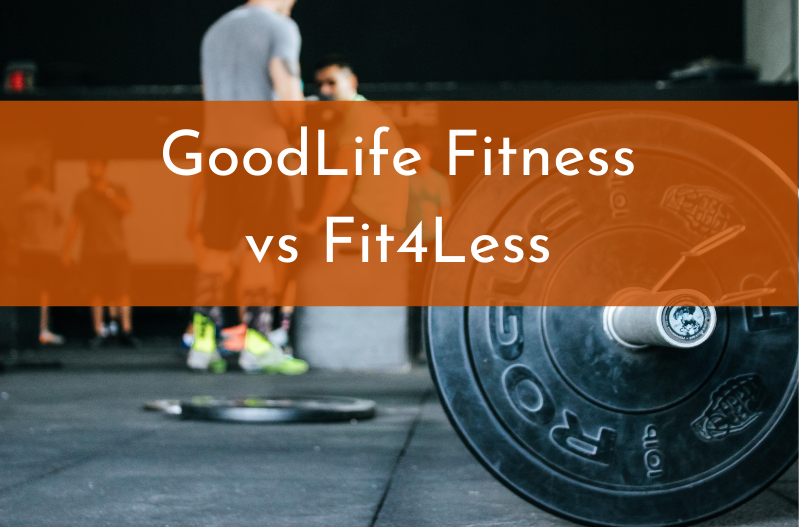 Fit4Less and GoodLife Fitness are two of the most popular gym chains in Canada.
They are both well established and offer plenty of equipment and other amenities.
So if you live in Canada and need a great place to workout, you're in good hands!
Still, even though these clubs are very different, it's worth considering both of them to figure out which one is the better value for you.
So what is the difference between GoodLife vs Fit4Less?
The difference between Fit4Less and GoodLife comes down to what you're willing to pay. GoodLife is the superior gym in most ways — however, it's a lot more expensive! ($50 per month compared to $12)
If you're looking primarily for a cheap place to access cardio equipment and a few other basic perks, Fit4Less might be the better choice for you.
In other words…
---
Key Differences Between GoodLife and Fit4Less
Fit4Less is much cheaper, at less than half the monthly price
GoodLife Fitness has more facilities, more options, and more centers across Canada
GoodLife includes squash and sports courts
GoodLife provides an excellent range of classes, while Fit4Less is very limited in what they offer
Let's take an even closer look.
---
What is Fit4Less?
Fit4Less is a ten year old budget gym that has grown rapidly over the decade.
It now has around 90 gyms all over Canada with memberships starting as low as $5.99 every two weeks.
Just like the American chain Planet Fitness, which also has centers in Canada, Fit4Less markets itself as a no judgment place to work out.
That means it primarily caters to beginners and casual gym-goers.
---
What is GoodLife Fitness?
GoodLife Fitness is one of the most popular fitness center chains in Canada.
It's a little more expensive than most big box gyms in Canada. For that money, however, you get top notch facilities.
Memberships start at around the $50-60 mark, which is about average or just above — but GoodLife compares favorably to even gyms that cost twice as much.
If you can afford the monthly membership, you'll have trouble finding a better gym.
---
Cost
Don't sign any gym contracts until you can figure out what your budget can realistically afford — and before you've accounted for all of the annual fees at each gym.
Initiation fees and annual fees vary wildly by location and time of year, so check your local club for the most recent numbers.
Fit4Less Cost
Fit4Less provides their members with two options.
The best value is the 4Less card, for which you will pay $12 per month.
At that rate you'll get access to just your home club, along with a complimentary 30 minute express circuit, virtual fitness, and virtual cycling.
The step up option will cost you about double the basic membership. For that price, you'll get access to every location in the country, as well as:
the ability to share your membership with family and friends
free unlimited hydromassage bed use
free unlimited massage chair use
free tanning
free t-shirt
half price cooler drinks.
GoodLife Fitness
A basic membership at GoodLife Fitness will cost you around $50 per month, depending on the location.
On top of that there is a $50 (or so) sign up fee. Basic membership provides you with access to just your home location.
For around $64 you can get a premium membership. Now you will have access to every GoodLife Fitness center in Canada. You'll also get family and friend access and full access to group fitness classes.
For $110 per month, you can purchase what is called the Performance membership.
This provides even more perks, including access to squash and sports courts, free membership holds, and performance programming.
It's clear that Fit4Less is the more economical option, but GoodLife offers a lot more perks and amenities for the money.
---
Hours
Convenience is a huge factor when picking the right gym, so check the hours of your local club carefully.
Most Fit4Less gyms are 24/7 operations.
However, some of them will close for a few hours every night.
For example, the Fit4Less in Oshawa, Ontario is open from 7am-10pm weekdays and 11am-4pm on weekends.
There are more than 200 GoodLife Fitness centers spread across Canada. Many of these are 24 hour facilities.
However, there are some that do close for a few hours overnight.
If you're planning to frequent a GoodLife Fitness center during the late hours when you're away from home, it would pay to check the hours ahead of your visit.
---
Equipment
What kind of workout will you be doing at the gym?
You can find treadmills anywhere, but if you like to do strength or functional training, pay close attention to the gym facilities before you join.
Fit4Less Equipment
Fit4Less provides their members with a full complement of cardio and resistance training gear.
The cardio area has rows of treadmills, cycles, and ellipticals.
Resistance machines allow for circuit training while a free weights area provides for those after a more heavy duty workout.
Unlike Planet Fitness and Workout Anytime, you actually get heavy weights, squat racks, power racks and benches, along with dumbbell racks that go up to 100 pounds.
You'll also find massage chairs and massage beds in every gym to help with your post workout recovery. They also offer tanning beds and a juice bar.
GoodLife Fitness Equipment
GoodLife Fitness gyms are large and spacious.
The amount of equipment that they pack into their facilities is impressive. For members, that means that there is less time waiting around and more time working out.
In addition to the extensive range of cardio equipment, you also find:
Free weights
Resistance machines
Dumbbells up to 100 pounds
Weight benches
Specialty bars
The majority of centers include a functional training area which is fitted with such gear as battle ropes, plyo boxes and weight sleds.
For a budget gym, Fit4Less has an impressive array of equipment. However, GoodLife will have more variety and more quantity in almost every case.
---
Classes
Group classes at the gym are highly underutilized!
They're an amazing way to try new workouts and make some friends.
Fit4Less Classes
Fit4Less has a few group and class options for members, but not a lot of selection.
Fit4less offers virtual cycling, a few other virtual classes, and 30 minute express circuit. These are available to all members.
GoodLife Fitness Classes
If you are a group fitness class lover, you will find more of what you're into at GoodLife Fitness.
You don't get access to group classes on a basic membership so you'll have to get the upgraded membership to participate or pay extra for the classes.
The extensive range of group classes includes:
Yoga
Zumba
BodyPump
Les Mills
Cardio
Spin
Each location offers its own group class lineup, so you will want to check locally to see what's on offer.
(See more gyms that have group classes.)
---
Pool/Spa
Fit4Less does not offer pool or spa facilities.
In contrast, GoodLife Fitness centers provide you with large, well maintained pools that will allow you to swim laps, take aqua fitness classes, or just relax after your workout.
They also offer super relaxing hot tubs.
Talking about relaxing, every center also features massage chairs to help sooth, knead, and massage your muscles both pre and post workout — Fit4Less actually has some of these, too!
(See more gyms with pools here.)
---
Showers
We're happy to report that both of these gyms provide clean, spacious, and well-maintained locker rooms complete with showers.
If you need to rinse off immediately after your workout — for work or just for comfort — you're in luck.
---
Childcare
Fit4Less does not provide any childcare facilities.
GoodLife Fitness have run a very popular Jump! Child Care minding service for many years. Recently, however, some centers have stopped this service.
Check with your local gym to see if Jump! is still operating there. The service looks after kids from 6 weeks to 12 year while their parent is exercising.
(See more of the best gyms with childcare here.)
---
The Verdict
The choice between Fit4Less and GoodLife Fitness really comes down to what you want to get out of your gym.
If you're after a well equipped gym that's going to provide all the gear you need for an effective workout at a cut rate price, then Fit4Less is the gym for you.
However, if you are looking for more of an experience than simply an in and out workout – or if you are a big fan of group fitness classes – then you are better off joining up at GoodLife Fitness.
You'll pay considerably more money but you'll also get a lot more in terms of floor space, equipment and cool extras such as pools, hot tubs, squash, and sports courts.
You might prefer Fit4Less if:
You want to pay as little as possible for the gym
You want to steer clear of too many lifters, bodybuilders, and advanced athletes
You might prefer GoodLife Fitness if:
You're willing to pay more for better amenities and nicer facilities
You love group classes
Access to a pool and/or childcare is a must
And before you go, don't miss this guide to negotiating the best deal on your gym membership.
Hope this helps!