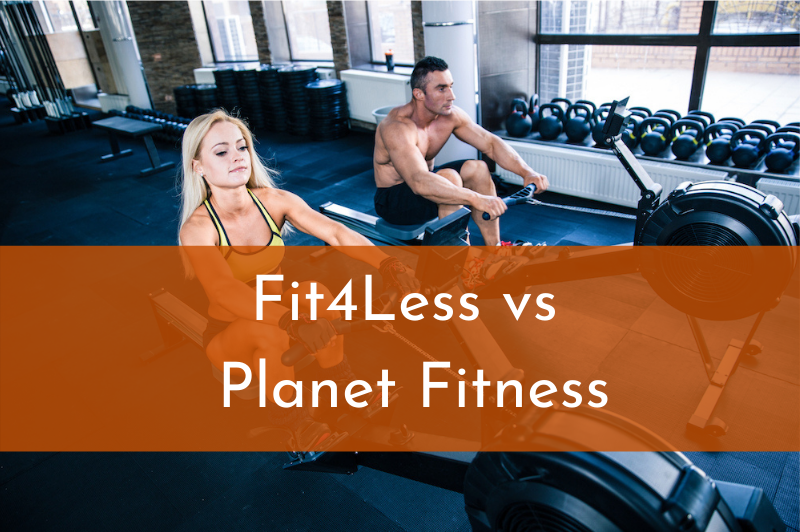 Fitness doesn't have to cost a fortune.
Sure, a lot of big name gyms will cost $50 or more per month, plus annual fees.
But if all you're looking for is a clean and simple place to workout, you can get that at a fraction of the cost.
Two of the most popular budget gym options in Canada are Planet Fitness and Fit4Less.
The difference between Fit4Less vs Planet Fitness is that Fit4Less has a few more amenities and a better selection of strength training equipment, though it can be a tad more expensive.
For the cheapest possible gym option around, you won't be able to beat Planet Fitness's basic $10 per month membership.
---
Key Differences Between Fit4Less & Planet Fitness
Planet Fitness is slightly cheaper on most plans
Fit4Less is Canadian and more prevalent in most areas of Canada
Fit4Less has more strength training equipment
---
What is Fit4Less?
Fit4Less is a Canadian budget gym that has around 90 centers dotted throughout the country.
The first Fit4Less was opened in 2011, making the brand just 10 years old.
Taking a leaf from Planet Fitness, Fit4Less markets themselves as a no judgment gym. It's a great place for beginners or anyone with a more casual attitude about fitness.
---
What is Planet Fitness?
Planet Fitness has been on the scene since 1992.
Back then it became the first truly budget gym chain, severely undercutting all of its main competitors.
It now has more than a thousand locations across the United States and in Canada, though only a few dozen of those are in Canada.
Planet Fitness offers a large, clean and well equipped fitness center. However, they are far more focused on cardio and light resistance exercise than serious weight training or functional training.
(Check out a full review and breakdown of Planet Fitness here.)
---
Cost
The biggest factor in your decision about which gym to join will be what your budget will allow.
Both of these gyms are less expensive than the average club, but pay close attention to the pricing and fees at your local gym.
Fit4Less Cost
Fit4Less offers two membership options.
The cheapest is the 4Less card membership which will cost you $5.99 every two weeks, or about $12 per month.
For that you get access to one location, a free 30 minute express circuit, virtual fitness, and virtual cycling.
Black Card membership will cost you $11.99 every 2 weeks, or about $24 per month.
This will give you access to all locations, the ability to share your membership with family and friends, free unlimited hydromassage bed use, free unlimited massage chair use, free tanning, free tanning, free t-shirt, and half price cooler drinks.
Both memberships do not have a commitment period. An annual $44 cleanliness fee applies in both cases, but these fees can vary so check your local club.
Planet Fitness Cost
Planet Fitness is a budget gym chain that provides basic membership at a cost of just $10 per month.
Importantly, you do not have to sign on to a length of membership to take advantage of that low rate. The $10 per month membership does not provide access to more than one location, however.
When you upgrade your membership to the Black Card (yes, both gyms have a Black Card!), you get these extra services:
Access to every Planet Fitness in the country
Unlimited guest passes
Access to tanning beds
Hydromassage
Massage Chairs
Half price drinks
Discounted Reebok products
On top of the monthly fees, you have to pay an annual fee of around $39 and, at most facilities, a sign-up fee of around $29.
---
Hours
Work the night shift or keep odd hours?
Either of these gyms should be a good fit for you.
Most Fit4Less gyms are 24/7 operations, making them super convenient for shift workers.
As with most 24 hour gyms, the facility is not staffed during the twilight hours.
However, some Fit4Less locations are not open 24 hours. For example, the Fit4Less in Oshawa, Ontario is open from 7am-10pm weekdays and 11am-4pm on weekends.
Most Planet Fitness locations are open 24 hours per day and 7 days per week, as well.
However, there are some that are not.
Check your local location of each gym to find out for sure when they're open before you join up.
---
Equipment
Figure out what kind of workouts you like to do at the gym (and it's OK if you don't know yet!) and use that to evaluate different clubs.
You'll find treadmills and StairMasters pretty much everywhere, but for strength or functional training equipment you'll need to make sure a gym has what you're looking for before you commit.
Fit4Less Equipment
Fit4Less provides a full range of cardio and resistance training equipment.
In addition to the usual treadmills, bikes, rowing machines and stair steppers that fill the cardio area there is also a full complement of strength training equipment in the free weights gym area.
This includes:
squat racks
barbells
bench press benches
dumbbells
And Olympic bars.
Kettlebells, battle ropes, weight sleds and other resistance gear can also be found.
In addition to their exercise equipment, Fit4Less also provides their members with a handful of hydro massage chairs that they can relax in pre or post workout as well as massage beds in the Relaxation Station.
There are also tanning rooms that contain tanning beds for the use of Black Card members.
Fit4Less gyms also have a juice bar where you can order your favorite protein shake.
Planet Fitness Equipment
Planet Fitness provides their members with a generous array of cardio fitness equipment.
This includes banks of treadmills, ellipticals, stationary bikes, and stair steppers.
When it comes to free weights, however, it is a different story entirely.
There are no barbells, squat racks, or bench press benches at Planet Fitness.
Your resistance exercise needs are catered for with individual exercise machines only. There are a few dumbbells but these only go up to 50 pounds.
In fact, lifting heavy at all is frowned upon at Planet Fitness — serious lifters should stay away.
---
Classes
Fit4less offers virtual cycling, a few other virtual classes, and 30 minute express circuit. These are available to all members.
However, you won't find a high-quality spin or yoga studio in most Fit4Less gyms.
Planet Fitness does not offer group fitness classes at all beyond a basic intro class for new members and the occasional resistance machine circuit.
(Want to take group classes at the gym? See a list of the best gyms with classes here.)
---
Pool/Spa
Swimming is a great low-impact workout, and a nice soak in a hot tub can do wonders for your post workout recovery.
Unfortunately, Fit4Less does not offer pool or spa facilities.
Planet Fitness also does not have any pool facilities, spas, saunas, steam rooms or hot tubs.
(See a list of which gyms have pools and hot tubs here.)
---
Showers
Both Fit4Less and Planet Fitness have clean locker rooms with private showers — at least at the majority of locations and there are a few exceptions.
(Yes, there are some gym chains that don't offer showers at all to keep space and germs to a minimum.)
Luckily for the commuter crowd, you'll be happy at either of these chains.
---
Childcare
Neither Fit4Less nor Planet Fitness provide any childcare facilities.
Yes, these gyms are inexpensive, but no childcare is a major problem for stay at home parents looking to get some exercise.
See which gyms do have childcare here.
---
The Verdict
Both Fit4Less and Planet Fitness market themselves as budget fitness centers.
They are both well priced but Planet Fitness is a little cheaper for a basic membership.
Canadians, however, may prefer to support a home grown company rather than an American import.
In addition, people who are wanting a serious resistance training workout will find that Fit4Less better caters to their needs.
You might prefer Planet Fitness if:
You want to stay away from lifters and bodybuilders
Every penny of your budget counts & you want the best deal possible
You might prefer Fit4Less if:
You want to take free virtual classes from home
You need some strength equipment at your gym
Before you go, check out some more helpful gym guides like: The different types of gyms, which gym amenities to look for, and what to do your first day at the gym.
Hope this helps!