Was there anything more exhilarating when you were a kid than bouncing on a trampoline?
Your days were surely filled with laughter as you jumped with your friends from morning till night.
Not only did you have a blast, but you unknowingly also did a lot of great stuff for your health.
Jumping on the trampoline (known in fitness circles as rebounding) is an excellent way to lose weight and stay in shape.
On top of that, it can help you increase muscle strength, enhance bone density, and improve core strength.
Fortunately, you don't need your own trampoline to reap all of those benefits. Numerous studios and indoor trampoline parks allow you to bounce to your heart's content.
So what are the best trampoline fitness classes or workouts to try?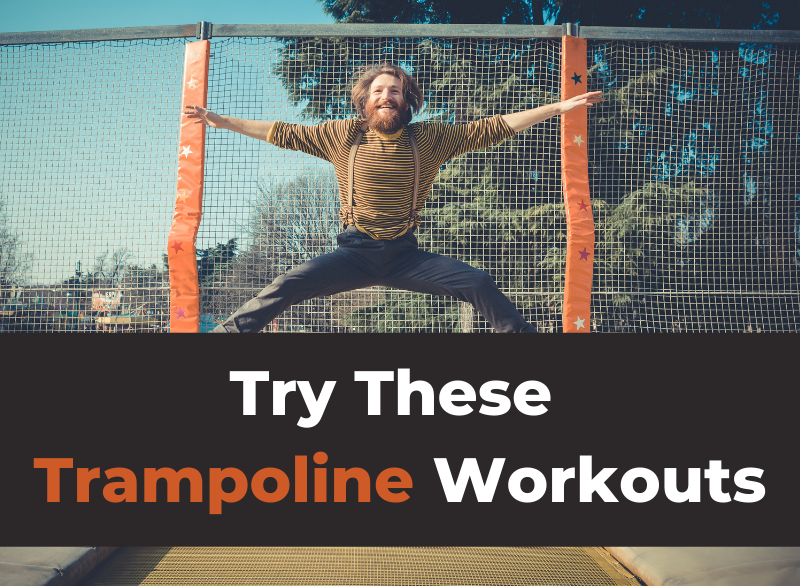 Here are some ways you can incorporate trampoline fitness into your routine:
Rebound at Carve It
Play dodgeball like never before at Sky Zone
Play basketball at Sky High Sports
Do an obstacle course at Get Air
Skydive indoors at Urban Air Adventure Park
Let's take a look at these options for rebounding and how you can use regular recreational trampoline parks for fitness!
---
1. Rebound at Carve It
The best way to gets started with trampoline-based fitness is to take a class at an actual rebounding studio.
Carve It is one such trampoline park chain. Its classes are designed to push your body to the limit, all while jumping with glee.
Most people will want to start with the Carve It Basics class.
This class allows you to perfect the standard moves on the mini, fitness-sized trampolines so you can move into more advanced classes with ease.
Depending on what part of your body you want to target, you can take classes to sculpt it to your liking. For example, as the name suggests, Carve It Booty focuses on your glutes.
Memberships start at just $17.95/month. The cheapest membership option gives you access to a large selection of classes, but there are some nice perks in the upper levels.
Learn more about Carve It's rebounding classes here.
Alternatives to Carve It
In addition to Carve It, which has studios nationwide, there are many smaller local rebounding studios around the country.
There's a popular one near me called JumpFit, for example!
You can search online for a trampoline studio near you and give them a call to see what kind of classes they offer.
They're all similar and offer a surprisingly brutal, low-impact workouts. If you want to learn about some of the results you might see from going to rebounding studios, read more here!
If you want to get the benefits of rebounding without taking a structured class, you can also try one of the unique trampoline experiences below.
---
2. Play dodgeball like never before at Sky Zone
Sky Zone is one of the most popular trampoline parks in the nation.
Not only are there hundreds of square feet of trampolines where you can jump to your heart's content, there are plenty of other attractions and special events to look into as well.
One of the most exciting is the dodgeball competition.
Your favorite childhood gym class activity can now be your favorite weekend excursion as you bounce as high as possible to avoid an oncoming collision.
With Ultimate Dodgeball at Sky Zone, you're put in an enclosed space with various trampolines on the floor and walls.
You must rush to the center to grab a ball and hurl it at your opponents. Whichever team has the last player in the game wins.
Win or lose, you'll get an incredible workout that builds strength and stability in your legs, torches calories, and flushes your lymphatic system.
There are various pricing tiers at Sky Zone, depending on whether you want a single ticket or a membership. 90 minutes of fun tends to cost $20.
Memberships vary by location but start around $25. If you go often enough, your membership will pay for itself over time.
You'll find plenty of positive reviews for Sky Zone online, including this one from Theo M. in Los Angeles, CA from Yelp:
The giant trampoline arena was a sight to behold. The whole room was made of separate trampolines and we spent an hour bouncing around, playing dodgeball with the team. It felt like I was in a futuristic contest.
Get started with Sky Zone here.
---
3. Play basketball at Sky High Sports
At Sky High Sports, it's always party time, even for adults.
Whether you're celebrating a special event or just want to let loose with some friends, you can get a fun workout in with any of Sky High Sports' activities.
While dodgeball is also offered here, you may want to test your basketball skills on the trampoline instead.
Sky High Hoops allows you to feel like your favorite NBA player as you get all the air you can handle while dunking on a regulation net.
Sky High Sports' pricing varies. By and large, a one-hour session will cost you $16.
However, if you want to get a whole group together, you can purchase a family pass, which gives you access to 10 60-minute sessions for just $125.
Emilia M. of Chicago, IL from Yelp had this to say of Sky High Sports:
A bunch of 24 year olds had a blast at this place on a Sunday night. Thumbs up for sure. Will be back!
Check out all of Sky High Sports' trampoline activities here.
---
4. Do an obstacle course at Get Air
Get Air lives up to its name by allowing you to get higher than you've ever gotten before.
Trampolines are spread out across the facility, and you'll come across some individual units at the Main Court as well.
You can even take a stroll down a trampoline lane to give yourself some serious air as you launch into a foam pit.
You'll have so much fun, you'll completely forget you're burning calories and boosting your cardio!
Weekly events allow you to save some money. For instance, every Monday is family day, so you get 20% off a session. Wednesdays offer special discounts for students.
For a whole party, you can even purchase pizza and soda to ensure everyone has a good time. Just take it from Amber B. of San Diego, CA from Yelp:
The business is very clean. There are many different areas that test your strength and coordination no matter your age. Great place to have great fun!
Learn more about Get Air here.
---
5. Skydive indoors at Urban Air Adventure Park
Urban Air is a lot like the other trampoline parks on this list.
There's plenty of opportunities for you to bounce and work up an amazing sweat, but when you want a break, you can skydive indoors.
You're kept afloat by a gush of wind, allowing you to perform all kinds of midair acrobatics. It's a blast and a half, but you must follow all instructions given to you before going to ensure a safe drop.
You can take advantage of everything Urban Air has to offer with one monthly fee.
In addition to indoor skydiving, Urban Air has go-karts, bowling, and laser tag.
You don't have to be a kid to have fun here—adults can enjoy it just as much!
Check out Urban Air's indoor adventure park here.
---
Wrapping Up
Did you know that just 10 minutes of jumping on a trampoline burns the same number of calories as jogging for 30 minutes?
And the former's a lot more fun.
No matter your age, you can find a fun way to get active at any of the trampoline parks on this list.
You may even want to schedule your own birthday party (yes, even for adults) at one of these venues to celebrate your next trip around the sun!
Of course, you can always buy your own rebounder and get started with free workouts on YouTube! Expect to spend about $100 or so for a good model.
For more, check out:
Hope this helped!