Dancing is one of the most popular forms of cardiovascular exercise — and for good reason!
Unlike jogging on a treadmill or using an elliptical, dancing gets you up and moving. You're forced to contort your body into different angles, moving to the beat of each different song.
Every dance class can be different.
Plus, you'll learn some moves you can use in your everyday life. From weddings to parties, there's never a bad time to bust a move. 
That's not even getting into all of the health benefits associated with dancing, which include but are not limited to:
Enhanced muscle strength and tone
Increased aerobic fitness
Improved endurance
Lessened risk of osteoporosis and other ailments
Better spatial awareness and balance
But what are the best dance fitness classes to try and where can you take them?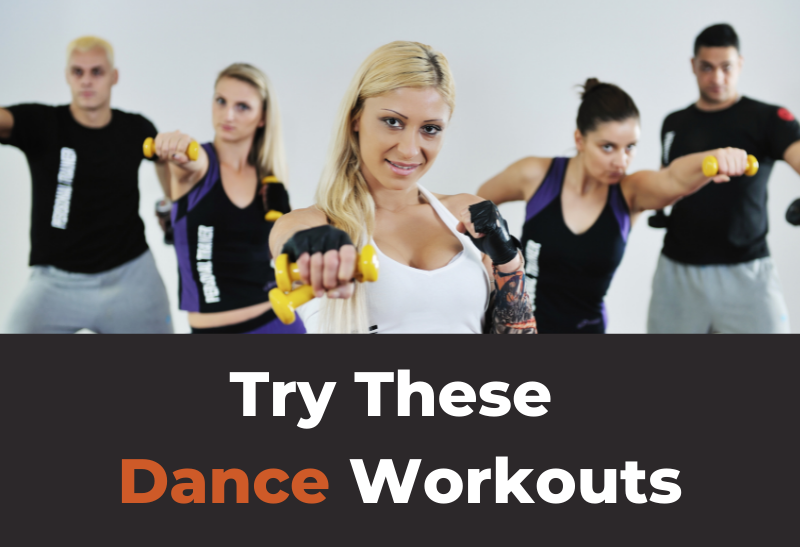 The best group dance fitness classes you can find almost anywhere are:
Take Zumba at Gold's Gym
Take Jazzercise at YMCA
Take Buti Yoga at Crunch Fitness
Take Hip Hop Dancing at Equinox
Take Bollywood at 24 Hour Fitness
Bear in mind that these classes are by no means your only options. For dance, you can typically find smaller studios near you that specialize in a specific style of dance workout.
However, if you're just beginning your research, this list is a good starting point.
Here's everything you need to know about the best dance fitness classes at some of the most widely-recognized gyms.
---
1. Take Zumba at Gold's Gym
If you're a fan of fast, intense beats, you'll enjoy Zumba classes.
These sessions consist of exhilarating, Latin-infused music that gets you out of your seat.
They alternate between fast and slow rhythms, giving you a similar stimulus as an HIIT workout.
Zumba has already swept the nation, and you can find classes at many gyms, including Gold's.
Classes are included as part of your membership, so you'll want to get your money's worth by signing up for them regularly. 
(Read more about whether a Gold's Gym membership is worth it.)
You'll have access to Zumba classes with a basic membership plan, which will set you back between $40 and $50 monthly depending on where you live.
But fans are willing to go out of their way to work up a sweat this way.
One Gold's Gym member had this to say about the chain's Hollywood Zumba classes:
Zumba is wonderful, and unfortunately only once a week! Michelle is a great instructor; class is never too crowded, the choreography is not too hard but gives you a good workout, and it's a lot of fun.
Sign up for Gold's Gym Zumba classes here.
---
2. Take Jazzercise at YMCA
The exact classes offered at YMCA vary by location.
You'll want to contact the one nearest you to find out what it offers, but I've found several locations where you can take Jazzercise.
These sessions provide full-body workouts that combine elements of dancing, HIIT, and aerobic exercises.
Jazzercise is popular among people of all ages, particularly older individuals who may not be able to get funky like they used to.
Jazzercise takes things nice and slow. It's a great way to get back into a workout regimen after suffering an injury or when you haven't had the chance to exercise extensively in a long time.
YMCA prices vary significantly. Depending on your age, memberships can go for anywhere between $20 to $80 a month.
If there's something specific you want to do at your local YMCA, make sure to call ahead of time to ensure it's offered.
(Read my full YMCA gym review here.)
This is also a good time to inquire about other amenities like pools and basketball courts!
Learn more about YMCA dance classes here.
---
3. Take Buti Yoga at Crunch Fitness
You can find yoga at almost any gym.
But you may have to do some digging to locate studios offering Buti yoga.
This variation combines tribal dances and primal movements for a one-of-a-kind workout.
Most classes begin with light stretches to warm you up. From there, you move into more intense rhythms that will have you on your feet and sweating with everyone else. 
Classes at Crunch Fitness cost extra, though.
While a base plan goes for about $10/month, it doesn't give you access to classes. For that, you need to upgrade to the Peak Plan, which costs about twice as much.
Still, as long as you attend classes regularly, you'll find that you get your money's worth.
(Find out more about whether Crunch Fitness is worth it.)
If you're trying to decide if Buti is right for you, POPSUGAR did a deep dive into the practice a few years back.
The 11-minute instructional video shows you precisely what you can expect out of a Crunch Buti yoga class!
Check out more Crunch Fitness classes here.
---
4. Take Hip Hop Dancing at Equinox
Equinox is one of the most expensive gyms you'll find.
While it may set you back close to $100, it's worth it when you consider all of the amenities you have access to. 
In addition to a state-of-the-art locker system and pool, the membership also allows you to utilize the vast array of classes, including dance.
This includes Zumba, Choreo Cult, and Body Language.
Keep an eye out for special classes that focus on a specific niche, including hip hop.
Not only is it entertaining, but it also improves balance and coordination. 
In 2018, one member uploaded a video of an Equinox hip hop class, and it looks like a ton of fun.
It's not offered all the time, so you'll want to make sure there are other things that interest you about this gym to justify the cost.
Learn more about Equinox dance classes here.
---
5. Take Bollywood at 24 Hour Fitness
Bollywood is the Indian Hollywood and is known for its intricate dance numbers.
Now, you can learn similar moves at your local 24 Hour Fitness.
The class you'll want to keep an eye out for is called BollyX.
This is a combination dance/fitness regimen that combines global music with dynamic choreography. You'll work out for 50 minutes as you alternate between low- and high-intensity moves. 
You'll burn hundreds of calories in a single class, but you'll barely realize it since you'll be having so much fun.
Just make sure you get a membership that allows you to take all the classes you want. 
In general, memberships cost $30 to $50 monthly. From what I've seen, BollyX isn't as prevalent as something like Zumba.
However, if you're patient, you should be able to find something that works for your schedule.
Check out the classes at 24 Hour Fitness here.
---
Wrapping Up
Dancing is a great way to get in shape.
You burn a ton of calories in a short time frame, and you have a blast doing it.
You won't feel the need to constantly check your watch, waiting for the session to end.
You'll also enjoy taking some time out of your day to blast some tunes that go along with your cardio workout.
Of course, the list above only scratches the surface.
While most gyms have dance classes, you'll find a larger array at local studios. Some only specialize in a specific type of dance while others have a bigger selection.
It all comes down to what you want to achieve. So why not try them all before you decide which one to stick with?
For more, don't miss:
Hope this helped!