If you're a citizen of the UK who's looking for an all-under-one-roof health and wellness hub — rather than just another big box gym — then you need to check out Nuffield Health's Gyms.
With Fitness and Wellbeing Centers across the UK, there's bound to be a facility near you.
But before you rush out to sign up, let's answer the big question on everyone's mind:
Is Nuffield Health gym worth it? Here's a full review.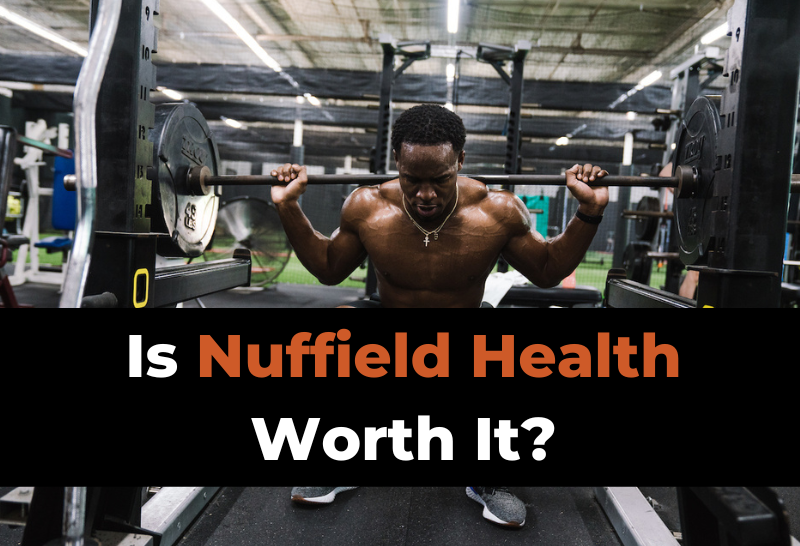 Nuffield Health offers top-notch gyms, with exceptional facilities, equipment, and elite amenities like pools, spas, and childcare. The only real downside to joining Nuffield is the price, marking it as one of the more expensive gym options in the UK. However, if it's a high-end health experience you're looking for, Nuffield Health gyms are definitely worth it!
Let's take a closer look at Nuffield Health prices, equipment, amenities, reviews, pros, and cons!
---
What Is Nuffield Health Gym?
Nuffield Health is the largest healthcare charity in the United Kingdom.
They operate 31 Nuffield Health Hospitals along with an impressive 114 Fitness and Wellness Centers. 
The objective of the charity is to:
… advance, promote and maintain health and healthcare of all descriptions and to prevent, relieve and cure sickness and ill health of any kind, all for the public benefit.

Nuffield Health
Nuffield Health believes that optimum well-being is achieved by balancing physical and mental fitness.
Many of their centers include a gymnasium, GP services, health assessment, physiotherapy, and personal training services under one roof. 
---
How much does Nuffield Health Gym cost?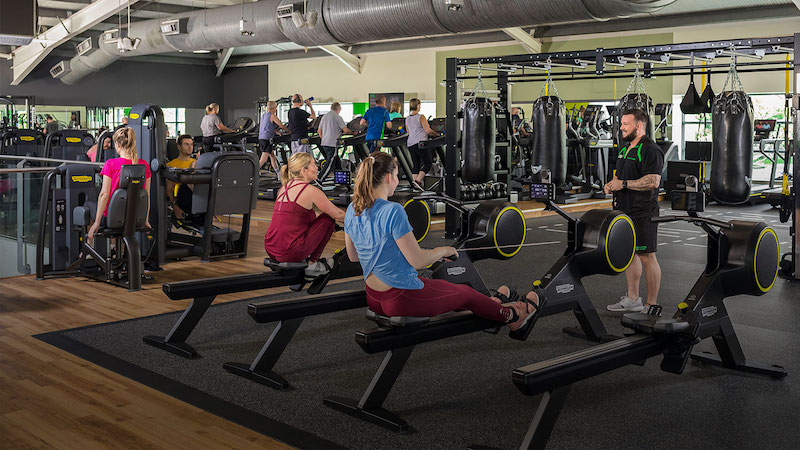 Nuffield offers a range of membership options.
A standard membership starts at around £80 per month depending on location. This provides full access to the club's workout and wellness facilities as well as all amenities.
The cost also includes access to all of the club's fitness classes.
You can also access all 114 clubs with your membership. However, Nuffield requires that you use your home club at least 50 percent of the time. 
Now, if that seems steep, you might have a couple of options to get a better rate:
Nuffield often offers a 20 percent discount for students on the production of a valid student ID.
Lower rates are also available for those who visit the club during off-peak hours. Off-peak hours may vary between locations. The off-peak rate usually starts around £60-70 per month.
A joint member discount provides savings when a couple joins together and pays through a single debit account. There are also corporate discounts available, discounts for NHS employees, and more.
In addition to all of these discount options, Nuffield Fitness and Wellness Centers also regularly run specials.
As of this writing (June 2022), you get the first two months free when you join a Nuffield gym. 
---
Nuffield Health Gym, Features & Amenities
Nuffield Health isn't the cheapest gym around.
So is it actually worth the money? Let's take a look at everything your membership gets you.
Equipment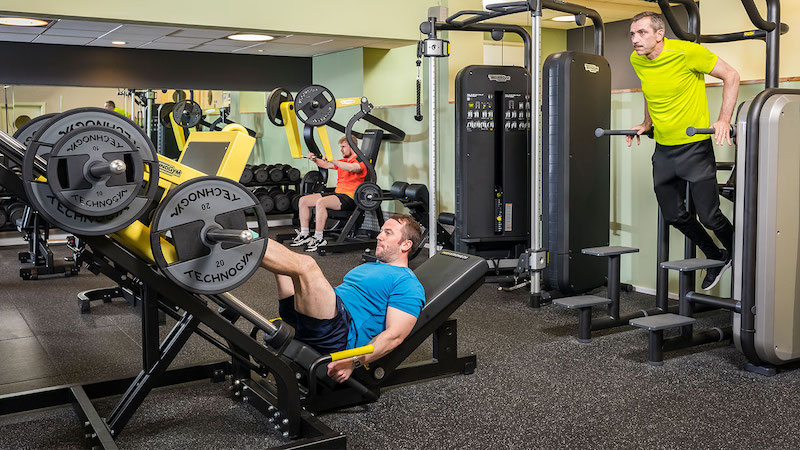 Nuffield Fitness and Wellness Centers are large and very well equipped.
You will find a full complement of:
strength training machines
barbells
free weights
dumbbells
and functional training gear at every location.
There is also an extensive cardio area that includes all of the usual suspects.
In addition to their premium workout facilities, Nuffield Fitness and Wellness Centers also provide a range of sports facilities, including squash courts. There are also member lounge areas.
The luxury changing rooms at Nuffield gyms are a step above what you will experience in most gyms. All of their facilities and areas are also very clean, with a multi-daily cleaning regimen being adhered to. 
Health Assessment
Your experience with Nuffield begins with a comprehensive health assessment.
This involves a lot more than you would get at your run-of-the-mill gym. The assessment includes a 12-point health screen that covers:
Height       
Weight
Body Mass Index
Waist to Hip Ratio
Blood Pressure
Aerobic fitness – VO2 max
Resting heart rate
Total Cholesterol 
Blood Glucose 
Hydration
Alcohol & Caffeinated drinks
Sleep
Evaluating these gives you a great head start on your fitness journey and helps you track progress that actually matters.
Group Fitness Classes
All 114 Nuffield Fitness and Wellness Centers provide a full timetable of fitness classes.
They cover all fitness goals including weight loss, endurance, and strength training.
Here's a sampling of some of the classes that are most popular:
Zumba
Body Attack
Body Balance
Body Combat
Body Pump
Clinical Pilates
Get Movement
Grit
Group Cycle
Kettlebells
Legs, Bums & Tums
Les Mills Barre
Les Mills Tone
NuCycle
Pilates
Small Group Training
SwimFit
TRX
Vipr
Yoga
Child Care / Child Minding
Nuffield Fitness and Wellness Centers provide an awesome child minding service. The prices and services differ from gym to gym.
Parents must have a valid membership and be on-site during the period that the child is in care.
All creche staff are fully qualified. Children between the ages of 6 weeks and 16 years of age can attend the creche. Activities for children include arts and crafts, messy play, team games, and soft play.
Children over the age of 8 can attend instructor-led fitness sessions on the gym floor.
Children and teens aged 12-13 can attend the gym with a parent or guardian if they have a gym membership. Children aged 14+ can attend the gym by themselves with a membership. 
Spas, Saunas & Pools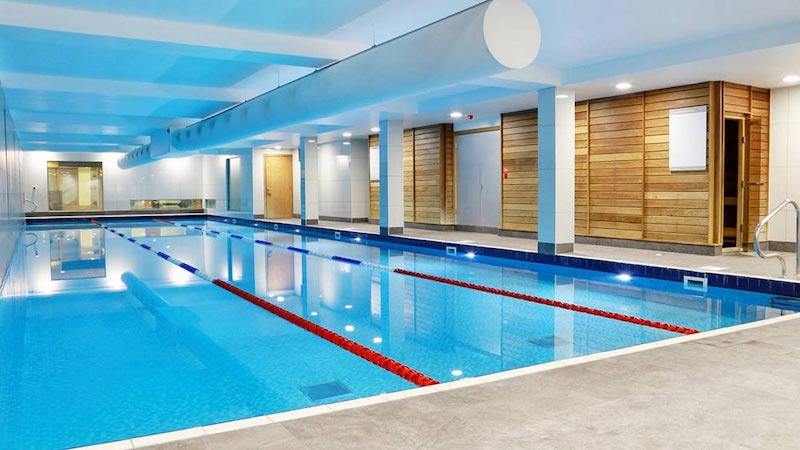 Nuffield Fitness Centers provide members with saunas and spa pools at nearly every location. These are of the highest quality and very well maintained.
Each facility also features a full-sized heated swimming pool. SwimFit fitness classes are offered on a daily basis. 
Nuffield is committed to helping people learn to swim. They offer an excellent learn to swim program at every gym. Instruction is based on the Swim England Learn to Swim format.
Classes are held for children at various ages as well as for adults. 
Swimming lessons are charged additionally to gym membership, with rates varying between facilities.
Personal Training
Personal Training is offered at every Nuffield Fitness and Wellness Center.
Training is available one-on-one, as well in small group settings. You can purchase personal training packages in different amounts depending on your budget and schedule.
When you and a partner take on personal training together, you can get a 25 percent discount. Perfect for couples looking to get in shape together.
All Nuffield Personal Trainers are qualified through the Chartered Institute of Management for Sports and Physical Activity (CIMSPA).
---
What Real People Are Saying (Nuffield Health gym reviews)
Online reviews for Nuffield Health gyms are mixed, which is pretty common for even the best commercial gyms.
It is of note, though, that all of the negative comments related to specific customer service experiences. With 114 gyms across the UK, it is impossible to be on top of every customer encounter. 
The positive reviews universally mentioned the great facilities, cleanliness of the gyms, and fantastic pool areas.
Here's a summary of pros and cons according to real Nuffield Health gym members.
Pros:
Lots of top-quality strength training equipment

A good range of cardio gear
Cleanliness
Spas and swimming pools
Cons:
A few negative customer interactions
Somewhat expensive compared to other gyms
---
Alternatives to Nuffield Health Gym
If you're just not quite sure if Nuffield is right for you, here are some of the best alternatives in the London area.
1Rebel
1Rebel is a very popular gym that is built around high-energy classes. The most popular offerings are Ride (spin cycle), Reshape (HIIT using the treadmill and benches), and Rumble (boxing).
1Rebel has gyms in Oxford Circus, Holborn, Angel, St Mary Ax, South Bank, Bayswater, Victoria, and Broadgate.
Performance Ground
Performance Ground is an excellent weight training gym. It provides premium gear and decor. As well as training they also offer nutrition programs to help you achieve your goals. They are known for offering the latest sports science to help clients reach their goals.
Pure Gym
Pure Gym has more than 60 centers around London. Most of them offer 24-hour access all year round. These gyms provide all the strength and cardio gear you need to get a great workout. You won't find pools, spas, or saunas but there are more than 50 classes weekly on offer.
Pure Gym memberships start at £14.99
---
Wrapping Up
Nuffield Health and Wellness gyms are really impressive.
The facilities are clean and spacious, with great equipment and generally friendly staff. The amenities, too, are unrivaled — pools, child care, sporting courts, group classes, and more.
However, Nuffield Health may be out of reach for some budgets. In that case, there are plenty of more affordable options all throughout the UK. But if you're open to a serious investment in your health and fitness, Nuffield is at least worth a visit.
Check out your nearest Nuffield Fitness and Wellness Center here, and for more, don't miss:
Hope this helps!