Planet Fitness and World Gym are two of the most recognized gym franchises in America.
Yet they appeal to different markets and advocate very different training ethos'.
Let's compare Planet Fitness vs World Gym to find out which one will provide the environment and atmosphere to suit your budget and training style.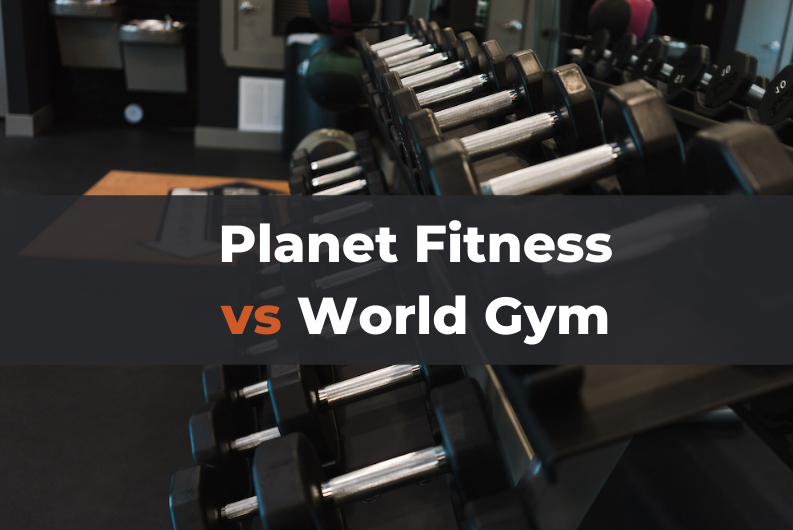 ---
Key Differences Between Planet Fitness and World Gym
Planet Fitness is slightly cheaper at $10 per month vs $20+
World Gym has a ton more strength equipment, including heavy dumbbells and power racks
Planet Fitness is more general fitness oriented, with plenty of cardio equipment and not much else
---
What is Planet Fitness?
Planet Fitness first appeared in 1992 as a more mainstream budget offering to the likes of Gold's and World Gym.
It established its point of difference as promoting an anti bodybuilder policy along with cut price memberships.
There are currently more than a thousand Planet Fitness locations throughout the United States and Canada. 
(Check out my full Planet Fitness review here.)
---
What is World Gym?
World Gym began life as a bodybuilding gym back in 1976.
It was started by Joe Gold after he had sold his first gym, Gold's, in 1970.
Through the 80s and 90s World Gym competed with Gold's as the prime bodybuilding venue in California.
As the fitness industry blossomed, Gold's became more general fitness oriented but World Gym retained its bodybuilding roots.
Today it caters to all sorts of clientele but still maintains those hardcore roots.
There are around 210 World Gym locations around the world. 
(Read my full World Gym review right here.)
---
Cost
Your monthly budget plays a big role in which gym you should ultimately join.
Let's break down the membership costs of these two and how they compare to the average cost of a gym membership.
Planet Fitness
Planet Fitness provides budget memberships from as low as $10 per month.
This gives you access to the gym floor and the showers and little else. However, a good thing is that you do not have to commit to a set contract. 
Upgraded memberships (the PF Black Card) provide you with the following extra benefits:
Access to every Planet Fitness in the country
Unlimited guest passes
Access to tanning beds
Hydromassage
Massage Chairs
Half price drinks
Discounted Reebok products
On top of the monthly fees, you have to pay an annual fee of $39 and, at most facilities, a sign-up fee of around $29.
World Gym
You have three membership options when you join up at World Gym.
The most basic of those requires that you pay a $20 initiation fee and then $20 every month.
However, at some locations (big cities and premiere level clubs) the pricing may be higher, up to $50-60 per month or so.
A cancellation fee of $75 applies to this membership.
The Premier Rate opens up all World Gym locations to you, along with fitness classes. It will cost you $34.95 per month. You will pay the same initiation and cancellation fees as with the basic rate.
The third rate is only available to seniors. They will pay $30 for the Premier membership and the initiation fee is waived.
---
Hours
When do you plan on going to the gym?
Most gyms keep pretty standard operating hours (and get busy around the same times), but if you need late night or 24/7 access, keep that in mind as you comparison shop.
Planet Fitness
The majority of Planet Fitness centers are open 24 hours, 7 days per week.
Some of them, however, will close for several hours overnight. You will need to check your individual location to see what hours they are open. 
World Gym
There is also no consistency across the board when it comes to the opening hours of World Gym.
Quite a few of them will be open all the time while others will close for a few hours for cleaning.
Except most clubs to be open from at least 5:30am to 10pm most weekdays, with slightly abbreviated hours on weekends.
---
Equipment
If you're just looking to hit the treadmill a few times per week, you can do that at any gym.
But for more specific training needs, pay close attention to the equipment your local clubs have to offer.
Planet Fitness
Planet Fitness offers its members a wide variety of cardiovascular equipment, including:
stair steppers
ellipticals
and treadmills.
You will also find a wide array of resistance exercise machines, ranging from multi stations to single exercise machines.
What you will not find in a Planet Fitness gym are Olympic benches, squat or power racks.
What free weights do exist are limited to light dumbbells up to 50 pounds. 
World Gym
In addition to plenty of cardio equipment, World Gym provides its members with an impressive selection of free weights and other strength equipment.
This includes:
Olympic benches
power racks
barbells
and heavy dumbbells
In addition to this, they offer a large assortment of cable and pulley machines, plus functional training equipment at certain locations.
---
Classes
Group classes are an amazing value if they're included in your membership. However, not all gyms offer them.
Planet Fitness does not offer group fitness classes.
Instead, Planet Fitness has personal trainers with no more than 5 people per group.
New members at Planet Fitness can take a free, basic introductory course to introduce them to the equipment and facilities.

World Gym offers its members a wide selection of fitness classes including Zumba, Yoga and Pilates.
Unlike many gyms, full classes are available to basic membership clients. 
(Learn more about the best gyms with classes here.)
---
Pool/Spa
Planet Fitness does not have any pool facilities, spas, saunas, steam rooms or hot tubs.
The presence of aquatic facilities is a strength of World Gym.
They provide their members with hot tubs, heated lap pools and spa pools at most locations.
In addition, World gym provides a range of sporting facilities like basketball, racquetball, and more — though these may vary from one venue to the next.
---
Showers
Every Planet Fitness facility provides its members with clean, spacious and well appointed locker rooms and shower facilities.
They do not provide extra facilities like spa pools but everything is generally clean and functional. 
World Gym also provides spacious, well maintained shower facilities for their members. These include private shower stalls and hair dryers.
That makes either Planet Fitness or World Gym a fine choice for commuters.
---
Childcare
Planet Fitness does not provide childcare service.
In contrast, World Gym occasionally offers childcare service at certain locations.
They provide games and activities for the kids and even help with homework.
However, not all World Gym locations offer a childcare service so you will have to check your nearest locations.
If childcare is present at your local home club, you'll usually have to pay a small fee per child per visit. Depending on the World Gym location and your membership level, childcare may be free and included with your monthly dues.
(For more on the best gyms with childcare, read this in-depth guide.)
---
The Verdict
There are some pretty stark differences between Planet Fitness and World Gym, and they cater to completely different types of people.
Ultimately it comes down to whether you plan to do serious strength training at the gym or not.
Planet Fitness does not provide a serious array of strength training equipment.
In contrast, World Gym offers its members an excellent array of hardcore gear for serious bodybuilders and weightlifters.
World Gym also has far better amenities with pools, childcare, and group classes — however, these come at a price.
For the best bargain out there, it's hard to beat Planet Fitness.
You might prefer Planet Fitness if:
You're looking for the cheapest price around
You mostly do cardio
You don't like being around gym bros and bodybuilders
You might prefer World Gym if:
You're serious about strength training
You need childcare at the gym
You want access to a pool and sauna
For more, check out:
Hope this helps!