Looking to get in shape in the North of England and Wales?
Then Total Fitness could be the venue for you.
Marketing itself as the leading mid-market fitness brand in the north, this club's been helping people get in shape for the past three decades. But can it meet the demands of the modern discerning fitness enthusiast? 
Is Total Fitness worth it? Here's a full review.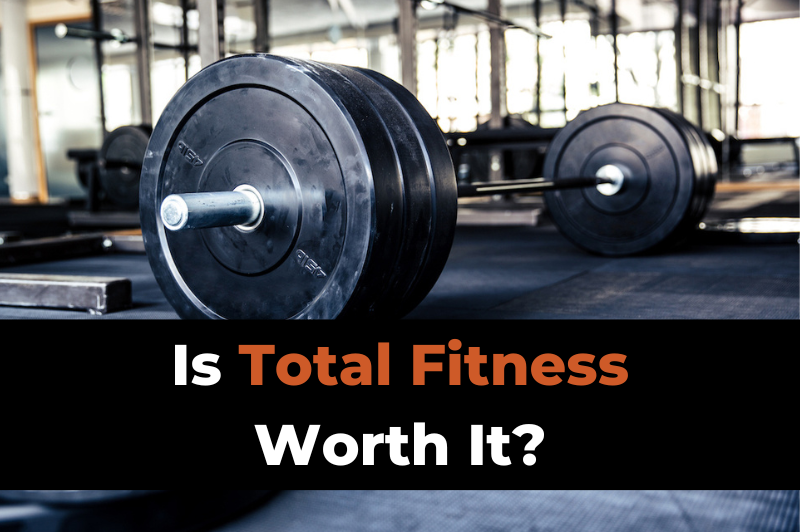 Total Fitness is a popular gym that offers a lot in the way of perks and amenities for members. It's a mid-budget gym, so there are definitely cheaper options, but it's family-friendly with lots of programs for kids, pools, and plenty of group classes. You'll have to tour your local Total Fitness to see if the equipment and cleanliness are up to snuff, however.
Let's find out what Total Fitness has got to offer, and whether it deserves to become your permanent fitness destination. 
---
What is Total Fitness?
Total Fitness is a UK based gym chain. The first center was opened on the Isle of Man in 1993 by Albert Gubay, who is the founder of the British convenience store chain Kwik Save.
In 2004, after building about a dozen centers, Gubay sold the business to the private equity arm of Legal & General, a British multinational financial services and asset management company, for £80 million.
Then, in 2015, the business was sold to North Edge Capital.
There are currently 17 Total Fitness gyms spread across the north of England and Wales. The size of the clubs range from 61,000 to 138,000 square feet. The headquarters for the business is in Wilmslow, Cheshire. 
Total Fitness has differentiated itself from the budget gyms that it competes with its full service offerings which include multiple swimming pools, studios, cardio equipment and free weights, as well as the provision of food and beverage services.
---
How Much Does Total Fitness Cost?
Total Fitness has a standard joining fee of £20, but regularly runs promotions that waive that fee.
The rates are not standard across all 17 facilities.
Here are the current rates at the Wilmslow Total Fitness center, as advertised on the club's website, so you have an idea of what to expect:
No Commitment/Contract – £84 per month
12 month Commitment – £40 per month
Off Peak 12 Month Commitment – £49 per month
The 12 month off peak commitment membership provides off peak hours of 10 am to 4 pm on weekdays and 1 pm until close on weekends.
Total Fitness offers a number of special rates for community segments.
These include an over 65 membership at a reduced rate. There is also a special discount student membership. 
You have the option of paying your membership on a monthly basis or paying up front for a year. When you pay up front you are rewarded with a month free.
The Total Fitness website offers a free one day gym pass so that you can experience what it's like to be a Total Fitness member before making a commitment.
---
Total Fitness Equipment, Features & Amenities
So we know that Total Fitness may not be the cheapest gym around, but in order to figure out if it's worth it, we need to know a little more about what you get once you sign on the dotted line.
Equipment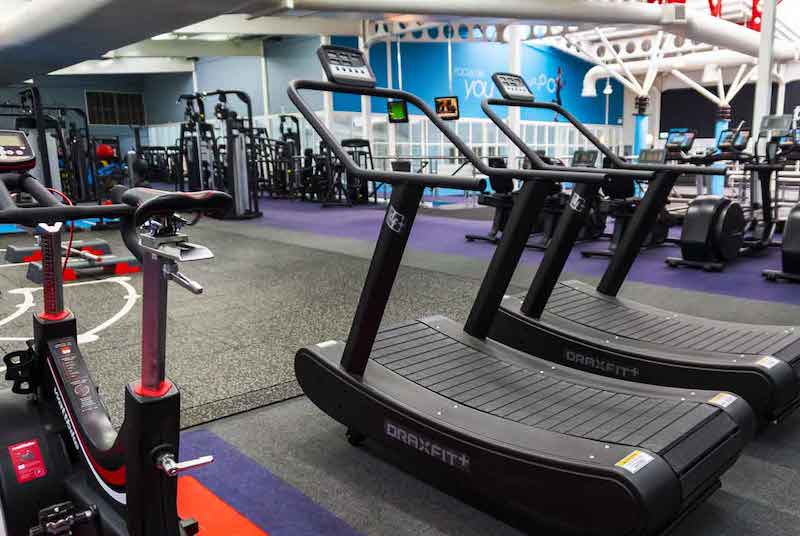 Total Fitness gyms each have a full complement of cardio and resistance training equipment. The range of cardio equipment includes Life Fitness treadmills, cross trainer, rowing machines, arm bikes, and StairMaster machines. 
Each gym also has a functional kit with equipment designed to simulate and strengthen the muscles used in everyday functional activities. The range of gear includes the Life Fitness Synrgy360, an all-in-one functional training "jungle-gym" style piece of equipment.
When it comes to strength and resistance training, each Total Fitness gym provides a large free weights area with benches, racks and Olympic bars. However the dumbbells top out at 50 kg, which will be limiting for heavy duty trainers.
There is also an array of pin loaded equipment, Hammers strength gear, including Elite power racks, plate loaded equipment, fixed and free benches. 
Total Fitness also features cable pulley machines to work your muscles from a variety of angles.
Ladies Only Gym
Most Total Fitness gyms have a ladies only training area.
This allows female members to enjoy a more peaceful, private training environment. The ladies only gym areas feature a full range of cardio, functional and strength training equipment. 
Digital Workouts
The Total Fitness app allows you to follow a digital workout plan both in the gym and at home. If you're training along with the app in the gym, you can find workouts for beginner and intermediate levels that are 30-40 minutes long.
At home workouts provide instructor led sessions for beginner, intermediate and advanced level trainers that can be done with minimal equipment.
The Fitness Hub app also provides lots of information on nutrition for peak fitness, along with fitness guides and advice.
Group Fitness Classes
Total Fitness offers a full complement of group fitness classes for members.
The average number of fitness classes at Total Fitness gyms across the board is seventy.
These include spin, Zumba, Body Pump and Plates.
Pools and Spas
Most Total Fitness gyms have pool facilities for the use of their members.
As an example, the Wilmslow gym has three pools.
These include a 25 meter laned pool, a warmer family pool and a hydro pool.
Hypro pools offer a great post workout recovery tool as they relieve pressure on the joints, helping you to rejuvenate mentally and physically. 
Total Fitness staff work with the UK's leading swimming training specialists, Becky Adlington Swimstars, to provide dedicated swimming lessons in their clubs for babies from birth upwards and children between 3 and 11 years of age.
Junior Fit
Young people between the ages of 11 and 14 are able to join the Total Fitness Junior Fit program, which is designed to help them to gain independence in the gym and partake in parent-free fitness classes and open floor sessions. 
Cafe
All Total Fitness gyms have a cafe where members can socialize with their friends before and after their workout — a high-end experience you won't typically find at less expensive budget gyms.
Each cafe features free WiFi.
Running Track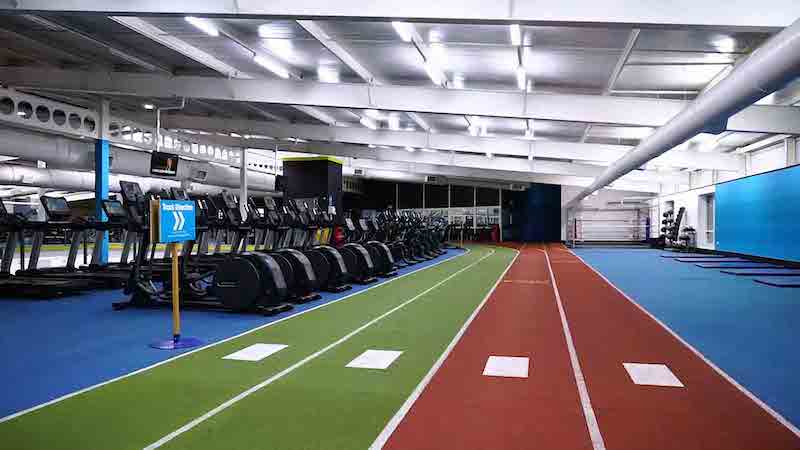 A number of gyms feature a 200m indoor running track.
The track has four lanes and a synthetic track allowing members to run regardless of the outside weather. 
Personal Training
Total Fitness gyms offer one on one personal training services for their members. Fully certified personal trainers will work along with members to tailor a plan to meet their fitness goals.
Personal trainers also provide squad sessions where small groups of up to four people can benefit from the personal training experience at a reduced price.
These sessions involve full body high intensity workouts for beginner and intermediate level trainers. Sessions will cost £7 or £8 per person based on the purchase of a 10 session package.
However, you can book your first session for free. 
Child Minding / Childcare
Although there is no official child minding service at Total Fitness gyms, they do strive to be a family friendly gym.
As a result, they work hard to get the whole family on the same fitness journey together. To achieve this, Total Fitness have partnered with a couple of the UK's leading child fitness and health providers:
Becky Adlington's Swimstars
Beth Tweddle Gym Stars
Beth Tweddle Gym Stars provides gymnastics lessons for children between the ages of 2 and 7.
Many Total Fitness gyms provide a kid's program of activities and games. These are usually supervised at times to coincide with adult fitness classes, essentially providing a child minding service.
Squash Courts
The vast majority of Total Fitness gyms include a squash court for use by members. Squash is a fantastic way to boost your cardio fitness, burn calories and have fun.
One Zone
One Zones are spaces with the gym facility that members can book for socially distant training, complete with all the equipment they will need.
Session times can be booked online in the Members App. Sessions are limited to 30 minutes. The One Zone area will be set up for you before you arrive and deep cleaned after your session is complete.
---
What real people are saying (Total Fitness UK reviews)
Total Gym has a lot to offer, as you can see, when it comes to amenities and perks. It's a great bang for your buck.
However, a number of members have taken to online review platforms to voice displeasure with some of the cleanliness and maintenance practices at the gym.
Here's an overview of key points from online reviews from real members.
Pros:
Wide range of equipment
Swimming pools + hydrotherapy pool
Squash courts
Ladies gym
Cons:
Facilities are not cleaned frequently enough
Some staff members are reportedly rude
Some equipment is old and outdated
Limited weekend hours
---
Alternatives to Total Fitness
Pure Gym Is one of the most popular budget gyms in the UK with over 320 locations and about a dozen new gyms opening every year.
This is a no contract gym, so you can leave any time.
Pure Gym's free weights area is quite expensive with a large range of free weight equipment, including weight benches and squat racks, as well as plate loaded equipment. As with Total Fitness, however, the dumbbells at Pure Gym max out at 50 kg.
Pure Gym offers a full range of fitness classes, including cardio fitness, sculpting and toning fitness, Yoga and Pilates classes and functional strength classes. There are no childminding facilities at Pure Gym. Nor do they have spas, swimming pools or saunas.
In comparison to Total Fitness, Pure Gym has a more budget feel and price. It is not as family friendly and tends to be busier at peak times. 
The Gym is another large UK-based fitness franchise. There are more than 180 locations across the United Kingdom. This is one of the lowest price gyms you'll find in that part of the world, with membership from just £12.99 per month. For that you get full access to all of the facilities, including all fitness classes. 
The joining fee at The Gym is only £5 and they do not lock you into any contracts, so you can leave at any time. They offer a full range of cardio and resistance training equipment, though some of it tends to be quite dated. Once again, you won't find heavy dumbbells to meet your needs if you are a powerlifter or advanced bodybuilder.
---
Wrapping Up
Total Fitness is a popular mid-priced gym based in the northern United Kingdom.
Its family friendly atmosphere is enhanced by its collaboration with some of the best child-centered trainers in the UK and the provision of kid's fitness programs. The pools are a big draw as well.
If the online reviews are to be believed, Total Fitness lets itself down somewhat in terms of cleanliness and customer service. However, that might not be the case at the gym nearest to you.
Our advice is that, if you're looking for a family friendly gym at a moderate price, download a free pass from the website and check it out for yourself. If you like it stay – if not, move on!
For more, check out:
Hope this helps!