If you've ever dreamed about starting up your own fitness empire, then you can take a big helping of inspiration from Eric Casaburi, the founder of Retro Fitness.
At the tender age of 23, Casaburi started his first Retro fitness gym. Over the past two decades he's single-handedly built it into a 155+ facility empire, with an annual turnover of more than $150 million. 
But just how good is this gym? Is Retro Fitness worth it? Here's a full review.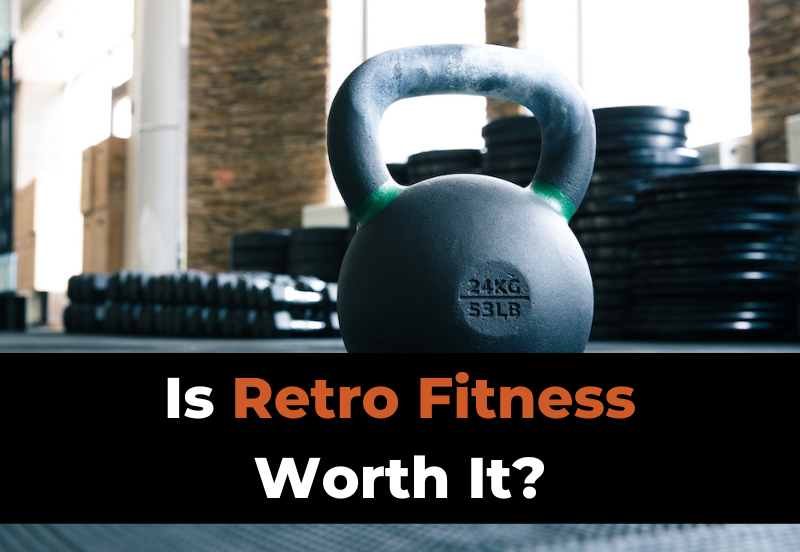 Retro Fitness has a lot to offer at an affordable price tag. Members love the group classes, heavy weightlifting equipment, and childcare included at higher membership tiers. Even better, Retro is rolling out lots of new state-of-the-art gyms and expanding fast. When it comes to downsides, you won't usually find a pool at Retro Fitness and a few of the older facilities are outdated and could use a face lift.
Let's learn more about Retro Fitness, prices, equipment, amenities, real reviews, and more.
---
What Is Retro Fitness?
Eric Casaburi started the first Retro Fitness gym in New Jersey in the early 2000s.
The success of that first gym led to the decision to franchise in 2004. There are now more than 155 locations in 12 states.
In May 2019, former Starbucks bigwig Andrew Alfano was hired as the new CEO at Retro. He was tasked with transforming the brand and driving further growth and expansion.
Less than a year later, the pandemic struck. However, that hasn't stopped Alfano, who has managed to bring in more than $3.5 billion in revenue since his time at the top.
Alfano has positioned Retro Fitness as a high value, low price (HVLP) gym. Even though the pandemic closed clubs in many states, Retro still leaned into investing, providing plenty of help to support its franchisees as they offered new and different services, including online classes, to meet the changing needs of their members.
Retro has recently put a focus on nutritional education. Through a partnership with the Culinary Institute of America it offers in house nutritionists.
It has also emphasized mental health and fitness through its collaboration with a well-known yogi named Sadhgurur.
Retro Fitness has also entered the home fitness pace with an exercise bike called the Cobra. When you buy the bike you get a complimentary 3-year gym membership.
---
How Much Does Retro Fitness Cost?
There is no standard membership rate across all 120+ Retro Fitness centers.
However, the following rates represent an average across all centers. Check your nearest gym for their actual rate.
All members must pay an annual fee of $49.00, and from there the tiers average out like this:
Ultimate Membership (no commitment) – $29.99 per month.
Core Membership (12 month commitment) – $26.99 per month.
Flex Membership (no commitment) – $19.99 per month.
The no commitment memberships allows you to bring a friend. It also encompasses group classes, use of a tanning bed and massage services.
With a Flex membership you can only workout at the location you joined up at, sometimes called your Home Club. The other two options allow you to train at any of the 120 Retro locations in the US.
The Ultimate membership allows you to bring a friend with you for every workout and enjoy full access to all the amenities at every location. You also get full access to all group fitness classes.
Retro Fitness also has a special rate for First Responders and the military. This offer includes a waiving of the enrollment fee, and no commitment. They also have student specials.
Retro Fitness offer a complimentary guest pass which can be downloaded from the official website.
Canceling your membership at Retro Fitness is a simple process. You simply have to walk into the location where you joined and present a letter stating your intention to cancel your membership.
---
Retro Fitness Equipment, Features & Amenities
Retro is definitely an affordable gym, clocking in on the low-end of the average cost of a gym membership.
But what does that membership fee actually get you?
Equipment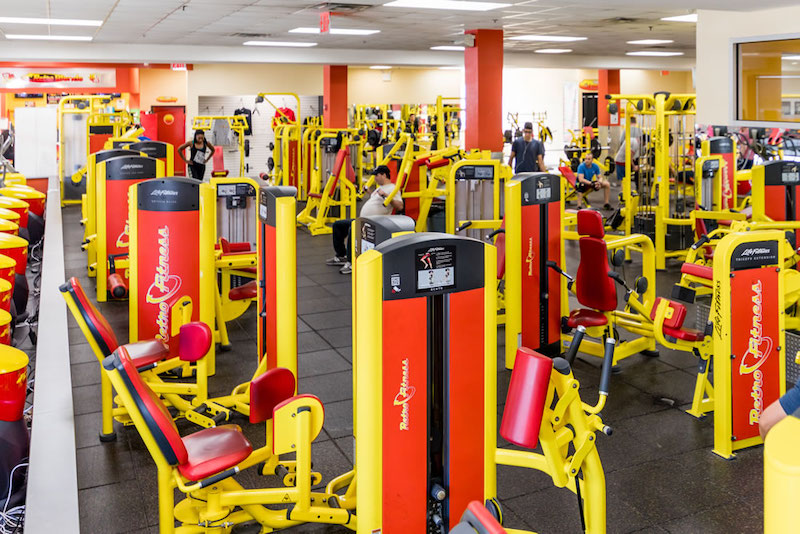 Each Retro Fitness Center includes a wide variety of equipment including:
Cardio Machines
Weights 5 to 100 lbs
Strength Machines
Flat & Incline Benches
Squat Racks & Bars
Smith Machines
Multi Stations
All of the Matrix or Life Fitness brand selectorized equipment feature a user friendly design and intuitive use. Stations include:
Chest press
Leg extension
Leg press
Rotary torso
Hip Abductor
Hip adductor
Lat pulldown
Glute
Seated Leg curl
Calf extension
Pec fly rear delt
Bicep curl
Prone leg curl
Back extension
Shoulder press
Tricep press
Lateral raises
Retro Fitness also features a wide range of high spec cardio equipment including Ascent trainers, Climbmills, ellipticals, performance treadmills, recumbent cycles and upright cycles.
Unlike many gyms, Retro Fitness provides a full range of dumbbells, going right up to 130 pounds for super strong lifters.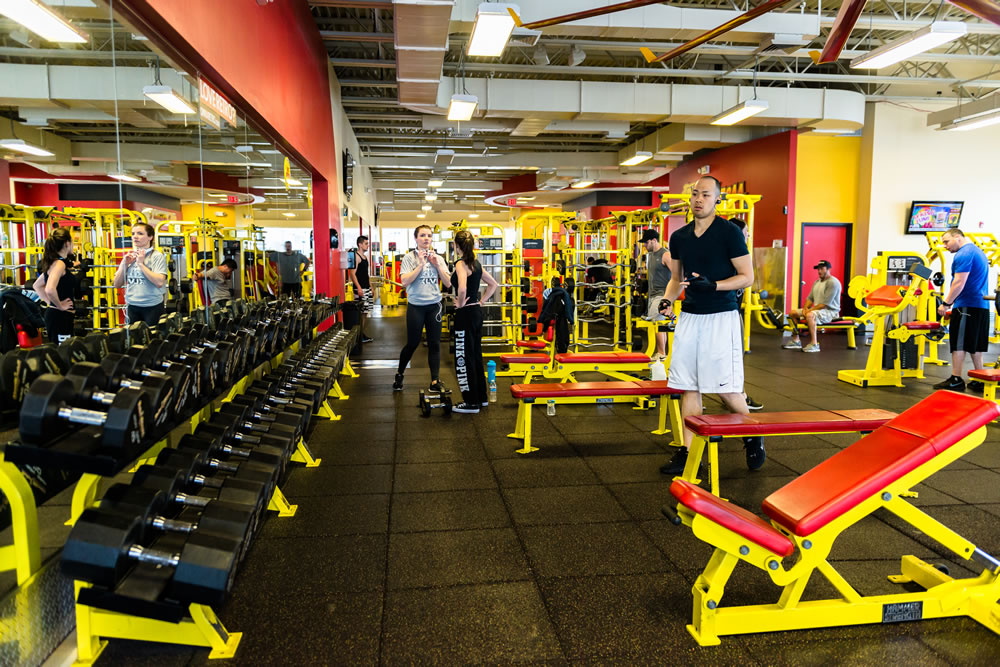 Classes
Retro Fitness provides a full complement of group fitness classes to meet every training need. These include:
Zumba dance classes
Circuit workouts
Body Pump
Cycling
Cardio step
Yoga
Body flow
Les Mills
High intensity interval training (HIIT)
Boot camp
Body combat
Kickboxing
Martial arts
Class listings vary from one location to the next. Check the website for your nearest gym to find the classes they have available.
Free access to group fitness classes is only available with the Ultimate membership. 
Personal Training
Retro Fitness offers a complete personal training service. As well as one on one training, they also provide small group strength and conditioning sessions and team workouts.
The majority of their personal training programs are heart rate monitored for safety.
Retro Fitness personal trainers will also offer team training services, providing a high energy training curriculum in a large group fitness environment.
Childcare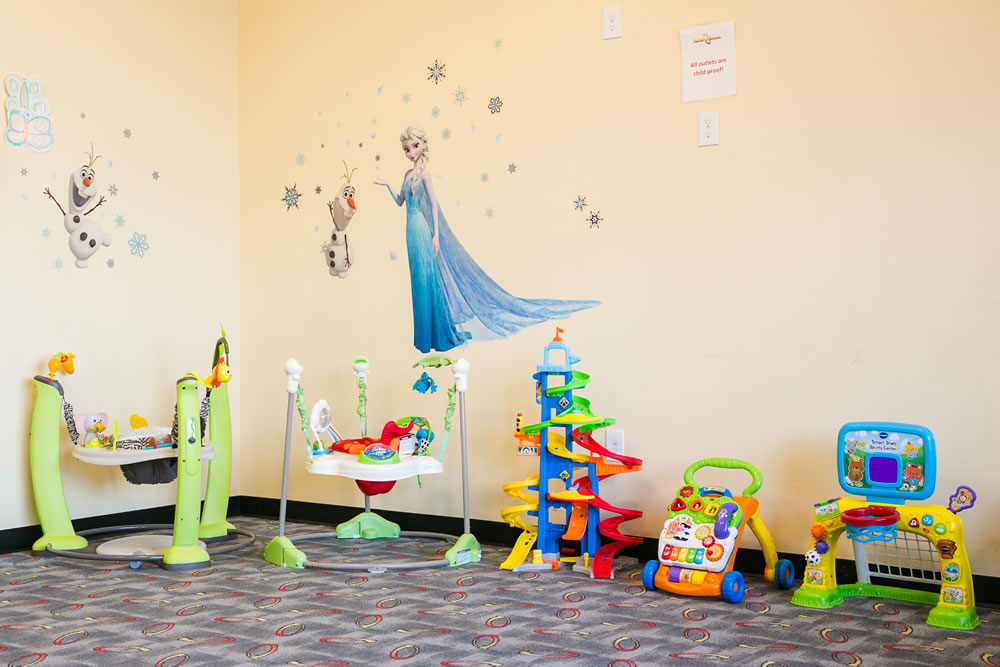 Retro Fitness offers childcare services for children aged from six months to 13 years.
However, this is only a free service for ultimate tier membership. These members can bring two children free of charge.
Any extra children will cost around $10 per month per child. 
Child minding hours vary, with the average being between 9 am and 3 pm. 
Pool & Sauna
Most Retro Fitness locations do not have a pool. However, many of them do have a sauna for post-workout recovery.
Extra Amenities
The majority of Retro Fitness gyms feature a full service smoothie bar. They offer a full range of pre and post workout smoothies, as well as protein bars, cookies, vegetarian smoothies, and a cool range of signature blends. 
You will also find a pro shop at your local Retro Fitness gym. There you can check out (and purchase) Retro's very own Cobra at home-gym combination bike. They also have a full range of Retro Fitness apparel and fitness accessories.
Other amenities provided at Retro Fitness gyms are massage chairs and tanning beds. Some gyms also feature a cardio movie theater, basketball court and turf field access.
---
What real people are saying (Retro Fitness reviews)
Retro Fitness has a lot of fans online, with many people being blown away by the new rollout facilities.
There are also a few negative comments, but you get that with any service business.
Here's an overview of the god and bad points that have been identified by actual users of Retro Fitness:
Pros:
Very clean
Tons of equipment – heavy dumbbells
Friendly staff
Sauna
Energetic atmosphere
Great lighting
Cons:
Limited weekend hours
Some broken machines in a few locations
Gets really busy between 4-6 pm
Some people don't like the yellow and red color scheme
---
Alternatives to Speakeasy Fitness
If you're not totally sold on Retro Fitness, you have plenty of other options in this price range depending on where you live.
Edge Fitness
Edge Fitness has been around for 30+ years and has developed a good reputation as a low cost, high value gym.
They offer three levels of membership starting as low as $14.99 per month.
The spacious workout floor is fully equipped with free weights and machines. Edge is on par with Retro for providing a sufficient array of heavy dumbbells and other free weights to meet the needs of heavy duty lifters.
Each Edge gym also has a functional training room that is fitted out with such equipment as battle ropes, weight sleds and plyo boxes. The majority of gyms also have a private women's training area, and an Edge cinema. Edge excels when it comes to group fitness classes. 
Edge also runs a childcare program for kids aged 12 weeks to 12 years. The parent or guardian must be on location during the time that the child is there. There is an extra charge for the child minding service.
There are no spas or pools at Edge gyms.
Anytime Fitness
Anytime Fitness is among the largest fitness chains on earth. They have more than 4000 locations around the world, so there's bound to be one not far from you. As the name suggests, thes gyms are open 24/7 making them very convenient.
Anytime Fitness membership is a mid-range gym, with an average membership being about $36 per month, depending on the location. There are also annual fees and activation fees.
There are plenty of the usual cardio and weight training equipment at Anytime Fitness. Most clubs feature heavy dumbbells, full power racks and  Smith machines. Many will also have a functional fitness area with kettlebells, battle ropes and weight sleds. 
Many Anytime Fitness locations are smaller than competitors, so you may not find the quantity of equipment that you'd find at a bigger gym. Group fitness classes are available but not included with membership. Most gyms will not feature pool, sauna, hot tub or spa facilities. They also do not currently offer any childcare services.
Most locations offer personal training, meal planning and tanning beds, though these cost extra.
Planet Fitness
Planet Fitness is one of the most common and popular budget gyms on the planet. A basic, no commitment membership will cost around $10 per month, depending on the location. For this price, you will have access to a single location only.
Black Card membership, which averages $21.99 per month, gives you access to all Planet Fitness locations nationwide, unlimited guest passes, tanning, hydro massage and more.
Each gym has a huge array of yellow and purple treadmills, stairmaster and elliptical machines. They also feature a full range of circuit resistance machines.
However, you won't find much in the way of weightlifting equipment at a Planet Fitness gym. There are no barbells, free weights or Olympic squat racks. Most Planet Fitness gyms do not even allow deadlifting or other heavy compound lifting!
Most Planet Fitness gyms have a bar with smoothies and other drinks for sale. They also offer personal and group training services. There are no yoga classes or boot camps available.
Planet Fitness also does not typically have a pool.
---
Wrapping Up
Retro Fitness gyms offer a lot of features and facilities for a very reasonable price. I'm really impressed at how proactive their management team is in retrofitting and opening new centers even as we are coming out of the pandemic environment.
Some of the older centers appear a bit dated, so if you are near a retrofitted or new club, I definitely recommend giving it a trial.
Don't forget that you can download a free pass from the Retro Fitness website right here.
Fore more gym reviews, check out:
Hope this helps!