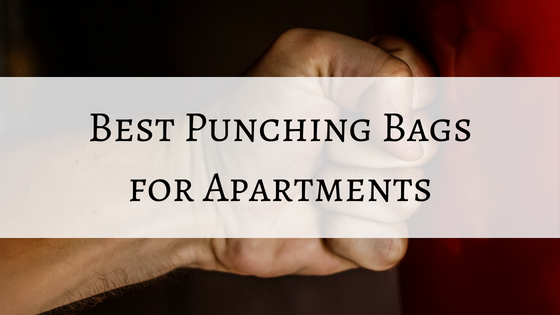 After pouring over hundreds of reviews and doing hours of research on the most silent and compact punching bags around, I think the Quiet Punch (Amazon link) is going to be the best bet for most people. It's affordable, dead quiet, and installs easily with no tools.
Read on to find out about some other awesome options and how I decided on my top 3!
…
A punching bag can be a great tool to build strength, get into shape, and build your skills in boxing or Muay Thai!
But it isn't so easy when you're living in an apartment.
Why not? Your neighbors might not be thrilled at the noise or vibrations they might hear (or feel) in their own apartment.
This is especially true if you have a busy schedule and choose to work out at odd times.
But if you're serious about a great workout that you can do on your schedule, it IS possible to set up an apartment punching bag (without your neighbors getting upset).
Before we dive into the research, let's take a look at my top three picks for the best punching bag for apartment workouts:
Image
Product
Details

RDX Punching Bag

Hangs easily from your ceiling
Heavyy, durable bag
Loudest choice on the list

Check on Amazon

My Pick

Quiet Punch

Mounts perfectly to doorframes
Adjustable fit
Ultra quiet

Check on Amazon

Everlast Heavy Bag

Free-standing
Reduced noise & vibration
Takes up a lot of space

Check on Amazon
---
What to look for before you buy
If you live in an apartment, you can still take advantage of these benefits. Choose the best punching bag for your specific apartment and workout needs by considering the following factors:
Durability – Choosing a bag that is made from durable material is very important. If you do hang your punching bag, you do not want it to rip or tear. You also want it to be able to withstand a lot of handling. Vinyl, anything with an outer layer of polyester, and canvas are generally recommended as material.
Needed Accessories – Just getting a punching bag isn't enough. You'll generally need high-quality boxing gloves. But depending on the setup, you might also need a chain or mounting bracket to hang it up, a stand to hang the punching bag on, or even reinforced wood if you don't think your ceiling is sturdy enough to hang it on. However, remember that any hits on a hanging bag, especially attached to a doorway or weak ceiling, will most likely reverberate to the apartment above yours.
Noise level – If you live in a large apartment complex, or even just have a few neighbors, you want to do your best not to bother them with the noise. Look for low-impact punching bags, which tend to be quieter. They will allow you to have a fruitful workout without driving your neighbors crazy.
Filled or unfilled – Punching bags can either come filled (with something already inside of them) or unfilled (empty). Filled models tend to be heavy bags; it could be inconvenient to have to move these into your apartment and set them up. With unfilled bags, it could be easier to set up your punching bag. You can also choose what to fill it with. Some typical examples include old clothes, water bottles, or rubber mulch.
---
Best Budget Punching Bag for an Apartment: RDX Zero Impact Punching Bag
Overview: The RDX Zero Impact Punching Bag is unfilled and comes in two sizes.
It is shipped alongside steel chains and professional, high-quality bag gloves.
The punching bag is made of Maya Hide Leather, a durable material made by coating cotton or polyester with a flexible polymer.
This punching bag is double-stitched. It is also waterproof and can be used outside.
Size: Comes in 2 sizes – 4 ft or 5 ft
Why I Like It: For a punching bag at its price point, the RDX Zero Impact Punching Bag is extremely durable and well-made.
The material is thick, with the double stitching ensuring that it will not fall apart, even with some wear and tear.
The bag is also unfilled. Depending on how you want to train, or what density you want the punching bag to be, you can choose how to fill it. You won't be stuck working with a punching bag that you find uncomfortable.
This bag is also considered to be zero-impact.
Like I explained earlier, a low- or no-impact punching bag makes minimal noise, making it a wonderful option for an apartment.
You can practice on the bag without making a ton of noise. The RDX punching bag also has a loop at the bottom which can be used to tether the base of the punching back, causing it to swing less (and therefore vibrate less), also making it great for an apartment workout.
Finally, this punching bag comes with gloves, meaning your hands will be protected from injuries during your workout.
The bag is also waterproof and can be used outside, so that you have the option to take it with you on vacation or when visiting friends (I don't judge).
Potential Drawbacks: I know that I said the unfilled bag was a benefit (and it is).
But it can also be a drawback.
The bag can be frustrating to fill.
You also might need to buy items to fill it with, such as rubber mulch, if you don't want to use your own clothing or what you have in your home. This could mean that you have to end up spending more money.
Also, although it comes with chains (which the company seems to forget while shipping sometimes), it doesn't come with a mounting bracket, which will make it difficult to hang in your apartment if you're not handy.

Check price and read more reviews of the RDX bag on Amazon
---
Best Mid-Range Punching Bag for an Apartment: Quiet Punch
Overview: Specifically designed with small spaces in mind, the Quiet Punch is a home punching bag meant to be set up in a doorway.
It is more similar to a double-end bag than a heavy bag.
Quiet Punch offers easy setup (with no tools required!) and can be stored within your home without taking up space. Free workouts using the Quiet Punch are available on their app or via Youtube videos.
Size: Fits doorways that are 28" – 36"
Why I Like It: Quiet Punch is not your traditional punching bag – but I love that it is designed for apartments.
This space-saving bag is great for home workouts. It takes only 60 seconds to set the Quiet Punch up within a doorway, and 30 seconds to take it down.
You'll also keep your space clean because Quiet Punch leaves no marks on your walls or doorway. I know that apartments can be a little crowded with all of your furniture, but one of the great things about Quiet Punch is that it is easy to store when you're not using it.
Its size and ease of setup also make Quiet Punch a great option for workouts on the run.
You can bring it to your office for a lunchtime workout, or even on vacation for some quick exercise. This punching bag is easy on the joints.
If you find their free videos on Youtube, or spend the $3.99/month for the app, you'll also find some innovative and accessible workouts!
But the fact that the Quiet Punch is noiseless is the best aspect, especially when working out in an apartment.
You can set up the punching bag – and have an intense workout – all without disturbing your neighbors. Working out when it fits your schedule suddenly got easier!
Potential Drawbacks: The Quiet Punch only fits doorways that are 28" – 36", meaning if your doorway is smaller (or larger), you will not be able to set it up.
With slightly larger doorways, the Quiet Punch may also slide a little bit.
This can be inconvenient during a workout, as you don't want to have to keep adjusting it.
The Quiet Punch is also small. Its compact nature means you will not be able to kick or do as many lower-body workouts as full-length heavy bags.
Finally, the Quiet Punch recommends using hand wraps. However, none are included.

Check price and read more reviews of the Quiet Punch on Amazon
---
Best High-End Punching Bag for an Apartment: Everlast Station Heavy Bag Stand with 100lb Heavy Bag
Overview: The Everlast Station Heavy Bag Stand with 100-lb Heavy Bag includes everything you need to get started on your punching bag journey.
The stand comes as either single-station (meaning that it can hold one heavy bag) or dual-station (meaning that it can hold two heavy bags, one on each side).
The heavy bag is filled and weighs 100 pounds. This heavy bag comes with leather bag gloves, hand wraps, and a bag chain.
Size: The stand is 88.2 inches. The punching bag is 57 x 47.6 inches.
Why We Like It: If you're looking to start working out as soon as your punching bag arrives, this Everlast punching bag and stand could be for you.
The stand is designed for easy assembly; it even comes with tools to help.
The punching bag itself is also made of a quality material and includes reinforced webbing/stitching, so it will hold up through even the toughest workouts.
In addition to some of the other extra items, the Everlast heavy bag and stand include a swivel, chain, D-rings, and hanging straps.
This allows you to customize how you hang the punching bag on the stand, particularly in regards to height (how low or high you want the bag to hang).
By choosing how you want to hang it, you are able to have a workout that is more personalized to your exact needs.
Hanging the bag on the stand also reduces noise and vibrations that might be associated with hanging the bag from the ceiling.
Finally, this comes in either a single or dual stand.
You could have two punching bags if you wanted, with different weights or fillings, that you could use depending on your mood or needs.
This would also be helpful if you find yourself more motivated when working out with a friend!
Potential Drawbacks: Although the punching bag is high-quality, some of the provided add-ons are not.
The gloves and wraps could be considered too thin. This would make workouts less comfortable and heighten the chance of injury.
The stand is also somewhat wobbly. It is meant to reduce noise and vibrations for your neighbors by keeping the punching bag in place.
However, a wobbly stand can move around, causing increased noise. It is recommended that you purchase items to weigh down the pegs or find some sort of stabilizer if you use this stand.

Check price and read more reviews of the Everlast bag on Amazon
---
Wrapping Up
Adding a punching bag to your workout routine can be great for your health. But, when in an apartment, you need a durable and quiet bag.
In terms of the above options, I would say that the best punching bag for apartment workouts is the Quiet Punch.
It is easy to set up, portable, and specifically designed for little to no noise. This is the best way to get in a great workout while still being respectful of the people who live around you.
However, if you are set on having a full-length heavy bag, I would recommend the Everlast Station Heavy Bag (Amazon). Its stand makes it easy to set up and will hopefully minimize some of the noise.
Get the full specs and read customer reviews of my favorite quiet and compact punching bag, the Quiet Punch on Amazon.
Hope this helps, everyone!
---
Frequently Asked Questions
What's the best doorway punching bag?
Definitely check out the Quiet Punch.
It mounts to your door frame so you can whallop it with some serious power without rattling the ceiling!
(Find the Amazon link to the Quiet Punch above.)
How can I use a punching bag without hanging it?
To use a punching bag without hanging it, check out some popular free-standing bags.
The Everlast bag mentioned above comes with a sturdy stand that you can put anywhere in your house or apartment. You'll hang the bag on the stand and won't have to mount it directly into the ceiling.
There are also plenty of great free-stanging punching bags with hollow stands you can fill with sand or water to weigh them down.