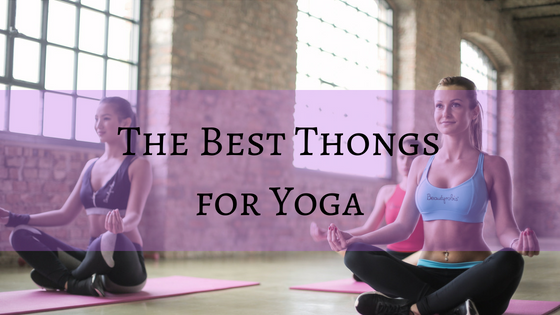 From beginners to advanced yogis, many people find yoga to be incredibly relaxing. It can also be a great workout!
But what's not relaxing? Worrying about panty lines while you do it.
As comfy as yoga pants can be, their tightness and stretch means panty lines can be readily seen. But you want to focus on your poses – not whether you're covered.
Have no fear! With the best thongs for yoga under your yoga pants, you'll stay comfy – and look great – in everything from downward dog to bakasana.
(P.S. – I am a dude, but I had some help writing this from a woman I trust!)
Get ready to enjoy your yoga classes without worry.
Before we dive into the research, let's examine my top three picks for the best thongs for yoga:
Best Budget Thong: Balanced Tech Breathable Thongs
Best Mid-Range Thong: Hanky Panky Signature Lace Low-Rise Thong
Best High-End Thong: Calvin Klein Women's Invisible Thongs
(Amazon links below)
| | Material | Colors Available | Price | Notes |
| --- | --- | --- | --- | --- |
| *My Pick: Balanced Tech | Polyester, Nylon & Elastane | 10+ | $ | Super functional, breathable & affordable |
| Hanky Panky | 100% Nylon | 10+ | $$ | Crazy comfortable & eco-friendly |
| Calvin Klein | Nylon & Elastane | 10+ | $$$ | Seamless & size-inclusive |
---
What to look for in a thong for yoga class
For those of you who may be new to the topic, yoga originated in India, and contains practices to help your mind and your body.
Over 20 million people in America practice yoga! It can help with stretching, relaxation, and stress-release. Yoga is also a great way to strengthen your core.
With the rise of yoga has also come the rise of yoga pants.
Yoga pants have gotten progressively tighter in the last few years. They're still comfortable (ask anyone who has tried some on). But when it comes to your yoga underwear, you shouldn't have to choose between comfort and practicality.
When you're looking for the perfect thong to wear to yoga, there are a couple of factors to consider:
Invisibility – part of the reason that you're buying these thongs is so you don't have lines! The more "invisible" thongs stay close to your skin.
Comfort – even though they stay close to your body, you still want your thong to be comfortable! Not having a panty-line isn't worth a semi-permanent wedgie. You want your thong to fit your body. But it also shouldn't ride up or shift too much as you hit your various poses.
Breathability – it may not be the most comfortable topic to discuss. But we all want our underwear to be a little breathable. Breathable fabric helps a lot with staying comfortable and not feeling "wet" – especially during a tough (and sweat-inducing) workout.
Let's take a look at some of the best products on the market that fit these criteria.
---
Best Budget Thong for Yoga: Balanced Tech Women's Wicking Performance Seamless Thong Panties
Overview: These Balanced Tech Breathable Thongs are lightweight, soft, and comfortable. Made of Nylon and Elastane, these odor-resistant and moisture-wicking panties are designed to keep you dry. The Balanced Tech Breathable Thongs are available in a three-pack, but you may be able to find them in a six-pack as well.
Sizes Available: XS through XL
Why I Like It: These thongs blend high-quality fabric with unique active technology. But Balanced Tech Breathable Thongs are still extremely affordable. The multiple-pack option means you can also stock up at all at once! These thongs are quick-dry and incorporate moisture-wicking and odor-resistant technology. That means they hit the mark for breathability.
Designed with athletes in mind, these thongs will never make you feel overly sweaty in strange places after a tough yoga class or workout. This is also great for hygienic purposes! With inclusive sizing options, this thong also provides full coverage for a variety of body shapes and sizes. Say goodbye to panties that ride up and hello to comfort!
Speaking of which, many of us know that seams can be uncomfortable. Especially on our underwear! But Balanced Tech Breathable Thongs are seamless. They also don't use any tags. Wearing these, you'll be safe from scratching, pinching, or any other uncomfortable feelings.
Potential Drawbacks: Their "space-dye" options are made mostly of polyester, with some nylon and elastane. Some feel polyester is more of a "warm" fabric; this may add some heat to your workout. A few reviewers also mentioned that the "space-dye" coloring came off on their skin! These thongs also have a medium- to high-waist fit. Even though the sizing is inclusive, the waist on these may seem too loose or too high for some people. This could potentially reduce comfort. Plus, for smaller or low-waisted yoga pants, these could show.

Check price and read more reviews of the Balanced Tech thongs on Amazon
---
Best Mid-Range Thong for Yoga: Hanky Panky Women's Signature Lace Low-Rise Thong Panty
Overview: Hanky Panky Signature Lace Low-Rise Thongs may be the best thong for yoga for people looking for a light, comfortable fit. These 100% nylon thongs are American-made. They feature a low-rise fit with wide lace straps. These thongs come highly rated by many reviewers, some of whom advocate for buying these thongs in packs!
Sizes Available: One-size-fits-all
Why I Like It: Hanky Panky thongs are known for comfort and durability – two things you need during an intense workout! They have been making these signature thongs for over 25 years. The company is committed to philanthropy and sustainability. Buying Hanky Panky supports 76 charities.
Hanky Panky tries to use eco-friendly and sustainable material. For their thongs, the nylon and ultra-fine lace makes them easy to wash. It's also hard to shrink or tear. So you can hit even the craziest yoga pose – and feel good doing it!
The nylon provides a nice stretch to these thongs. So when you're twisting and turning during your workout, your thong won't get tangled or uncomfortable. The ultra-fine, lightweight lace is also designed for fit and comfort. It sits close to the skin. Not only do you avoid the material riding up, but you have no – or minimal – panty lines as well!
Finally, these thongs are low-rise. You can be sure they won't creep up. So wear your favorite yoga pants without worry!
Potential Drawbacks: These Hanky Panky Signature Lace Low-Rise Thongs are one-size-fits-all. Look, we like to concept of one-size-fits-all. It feels inclusive. It's nice to feel like your body type is being embraced by a clothing company. But the one-size-fits-all may not always hold up for everyone. Even though the thongs are stretchy, they might fit more snug on certain body types. Some reviewers complained that the thongs were too tight and uncomfortable. Also, the low rise fit may not be for everyone.

Check price and read more reviews of the Hanky Panky thongs on Amazon
---
Best High-End Thong for Yoga: Calvin Klein Women's Invisibles Thong
Overview: Calvin Klein's Invisibles Thong features crisp, laser-cut edges and minimal seams. This high-quality brand seeks to eliminate your panty lines. Calvin Klein Invisibles are made of 72% nylon and 28% elastane, with a cotton panel as well. These stretchy, comfortable, and colorful thongs can be bought as a singular, or in packs of three or five. They are machine-washable, and feature a logo on the left hip.
Sizes Available: XS to XL
Why I Like It: Calvin Klein is a well-known brand. But that's not the only reason we like these Invisibles Thongs. They are designed with few seams. There's (almost) nothing worse than underwear with seams in weird places. They affect the fit, the comfort, and honestly, the clothes you wear them with. But with the Invisibles Thongs trying to minimize seams, they'll be super comfortable with your yoga pants!
The material is also super breathable. It's time to save yourself from sweat AND awkward panty lines. All of the materials used in this thong will help air out your sensitive spots, giving you a cool, stress-free workout.
Finally, Calvin Klein Invisibles are size-inclusive. You can rock your yoga poses, regardless!
Potential Drawbacks: Even as the higher-end option on the list, these Calvin Klein Invisibles have some issues. A new addition, the company has begun to sew tags onto the thongs. For anyone who loves tagless thongs, you know the discomfort this can bring. The little tag can be scratchy or intrusive during workouts. It could also make hiding panty lines difficult. But the lightweight material presents its own problem. When looking for the best thong for yoga, you want something light, airy, and breathable. But material that is too lightweight can be moved, pushed down, or rolled up. In the middle of a pose? So uncomfortable.

Check price and read more reviews of the Calvin Klein thongs on Amazon
---
Wrapping Up
Whether you're a seasoned yogi or a new beginner, you deserve to feel comfortable during your workout. Part of that revolves around wearing the best underwear! Making the right choice on what thong to wear under your yoga pants can be the difference between a good (but potentially worrisome) class and a great time!
In terms of the above options, I would say that the best thong for you to wear under yoga pants would be the Balanced Tech Breathable Thongs. The breathable fabric and level of coverage mean you stay protected throughout your workout.
No more worry about sweat and slippage. They are also accessible for all body types. Plus, the Balanced Tech Breathable Thongs are affordable, and the three to six packs make it easier to stock up.
Check out the Balanced Tech thongs on Amazon for the latest price & real customer reviews.