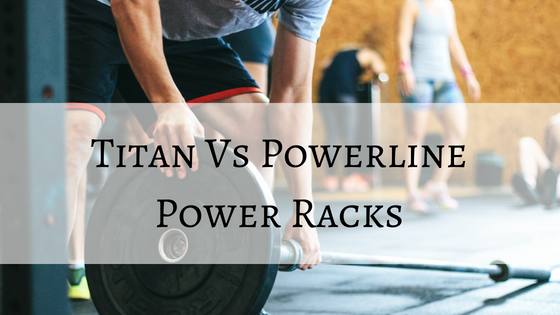 If you're looking for a power rack for your home or garage gym, there are a couple of go-to names that you HAVE to consider.
Two of the best? Titan and Powerline.
Both fitness brands are staples of the industry, with high-quality equipment and budget-friendly prices, to boot.
In fact, it's pretty common for power rack shoppers to ultimately find themselves torn between purchasing a Titan or Powerline model. The brands are comparable and competitive in many ways.
In this article, I'm going to break down some of the differences, including pros and cons of each, with a detailed comparison.
So let's get right into it. Here's Titan vs Powerline.
---
What you need to know about Titan Power Racks
Titan Fitness, based out of Collierville, Tennessee, pretty much does it all.
While most famous for their line of power racks, Titan also makes their own barbells and accessories, kettlebells, dumbbells, battle ropes, exercise bikes, rowing machines, and… if you can believe it, desks.
It's all high quality stuff but ultimately pretty accessible to people with a limited budget. Titan equipment isn't cheap and flimsy, by any means, but many of their products are right in that mid range where quality and affordability meet.
Titan is best known for its power racks and cages, of which it has about 6 different lines. (T-2, T-3, T-6, X-2, X-3, and X-6.)
That's a lot of choices!
But typically when people talk about Titan Power Racks they're talking about the flagship product, the T-2 (shown above), which is a budget-friendly, do-it-all cage with plenty of room for add ons and accessories.
---
What you need to know about Powerline Power Racks
While offering slightly less variety than Titan, Powerline still makes almost everything you'd need to fill out your home or garage gym.
They've got home gym systems, power racks, Smith machines, benches, and all kinds of accessories. (To be fair, the parent company, Body Solid, makes basically everything under the sun, including free weights and dumbbells.)
Alas, they are best known for their racks as well, the show-pony being the PPR200X (shown above with accessories).
Much like the Titan T-2, the PPR200X is a budget-friendly choice with rave reviews that pretty much does everything and gives you lots of room for customization and add ons.
But that's getting close to spoiling the fun.
Let's go ahead and dive in to the full comparison!
(For the purposes of this article, I'll be discussing the two flagship products of each brand: The Titan T-2 and the Powerline PPR200X power racks.)
---
Price Comparison
Let's start with what everyone cares about.
You want to create the home gym of your dreams, a place where you're inspired to push your body to new heights and sculpt your body into something you can be truly proud of.
Buuut you don't want to (or can't!) spend a fortune, either.
In that case, you'll be pretty pleased with both the Titan T-2 and the Powerline PPR200X, as both are quite moderately priced, especially for such well-made and well-reviewed products. Both fall firmly into the budget-friendly category.
From most retailers, the Powerline PPR200X will clock in at just a few dollars more than its Titan counterpart.
---

Get the latest price on the Titan T-2 or the PPR200X
---
Size Comparison
Ah, if only space wasn't a consideration!
We'd all love to have a sprawling home gym that rivals even the trendiest fitness clubs, but the reality is that we're probably cramming our equipment into a garage or basement, where free space is at a premium.
For that reason, it's super important to consider the overall size of a power rack before you buy.
The Titan T-2 rack measures in with a footprint of 48″ wide x 58″ deep x 71.5″ high.
The Powerline PPR200X has a footprint of 44″ wide x 46″ deep x 82″ high.
Though they perform almost all of the same functions, you'll find that the Titan T-2 has more depth and thus will feel a little more roomy and spacious. The Powerline, while taller, is probably a better fit for tighter spaces.
---
Features Comparison
Pin adjustment levels: The Titan T-2 has 21 pin holes and the PPR200X has 18, making them comparable, though the Titan gets the slight edge for having a few more adjustment options down low and up high.
Pull-up bar: Both models include a straight pull up bar, though for other grip options you'll need to buy extra accessories.
Weight Capacity: The Titan T-2 is graded to handle a 700lb capacity. The PPR200X lists a capacity of 600lb. Both should keep most beginner, intermediate, and heck, even advanced lifters very happy.
---
Warranty Comparison
Titan offers a 1 year warranty on all of its products, no ifs, ands, buts or exceptions.
Powerline offers a 10-year warranty on the actual PPR200X rack itself and 1-year of coverage on any related parts.
Edge: Powerline.
---
You might love the Titan T-2 if…
You have a short ceiling

But you still want a roomy and spacious lifting experience

You want the 700lb weight capacity just in case

You want even more pin height adjustment options
You might love the Powerline PPR200x if…
You have limited floor space but ceiling height to spare

A 600lb weight capacity is plenty for you

You can shell out a few extra bucks for a longer warranty
---

Get full specs and read reviews for the Titan T-2 or the Powerline PPR200x
---
The Verdict
These are both great racks, but it seems to me that the Titan T-2 gets the slight edge.
It's likely to be a tad less expensive, a better fit for short ceiling rooms, and has more pin height adjustment holes.
That said, both the Titan T-2 and the Powerline PPR200X are amazing power racks and would be a great addition to any home, garage, or basement gym.

Go get the latest price and read customer reviews on the Titan T-2 over on Amazon.