Beachbody on Demand is one of the best ways to get fit without a gym.
While I'm not a huge fan of the Beachbody coaching model, I love the app — it's one of the best fitness apps around, hands down.
The only problem? There are literally dozens of workout programs to choose from on BOD.
And it's not always clear what they are, with strange names like Shift Shop, T25 or Hard Corps.
So if you're a newbie just getting started with home workouts, what's the best Beachbody workout program for beginners?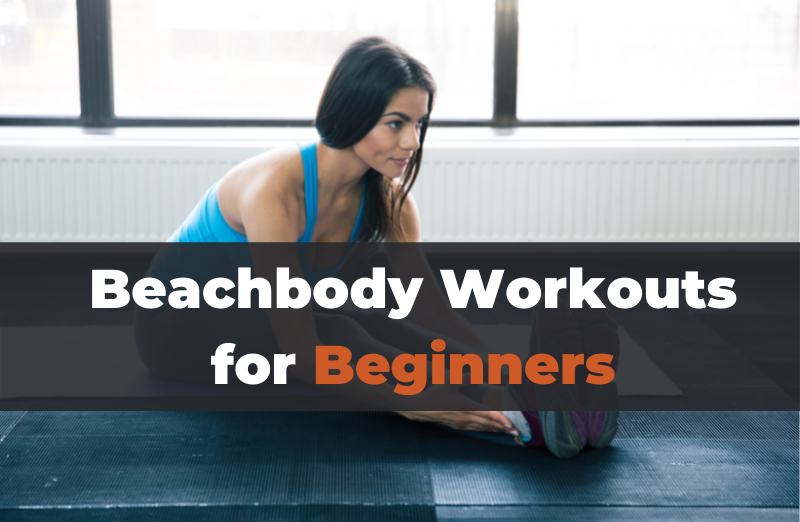 Here are my top 5 best Beachbody workout programs for beginners:
A Little Obsessed
Clean Week
Shift Shop
21 Day Fix
PiYo
| | | | | |
| --- | --- | --- | --- | --- |
| | Style | Workout Length | Program Length | Equipment |
| A Little Obsessed | Cardio & strength | 30 minutes | 5 days | dumbbells, resistance loops, strength slides |
| Clean Week | Cardio, strength & flexbility | 30 minutes | 7 days | dumbbells, resistance bands |
| Shift Shop | Strength & Cardio | 24-45 minutes | 21 days | dumbbells, resistance bands |
| 21 Day Fix | HIIT | 10-30 minutes | 21 days | dumbbells, resistance bands |
| PiYo | Pilates & yoga | 13-45 minutes | 60 days | Yoga mat |
Let's take an even closer look at each of these programs and figure out which one might be right for you.
(You can try Beachbody on Demand free for 14 days by using my link.)
---
Best for no commitment: A Little Obsessed
A Little Obsessed is a beginner-friendly workout program that's designed to help you get your feet wet if you've never followed an exercise program before.
Remember — Beachbody offers programs, not just individual workouts.
That means you follow along with a series of workouts (and sometimes, meal advice) for a set amount of time in order to achieve a goal.
A Little Obsessed mixes cardio, core, and basic strength workouts to teach you the moves and begin gradually building your overall fitness.
(ALO is designed in part, but not exclusively, for women — with lots of emphasis on your butt and legs.)
The idea is to gain competency in these kinds of workouts so you're ready for trainer Autumn Calabrese's much more intensive "80 Day Obsession" program.
A Little Obsessed is great for beginners because:
It's only a 5 day commitment
It's full of modifiers for beginners
It works your whole body, including cardio and core
Workouts are just 30 minutes long
---
Best for total beginners: Clean Week
If you're looking for a little more than just a simple 5 day program, but you're not ready for a huge commitment, try Clean Week.
Clean Week is a beginner-friendly program that offers a little bit of core, cardio, and strength work in an incredibly simple format.
There are no complicated splits here — one day you'll do a flexibility workout, the next full body strength, the next core, and the next cardio.
These 4 main workouts will repeat once you've finished them all, so you'll get a chance to improve your performance the second time around.
All you need to get started is a set of light dumbbells in the 3-5 pound range and/or a set of resistance bands, and a clean space to exercise
Clean Week is great for beginners because:
You do the workouts more than once and can improve performance
Workout structure is simple
Comes with an eating plan to tighten and tone
Just need one set of light dumbbells
---
Best for beginner strength training: Shift Shop
If you're looking for more of a focused workout, and you know you can commit to more than just a few days at a time, Shift Shop is a great gateway into strength training.
Shift Shop pushes you over the course of 3 weeks with workouts designed to build strength and muscle tone — there are also cardio, core, and stretching sessions built in.
Strength training is the best way to go for the lean and toned look, so why not jump right in if that's what you're shooting for?
Shift Shop is a good introductory course if you're not used to using dumbbells and performing movements like squats, lunges, rows, and more.
Just be warned — this program is a 3 week commitment. If you want to get results, you've got to stick with it.
You'll also need a little more equipment than some other beginner Beachbody workouts: various size dumbbells, resistance bands, agility markers, and even a PT sandbag if you try the bonus workouts.
Shift Shop is great for beginners because:
It's the perfect intro to strength training for beginners
A 3 week program is long enough for visible results
Cardio, core, and recovery are all included
---
Best for HIIT & short, effective workouts: 21 Day Fix
Ever heard of HIIT workouts?
They're all the rage, especially for beginners. Part of the appeal is that they're incredibly efficient at burning calories while also building functional strength.
HIIT workouts consist of short bursts of max effort followed by quick rests, spiking your heart rate, lowering it, and then repeating the process.
It burns a ton of calories and is extremely challenging!
21 Day Fix offers an introductory course for beginners to HIIT workouts. Over the course of 3 weeks, you'll build endurance, shred calories, and get 1 yoga session per week to recover.
This is one of the most popular Beachbody on Demand programs around for people of all skill levels. The workouts include plenty of modifiers so you can get through this program even if you're not in great shape yet.
When you're ready, run it back and try the more advanced variations.
Follow the included eating plan with 21 Day Fix for the best results — a lot of members see noticeable weight loss and toning results in just 3 weeks.
21 Day Fix is great for beginners because:
HIIT workouts are time-efficient and effective
Program includes lots of variety and recovery each week
You only need some light dumbbells and/or resistance bands
---
Best for low-impact workouts: PiYo
Pilates and yoga are two of the most popular group workouts in the world.
So naturally, Beachbody combined them to make their own super-program!
PiYo (pilates-yoga) is a 2-month long program filled with yoga, pilates, and hybrid workouts that build strength, flexibility, cardio — and promote recovery.
You'll kind of get the best of both worlds here, with all the benefits of both pilates and yoga, plus extra cardio work, and perfect programming to ensure you're making progress.
Just be aware that this is a 60 day program — that's a big commitment.
The good news is that all you need to get started is a yoga mat, and some sliders (pro tip: use dish towels or paper plates instead to save money).
PiYo is great for beginners because:
The workouts are low to no-impact
Pilates and yoga both offer insane health and fitness benefits
Perfect programming of strength, cardio, core, and recovery
Unique workouts that never get boring
---
Wrapping Up
Beachbody on Demand is a great investment, and there are tons of excellent programs to try if you're just getting fit for the first time.
It's also great if this is your first time working out in a long time!
My best recommendation would be to start with one of the most basic programs like Clean Week or A Little Obsessed if you're a complete beginner.
The workouts will teach your the basics of exercising, tighten and tone your bod, and get you ready for more intense programs down the road.
Before you go, don't miss:
(And don't forget you can try Beachbody on Demand free for 14 days by using my link.)
Hope this helps!