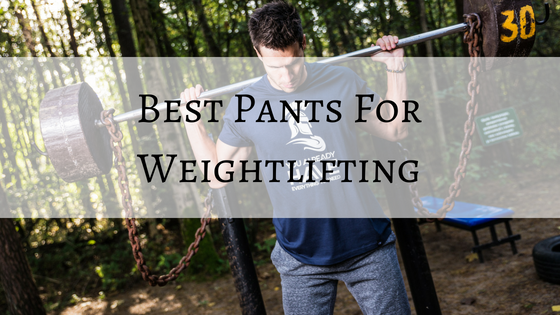 To pants or not to pants?
That's a classic question when it comes to lifting heavy weights in the gym.
The right pants give you support, comfort, and keep your muscles warm while also allowing your skin to breathe.
The wrong pants restrict you during movements, make you sweat, and make weightlifting a miserable experience.
If you're looking for the best pants for weightlifting, here's a guide to get you started.
My top picks:
---
What to look for in weightlifting pants:
As we noted above, the difference between good and bad pants can be pretty noticeable.
If you're looking to boost your performance in the gym (or at least be more comfortable), here are a few things you should look for in a pair of workout pants:
They should have enough stretch so you can move freely.
They should probably not be too baggy.
They should be breathable to prevent too much sweat.
They should provide some leg protection.
They should be made from comfortable material.
Certain types of athletes should consider compression pants.
In the discussion for what sort of pants weightlifters should wear when they are working out, many lifters mention that stretch is important. They also mention that they do not want to leave their shins or knees unprotected (particularly for deadlifts!) – so pants instead of shorts are often preferable.
Moreover, weightlifters have mentioned that traditional sweatpants do not work well when you are working up a sweat. Sweat can stick to pants and become uncomfortable for athletes.
Compression pants are designed to add some pressure to your legs to help maintain blood flow and circulation. They are often used in sports, travel, and for people who have poor blood flow in their legs. So they could be great for improving your weightlifting routine!
Now, without further ado, let's move on to deep dives into my top picks:
---
Best Budget Pants for Weightlifting: YoungLA Men's Soccer Training Pants
Overview: First up, we love the YoungLA Soccer Training pants. They're super affordable, and they have hundreds of positive reviews and an overall enthusiastic rating, with the option to purchase them through Amazon Prime. Some of my favorite things about this pair are:
They have a Tapered fit
They include two zippered pockets
They're made with Breathable Polyester
They include mesh panels on the sides for extra comfort
Price: $
Why I like it: In addition to these pants being comfortable and affordable, many of the reviews comment that these pants are great quality for the price.
Also, people seem to like that they are tapered and tight fitting, without being too tight on the calves. Because of this, these pants will not get in your way when you're weightlifting, and they will give you enough stretch and flexibility when you are working out.
These pants offer a nice middle ground between 'too baggy' and 'too tight.' Moreover, they come with two zippered pockets so you can hold on to your phone or iPod or whatever small things you may need when you are weightlifting. And lastly, these pants are actually great for both guys and girls.
Potential Drawbacks: While these pants have many great qualities, they are not compression pants.
Therefore they do not provide wearers with the added benefits of increased blood circulation. Also, these pants are technically advertised as soccer pants with runners in mind – so even though they are a good option for any workout, there may be better options out there.
And unfortunately, some reviews mention that the zipper on the pockets can get stuck easily. (Bummer.)

Check price and read more reviews of the YoungLA pants on Amazon
---
Best Mid-Range Pants for Weightlifting: Mava Men's Compression Long Leggings
Overview: These Mava long compression leggings are another awesome budget option, advertised as a base layer for workouts, running, cycling, sports training, and weightlifting. They have a good amount of favorable reviews and are available through Amazon Prime at an affordable price. Some of the features of these pants are:
Compression Leggings
They are made with a Quick Dry Comfortable Design
They are 80% Nylon, 20% Spandex
They're made from breathable material
Price: $
Why I like it: On top of being a well-reviewed, affordable option, these pants are made with targeted compression so that the leggings help to stimulate blood flow during your workout.
This should make the pants more comfortable and should help with any leg soreness you might feel while weightlifting. Also, a few reviews on Amazon mention that these pants are "great for squats and lunges" and that they do not get caught on thighs when squatting and lifting weights. This will definitely help you to have a smoother weightlifting session!
Moreover, these pants are machine washable and, even though they are advertised as a base layer, many reviews mention that they are thick enough to be worn on their own!
Potential Drawbacks: A potential drawback for these pants is that they have fairly tight ankle cuffs. So, they might be a little difficult or uncomfortable to put on at first, and they might take some getting used to. A few reviews mention that, because of the tightness, you might have to size up in order to truly be comfortable.
Furthermore, even though some reviewers say you can wear these pants on their own, they are advertised as a base layer – so you might need extra pants over top of them. (It all depends on your personal preference.)

Check price and read more reviews of the Mava pants on Amazon
---
Best High-End Pants for Weightlifting: Otomix Men's Baggy Bodybuilding Pants
Overview: Last up, we have the Otomix Baggy Bodybuilding Muscle Workout Pants. These pants have tons of great user ratings, and they are available through Amazon Prime. While these pants are a slightly higher price than our first two options, they're still pretty affordable! Some of the things that make these pants great:
They're made with a relaxed fit
They're tapered to the ankle
They include two side seam pockets
They're super comfortable
They are made with 100% Cotton
Price: $$
Why I like it: For a slightly higher price than our first two pants options, we have these Otomix pants, which are specifically designed with bodybuilders and weightlifters in mind.
They're a fantastic middle ground between 'too baggy' and 'too tight.' They are not so baggy that they will get in your way but they do provide more room and comfort. Also, many reviews comment on how great of a fit these pants are and how comfortable the waistband is while they are working out.
Not to mention, the company offers many other weightlifting and workout pants in a vast variety of styles and colors – so your outfit will bring some fun to your workout!
Potential Drawbacks: Now, because these are baggy weightlifting pants they are not compression pants and do not help with muscle soreness or blood circulation.
However, if you pair these pants with compression socks you will still receive those added benefits while wearing more comfortable pants. Also, some reviews mention that the company altered the fabric and make of the pants at some point in the last couple of years.
Because of this, reviewers say the pants feel like lesser quality than they were previously. In addition, some reviews warn that, because the pants are 100% cotton, they are not pre-shrunk. So you will have to be careful of that factor when washing these pants.

Check price and read more reviews of the Otomix pants on Amazon
---
Wrapping Up
Hopefully the options above will help you get started on your journey to find a pair of great workout pants.
If you want my honest opinion? I'd go one of two ways here.
If you prefer a tighter fit in your pants, and more support when lifting heavy weights, the Mava Compression Long Leggings should be a great fit for you. (Check out the Mava pants on Amazon)
However, if you like a little more room in your pants and better breathability, you can't go wrong with the Otomix Baggy Bodybuilding Muscle Workout Pants. You can find them on Amazon right here.