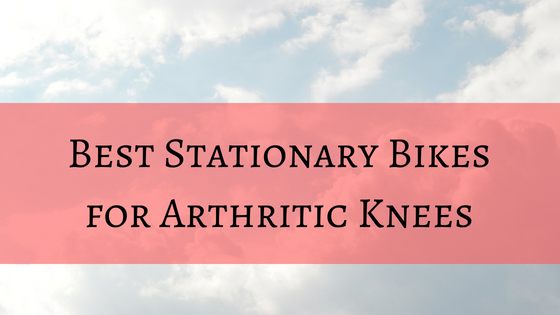 If you have arthritic knees (or are otherwise going through some form of knee rehab), an at-home exercise bike could make a huge difference in your life.
The low-impact range of motion that comes from the smooth, pedaling motion on a stationary exercise bike is perfect for rebuilding muscle in the legs and knees, improving joint health, and keeping you safe while working out.
But there are a lot of things to consider before you run out and buy just any old exercise bike.
Let's take a look at my full guide to buying the best stationary bike for arthritic knees.
(First, a quick summary if you're in a hurry:)
Image
Product
Details

Exerpeutic 400XL

Lightweight
Folds away for storage
Budget-friendly

Check on Amazon

Marcy Recumbent

Sturdy & reliable
Easy assembly
Best value buy

Check on Amazon

My Pick

Schwinn 270

Feature-rich for a new challenge every ride
Built-in fan & calorie counter
Best overall recumbent bike

Check on Amazon
---
Why do you need a stationary bike if you have arthritic knees?
Arthritis causes joints in the body to become inflamed and stiff, causing incredible amounts of pain, discomfort, and difficulty doing daily tasks.
The good news is that exercising is one of the absolute best things you can do to alleviate your arthritis symptoms.
The bad news is that some high intensity or high impact exercises (like running, or jogging), or exercises that put the joints under pressure or unusual angles, can be problematic.
(Also painful: shin splints and back problems.)
Stationary bikes are the perfect solution.
Not only does the low-impact exercise put minimal stress on your joints (which are already suffering enough — the last thing you need is a knee injury from intense running), WHILE strengthening the muscles in the legs and around the knees, it encourages better lubrication of joints and overall joint health.
According to the Arthritis Foundation, cycling "encourages the production and flushing of fluids through the joint, lubricating it and washing away waste products."
For that reason, a home exercise bike should be a staple in the treatment and rehab of your arthritic knees. (Though, you should ALWAYS consult your doctor before making a major decision that may impact your health.)
---
How to shop for a stationary bike for arthritic knees
Overall, you're going to want to buy a high quality bike that has features and a price tag that work for you.
But there are a few special considerations you might want to keep in mind if you have arthritic knees:
Bike Fit – Bike fit is important for everyone, but even moreso for those with health issues surrounding their knees.
You'll want to pay attention to overall bike size, along with height and weight requirements. If you're overweight, or extremely tall or short, be sure the exercise bike you choose can accommodate you comfortably without forcing your joints into strange angles.
Light Resistance – When you begin using an exercise bike for arthritic knees, you'll want to start with lower resistance settings (or none at all) and work your way up slowly from there as you begin to build strength and confidence.
The ideal exercise bike would have plenty of low-difficulty settings and options for you to enjoy without placing too much stress on your muscles before you're ready.
Recumbent vs Upright – For those with arthritic knees, a recumbent exercise bike is going to be a much better option than an upright.
On a recumbent bike, the rider sits back on a larger and more comfortable seat, placing less overall weight and stress on the lower body joints, providing better support for the lower back, and making the bike far easier to mount and dismount.
All of the bikes I recommend below will be recumbent style.
Now let's dive into my actual recommendations for the best stationary bikes for arthritic knees.
---
Best Folding Stationary Bike for Arthritic Knees: Exerpeutic 400XL Folding Recumbent Bike
Overview: The Exerpeutic Folding Recumbent Bike is an awesome option for anyone interested in low-impact home workouts, especially those with arthritic knees. It's a space-saver with a small footprint, a reasonable price tag, and a host of rave reviews.
Price: $
Why I Like It: The Exerpeutic is small to begin with, and gets even smaller when you fold it up for easy storage.
But unlike many of its competitors, it can support weights of up to 300lbs. It's quiet, easy to mount, and perfectly suited for low intensity, rehab-style workouts (but can certainly challenge even more seasoned pros when the difficulty is cranked up).
It's also extremely reasonably priced for anyone who's not ready to make a huge investment in at-home stationary bike.
Potential Drawbacks: Small frame can hold a lot of weight, but isn't well-suited for riders over 6′ 2″.
It's probably not the best pick if you're looking for a vigorous, high-resistance workout. Quality of the digital LCD screen could be better.

Check price and read more reviews of the Exerpeutic recumbent bike on Amazon
---
Best Budget Stationary Bike for Arthritic Knees: Marcy Recumbent Exercise Bike
Overview: If you want the most bang for the least buck, the Marcy Recumbent Exercise Bike could be a great fit. Solid construction, plenty of options and difficulty levels, rave reviews, and a friendly price tag make this one well worth a look.
Price: $
Why I Like It: Heavy-duty design holds up to 300lbs and is completely adjustable to accommodate all shapes and sizes of rider.
It's incredibly easy to mount and dismount, and has an uber-comfortable seat for a luxurious ride. 8 resistance levels mean there's plenty of room for you to grow and progress as a rider.
Easy assembly means you'll be riding within an hour of delivery.
Potential Drawbacks: Resistance levels may still be too low for experienced/powerful riders.
No built-in programs on the digital displays. Some users complain of a minor humming sound while riding.

Check price and read more reviews of the Marcy recumbent bike on Amazon
---
Best Overall Stationary Bike for Arthritic Knees: Schwinn 270 Recumbent Bike
Overview: For a true do-it-all stationary bike, check out the Schwinn 270.
One of the best names in home fitness, Schwinn has packed this bike with features and quality construction. It's not the cheapest bike on this list, but is a fantastic value for anyone who wants a top of the line product.
Price: $$$
Why I Like It: The on-board computer on the Schwinn tops the others on this list, with much more customization available, including apps to track all of your workout progress and integrations with things like MyFitnessPal.
There are over 20 different difficulty settings on this bike, making it a great fit for beginners and advanced riders alike. The seat design is incredibly comfortable, making the bike a joy to sit on for long stretches of time.
A built-in face-fan keeps you cool while you workout, and built-in speakers can play music from your phone.
Overall just a fantastic design.
Potential Drawbacks: A bit pricier than other options on this list. Assembly may take over an hour. Quality of built-in speakers less than ideal.
Built-in calorie counter may not be accurate.

Check price and read more reviews of the Schwinn recumbent bike on Amazon
---
Wrapping Up
If you're rehabbing a knee injury or have arthritic knees, a home stationary bike could be a wonderful part of your recovery and treatment process. (Of course, I urge you to check with your doctor first… because I'm not one!)
As you're shopping, be sure to keep in mind overall bike fit, and make sure you heavily consider buying a recumbent bike for better joint health and lower back support.
There are countless models and brands to choose from, far beyond what I've recommended here, but I sincerely hope this list is a helpful starting point for you on your search.

And don't forget to check out my top overall pick, the Schwinn 270, right here on Amazon.
---
Stationary exercise bikes & bad knees FAQ
Are stationary bikes good for arthritis? Why?
They're awesome! Not only is the exercise from a bike low impact, to protect your joints, it also strengthens the surrounding muscles and tissue in the knee area. For that reason, biking is awesome for bad knees and knee rehab, as well.
Another cool benefit is the cycling motion and increased bloodflow helps flush toxins out of the knee area and improve circulation and the overall health of the knee.
Not bad, right?
Are exercise bikes dangerous?
Not at all. You should definitely consult a doctor before you jump into any kind of workout or fitness program, especially if you have bad knees, but there's very little to worry about when it comes to low impact, low resistance, controlled biking.
On a recumbent bike, your knees and lower back are protected from injury and you're extremely unlikely to fall off while working out.
You can also monitor your heart rate and stop pedaling any time you feel like you need a break.
How much do stationary bikes cost?
They can cost anywhere from the low 100s to well over a thousand dollars, depending on features, resistance levels, construction quality, and more. Above, I tried to give some good options in a variety of budget ranges.
The best thing to do is decide your budget and which features are important to you, and shop accordingly.
How do I assemble a stationary bike?
It's best if you're handy and if you have some basic tools lying around (screw driver, wrench, maybe a power drill). But typically they aren't too difficult to assemble, and a lot of the best ones will come in as few pieces as possible (with the entire frame already assembled, for example).
You can sometimes buy these kinds of equipment pre-assembled when you go through Amazon, for a fee, so look out for that if you need the help.
In that case, you'll often need special delivery and will need to arrange a time for it to be dropped off.
You can also sometimes pay extra for in-home delivery, meaning the bike is brought directly in to your house or apartment and set up into the room you want it in.
Can seniors use exercise bikes?
Definitely! They're extremely safe and can be as low or high intensity as you want them to be.
One thing I like about stationary bikes is that when you stop pedaling, the ride is over. It's a lot safer than a treadmill that you have to keep up with (though treadmills have emergency shut-offs, they aren't fail proof). If you're riding an exercise bike and decide you need to stop or you need a break, just stop pedaling. There's also handles in front and/or on the side for you to hold onto during the ride so you won't fall off.
And the low impact nature of biking is fantastic for protecting sensitive areas like your knees, back, and other joints.