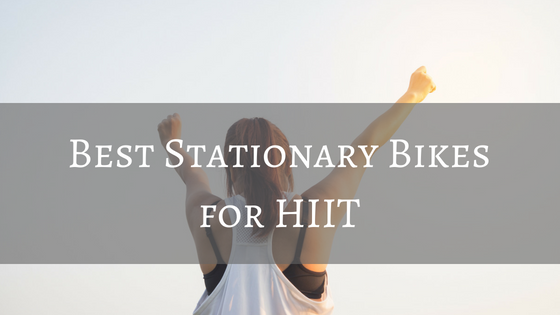 If you've ever been to a spin class at a studio or your local gym, you know just how awesome of a workout you can get on a stationary bike.
Sure, they're great for long, low-intensity cardio sessions. They're often comfortable to ride, and are fantastic for protecting your joints with their ultra-smooth range of motion.
But stationary bikes have the added benefit of variable intensity, extremely intense "uphill" sprints, speed runs, and cool downs. That makes them absolutely perfect for HIIT, or High Intensity Interval Training.
If you're looking to add a stationary bike to your home gym with the intention of using it for HIIT, there's a lot to consider before buying.
Let's dive into my full buyer's guide for the best stationary bikes for HIIT.
Image
Product
Details

Sunny Health & Fitness Bike

Budget-friendly
Real-bike feel
Light on features & resistance

Check on Amazon

BodyCraft SPX Bike

Holds up to heavy use
Smooth, lifelike riding experience
Assembly is a breeze

Check on Amazon

My Pick

Keiser M3i

Commercial gym quality
What pros use to train
Incredible feature set for advanced workouts

Check on Amazon
---
Why should you buy a stationary bike for HIIT?
HIIT, or High Intensity Interval Training, has long been touted as one of the most effective, top bang-for-your-buck styles of workout.
Essentially, HIIT means challenging your body to its absolute maximum effort for short bursts, with small rest periods in between. (As opposed to going on a long jog, which is referred to as "steady state cardio")
Some of the benefits of HIIT training include:
It's faster. Killer HIIT workouts can take as little as 15-30 minutes.
It boosts your metabolism and promotes better fat burning.
It's shown to improve your endurance better & faster than long cardio.
Frequently, HIIT workouts are performed with no equipment, with exercisers jumping quickly from one bodyweight exercise to another (squats, pushups, planks), sprinting, etc.
But stationary exercise bikes are also PERFECT for performing a different (and fun!) kind of HIIT. (Especially with the right shoes.)
You can simulate HIIT and get all of its benefits on a stationary bike by strategically raising and lowering the intensity of your ride.
By getting a stationary bike for HIIT, you'll burn more calories, faster, boost your metabolism, and build incredible endurance far better than traditional cardio.
---
How to shop for a stationary bike for HIIT
If that all sounds good, then great! Let's get started.
Before you run out and buy any old exercise bike, there are a few things you want to keep in mind if you're planning on using your stationary bike for HIIT.
Recumbent vs Upright
Recumbent exercise bikes have the rider sitting back with hands at their sides and feet in front of them powering the pedals.
Upright bikes have the rider sitting tall and leaning forward onto handle bars. For HIIT, you're most likely going to want to purchase an upright stationary bike as they allow you to really crank up the intensity and get your whole body involved during intense sprints.
Variable Resistance
By definition, an exercise bike with very few resistance settings would be a terrible fit for HIIT.
If you're looking at a stationary bike for HIIT, you're going to want to pick one that REALLY challenges you at the highest settings and will have your muscles screaming for mercy! In addition, the bike should have some lower difficulty settings for cooldowns and warm-ups.
Bike Fit
Riding a stationary bike for HIIT will be a huge challenge, but it shouldn't be uncomfortable.
If you're very short, very tall, or overweight, be sure to pay close attention to weight limits and overall dimensions of the bike. Some models are known to cause discomfort for shorter or taller riders, and every bike has a built-in weight limit that should not be exceeded.
Now let's dive into my actual recommendations for the best stationary bikes for HIIT.
---
Best Budget Exercise Bike for HIIT: Sunny Health & Fitness Pro Indoor Cycling Bike
Overview: Simple, effective, and budget-friendly, the Sunny Pro Indoor Cycling bike is a great choice for HIIT. This upright cycling bike features real-bike feel, variable resistance, a fully-adjustable ride.
Price: $
Why I Like It: This bike is just an extremely cost effective choice for at-home HIIT, and though the price is low, the reviews are very positive.
The 40-pound flywheel that drives the bike makes it feel like you're really riding a bike, and the resistance settings are plenty to keep even seasoned riders well-challenged. It doesn't hurt that the pop of red makes this a nice looking piece of equipment.
Potential Drawbacks: Some users complain of their bikes having maintenance issues after a few months. Bike can be squeaky during riding. Packaging and assembly experience could be improved.

Check price and read more reviews of the Sunny Health & Fitness bike on Amazon
---
Best Mid-Range Exercise Bike for HIIT: BodyCraft SPX Club Indoor Cycling Bike
Overview: One look at the BodyCraft SPX and you know it's legit.
This steel-framed indoor cycling bike is built for heavy duty use, with a 300lb weight limited on its all-steel frame. In fact, it's actually a commercial grade bike meant specifically for spin/HIIT type classes, so it's perfectly suited for at-home HIIT.
Price: $$
Why I Like It: The 46-pound flywheel gives the SPX a super smooth, lifelike riding experience.
Assembly is a breeze despite the heavy-duty, commercial nature of the bike. It's also dead silent and perfect for not disturbing the rest of the household! High resistance levels will kick your butt.
Potential Drawbacks: Assembly is easy, but the bike is very heavy at 133lbs and you may need assistance. Price is higher than budget-ranged competitors.
On-board computer not included and sold separately.

Check price and read more reviews of the BodyCraft bike on Amazon
---
Best Overall Exercise Bike for HIIT: Keiser M3i
Overview: The Mercedes Benz of at-home stationary bikes, the M3i doesn't come cheap but the reviews are outrageously positive.
People are in love with this bike, and for good reason. It's beautiful, impeccably crafted, and hooks up to your smartphone for easy tracking along with its brilliant on-board computer.
Price: $$$
Why I Like It: This bad boy is commercial gym quality, but with all the extras that make it perfect for your home.
The on-board Bluetooth computer gives you all the key stats and can even project onto the wall. It's exceptionally powerful but comes in a small overall package, which makes it great for home-use. One of the quietest stationary bikes on the market. Resistance control experience is perfectly fluid and offers a great challenge.
Potential Drawbacks: This is an expensive bike, no getting around it. Assembly a bit more difficult than some competitors.

Check price and read more reviews of the Keiser M3i on Amazon
---
Wrapping Up
Congrats on your decision to jump into the exciting and challenging world of HIIT workouts! A stationary bike for your home is definitely going to inspire you to push yourself to the limit.
Just remember when you're shopping to keep a lookout for upright bikes with intense resistance and make sure they'll be a good fit for your body type.
There are so many more models and brands to choose from, far beyond what I've recommended here, but I do hope this list is a good starting point for you on your journey.

And don't forget to check out my top overall pick, the Keiser M3i, right here on Amazon.
---
Stationary Bikes & HIIT FAQ
Is doing HIIT with an exercise bike good for weight loss?
Yes, absolutely.
But here's the thing you need to remember: All that HIIT is, really, is an effective and efficient form of exercise that challenges many different muscles and systems in your body in a short period of time. Some research shows that it can have better fat burning benefits versus, say, running, but that doesn't mean it's a magical silver bullet.
The biggest component of fat loss is and always will be your diet. Working out on a stationary bike is an awesome way to burn calories, but you need to make sure your "calories in," or what you're eating, is aligned with your goals.
(Whether your goal is fat loss or muscle gain.)
If you want to lose weight, you'll have to eat a few hundred less calories than you burn on a consistent basis.
What is RPM in HIIT?
RPM stands for revolutions per minute, and refers to your leg speed or cycling speed when using an upright stationary bike.
Your ability to control RPM is the key driver of high intensity interval training on a bike. You can slow things down to a leisurely ride (low RPM) and crank things up to max intensity with a higher RPM, and you can easily toggle back and forth between these intensities.
This kind of training is great for your body, extremely challenging, and builds awesome cardio endurance.
(If you've ever been to a spin class, you know they frequently make use of this tactic. You don't just cycle as hard as possible for the full duration of the class, there's a lot of different intensities mixed in to keep things interesting.)
What's a good HIIT workout for my stationary bike?
Ah, there are SO many things you can do! So glad you asked.
The basic idea of HIIT on a bike is that you'll grind at a super high intensity level (or high RPM / high resistance) for about 30-90 seconds, and then drop down to a lower intensity level for a short rest, usually about twice as long (1-2 minutes).
As you get in better shape, you can shorten your rest times.
Start with a warm up of a couple of minutes before jumping into your HIIT routine. But here's one thing you can try once you're ready:
30-90 seconds of high intensity cycling (resistance around 12-15 out of 20)
1-2 minutes of cool down cycling (low resistance, around 8-10 out of 20)
30-90 seconds of high intensity cycling (crank the resistance one notch higher)
1-2 minutes of cool down cycling (low resistance)
30-90 seconds of high intensity cycling (crank the resistance one notch higher)
And repeat for a total of 20 minutes, or as long as you can handle.
That's a really basic routine (derived in part from this article on Active.com.) But look around a bit and you'll find a ton of awesome programs you can run at home.

And definitely have a look at my favorite bike, the Keiser M3i, on Amazon.