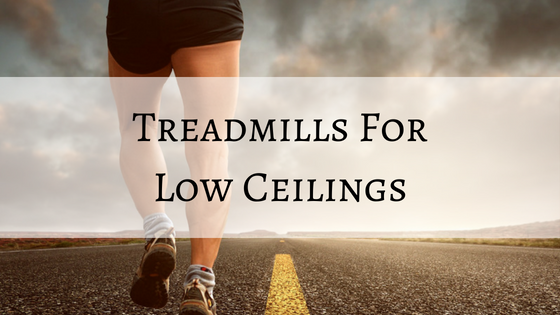 After pouring over hundreds of reviews and doing hours of research on treadmills, ceiling height, and deck height, I think the Nordictrack C990 is going to be the best bet for most people. It's relatively affordable, packed with all the features any runner could want, and comes highly recommended from virtually everyone who has tried it.
Read on to find out about some other interesting options and how I decided on my top 4!
(2021 update: The C series have been phased out by Nordictrack's T series. Check out the comparable and terrific Nordictrack T series on Amazon for a great low-profile treadmill.)
…
It's easy to think of treadmills as being relatively low to the ground, but that's not always the case.
They can actually be pretty bulky, and tall, machines!
If you're looking for the best treadmill for a basement or other room with a low ceiling, you could find yourself running into problems, especially if:
Your have 7 foot ceilings
Your tallest user is over 6 feet tall
You really want to use the incline feature on your treadmill
But all is not lost!
As long as you're willing to do careful research (and, potentially, sacrifice some nice-to-have features), you should be able to fit a treadmill in your home or apartment.
So let's dive into the research and my top picks for the best treadmills for low ceilings:
(But first a quick summary)
Image
Product
Details

LifeSpan TR1200-DT3

4.6" deck height
Fits under your desk; workout while you work!
Low top speed and no incline

Check on Amazon

EFITMENT Slimline

4.5" deck height
Absurdly low profile; major spacesaver
Low top speed

Check on Amazon

My Pick

NordicTrack T6.5S

7" deck height
Fully-featured; get an amazing workout
One of the top overall treadmills available

Check on Amazon

Sole F80

8" deck height
High-end features and quality
Superb, 15% incline

Check on Amazon
---
How to Shop for a Treadmill for Low Ceilings
Unfortunately, it's not super easy to figure out and explain whether a treadmill will fit in your low-ceiling room.
The measurements you need aren't always advertised or easy to find, plus there are a lot of variables including incline settings, user height, and true ceiling height.
But if you're trying to find a great treadmill for low ceilings, here are the basic steps you can take:
1) Know your ceiling height: The average ceiling in an American home is 9 feet tall. At 9 feet, you should have plenty of room for most treadmill models. But if you had average or above average ceilings, you wouldn't be here!
Get out a tape measure and find the true height of your ceiling. Likely, if it's short, it'll be 7 or 8 feet.
2) Know the height of your tallest treadmill user: This is important to note. Your experience fitting a treadmill in your basement or other low ceiling room will be totally different if you're 5′ 2″ vs 6′ 2″.
Who will be using the treadmill? How much room do you need to accommodate the tallest user?
4) Find the step up or deck height of the treadmill: This is the key stat you need to find when treadmill shopping. The step up or deck height on a treadmill is the measurement from the floor to the actual running/walking surface, or belt. 8-9″ is pretty common for a lot of treadmills, but in your case you may want to look for something a little shorter to be safe.
This spec isn't typically listed outright, but you can ask manufacturers or dig through Amazon's "Customer Questions" tab under each treadmill model to find it, or at least an estimate.
3) Ideally, you'll want the height of your tallest user plus the deck height to be about 6″ less than your ceiling height: 6″ of clearance is a good number for safety reasons.
Any less than that and you're talking about an extremely thin margin for error that could damage your ceiling (or your head!) if you have a bouncy stride, wear thick shoes, or just haven't measured precisely enough.
So the formula goes like this:
User height + Treadmill deck height + 6″ < Ceiling height
As you can see, the numbers add up fast, and in most cases you'll want a solid 14″ of space above your tallest user to fit a treadmill. (This becomes an issue for 7 foot ceilings.)
(For incline settings, typically add another 6″. For extreme incline training, you'll need about about 16″. Intense incline trainers usually aren't a good fit in low-ceiling rooms.)
5) If you have 7 foot ceilings and/or very tall users, you might want to consider an alternative to a traditional treadmill in that room. There's just not going to be enough clearance for most models.
One good option may be a super stripped down treadmill designed for walking or light jogging (I'll recommend a few later) that are often very, very low to the floor.
Again, if your ceilings are average height (9 feet) or taller, you shouldn't have problems with most major treadmill models.
Now let's jump into my top recommendations.

---
Best treadmill alternative for low ceilings: LifeSpan TR1200-DT3 Under Desk Treadmill
Overview: So it's not really a traditional treadmill, but if you have extremely low ceilings (or you're really tall) it might be your best option. The LifeSPan TR1200-DT3 is designed to fit under a desk for brisk walking or very light jogging.
For this reason, it has an extremely low profile and may just be an effective alternative for you to consider if your ceilings are too low.
Deck Height: 4.6″
Max Speed: 4mph
Max Incline: None
Why we like it: OK, OK, so it's a little different, and maybe not what you had in mind. But if your ceilings are crazy low, it might be one of your best options. You won't get a fantastic running workout on this under desk treadmill, but you could plop it in front of the TV and do a long, long brisk walk to burn a ton of calories.
The construction on this model is fantastic and the reviews are stellar. It's quiet as a mouse and has a nifty remote console to control the settings. Keep an open mind!
Potential drawbacks: This is really stripped down and might lack a lot of the features you want in a treadmill. It's mostly designed for walking.
Check price and read more reviews of the LifeSpan under desk treadmill on Amazon.
---
Best stripped-down treadmill for low ceilings: EFITMENT Slimline Motorized Treadmill
Overview: Definitely a big step up features-wise from the under desk treadmill, the EFITMENT Slimline should be a good fit for most users while still providing an ultra-low profile.
Best of all, it's got a super friendly price tag to go along with a nice feature set. Definitely a strong pick for basements with extremely low ceilings.
Deck Height: 4.5″
Max Speed: 7.5mph
Max Incline: 1.75%
Why we like it: This is definitely one of the lowest to the ground treadmills I could find that could also reach true running speeds (6mph+). This machine is fantastic for basements, low-ceiling rooms, and other tight spaces… It comes with wheels for portability and also folds up fairly flat for better storage.
The performance is strong despite its slim frame and stripped down feature set, with a max weight limit of 220lbs.
Potential drawbacks: Overall, this treadmill is pretty small (47″ belt length) which means taller runners may find it too cramped to run safely on.
7.5mph is good for such a small machine, but hardly competes with top treadmill models.
Only 1 real incline setting.
Check price and read more reviews of the EFITMENT Slimline on Amazon.
---
Best overall treadmill for low ceilings: Nordictrack C990 & T6.5S Treadmill
Overview: If you can't bring yourself to sacrifice features or performance for a low-profile, you might want to check out the C990. It's one of the top treadmills on the market and comes in just a hair shorter than many of its competitors.
The Nordictrack C990 comes highly recommended by users as well as top review sites like The New York Times' The Wirecutter.
Since the C series has been phased out in recent years, you'll find that the T series and the Nordictrack T6.5S treadmill is extremely comparable and offers a similar low profile.
Deck Height: 7″
Max Speed: 12mph
Max Incline: 12%
Why we like it: This is a top of the line model from one of the best manufacturers of home exercise equipment out there, Nordictrack.
If you're looking for a full feature set, you found it: Run up to 12mph and crank the incline up to 12% if you want. (Note: Make sure you have extra headroom to do this!) Preloaded workouts. 60″ belt length, perfect for most runners.
There's not a whole lot to dislike about the C990. If it fits your basement or low-ceiling room (refer to my formula above), it's a great buy.
Potential Drawbacks: Second most expensive option on this list. May not fit all low-ceiling rooms, though it's probably the best full-featured treadmill around for the money at this step-up height.
Some reviewers complained certain computer functions required a subscription to Nordictrack's iFit service.
Check out the comparable and updated Nordictrack T6.5S for similar specs and a low profile – on Amazon
---
Best high budget treadmill for low ceilings: Sole F80 treadmill
Overview: If you've got a little more cheddar to spend, you can get an awesome treadmill in the Sole F80.
The Sole F80 has a step up height of only around 8″ and beats the Nordictrack in most features, with the same max speed, but an incredible 15% incline (which you may or may not be able to use all of, depending on your ceiling height).
It comes from a top manufacturer and has amazing quality and durability, the only catch is that the price tag is pretty steep, at roughly double what you'll pay for the Nordictrack.
(See the current price on Amazon using the link below, or click the image.)
Deck Height: 8″
Max Speed: 12mph
Max Incline: 15%
Why we like it: You get pretty much everything you could want in a treadmill here with a low step up height to top things off and make this a perfect fit for basements or other low ceiling rooms.
Its max speed of 12mph is great, and the max incline of 15% should give you a kick ass workout any time you want one.
The frame is made of precision-welded steel and built to last a lifetime.
This treadmill also has a gorgeous 9″ LCD display and a nice long 60″ running surface, which should accommodate all types of runners. It can also hold up to 375 pounds in terms of weight capacity.
Potential Drawbacks: The major drawback here is the price tag, with the Sole F80 being the most expensive option on the list.
But if you don't want to sacrifice any features and you're willing to pay, this is the way to go.
Check price and read more reviews of the Sole F80 on Amazon.
---
Why you should trust me (and my treadmill research!)
I'll be right up front with you and admit that, no, I don't own all of the treadmill models or treadmill brands we just discussed!
But I still think this article and my research can help you shop for a treadmill for low ceilings.
Here's why:
I'm a trained researcher and reporter with over a decade of publishing experience; check out my About page to see where I've been featured
I'm not some ghostwriter from a country you've never heard of. I'm an American guy who's also a fitness enthusiast, and I take this stuff seriously.
I've spent hours and hours combing through the web, reading about treadmills and ceiling height, browsing models, and reading professional and customer reviews alike.
I use treadmills at the gym about 5 days per week! So I know my way around the equipment and the features to look for.
Essentially, the entire research process you're currently doing, I've already done it. And I've distilled it down into this article for you.
I hope it helps.
---
Wrapping Up
Unfortunately, if you have only 7 feet of ceiling height in your basement or home, you're going to have a tough time finding a good treadmill that will fit.
An extremely stripped down option might work well for you, or you could consider an alternative like a stationary bike or rowing machine.
Just remember the formula above when shopping… User height + deck height + 6″ should be less than or equal to your ceiling height. Don't fudge the numbers too much or you could have a safety hazard on your hands.
The good news is that if your ceilings are at least 8 feet tall, and you're under 6′ 4″, you should be fine with *most* treadmill models on the market.
I hope this research helps!
And don't forget to check out my top pick, the Nordictrack T6.5S on Amazon.
---
Treadmill FAQ
What is a good low profile treadmill?
It can be pretty hard to find a good treadmill option if your ceilings are very low, but my favorite has to be the Nordictrack C 990 treadmill. (See link above)
It has a deck or step up height of around 7 inches or so, which is one of the shortest around without sacrificing a ton of features and usability.
You can go lower, but again, you'll have to give up a lot… like max speed, max incline, weight limit, and more.
Keep in mind the height of your tallest user. You may be able to go with a larger treadmill if you're short of stature. If you have users in your home that are over 6′, you'll need to be very careful about which treadmill you buy (and in some extreme cases, you may need to choose a different piece of equipment altogether).
What if my ceiling is too short for a treadmill?
This isn't a decision I would take lightly… don't try to cram a big treadmill in your basement or other small space if you're worried about the fit!
The reasons being, number one, treadmills are pretty expensive. If you regret the decision to try to force a treadmill in your home, it can be a pretty costly mistake. Two, it can be dangerous. You really don't want to risk you or another use bumping his or her head on the ceiling during a workout, risking bruising, concussions, and more.
It sounds silly, but you can have quite a bounce in your step during fast running, and if you haven't left enough ceiling clearance, this could become a serious problem.
If your ceilings are extremely low, I'd recommend something lower profile like a rowing machine or a bodyweight workout.