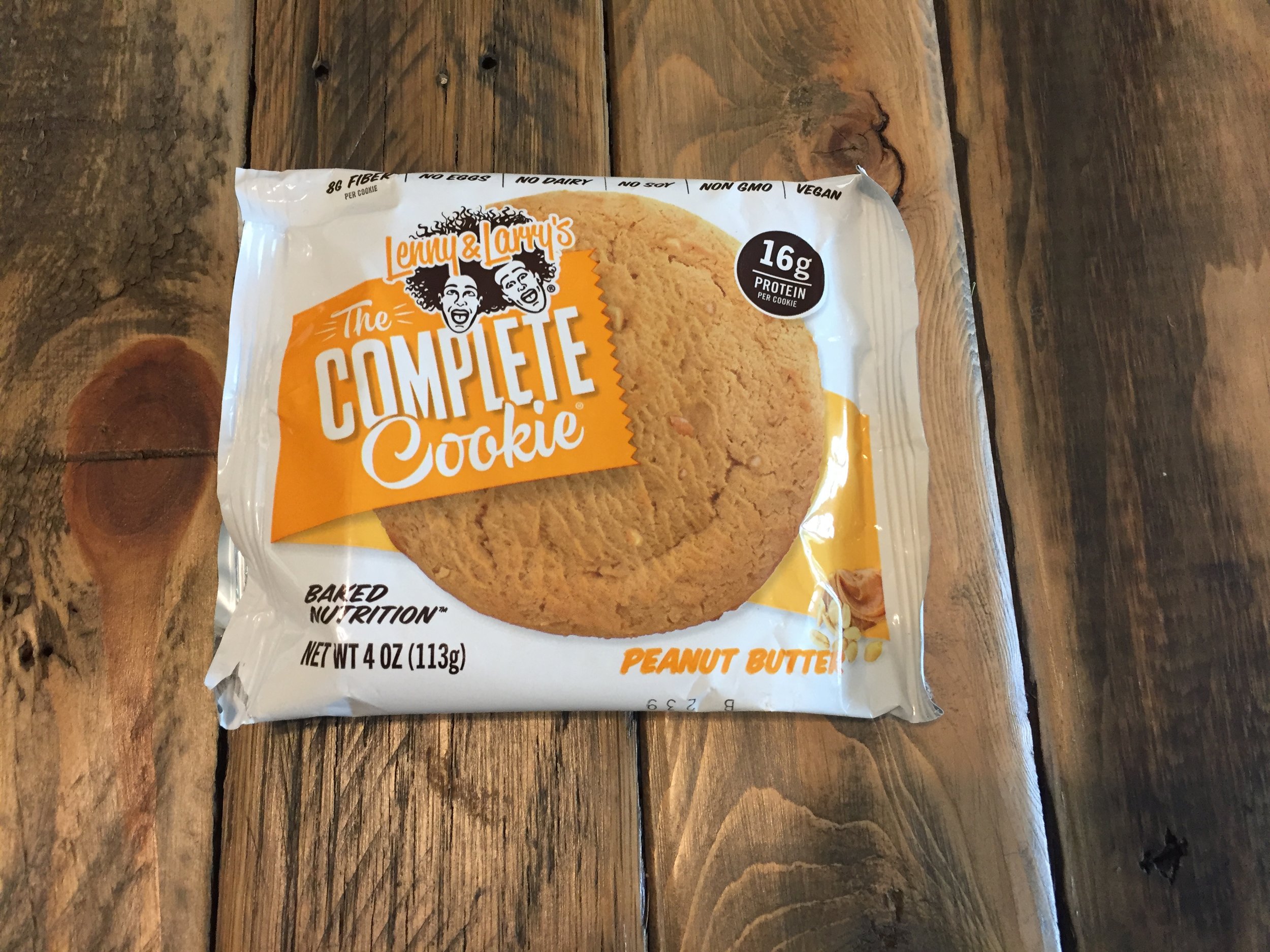 I recently tried out The Lift Box (a monthly subscription box for weightlifters), and found something pretty cool inside:
It was a giant peanut butter cookie (with extra protein, of course).
Cookies for getting jacked? That is a concept I can get behind.
Upon further inspection I realized I was looking at The Complete Cookie by Lenny and Larry's (Amazon link).
I had seen this in the store frequently (giant cookies tend to catch my eye) and was really excited to give it a try.
So without further ado, here's my review of The Complete Cookie, and whether it's good for weight loss and bodybuilding:
| | Calories | Protein | Sugar | Carbs | Fat | Notes |
| --- | --- | --- | --- | --- | --- | --- |
| Quest Cookie | 250 | 15g | 1g | 19g | 17g | High protein, sweetened w/ Erythritol and Stevia |
| Clif Bar | 250 | 9g | 21g | 45g | 5g | Low fat, non GMO, natural ingredients |
---
What is the Complete Cookie?
Essentially, The Complete Cookie is a relatively healthy and nutritionally balanced sweet snack, with an added emphasis on stuffing extra protein inside.
They come in an impressively wide variety of flavors including classic chocolate chip, double chocolate, snickerdoodle, peanut butter, lemon poppy seed, white chocolate macadamia nut, oatmeal raising, birthday cake (!), and more.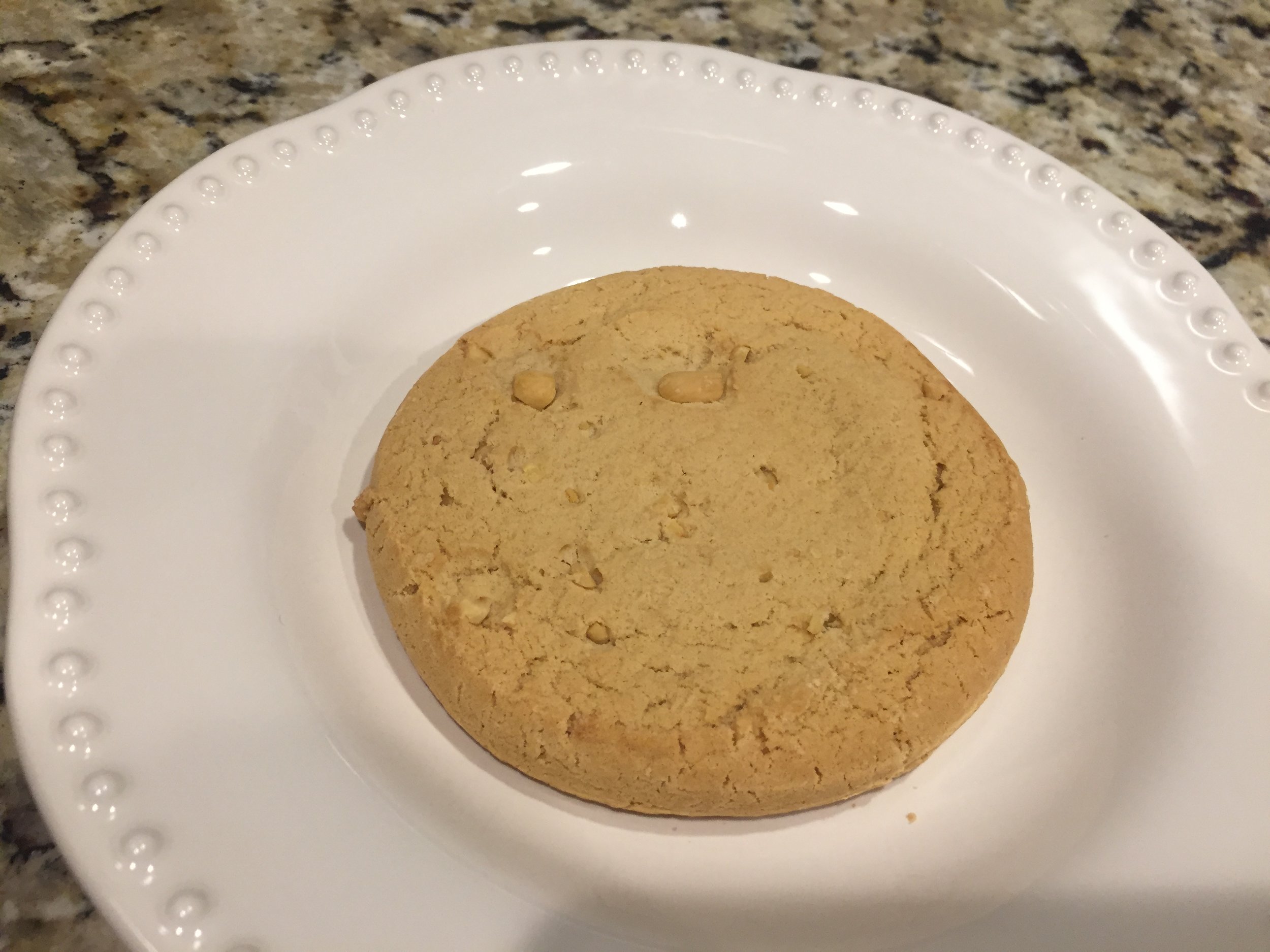 Whew. That's a lot.
The Complete Cookie is also, well, huge. I'd measure it at around 4.5 to 5 inches across. Enough to make a pretty hefty dessert or even split between two people.
These cookies are also vegan (completely dairy free), non GMO, and don't contain any soy.
---
(Pro Tip: You'll get the best deal on Complete Cookies on Amazon.)
---
How does The Complete Cookie taste?
In a word, good!
But let's be real, this is a nutritionally balanced protein-heavy snack meant for exercisers, weightlifters, bodybuilders, and people on a diet mainly.
So, no, taste-wise it doesn't really stack up to The Great American Cookie or whatever those treats you get at the mall are.
But I found the flavor to be on point. The peanut butter flavor was really smooth and tasty, with just the right amount of sweetness.
The cookie wasn't as moist as I'd normally like (you could maybe describe it as dry or even a bit chalky) but it was perfectly enjoyable with a glass of milk.
I split it with my wife after dinner and half was enough to fill me up.
The Complete Cookie is no joke.
---
The Complete Cookie Ingredients and Nutrition
Let's break this so-called nutritionally balanced cookie down:
Nutrition (for HALF the peanut butter flavored cookie):
Calories 210
Total Fat 10g
Cholesterol 0mg
Sodium 290mg
Total Carbs 30g
Fiber 4g
Sugars 12g
Protein 8g
It's also got 8% of your Vitamin A, 7% of your Calcium, and 11% of your daily Iron (again, per half the cookie).
And here are the top ingredients according to the manufacturer:
Enriched wheat flour
Niacin
Iron
Thiamine
Mononitrate
Riboflavin
Folic Acid
Cane Sugar
Palm Margarine
Peanut Butter
---
Get the latest pricing & read customer reviews of the Complete Cookie on Amazon.
---
Overall Impressions & Recommendation
I really liked The Complete Cookie.
A lot of protein-based snacks are tasty and offer a little bit of that sweet taste, but few of them truly qualify as a dessert. This cookie does.
And though it may not be as moist or as tasty as a real cookie (full of tons of sugar and butter), this one can actually fit into your diet or other nutrition program. So that's a major plus!
UPDATE April 2018: I've made the Complete Cookie a staple of my diet the past few weeks. I find they are a perfect high protein, but still well-rounded snack for intermittent fasting, helping me round out my day and getting in those last 200 calories or so and hitting all of my macros. And I love ending the day with something sweet!
These are absolutely worth a try, in my opinion. You'll get the best price by picking up a pack at Amazon.