Greg O'Gallagher and the team over at Kinobody introduced their first women's program (Goddess Toning) to rave reviews.
In it, he put his trademarked intermittent fasting protocols and heavy aesthetics emphasis to work to help women slim down and get toned.
But what if that's not the look you're after? What if you're more interested in the slim waist, wide hips, round butt look made popular in Hollywood and by today's Instagram models?
Well, now Kinobody has a program for that, too. Introducing the brand new KinoBooty Program.
Will it work for you? Is it possible to lose weight without losing your butt, or even to build an amazing butt from scratch? Below, you'll find my full and honest KinoBooty Program review.
Overall, Kinobooty is a killer program to build your butt and glutes while staying lean! It's really built and designed perfectly for women who are ready to pack on muscle in the exact right areas. (And it works!)
I wish there was a little work for the upper body here, but otherwise, there's not much to dislike about this one!
| What I Liked | What I Didn't Like |
| --- | --- |
| The program works! (Scroll down for transformations) | Little upper body work |
| Only 3 workouts per week! | A little bit pricey for a workout program |
| Fantastic exercise selection & nutrition advice | |
---
Here are the basics:
Does KinoBooty work?
Abso-friggin-lutely.
Greg from Kinobody knows his stuff. He gets a lot of heat and criticism online for his brash personality, but if you're interested in building an amazing body, you'll get unbelievable results, FAST, by following his programs.
I should know: I've lost 15-20 pounds of fat and built lean muscle by following his men's programs.
Here's a quick female transformation from a woman who followed the Kinobooty for a few months.
View this post on Instagram
---
How hard is it?
That depends.
In this program, Greg will challenge you to lift heavier weights than you're probably used to, burn out those booty muscles, and push yourself hard while in the gym.
The easy part is this: You'll only have to workout 3 times per week, with an emphasis on getting proper rest and recovery for maximum booty gains.
On top of that, Kinobody always makes the nutrition side of things simple and enjoyable.
Again, KinoBooty isn't easy, per se, but it is simple to commit to and follow.
---
Is it a good value?
That's up to you.
Is a one-time payment of $69 worth it to learn exactly what and how to eat, when to work out, what exercises to do, how to progress on those movements, and what to do if you're stalling a good deal to build the body of your dreams?
To me, that answer is obvious.
Sure you could find a free program online, but KinoBooty includes everything you need to know and Kinobody gets proven results. The choice is yours.
(Also, Kinobody programs have a 100% money back guarantee for 30 days. Don't like the program? Get your cash back.)
---
How I'm conducting this review
A couple of things to get out of the way up front:
I'm a dude, and it's not my top priority to have a round and sculpted booty! So I haven't tried the KinoBooty workouts for myself.. (yet.)
But I am a veteran of Kinobody, having lost 15 pounds on Warrior Shredding and gained muscle and strength on Greek God. So I know how the Kinobody protocols work, and I know THAT they work.
So here's the deal… I have full access to the KinoBooty program from cover to cover, and while I'm not going to run the system and show you my #bootygainz, I will tell you everything that's inside, my opinion on the quality of the program, and if it's a good fit for you.
Deal?
---
What do you get with KinoBooty?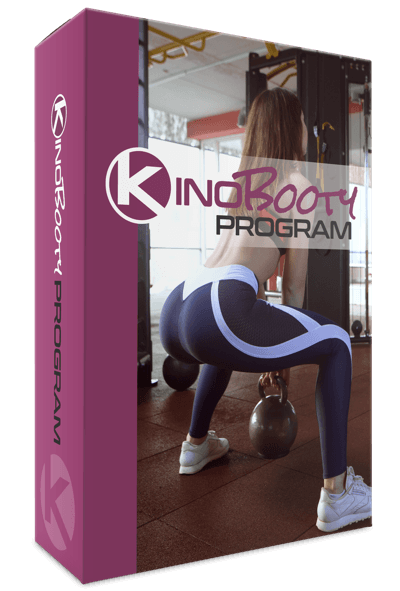 There's a LOT of content inside the KinoBooty Program.
Once you get access, you'll get:
A welcome video from Greg
Why Greg created the KinoBooty program & the benefits of building your butt (other than just looking great)
What most booty-building programs get wrong
A daily 10-minute booty & core drill to work your butt and develop solid mind muscle connection
Full warm up routine for use before each workout
 3 different workout plans! Phase one (beginner 3-day split), phase two (intermediate 3-day split), and a booty maintenance phase (2-day split).
Video demonstrations for all exercises
3 different nutrition plans (Leaning up, recomping, and adding muscle to the booty)
Simple guide to Intermittent Fasting (optional on this program)
Mindset development tips – goal setting, tracking progress, and other affirmations
Frequently Asked Questions
---
How do you get it?
Like all of the other Kinobody Programs, KinoBooty gets delivered to you through an interactive course platform called Teachable.
You work your way through each "module" the same you would if you were taking an online class, and it's easy to hop around to whatever you need to access (nutrition guide, a particular exercise video, etc.)
It looks a little something like this: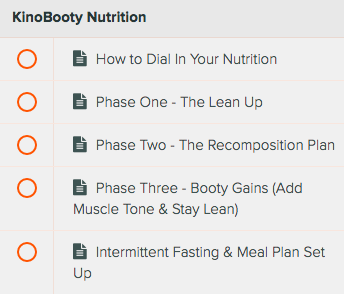 (Hate to break it to you but there is no free pdf download of the Kinobooty Program)
---
Pros and Cons of the KinoBooty Program
So here's what I liked and didn't like about the program:
Pros
No judgment zone. What I love about Kinobody is that they're not afraid to create programs who want to be strong and healthy but also look great. There's a general vibe in the fitness community that you should only care about strength, and wanting to get lean and have abs or build a round butt is vain and silly.
But don't we all want that? KinoBooty lets you embrace going after the body you want, while encouraging you to enjoy the journey and love yourself no matter where you are along the road.
3 workouts per week. A great perk of Kinobody programs is the limited gym time. You'll spend about 3 hours per week in the gym, total. It makes the programs so easy to stick to.
Awesome exercise selection. You'll be hitting your butt in a variety of challenging and interesting ways. The workouts aren't repetitive, and will switch up even more as you progress through the different phases.
Video quality better than other programs. KinoBooty, being Kinobody's newest program, has much better video production quality than its predecessors, and the form pointers are helpful and clear.
It works. If you follow this program as laid out, you'll see great results. That's what matters most.
---
Cons
Intro video is basically an ad. In the program's intro video, Greg welcomes you to the program then launches into promoting his pre workout, Kino Octane.
I love Octane, for the record, but it was a little disappointing the welcome video wasn't a little more welcoming.
Light on upper body work. It's hard to call that a drawback of the program, since it's specifically designed to build the booty and abs. But just be aware that while there is an upper body day included in the splits, it's not a main focus.
And that's about it. You're going to love KinoBooty.
---
The Verdict
I highly recommend the KinoBooty Program.
As a Kino Warrior myself, I can attest that this stuff works if you give it a chance and commit. Follow the nutrition plan to a tee whether you want to lean down or add muscle, and hit the workouts as they're laid out. The results you'll see will be dramatic when you're doing everything right.
Ready to join KinoBooty? Follow these 4 simple steps to get a huge discount right now:

Click here to take the Kinobody Physique Builder Quiz (opens in a new tab), then enter your gender and age.
Under "Condition," choose "I'm SKINNY"
Under "Goal," choose "I want to be fit and toned and especially focus on building up my BOOTY."
The next page will offer you the KinoBooty program at $49 for a limited time instead of the regular $69!
Now get started on that butt!
---