When tackling the exercises that begin with the letter "o" you will notice a lot of one-handed / one-arm / one-leg variations as well as overhead exercises or ones that target your oblique muscles.
One of the benefits of working just one side of your body at a time is that you will gain a ton of stability and be able to correct any imbalances that may exist in your body.
So without any further ado, let's take a look at some of the absolute best exercises that start with O: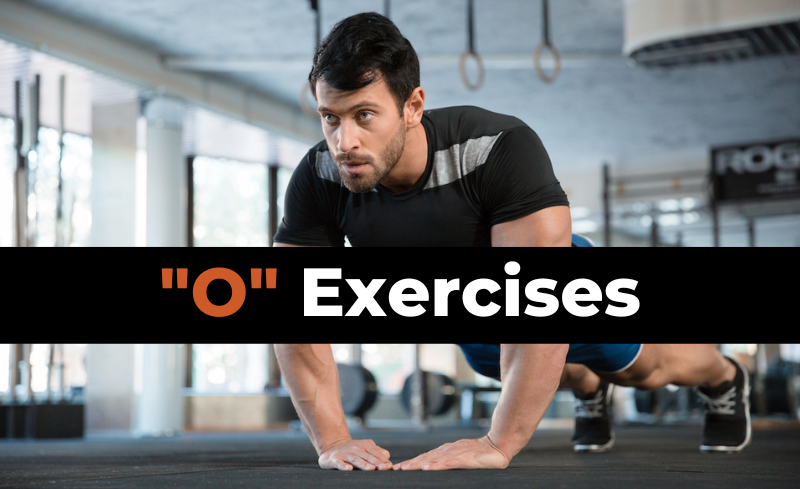 The best exercises that start with the letter O are:
One-Arm Pushup
Offset Single-Arm Chest Press
Overhead Tricep Stretch
Overhead Tricep Extension
Offset Dumbbell Squat
Oblique Side Bends
Overhead Press
Let's explore why each deserves a spot on this list and how you can implement them in your own training.
---
1. One-Hand/Arm Pushup
The one-hand pushup looks impressive because frankly, it is impressive. Not only does this exercise challenge your strength and stability but it also challenges your mental focus.
It is important to progress from proper two-handed pushups before attempting one-handed pushups in order to avoid injury.
How To
Starting on all fours in a tabletop position with your hips overtop of your knees. Place your hands shoulder-width apart.
Extend your legs out with your feet slightly wider than shoulder-width apart (wider than what your usual push-up position would be). Maintain a straight line from your head, through your hips to your feet.
Place one hand behind your back. Engage your core. Begin to bend the other elbow as you lower your body to the floor. Keep the elbow of your active arm tight to your body and your wrist in line with your elbow.
Press away from the floor up to your starting position. Repeat for reps and then switch arms.
Muscles Worked
Similar to regular pushups, one-hand pushups are a full-body exercise that mainly targets the following muscles, plus focuses on more core involvement for stability.
Pectoralis Major & Minor
Deltoids
Triceps
Abdominals
Trapezius
Rhomboids
Teres Major/Minor
---
2. Offset Single-Arm Chest Press
This variation of the chest press is a unilateral exercise that targets various muscles in both your upper, mid and lower body.
It will also allow you to target any imbalances that you may have on your right and left sides.
How To
Using a single dumbbell, lay with your upper back and shoulders diagonally across the bench. Support yourself by holding onto the bench above your head with your off-hand.
With your feet flat on the floor, keep your core engaged as you keep your hips elevated in the air. Your working shoulder should be slightly off the bench.
Maintain a bridge-like position as you slowly lower your elbow to be in line with your chest and then press the weight upward. Repeat for reps and then switch arms.
Muscles Worked
Pectoralis
Triceps
Deltoids
Rotator Cuff
Abdominals
Glutes
Quads
Hamstrings
Calves
---
3. Overhead Tricep Stretch
An important muscle (along with the biceps) for executing forearm movements, the triceps help with exercises that develop upper body strength.
Stretching the triceps will help to increase flexibility in the arm. This exercise can be done either in a standing or sitting position.
How To
Extend one arm straight up above your head and then bend at the elbow to lower your hand behind the back of your head/neck with your palm facing inward. Focus on keeping your shoulders relaxed and away from your ears
Gently use the opposite hand to push the bent elbow in towards the center of your back and down until you feel a stretch along your tricep muscle
Hold this static stretch for 20-30 seconds and repeat 3-4 times on each arm.
Muscles Worked
Triceps
Deltoids
Latissimus Dorsi
---
4. Overhead Tricep Extension
A great alternative exercise to either pulldowns or kickbacks, the overhead tricep extension isolates the triceps while also enhancing stability in the shoulders and core area.
How To
Another triceps exercise that can be performed either standing or sitting.
Using a single dumbbell (hold the bottom of the top dumbbell plate with both hands) or a kettlebell (hold the handle with both hands), lift the weight over your head.
Slowly bend your elbows to lower the weight behind your head as far as possible while keeping it in line with your spine. Do not allow your elbows to flare outward as it can put stress on your shoulder and chest muscles.
Once you reach the lowest point, begin to straighten your arms again as you bring the weight back overhead.
Muscles Worked
Triceps
Biceps
Forearms
Latissimus Dorsi
Abdominals
Obliques
Pectorals
Trapezius
---
5. Offset Dumbbell Squat
The offset dumbbell squat not only targets your lower body muscles but also your obliques due to the one-sided load.
How To
There are two variations as to how you can hold the weight you are using. You can either hold it like you would a grocery bag at your side or you can hold it as it rests on the outside of your shoulder.
Start with your feet slightly wider than shoulder-width apart. Engage your core as you push your hips back and lower yourself until your thighs are parallel to the floor.
Once you reach your squat position, pause for a count and then slowly push yourself into an upright position.
Muscles Worked
Biceps
Core
Glutes
Hamstrings
Quads
---
6. Oblique Side Bends
Strengthening and lengthening core muscles such as your obliques helps improve functional movements and reduces the risk of back pain while also helping digestion issues and metabolism.
Feel free to sing "I'm A Little Teapot" during this exercise
How To
You can do this exercise with either a dumbbell, kettlebell, or cable (which can be set at various heights)
Standing with your feet shoulder-width apart, hold the weight on one side of your body, letting it hang down to your side. Place your other hand behind your head or on your opposite hip
Maintain a neutral head and neck position as you slowly bend sideways at the waist lowing the weight towards your knee, using your obliques to pull your torso downward. Keep the weight close to the side of your body.
At the same tempo, you lowered the weight, lift it back up as you return to an upright position.
Muscles Worked
Obliques (Internal and External)
Abdominals
Serratus Anterior
Quadratus Lumborum
---
7. Overhead Press
The God of all shoulder exercises, the overhead press (sometimes casually referred to as the military press, shoulder press, etc.) is actually a fantastic test of overall strength and endurance.
Great for building all heads of the shoulder, it also challenges your legs, back, and core stability.
How To
Unrack a chest-height barbell and hold it in your palms, hands slightly wider than shoulder width apart, elbows tucked in.
Squeeze your glutes and core, keeping your body straight and rigid, and press the bar upwards.
Tilt your head back slightly to allow the bar to pass over your chin, and then "peek" your head back through once the bar has cleared.
Keep your chest up and avoid tilting your hips as you fully lock out the bar over your head.
Lower the bar with control, avoiding hitting your head again, until the bar rests at about chest position.
Repeat for reps.
Muscles Worked
Shoulders (all deltoids)
Triceps
Trapezius
Abdominals
---
Wrapping Up
Although the list of exercises that begin with the letter "O" is short we are still able to target a full-body workout with upper-body, core, and lower-body exercises.
It's also important to remember that most of these are working just one side of your body at a time, so three sets of 8-12 reps actually end up being 6 sets and 48-72 reps total.
Do a bunch of O exercises in a row, or pick one exercise from each letter of the alphabet so you can really go nuts with an alphabet workout!
Switching things up like this is a great way to stay motivated.
For more, see:
Hope this helps!