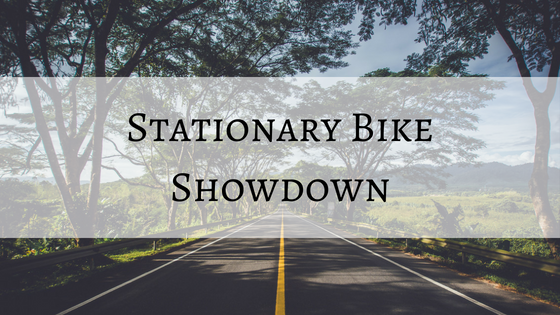 A stationary bike is one of the best home workouts you can get.
Plop that thing in front of the TV (or prop a book up on the dash) and ride your butt off.
(Literally.)
The awesome thing is that in recent years, at home cardio equipment like stationary bikes have become more affordable and accessible than ever, without sacrificing quality.
In this article, I'll break down two of the absolute best picks for the money, the Schwinn 270 vs Nautilus R616 — two extremely popular, mid-range recumbent exercise bikes.
We'll look at:
Price
Resistance Levels
On-board computer features
Size
Assembly
And more
So let's get right into it. Here's the Schwinn 270 vs the Nautilus R616 (Those links will take you over to Amazon).
First up, here's a comparison chart that should cover most of you what you need to know… (Again, clicking the product links below will take you to Amazon where you can check out the latest prices and read more reviews):
Overall, the Schwinn 270 and the Nautilus R616 are remarkably similar. They use the same exact basic bike build and features, with only minor cosmetic differences.
You should buy whichever one you can get the better price on!
Check below to see the latest prices on Amazon.
Image
Product
Details

Schwinn 270

25 resistance levels & 29 preset programs
300lb weight limit
Classic design

Check on Amazon

My Pick

Nautilus R616

25 resistance levels & 29 preset programs
300lb weight limit
Slightly sleeker design

Check on Amazon
---
All about the Schwinn 270 recumbent bike
The Schwinn 270 is one of the most popular at-home recumbent exercise bikes on the market, and for good reason.
(Important note: Recumbent exercise bikes have the rider sitting back against a seat rest with legs extended out in front, which is easier on the joints and lower back. As opposed to an upright bike where the rider is elevated and leaning forward on the handles.)
Schwinn is one of the top names in the industry and this is a flagship product for them.
It comes extremely highly recommended via Amazon reviews and boasts some awesome features, including:
25 resistance levels for fully adjustable workout intensity
29 built-in workout programs on the onboard computer
Built-in speakers, fan, and USB charging port
Vented seat back to keep you cool during riding
Single piece frame (superb stability and easy assembly)
300lb weight capacity
---
All about the Nautilus R616 recumbent bike
A top competitor of the Schwinn 270, the Nautilus R616 boasts many of the same features at a similar price point.
It's a sturdy, well-designed, mid-range recumbent exercise bike that caters to everyone from beginner to advanced riders.
In fact, these two bikes are remarkably similar.
(Eerily so, in fact. The product descriptions on Amazon are almost word for word clones of one another.)
That being said, with the Nautilus R616 you're getting:
25 workout resistance levels
29 built-in workout programs and routines
Onboard speakers, fan, and USB charging port
Vented seat back to keep you cool during riding
Single piece frame (superb stability and easy assembly)
300lb weight capacity
Sound familiar?
---
Something you should know about these two bikes…
After thoroughly researching these two bikes and all of their features and product specs, I'm pretty convinced they are the exact same thing.
In fact, during my research I learned that Nautilus actually owns Schwinn. Schwinn is just an offshoot brand.
So it's not out of the question that these two bikes are the same exact piece of equipment with slightly different brands and marketing behind each.
The research bears that out. All of the features of these two bikes are identical. The only differences I can tell are the names, some of the coloring, logos, and other minor cosmetic design differences.
(Just look at the photos… They even look like the same exact thing.)
If you want to read a little more in-depth about the bikes, keep scrolling down.
Just know that they are the same exact thing! So if you're interested in one of these bikes, just try to find the best deal and pick one.
---
Price Comparison
These two bikes are designed to compete with one another, and are therefore very similar on price.
They're both mid-range picks, meaning they're not bargain bin bikes that will fall apart the moment you hop on, but they're not super top of the line, either.
Both have outstanding durability and features, giving them immense value for the price.
Most retailers have these two bikes priced within a few dollars of each other, depending on shipping, etc.
Edge: Tie
---

Get the latest price on the Schwinn or the Nautilus over on Amazon.
---
Digital Display Comparison
The digital displays and onboard computers on these two bikes are identical.
Well, except for the logo at the top.
They both have a small digital readout near the top that displays a number of metrics with white print on a blue background. You'll see resistance, time expired, calories burned, etc.
There are a number of buttons and controls at the bottom to easily toggle between resistance settings, workout programs, and more. You'll also find Bluetooth connectivity to sync with various fitness-related apps on your phone, including two made by Schwinn and Nautilus.
A media shelf holds up your phone, tablet, or even book, so you'll have something to keep you occupied while you ride.
And both bikes feature USB charging for your devices as well as an onboard fan to keep you cool during your workout.
Again, these two consoles and displays appear to be the exact same thing, so neither bike gets the edge here. Both are great picks.
---
Size Comparison
Expect a nearly identical footprint from these two bikes.
Both clock in at about 66.5 x 12.5 x 27.5 inches in size, and just under 100 pounds when assembled.
(Both feature a single-piece frame which makes assembly significantly easier. All you'll really need to do is attach the seat, which some users agree can be a pain for both bikes, but that's about it. Expect assembly to take about 45 minutes tops. You can also order expert assembly from Amazon for both bikes at a fair price to save yourself some time and headaches.)
Both bikes have a maximum weight capacity of about 300lbs, which is standard at the mid-range recumbent bike level. You'll have to pay for something a little sturdier to get a higher weight max than that.
---
Resistance Levels
Both bikes feature 25 resistance levels and 29 different built-in workout programs (dynamic resistance routines) to keep you busy for quite a while.
For that reason, both of these bikes are excellent for anyone from beginners, to intermediate, to advanced riders.
Between the depth of features and the sturdy design, these two bikes should both last you a very long time.
---
Seat and Comfort Comparison
These bikes have a really cool seat design.
The back is vented with substantially sized holes, which should keep you cool and free of back-sweat during your workout. (Nothing worse than finishing up a workout and finding that you're stuck to the seat!)
The seat itself is well padded and fully adjustable, so users of all different weights and heights should find this bike quite comfortably. The ergonomic design of the seats helps long rides feel like a breeze.
Again, the seats on the Schwinn and Nautilus are identical and design and features, and both are definitely well-made. (Amazon reviewers back this claim up… people love riding these bikes.)
---
Warranty Comparison
If you're wanting to have these bikes around for the long haul, with heavy use over the years, you'll definitely want to be aware of the warranty information before you buy.
Here's what you can expect from the Nautilus R616 and the Schwinn 270 in terms of support and customer service:
Nautilus warranty:
Frame: 10 years
Mechanical parts: 2 years
Electronics: 1 year
Labor: 90 days
Schwinn warranty:
The same!
Schwinn is actually owned by Nautilus, the parent company, and thus offers the same warranty on its equipment.
(This confirms my theory that these two bikes are essentially identical pieces of equipment that are branded differently and feature some extremely minor cosmetic design differences. Other than that, they appear to be the exact same.)
---

Get full specs and read reviews for the Schwinn 270 or the Nautilus R616 on Amazon.
---
The Verdict
You really can't go wrong with either the Schwinn 270 bike or the Nautilus.
That's because they're the same thing!
These two bikes use the same frame, same drive mechanism, and same console / onboard computer, and have slightly different design elements and branding, but that's about it.
Most places even have them priced the exact same, or within a dollar or two of each other.
So I really mean that, you can't go wrong. They're both fantastic mid-range, at home exercise bikes that should last you years, with sturdy construction and plenty of workout options available, along with a pretty solid manufacturers warranty.
Head over to Amazon and pick the best deal on one of these bikes.