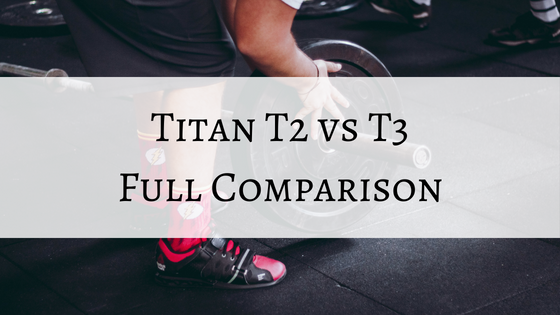 Looking for a high-quality but affordable power rack for your home gym?
Titan is one of the best names around when it comes to reasonably priced equipment.
(That doesn't suck…)
When it comes to Titan power racks, you'll probably be looking at the company's two marquee products, the T2 and T3 racks.
These two choices are similar in a lot of ways, but also have some pretty important differences. In this article, I'll break down the Titan T2 vs T3 so you can figure out which power rack is a better fit for your home gym.
We'll look at:
Price
Size
Weight Capacity
Features
Reviews
And more
First up, here's a comparison chart that should cover most of you what you need to know.
Overall, the Titan T-3 is a better, more fully-featured, and sturdier rack than the T-2. However, it's quite a bit pricier and a good bit taller, as well, which could be a challenge for garage and basement gyms. 
The T-3 is the better rack for more advanced lifters with the budget and space to make it work, while the T-2 is an awesome starter or budget rack.
| | Weight Capacity | Height | Best for | Price |
| --- | --- | --- | --- | --- |
| Titan T2 | 700lbs | 83″ | Tight budgets & novices | Check Price |
| Titan T3 | 1,000lbs+ | 92″ | Super strong lifters | Check Price |
(Quick Note: The Titan T2 comes in an extremely popular short version for low ceilings, but for the purposes of this article we'll compare the full-sized Titan T2 to the T3.)
---
All about the Titan T2 rack (full size)
The Titan T-2 is an excellent entry-level rack — affordably priced with super solid construction and a highly reputable brand behind it.
Essentially, this is a standard full-sized cage without a whole lot of bells and whistles. It's stripped down and very effective at helping you perform basic lifts like squats, deadlifts, rack pulls, bench press, overhead press, pull-ups, and more.
A couple of important things to note about this rack:
Weight capacity of 700lbs
Total height of 83″ (just under 7′)
Pull up bar height is 80″
Footprint (floor space) is about 48×48 inches
Uprights are made of 2″ powder-coated steel
Comes with weight holders at the back of the rack
Overall, the T-2 is a really great entry-level option for your home gym.
I say it's best for entry-level because the 700lb capacity, while really sturdy, might be something you outgrow eventually. A lot of serious lifters on Reddit and Bodybuilding.com forums write that as you start to become really strong on rack pulls and squats, the rack has trouble keeping up with the weights you're using.
But for the price, you'll have a really hard time finding a better power rack.
---
All about the Titan T3 rack
If you like Titan racks but want something a little more heavy-duty (and don't mind putting in a little work… I'll explain in a second), then the T-3 half rack / squat rack is right up your alley.
It's not a full cage, but instead has safety arms that jut out for support. This is really best for experienced lifters who know what they're doing and it gives you a lot of flexibility in terms of the movements you can perform with this piece of equipment.
Here are the key features to note about the Titan T-3:
Weight capacity of over 1,000lbs
Total height of 92″ (just shy of 8 feet)
Pull up bar height is 82″
Footprint (floor space) is about 48×48 inches
Uprights are made of 3″ powder coated steel
Comes with weight holders on the sides of the rack
Uses Westside hole spacing (tons of flexibility here)
Must be secured to the ground using plywood or some kind of platform
The Titan T3 is really a graduated version of the T2 in half rack form.
It has higher weight capacity (the 1,000lb weight limit should keep you busy for years), it uses higher gauge steel construction, and it has more options for hole spacing and adjusting the safety bars. The half rack style also gives you a little bit less support overall but a lot more flexibility if you're experienced.
---
Price Comparison
The good news is that Titan racks are notoriously affordable.
If you're looking for your first power rack or a good power rack for a budget, you're in the right place. These can be had for just a couple of hundred bucks.
The T-3 is a lot more heavy duty, and larger overall (despite being a half rack) so it will cost you a little more. But it's a great value considering the longevity and quality it brings to the table.
Still, if you're looking for the lowest price option, the T-2 wins out here by a hair.
Edge: Titan T-2
---
Get the latest price on the Titan T2 or the T3 and see more color options and cool accessories.
---
Size Comparison
Both of these power racks are perfect for garage gyms. But it's really important that you look closely at the dimensions of each before you buy, otherwise there's a chance it won't fit into your home.
Both racks take up equal floor space, at around 48×48 inches. That's a total of about 16 square feet… perfect for a garage or basement.
The big difference between these racks is the height, however, with the Titan T-3 coming in at a towering 92″ tall (that's almost a full 8 feet tall… be careful of your ceilings here!)
The Titan T-2 regularly comes in at about 83″ tall, which is a lot more modest and probably a better fit for a basement. The T-2 also comes in a short version that's only 71″ tall.
If saving space is your game, the Titan T-2 gets the edge for being a little easier to fit in most rooms.
Edge: T-2
---
Durability & Weight Capacity
Here's where the T-3 starts to shine.
The T-3 squat rack has a capacity of over 1,000 pounds! That is a lot of weight and should be enough for all but the most elite lifters.
The T-2 can handle about 700 pounds, which is still quite respectable. But if you're squatting 400-500 pounds or more, you'll be creeping close to the equipment's max limit.
And you won't be able to do super heavy rack pulls with this rack either without risking your safety.
If you're pretty new to lifting or don't see yourself going super heavy any time soon, the T-2 should suit you fine. But if you have high strength goals or have been training for a while, you're really going to want the extra capacity of the T3.
Edge: Titan T-3
---
Features & Hole Spacing Comparison
These two racks have a lot in common despite one being a full cage while the other is a half rack.
They both have a pull-up bar, weight storage, and safety arms. So in many ways, they perform the same overall functions.
One of the key feature differences, however, is the hole spacing on these racks.
The T-3 uses standard Westside hole spacing (there's a large area in the middle of the supports that features super tight 1″ hole spacing, which gives you an absolute ton of flexibility to perform a spotted bench press, incline press, or other movements at the exact height you need).
This is a huge plus for people who love to bench press inside a rack and push themselves at or near their 1 rep max.
The T-2 hole spacing is quite good, but doesn't feature the Westside pattern, so you may need to get creative with your bench and/or platform to get the safety bars exactly where you need for the bench press.
Edge: Titan T-3
---
Get full specs and read reviews for the Titan T2 or the Titan T3, plus get free shipping on your order.
---
Reviews Comparison (Customer Impressions)
Both of these power racks have rave reviews, but people who own them are quick to point out the differences.
Newer lifters who aren't strong enough to push around super heavy weights seem really, really satisfied with the Titan T-2.
However, most of the negative reviews of this rack come from people who found it wasn't sturdy enough to handle their workouts (heavy squats, in particular).
The T-3 has none of these complaints.
This thing is built like a tank and is designed to take tons of abuse and handle a lot of weight. The only complaint that popped up from reviewers seemed to be cosmetic (not loving the way the racks looks, or the rack arriving with some dings in the finish).
Reviewers also note that set up of both racks is fairly easy, though it's important to note you'll likely need to secure the T-3 squat rack to the floor before lifting heavy.
Edge: T-3
---
The Verdict
The Titan T2 and T3 are both great power racks, and would be a great addition to any home gym.
You'll just have to figure out what your specific needs are and buy accordingly.
If you want to keep the budget a little lower, while still getting a great rack, and you're not super concerned about the 700lb weight capacity, go with the T2! You're going to love it. As a bonus, it'll take up a little less room in your home with its shorter stature.
If you're primarily concerned about getting a heavy duty piece of equipment that you can beat up for years to come, and won't give way under super heavy weights, you're going to want to invest a little bit more in the T-3.
If you get this rack and install it properly, you'll be really happy with it for a very long time.
For that reason, I think the overall better value here is the Titan T-3. It's just hard to beat the sturdiness and function of it at this price point.
Head over to Titan Fitness and get the latest price and more info on the Titan T-3.
Hope this helped!