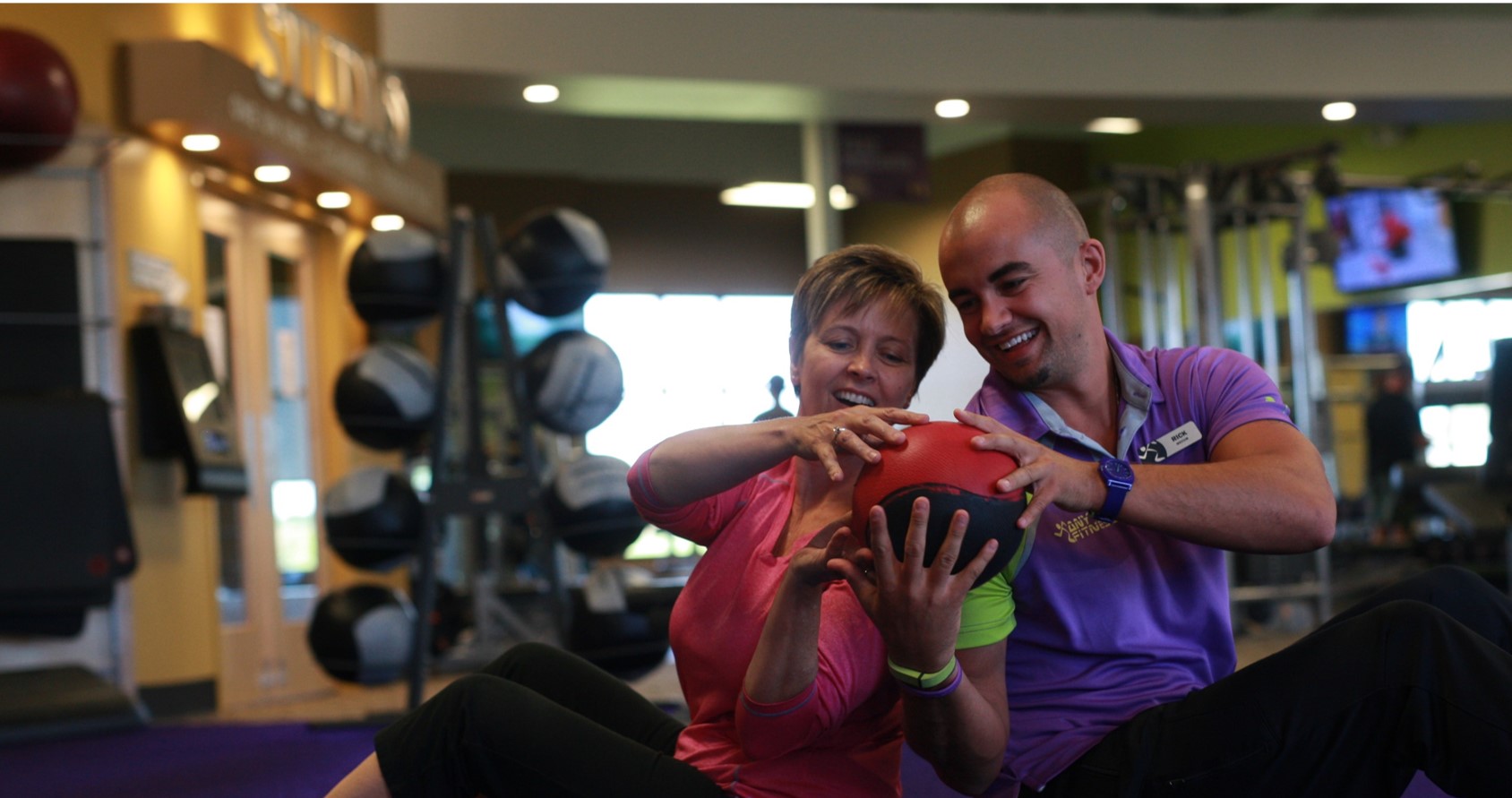 Trying to decide between two gyms near your house, work, or kid's school?
There's a lot to think about, like pricing, equipment, classes, childcare options, and more.
So I've gone ahead and gathered all of that information so you don't have to. No need to thank me!
Our Gym Comparison Series continues with Anytime Fitness vs Planet Fitness.
There are two main differences between Anytime and Planet Fitness. Anytime will cost more no matter how you slice your membership, but you'll get a lot more for the money. Anytime has great weightlifting equipment and group fitness classes to choose from, where Planet Fitness is far more limited in these areas.
Now let's take a closer look!
(And psst, you can get just as good of a workout at home with lower fees and no contract. Try Beachbody on Demand free for 14 days and you'll be blown away by the workout program selection!)
---
What is Anytime Fitness?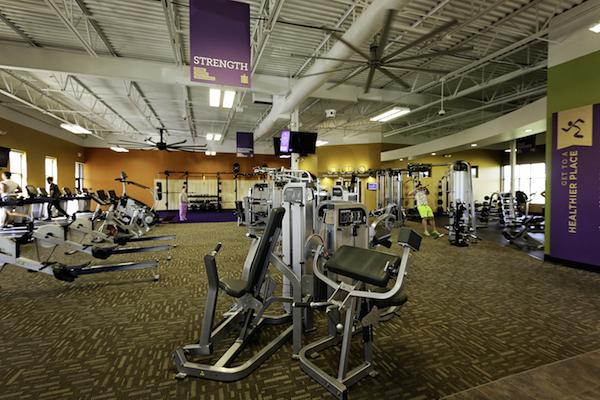 Anytime Fitness is one of the largest franchise-gyms in the country, with over 3,000 locations in the U.S. alone.
It's best known for being open 24 hours a day, 365 days per year, and for having a location in damn-near every shopping center in the country.
---
What is Planet Fitness?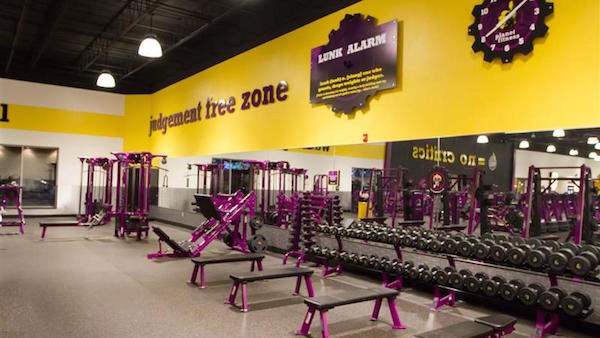 Cheap. Convenient. Bright-ass purple and yellow.
That's Planet Fitness.
This franchise has been around since 1992 and offers over 1,000 locations across the United States. It's probably best known for staying open late and its signature loud color scheme.
It's also well-known as a "judgment free zone" that caters especially well to people who are just beginning their fitness journey and may not be comfortable at the gym just yet.
(Oh, and yes, Planet Fitness haircuts are a real thing… sort of.)
---
Cost
Anytime Fitness: Has a number of different membership options, including both single and two-person monthly memberships, and single and two-person annual memberships.
For a one-person membership, expect to pay around $85 in sign-up fees and around $40 per month or $400 per year for the annual pass. 
(After 30 days, you're eligible to start going to any Anytime Fitness location).
Planet Fitness: Also offers a bunch of different membership levels.
In short, you'll pay around $10 per month for unlimited access to just your local club (or $15 per month if you want to go without a contract) and about $20 per month to access any Planet Fitness location.
Startup fees can be anywhere between totally waived, $1, and $39.00 depending on location.
In pure dollars and cents, Planet Fitness is the winner here. But what do you get with your membership?
---
Hours
Anytime Fitness: It's not called Anytime for nothing. This place never closes.
Planet Fitness: Most locations are open 24 hours, but hours may vary on weekends or by franchise. Check your local PF.
---
Equipment
Anytime Fitness: Has pretty much everything you could need, including a full suite of cardio machines, dumbbells, free weights, and power racks.
Planet Fitness: Is somewhat famous for not catering to heavy weightlifters. Expect to find only a Smith machine, some weight machines, and some light dumbbells, but plenty of treadmills and other cardio equipment.
---
Classes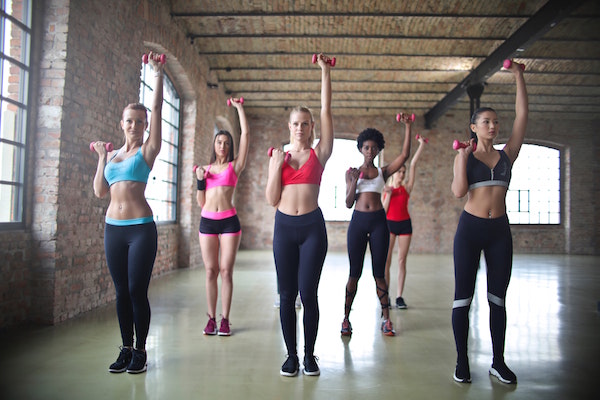 Anytime Fitness: Plenty to choose from here, including spin, zumba, cardio, yoga, and more. Classes are sometimes, but not always free for members. Check your local club to see if you'll incur additional charges for taking their group classes.
Planet Fitness: Nope. Sorry.
Planet Fitness offers some extremely basic intro classes (like showing you how to use the machines and creating a basic workout template for new members), but you won't find any yoga, zumba, or other group exercise classes here.
---
Pool / Spa Area
Neither Anytime Fitness nor Planet Fitness have a pool.
Bummer 🙁
---
Showers
Yes! Hooray!
Both Planet Fitness and Anytime Fitness have showers in the locker room.
This is a huge deal for people who work out in the morning before work or on their lunch break.
(Or really anyone who has somewhere to be right after their workout is done and can't afford to stink!)
---
Childcare
There's no childcare or daycare option at Anytime Fitness, nor at Planet Fitness.
The good news is you can always just go at midnight!
---
The Verdict
While both Anytime Fitness and Planet Fitness pride themselves on convenience, these are two very different gyms at different ends of the value spectrum.
You might prefer Anytime Fitness if:
You want to lift heavy weights
You absolutely have to work out at 3am on Christmas morning
You like zumba, spin, or yoga classes
You travel for work and need affordable access to a bunch of different Anytime locations
You might prefer Planet Fitness if:
You don't like being around weightlifters
You're down with free pizza and bagels at the gym
You love cardio
You're on a budget
(And I highly recommend you try working out at home with Beachbody on Demand — click my link to try it free for 14 days.)
Check out the rest of our gym comparison guide here if you're still exploring!