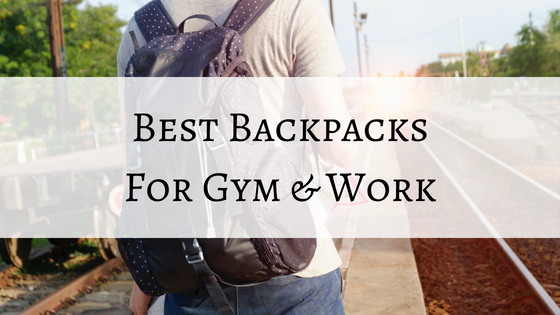 After reading through hundreds of customer reviews and doing hours of research on the best professional-looking gym bags, I think the Hynes Eagle 38L backpack (Amazon link) is going to be the best bet for most people. It's affordable, stylish, and exceptionally durable.
Read on to hear about some other great options and see how I came up with my top 3.
…
With schedules jam-packed with work, social life, events, and more, it can sometimes be difficult to exercise.
When you do go, you may end up heading straight from the office to the gym, or vice versa.
So now, more than ever, it is important to have a bag you can carry to both.
With the right backpack, you can easily transition from work to the gym – without looking silly.
But it's important that you get a backpack that can hold up to your busy life! Your backpack should fit into a gym environment and work environment all while streamlining your routine.
Before we dive into the research on the best backpack for gym and work in 2019, let's take a look at my top three picks:
| | Weight | Size | Storage | Price |
| --- | --- | --- | --- | --- |
| iBagbar Backpack | 1.5 lbs | 12 x 7 x 18 inches | 35 liters | $ |
| *My Pick: Hynes Eagle | 1.72 lbs | 13 x 7.9 x 19.7 inches | 38 liters | $$ |
| OGIO Renegade | 3.5 lbs | 19.5 x 14 x 10 inches | 29 liters | $$$ |
---
Best Budget Backpack for Gym & Work: iBagbar Backpack
Overview: This practical backpack is strong, durable, and designed to keep your technological items (like your laptop) safe.
Designed for regular use, the iBagbar backpack is made of cotton canvas and real leather. This backpack is offered in a variety of colors.
One of the iBagbar offerings includes a USB charger connected to the backpack for easy charging on the go. This multi-pocket backpack has a capacity of 35 liters and comes with a 30-day Money Back Guarantee
Weight: 1.5 pounds
Dimensions: 12 x 7 x 18 inches
Storage: 35 liters
Why I Like It: The iBagbar backpack offers a wide variety of benefits for its price point.
Designed with 9 pockets, including one wide main pocket, this backpack offers plenty of space for storing your laptop, personal items, clothing, and more. The backpack provides convenient access to everything that you need.
Neutral in color, it works for both men and women, and fits in in both active and office environments.
The backpack has a capacity of 35 liters.
Although it may look simple and practical, you can store a full day's worth of things in here (and everyone would be none the wiser)! The size of the backpack ensures that you will be able to pack a change of clothes without a struggle.
Plus, now you won't have to skip the gym "because you weren't ready in time," because you'll always be ready (don't worry, we've all been there).
Potential Drawbacks: Although the iBagbar backpack is spacious, it can only handle devices up to 15.6 inches.
For those of you who bring a laptop to work that is over 15.6 inches, this bag will not be able to handle the size, therefore making it more of an inconvenience for you.
Due to the material of this backpack, some seem to think it is more flimsy or loose than they would like.
Finally, the backpack may be difficult to clean, needing multiple steps from washing with cold water to drying away from sunlight.

Check price and read more reviews of the IBagbar backpack on Amazon
---
Best Mid-Range Backpack for Gym & Work: Hynes Eagle 38L Backpack
Overview: The stylish Hynes Eagle 38L Backpack is easily able to hold up to the rigor of day-to-day life.
This backpack, made from 600D polyester, comes in 12 colors and patterns. It comes with three packing cubes. Offering 1 top handle, 1 side handle, and padded shoulder straps, the Hynes Eagle 38L Backpack has multiple carrying options.
Weight: 1.72 pounds
Dimensions: 13 x 7.9 x 19.7 inches
Storage: 38 liters
Why I Like It: Although it isn't necessarily something that everyone will take advantage of, you can pick your Hynes Eagle backpack to fit your personality.
With a variety of colors and interesting patterns, you can feel like your bag is more customized. It also means that the bag is versatile and works for both men and women.
This backpack's 38 liter capacity ensures that you will have plenty of room to carry everything you need – from your laptop and other supplies to a change of clothes. It comes with 3 packing cubes.
After work, or after the gym, you can easily fold and pack up your clothes for easy storage. This saves even more room in your bag, allowing you to be able to carry more.
Finally, this durable bag is designed for easy carrying.
Originally built for travelers, the bag will hold up to your daily gym-and-office grind. It also offers carrying options with multiple handles and shoulder straps. You can carry it like a duffel bag, backpack, or store bag, making it even more customizable to whatever setting you are in.
The tie-down straps and cinching on the inside keep your belongings safe no matter which way you carry it.
Potential Drawbacks: Although the Hynes Eagle 38L Backpack is built for movement, there have been a lot of complaints about the durability of the zippers.
The zippers are said to easily break. If you're going to be using this backpack for work and the gym, this could be an issue. After all, you don't want your dirty gym clothes falling all over your office floor.
Also, the straps for multiple carrying options are definitely a plus – but they're not as great when they're not incredibly comfortable.
The straps for the backpack also may not clip well, which means you might be better off carrying it like a duffel bag. While this isn't bad, especially for the gym, it might not be your favored look for work.

Check price and read more reviews of the Hynes Eagle backpack on Amazon
---
Best High-End Backpack for Gym & Work: OGIO International Renegade RSS Pack
Overview: The OGIO International Renegade RSS Pack is designed with 600D Polyester Pindot. It is made by OGIO, a leader in the Powersports industry, and is built to stand up to wear, abrasions, and color fading.
This backpack offers padded shoulder straps, padded pockets, and water bottle and accessory holders. It has a capacity of 29 liters.
Weight: 3.5 pounds
Dimensions: 19.5 x 14 x 10 inches
Storage: 29 liters
Why I Like It: If you're going to be lugging a backpack to work and to the gym, you'll need something comfortable. After receiving feedback, OGIO increased the foam padding in their shoulder straps, making it easier and more comfortable for day-to-day use.
This backpack also offers a sternum strap to ensure the backpack is held in place.
The OGIO International Renegade RSS Pack offers more padding beside just the shoulder straps. It has what it calls a "crush proof tech vault pocket," which means that your laptop and other technology will be protected.
It's padded iPad/tablet pocket offers additional safety from external forces. The laptop/tech pocket fits most 15-inch laptops.
The stylish design and dark color make this backpack look sleek and fashionable. It will blend into an office or work environment for both men and women, while also not being too formal to take to the gym.
Potential Drawbacks: At 29 liters, the OGIO offers the lowest capacity but at the highest price point.
Depending on how much you carry with you on your day-to-day journey, the smaller capacity may make your life more difficult. The OGIO International Renegade RSS Pack also has a narrow laptop compartment. For those of you with larger laptops, a narrow compartment is an inconvenience.
This backpack weighs 3.5 pounds without anything in it, which may cause additional strain on your back throughout the day, depending on what you fill it with.

Check price and read more reviews of the OGIO backpack on Amazon
---
What to look for before you buy
If you're going to be using the same bag all day, it's important to find a backpack that will fit in in both the gym and the office environment.
Stay professional – and get in a good workout – by ensuring that your backpack can conquer any smells from your gym clothes. But it also needs to be large enough – and sturdy enough – to keep your laptop, and other office supplies, safe.
If you think it's difficult to find a bag that you can bring…well…anywhere, think again!
Just consider the following factors when you're trying to find a multi-use backpack with a stylish or minimalistic feel:
Durability – You don't want to buy a backpack just so that it can fall apart in a week. If you're going to be using your backpack for multiple purposes, you want one that is well-built, sturdy, and made with high-quality materials.
Design – A great backpack that fits both gym and work usage is going to be stylish, while still somewhat minimal. Of course, you know yourself (and your office!) so you might be comfortable with a backpack that is bright and colorful. For those who work in spaces where you want your bag to blend in, your bag should have a neutral tone and a functional design. The backpack should also be practical but not overly formal, since that might stick out (especially in the gym)!
Functionality – The best multipurpose backpacks will be functional, easy to carry, and able to handle all of your belongings. Many backpacks offer multiple carrying styles, from the traditional manner (wearing the straps) to holding the backpack like a duffel bag. When considering how functional a bag is, look at the amount of pockets it has, the material, and the padding and protection (for items like your laptop).
Size – Smaller backpacks may not be able to hold everything that you need. If you're transitioning from work to the gym, you should have a backpack that is able to hold your laptop, keys, wallet, phone, and any necessary office supplies – alongside a change of clothing. Some backpacks are also not designed to hold certain sizes of laptops. To pick the best backpack for your needs, make sure it is sizeable enough to hold all of your items.
---
Wrapping Up
When it comes to finding the best backpack to go between the gym and the office, you'll need something practical, functional, and durable. Your backpack should hold what you need, while fitting into your environment with appropriate style.
With all of that in mind and having read through hundreds of reviews, I would say that the best backpack for gym and work is the Hynes Eagle 38L Backpack. With its customized look, multiple carrying options, and large capacity, the Hynes Eagle backpack will help with a seamless work-to-gym transition.
Get the full specs and read customer reviews of my favorite backpack, the Hynes Eagle 38L on Amazon.
Hope this helps, everyone!