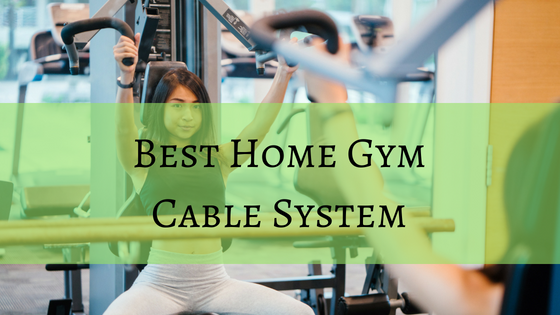 For my money, the best overall cable crossover machine for most home gym is the Xmark functional trainer (Amazon link). It's got 400 pounds of total resistance in a convenient stack loading style, and has amazing customer reviews.
Read on for some more great options and to learn how I chose my top 3.
…
If you're looking to get strong, build muscle, and promote healthy joints and tendons, a home gym cable system is an AWESOME investment.
These things are so versatile, you'll never get bored with a near-infinite array of exercises at your fingertips.
The only problem is… there are a LOT to choose from, and each comes with its own set of bells and whistles.
What do you really need? How do you pick?
Let's dive into those questions and more, in my guide for how to buy the best cable machine for your home gym.
| | Load Style | Total Weight | Footprint | Price | Notes |
| --- | --- | --- | --- | --- | --- |
| PowerLine PCCO90X | Plate | 200lbs+ per side | 82″H x 112″L x 39″W | $$ | Best plate loaded |
| Valor CB-12 | Plate | 250lb max | 80″H x 50″L x 25″W | $ | Best on a budget |
| *My pick: Xmark Trainer | Stack | 2x200lb stacks | 83"H x 43.5"L x 65"W | $$$ | Best overall |
---
Why do you need a cable system in your home gym?
Unless you have a lot of space (and a lot of money), you might be in the position of having to choose whether to have a power rack or cable system in your home gym.
There's no easy way to say which is "better," but they do serve slightly different purposes.
A cable system can be a great addition to your home gym for the following reasons:
Extremely versatile – There's hardly a limit to the exercises you can perform with a good cable system. Yes, power racks can do a lot, themselves. But only with cables can you do moves like high-to-low chops, pull throughs, crossovers, and some really cool single-arm moves.
Easy and safe to use – Barbell movements, when performed correctly, can be quite safe. But there's always an element of danger involved in lifting heavy weights without any assistance. Cable machines take away a bit of the uncertainty, as 90% of lifting injuries come from barbells or dumbbells.
Better for isolation than pure barbell movements – The instability introduced by barbells allows your body to engage all kinds of smaller stabilizer muscles during heavy movements, which is great for muscle-building. But cable machines shine when asked to isolate specific muscle groups — there are so many awesome exercises you can do with a cable machine to focus specifically on your biceps, triceps, chest, or any other muscle.
---
How to shop for a home gym cable system
Your person preference in exercise selection (and your budget) is going to inform much of your decision-making here, but there are a few key things that any shopper should keep in mind while evaluating home gym cable machine:
Plate Loaded vs Weight Stack – You're probably most familiar with cable and pulley systems that load up with a weight stack and pin. This is what you see at most commercial gyms. But there are also plenty of models that don't come with weight stacks and, instead, allow you to load them with Olympic weight plates. The weight stack is more common, and it's nice to have everything together in one package, but a free weighted cable system adds an extra layer of customization.
Total Stack Weight – You'll have to evaluate your own strength level and gauge whether you're likely to max out the weight stack on your cable system any time soon. If you've been lifting for a while, and the weight stack only goes up to 150lbs, that may not be enough, and you could be stuck with a useless piece of equipment.
Versatility – For those with arthritic knees, a recumbent exercise bike is going to be a much better option than an upright. On a recumbent bike, the rider sits back on a larger and more comfortable seat, placing less overall weight and stress on the lower body joints, providing better support for the lower back, and making the bike far easier to mount and dismount. All of the bikes I recommend below will be recumbent style.
Now let's dive into my actual recommendations for the best cable system for home gyms.
---
Best Plate-Loaded Home Gym Cable System: PowerLine PCCO90X Cable Crossover
Overview: Simple but effective, the PowerLine PCCO90x is a fantastic cable system machine for your home gym. This plate-loaded system gives you a ton of flexibility and versatility to perform nearly countless exercises, to go along with sturdy construction and a friendly price tag.
Price: $$
Why I Like It: The PCCO90X is a pure cable machine, and it does its job extremely well.
There aren't really many cable-based exercises you can't perform with this bad boy, and on top of that, it's easy to assemble: You'll be working out within an hour or so of delivery. Construction is absolutely top notch and the reviews are stellar. You won't be disappointed in this pick.
Potential Drawbacks: Plate loading may be a drawback for some. System takes up a lot of space (over 9 feet long when fully assembled). No mid-level pulley height (only high and low).

Check price and read more reviews of the PowerLine machine on Amazon
---
Best Budget Home Gym Cable System: Valor Fitness CB-12
Overview: Not only a cable machine, the CB-12 is a complete home gym in a tiny package. High and low cable pulley locations give you versatility to perform plenty of cable exercises, but the machine also includes a lat pulldown bar, leg extension, and rows.
Price: $
Why I Like It: This is definitely one of the best home cable systems you can get for the price, and it's nice that includes some fun extras and comes in a small package (only 50 inches wide).
Comfortable seat and back pad. Construction is top notch and this machine will hold up over years of use.
Potential Drawbacks: You'll have to add your own weight plates. Assembly is difficult, with lots of moving parts. Not ideally for heavy or very tall users.

Check price and read more reviews of the Valor Fitness machine on Amazon
---
Best Overall Home Gym Cable System: Xmark Functional Trainer Cable Machine
Overview: Meet the Mercedes of home gym cable systems. The Xmark Cable Machine quite literally has it all (and the price tag to match, but it's totally worth it). Heavy duty construction, dual 200 pound weight stacks, fully adjustable pulley heights. What's not to like about this one?
Price: $$$
Why I Like It: Ultimate versatility: Set the pulley height to quite literally anywhere on the machine, and perform any variation of any cable pulley exercise you can image.
Dual 200lb weight stacks should keep you busy for quite a while as you build up strength. Incredibly thick, industrial gauge steel makes this thing a sure-bet to hold up over years of wear and tear. Also includes 19 different attachments for even more exercise versatility (ropes, handles, etc).
It's also available in two colors (grey and white)! It's truly a complete home gym in one.
Potential Drawbacks: Very expensive. Bulky and takes up a lot of room. Tall and not well-suited to low-ceiling dwellings.

Check price and read more reviews of the Xmark machine on Amazon
---
Wrapping Up
Any of these cable systems would make an amazing addition to your home gym. They offer safe, stable, easy-to-use access to dozens and dozens of exercise variations without the need for a power rack and dozens of accessories.
Make sure to keep in mind before you buy: Total weight stack weight (or ability to plate load), overall size and footprint of the machine, and budgeting in any extras or attachments.
If you're ready to get started right now, check out my top overall pick, the Xmark Functional Cable Trainer Machine, right here on Amazon.
---
Cable crossover machine FAQ
Are cable machines good for home gyms?
Definitely! Though what kind of home gym equipment is best for you come down to your needs and budget. You may prefer the versatility and heavy-lifting potential of a power rack (for free squats, presses, rack pulls, pull ups, and more). But cable machines are awesome for isolating different muscle groups in tons of different ways, and from a variety of angles.
Cable curls, squats, tricep extensions, pull throughs, and more can really help you bring up lagging body parts and build an awesome body.
Are home cable machines safe?
Absolutely. In many ways, cable machines are a great safe alternative to heavy dumbbells and lifting in a power rack (though, performed properly, exercises that use those pieces of equipment should also be very safe). One cool thing I like about cable exercises is that you get to "try out" a given weight before lifting it, so to speak. Just give the cable a quick tug to get an idea of how heavy the load will be and if you think you can handle it.
If things get too intense, you're always free to let go of the cables and let the weight drop (though it's best and safest to not let it drop too fast or hard), and the weight won't fall on your or pin you down. (In comparison to, say, a bench press without safety bars or a spotter… which isn't advisable, by the way.)
Do cable exercises build more muscle?
It's best to think of cable exercises as a good way to add variety, try new things, and hit muscle groups from a different angle. The primary drivers of muscle growth always have been and always will be progressive overload… add reps, add weight, or decrease rest. If you can do those things over time, your muscles will grow, regardless if you're using free weights or a cable machine.
How much do cable machines cost?
Cable systems for your home gym tend to be pretty pricey. There are a lot of moving parts involved, a lot of accessories needed, and they often take up a lot of space and use a lot of material. That said, above I've provided some good picks in a variety of different price ranges.
What if I can't afford a cable machine?
If the picks above are out of your price range, look on Craigslist! People buy home gyms all the time with the best of intentions and never use them, or decide to upgrade to something else. Craigslist and other local online marketplaces are chock full of cheap or even free home gym equipment. Check it out yourself to find a great deal.