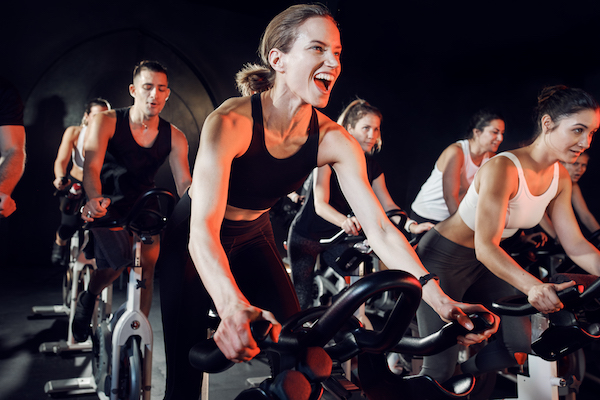 Cycling is an absolutely incredible workout.
(It burns a TON of calories and is super low-impact and easy on the joints.)
SoulCycle is one of the best choices around when it comes to spin class.
But it might not be the ONLY workout you want in your own personal fitness mix.
It's good to do a variety of things. A little strength here, a little yoga there…
The best way to do it? A ClassPass membership.
That way, you can hop around to as many different studios as your membership allows, and try a bunch of different stuff every month!
But is SoulCycle on ClassPass? And how many credits is SoulCycle on ClassPass?
Currently, as of this writing, SoulCycle is not on ClassPass. However, your membership DOES get you access to Cyclebar and Flywheel, which are just as good if not BETTER spin class options.
See the best spin studios near you on ClassPass (and try it out free for a month!)
---
The Best SoulCycle Alternative Spin Classes on ClassPass
OK, so it's a bummer that SoulCycle isn't on ClassPass.
If you were looking forward to giving it a try, you still can! It's easy to get a cheap or free introductory class at your local studio.
But if you're just looking for a great spin class, there are SO many other (and arguably better) options out there.
First up is Cyclebar, my personal favorite spin class.
(Check out: What to expect at your first Cyclebar class.)
There are about 200 CycleBar locations in the United States, and you can access the majority of them through ClassPass. Woohoo!
Why do I love Cyclebar?
Well, for starters, it has a friendly, down to Earth, community vibe — it doesn't feel corporate or culty, at all.
It also features some of the best bikes around and really great live-scoring system that motivates you to give each workout your all.
For a deeper comparison, check out CycleBar vs SoulCycle.
Next is Flywheel Sports, another great SoulCycle alternative on ClassPass.
I prefer CycleBar by just a hair, but the two are really comparable and you'll have an amazing experience at either one.
(Read my full Flywheel Sports review.)
One cool thing about Flywheel is that their studios usually have barre classes as well. More bang for your buck!
Some of the other great spin classes you'll find on ClassPass are:
Rukus Cycling
Vibe Ride
BURN Studios
And tons and tons of local studios
See the best and most popular spin studios near you on ClassPass.
---
How does ClassPass work?
If you're willing to give ClassPass a shot and try some non-SoulCycle spin joints (plus whatever yoga, barre, strength, bootcamp, and other workouts you want), you might be wondering how the whole thing works.
The first step is to start a free trial.
You can join ClassPass free for 30 days and get 35 credits to use during that month.
(I'll explain credits below.)
As a paying member, you choose a package of "credits" to purchase each month:
7 credits for $15/month
27 credits for $49/month
45 credits for $79/month
85 credits for $139/month
130 credits for $199/month
(As of this writing, there's no unlimited credit package with ClassPass.)
Your credits can then be redeemed for classes at participating studios in your area.
Classes at off-peak hours or less popular studios usually run 2-4 credits each, and it goes up from there.
(Divide your credits per month by 3, and that'll tell you roughly the high-end of classes you could take each month.)
You can search for classes using the mobile app and book everything using just your phone.
That's pretty much it!
You can use your ClassPass credits at places like:
Flywheel
Burn Boot Camp
CrossFit boxes
Yoga studios
Local gyms
Pure Barre
And more
---
How many credits are spin classes on ClassPass?
In my area of Atlanta, here's how it works.
CycleBar and Flywheel classes in the suburban locations start at about 3-4 credits, while classes in the city cost about 7-8 per class.
This seems to hold true for most places around the country.
Expect to cough up 4-6 credits per spin class at less popular studios, and around 7-8 in more busy, urban areas.
So is ClassPass a good deal for spin classes?
It depends on how you're going to use your credits.
A $79/month ClassPass membership would get you about 5-7 CycleBar classes per month, for example, if that's the only thing you used your credits for.
That's a pretty great deal!
Signing up at CycleBar separately (at least in my area) costs about $109 for 8 rides per month.
Of course, at most spin studios, it will be cheaper to get an unlimited membership directly with the studio if you want to take several classes per week there.
But if you just want to dabble with a class or two per week, and try some other stuff, ClassPass is a far better deal.
Check ClassPass plans and pricing here.
---
Wrapping Up
ClassPass is a smart, convenient, and economical way to take a few spin classes every month; just not SoulCycle unfortunately.
You'll have plenty of other choices, however, starting with CycleBar and Flywheel.
Expect each spin class to run about 4-6 credits (in the burbs or rural areas) and 7-8 in the city, so choose your ClassPass plan accordingly.
It's really a great deal until you want to take more than 8 spin classes in a single month (then just buy an unlimited package directly from the studio you like most, or buy a big pack of classes).
But if you want to try out spin a few times per month and dabble in yoga, strength, pilates, and more, then ClassPass makes total sense.
Hope this helps, everyone!
Get started with a free month (and 35 credits) of ClassPass right here.