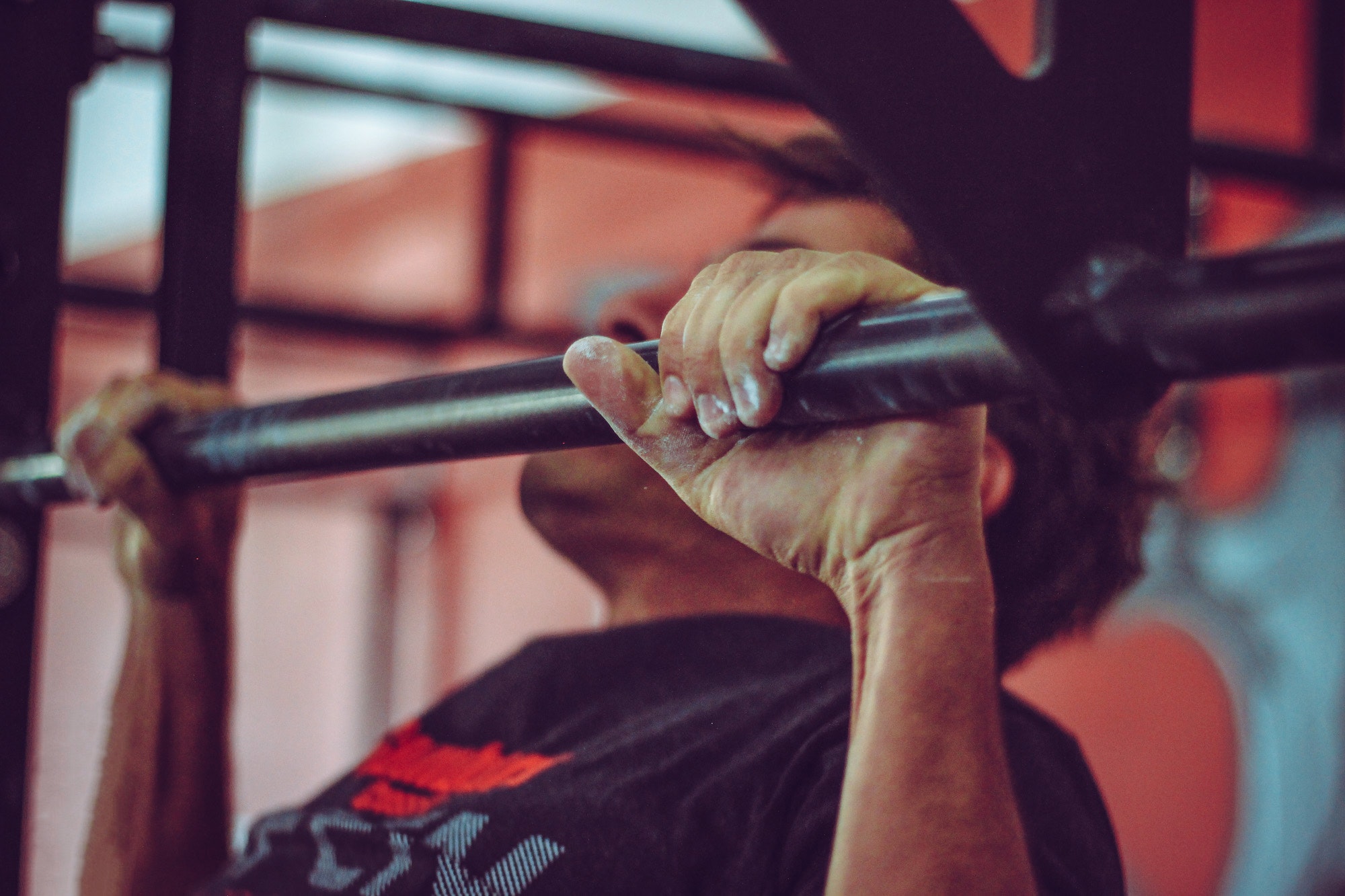 Pretty much anyone can appreciate the Kinobody goal physique:
Lean, chiseled, powerful, and athletic.
It all sounds great!
But if there's one drawback to the Kinobody programs, it's that they require you to train in a gym, where you'll lift heavy weights using a variety of equipment 3x per week.
You might want something with a little more freedom and flexibility, something that uses less equipment and gives you the freedom to work out any time, anywhere.
If so, you can still get that Hollywood Kinobody physique by following the Bodyweight Mastery Program.
Below you'll find my full, detailed, and honest Kinobody Bodyweight Mastery Program review. But first, a few key points right off the bat:
Overall, Bodyweight Mastery is a fantastic program to help you build the body you want at home with very little equipment. It's a highly underrated way to get in amazing shape and I think more people should check this program out.
While most at-home workout programs are cardio and conditioning workouts disguised as strength, Kinobody BWM guides you through more and more difficult progressions all the way up to one-arm pushups, one-arm chin-ups, muscle ups, and more to build insane power and muscle.
I do wish it received the same attention as the other Kinobody programs when it comes to updates and overhauls, as the material is becoming a bit dated. However, it still works great!
Join Bodyweight Mastery instantly right here.
---
Here are the basics of what you're here to find out:
Does the Kinobody Bodyweight Mastery Program work?
Yes, absolutely.
I've followed multiple Kinobody programs myself and have seen tremendous results while putting in much less effort than people I know who are on extremely rigorous and rigid fitness programs.
If you follow the program as laid out by Greg O'Gallagher, the creator of Kinobody, you'll develop amazing new levels of strength while staying lean; a perfect formula for an incredible physique.
(Here's a quick before and after transformation so you can see for yourself. The guy below used multiple Kinobody programs including Bodyweight Mastery.)
How hard is it?
The workouts are hard, but the program is not.
The great thing about Bodyweight Mastery as opposed to other programs it that it removes some of the biggest obstacles people have around getting fit: gym time and equipment.
On BWM, you'll be working out just three times per week in your home (or hotel, park, anywhere really) using little to no equipment.
If you can't commit to that, I don't know what to tell you!
(The workouts are surprisingly brutal, especially if you're not used to challenging bodyweight movements. You'll definitely get a great workout every time.)
Is it a good value?
At $37 for lifetime access, definitely.
You could just do push ups in your living room and slowly and steadily get stronger, but without a proper system for progressing, learning more challenging movements, and managing progression and rest, you won't get the muscle and strength levels you're after.
Greg has all of that figured out for you in Bodyweight Mastery, and it's worth the price of admission.
Plus, like all of the Kinobody programs, BWM comes with a 100% money back guarantee if you don't love your results.
Join Bodyweight Mastery here risk-free (100% money back guarantee).
---
How I'm conducting this review
A couple of things to get out of the way up front:
I'm currently following the Bodyweight Mastery program while stuck at home.
Beyond that, I've been following Kinbody for a year (I lost 15 pounds on the Warrior Shredding program and built 10 pounds of new muscle on the Greek God protocol) and am in my leanest and strongest condition ever thanks to Greg O'Gallagher.
My goal in this review is to tell you exactly what's inside the Bodyweight Mastery Program and help you figure out, through my honest evaluation, if it'll be a good fit for you.
---
What do you get with the Kinobody Bodyweight Mastery Program?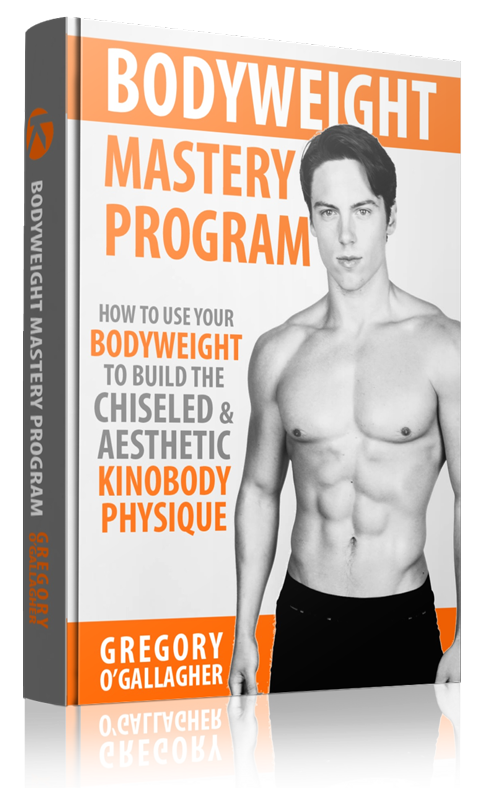 This digital workout program is packed with content, so buckle up.
Here's everything you get with the Bodyweight Mastery Program:
Access to a private members forum for sharing tips and getting support
Greg's overarching fitness philosophies & why he felt compelled to create a bodyweight program
A breakdown of the benefits of bodyweight training (less injury risk & better muscle activation, for example!)
What most bodyweight fitness courses get wrong (like a focus on circuits and conditioning rather than pure strength)
The full 3-day split workout program including 8-levels of bodyweight mastery.
That's basically 8 unique workouts that challenge you as you progress to more difficult movements and strength levels
Video instructions for each exercise
Strength standards that act as milestones of your progress
Two nutritional protocols – one for fat loss & one for lean bulking
---
How do you get it?
All of Greg O'Gallagher's Kinobody programs come delivered to you via an interface called Teachable.
You work your way through different sections or modules, with some reading and some video information, much the same way you would take an online class.
The Kinobody Bodyweight Mastery Program looks like this: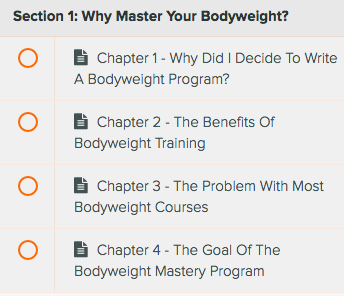 (Hate to break it to you but there is no free pdf download of the Kinobody Bodyweight Mastery Program)
---
Pros and Cons of the Kinobody Bodyweight Mastery Program
So here's what I liked and didn't like about the program:
Pros
Perfectly laid out progression plan: Greg teaches you exactly how to get stronger using only your bodyweight (and no, the answer isn't doing 100 pushups in a row). It's really well-thought out how and when you'll progress from pushups to one armed pushups, to one armed pushups with a pause. Greg claims you can master your bodyweight (reach the highest level of training) with about 8 months of work.
Different from most bodyweight workouts: Not to say that conditioning isn't important, but it's cool to see a bodyweight course that truly focuses on strength and muscle gains and not on crazy intense circuit training. Bodyweight Mastery is your best bet for replicating the results you'd get lifting heavy weights in the gym, at home.
No equipment. The only thing you'll need is a pullup bar and a place to do dips. Can't beat that!
It works. All of Greg's programs work fantastically. The transformations speak for themselves. Isn't that what counts?
Cons
Nutrition information could be more detailed. It's not 100% clear how choosing between the fat loss protocol vs the lean bulking protocol will impact your bodyweight training. Greg says you're free to choose between the two, but doesn't mention what role it plays in your progression. That said, he writes that the goal of the nutrition protocol in BWM is to be flexible and free, much like the training.
Videos could be better quality. The instructional videos are filmed with a modern digital camera, so the image is crisp, but the camera work, audio, and overall production could be brought up a notch. They work, but they're nothing special.
And that's about it. You're going to love Bodyweight Mastery.
---
Bodyweight Mastery Alternatives
If you're willing to go without the video instructions, you might love the Convict Conditioning ebook.
The name tells you everything you need to know — it's got the kind of workout plan that inmates might use to get jacked without any equipment in jail or prison.
It's pretty much considered the modern Bible of bodyweight strength training, clocking in at a whopping 320 pages, and teaching you all the principles you'll need to create your own routines and master your bodyweight.
Check out Convict Conditioning here.
---
The Verdict
I absolutely recommend the Bodyweight Mastery Program.
There's just something cool as hell about being able to do a lot of one-armed pushups, pull ups, L-sits, and unique variations. Your relative strength and athletic ability is sure to impress, and you'll get a great physique to go along with it.
Definitely give this program a try!
Ready to join Kinobody? Follow these 4 simple steps to get an easy $20 off one of the core programs:
Click here to take the Kinobody Physique Builder Quiz (opens in a new tab), then enter your gender and age.
Choose your "Condition"
Choose your "Goal"
The next page will recommend a program for you, along with a limited time $20 discount!
(Bodyweight Mastery may not be an option for the discount, but has a permanent sale price of $37 — $20+ cheaper than the rest of the Kinobody courses)
---