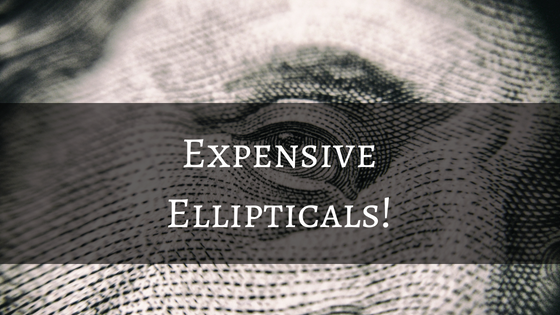 They say you get what you pay for.
If you're a believer in that phrase, get ready to pay up!
Yes, elliptical machines for working out at home are typically not a cheap investment; though you can get an entry level elliptical for only a few hundred dollars, most of the top recommend models clock in somewhere around $800-1500.
But you ain't seen nothing yet. The ellipticals in this article start at about $6,000.
If you're here, it's because you're in the market for the very best elliptical machine that money can buy. The good news is that there are some amazing options out there!
Strap in. Let's jump right into my guide and recommendations for the most expensive elliptical trainer machines.
| | Price | Notes |
| --- | --- | --- |
| Octane XT4700 | $5-7k (See on Amazon) | Huge, low to the ground, fully adjustable |
| SportsArt G875 | $6-8k (See on Amazon) | Energy efficient, over 40 resistance levels |
| Precor EFX 835 | $6-8k (See on Amazon) | Absurd 35 degree incline feature & smooth range of motion |
| Precor AMT 835 | $7-9k (See on Amazon) | Fully adjustable, customizable & lifetime warranty |
| Harison E3800 | $14-17k (See on Amazon) | Self-powered and eco-friendly |
---
Is more expensive really better? Pros and cons of expensive ellipticals
As fun as it is to look at and shop for extremely high-priced and expensive items, you should pause for a moment and consider whether you really need one of the most expensive ellipticals.
After all, there are some truly fantastic mid-grade elliptical options that should meet the needs of most people.
But… high-end ellipticals are expensive for a reason.
Here's why:
Commercial grade – Ellipticals in this price-range are typically designed for heavy-duty use in gyms and studios.
Extremely durable – For that reason, if you buy an expensive elliptical for your home, you should expect uber high quality manufacturing and for it to hold up extremely well to years of wear and tear.
Lots of bells and whistles – The onboard computer and display on expensive ellipticals is often state of the art. Think lots of built in workout programs, stat tracking, and fun features to keep you entertained.
Top-notch warranties – Elliptical brands that sell to gyms and elite studios can't have their machines falling apart. That'd be a quick way to lose business. Most expensive ellipticals come with a long and comprehensive warranty of some kind.
Green technology – A common theme on some of the most expensive ellipticals on this list is that they are self-generating, and some even collect kinetic energy from your workout and funnel it back into the power grid. Bet you never thought a workout machine could do that.
So, do those sound like features you'd like to open up your wallet for?
If yes, keep reading.
If you'd rather take a look at an affordable mid-range elliptical that checks most of the boxes and has stellar reviews, try the Nordictrack SE9i Elliptical.
Now, let's see the world's most expensive ellipticals!
---
#5 Most Expensive Elliptical: Octane Fitness XT4700
Overview: The XT4700 is a girthy, impressive looking machine that would be right at home at your local gym. It's fully adjustable to accommodate a wide range of riders, handles reverse motions and other unique workouts, and comes with an impressive array of built-in workout functions.
Price Range: $5-7k
Why I like it: This bad boy is big but sits really low to the ground, which is a plus. The on-board computer is jam packed with features, and its 18-28″ adjustable stride length makes it a perfect fit for any rider (a hallmark of commercial grade ellipticals). Multi-grip handles get your arms fully involved in the workout in a multitude of ways.
Potential drawbacks: Not the most sleek looking elliptical out there. Warranty (3 years parts, 1 year labor) doesn't hold up to some others on this list.
Check price and read more reviews of the Octane ellitpical on Amazon.
---
#4 Most Expensive Elliptical: SportsArt Fitness G875 Elliptical Trainer
Overview: Another uber, uber high-end elliptical with self-sustaining technology built in. Impressive The G875 has all the trapping, bells, and whistles you could want, and also collects energy from your workout and funnels it back into the power grid (which COULD help offset the beastly price over the long, long run).
Price range: $6-8k
Why I like it: Funnel about 160 watt/hour back into the grid during use. (That's somewhere in the rough neighborhood of one cent of energy per hour). Oh, and I guess the elliptical is OK to… with over 40 resistance levels, a super low step-up height (making it good for home use), cardio and heart rate monitor, and rock solid construction.
Potential Drawbacks: Really expensive. Weighs a massive 360 pounds. Energy offset is pretty low and would require heavy use to see any benefit.
Check price and read more reviews of the SportsArt Fitness elliptical on Amazon.
---
#3 Most Expensive Elliptical: Precor EFX 835
Overview: This is just a great elliptical with some incredible hallmark features, like its moving handlebars for a better upper body workout, and its absurd 35 degree level of incline. Construction is exactly what you'd expect given the price, and you'll get the workout of your life.
Price range: $6-8k
Why I like it: That incline feature is insane and puts most of Precor's competitors to shame. Talk about a workout. The on-board console is also incredibly capable and impeccably designed. Range of motion on the EFX 835 is unique and ultra-smooth, mirroring our body's natural movements. Precor is known for fantastic customer service and backing of their various warranties
Potential drawbacks: More expensive and even heavier (400+ pounds) than the previous elliptical on this list.
Check price and read more reviews of the Precor EFX 835 on Amazon.
---
#2 Most Expensive Elliptical: Precor AMT 835 Commercial Ellitpcal
Overview: Well you asked for it and here it is, the mega beast that is the AMT 835, one of the most expensive ellipticals in the world that money can buy. Fully adjustable beyond what's reasonable, this is an elite gym grade machine. Lifetime warranty on frame. You spend a lot on this bad boy but you get your money's worth.
Price range: $7-9k
Why I like it:  Adjust stride length from 0-36″… there is no one who can't use this machine. You can also adjust stride height. Get full read outs of all key cardio and health stats. Mimic range of motion from a treadmill and stationary bike by tweaking a few settings. Lifetime warranty on the frame and 10 years warranty on parts. What's not to like?
Potential drawbacks: It is EXTREMELY expensive and heavy, weighing nearly 500 pounds.
Check price and read more reviews of the Precor AMT 835 on Amazon.
---
#1 Most Expensive Elliptical: Harison E3800 Elliptical & Cross Trainer
Overview: This gorgeous machine looks like it means business right away. It's a top-notch elliptical in essentially every way, with some added green technology, to boot. Its self-generator means there's no batteries to install and no cord to plug in.
Price Range: $14-17k
Why I like it: Wooh! Talk about top of the line.
A self-powering elliptical! No matter how you slice it, that is awesome. This beast is also super durable, with a max weight limit of up to 330lbs. It's known to be incredibly quiet and smooth, partially due to its heavy flywheel and magnetic resistance. The E3800 just offers a great riding experience.
Potential drawbacks: This one isn't cheap. That's putting it lightly — the price is out of this world, but it's one of the best commercial options around.
It also weighs over 300 pounds so you'll most likely need to spring for in-home shipping and possibly expert assembly.
Check price and read more reviews of the Harison elliptical on Amazon.
---
Wrapping Up
Are you inspired to go workout now? I know I am!
I can't think of better motivation to use a piece of equipment than knowing you spent over $6,000 on it.
In all seriousness, though, the ellipticals above are amazingly high-quality, commercial grade machines that are pretty much guaranteed to rock your world. If you're willing to spend that much, that is. Any of them would be a great purchase for your home if you have the budget and space for it.
But if this has all been a bit rich for your blood, check out the Nordictrack SE9i Elliptical. (Amazon link)
It's got pretty much all the features serious elliptical-heads could want, along with brilliant design and sturdy construction, for a price that's much more wallet-friendly.
Hope this helped!
---
Expensive & Commercial Grade Elliptical FAQ
What is the best commercial grade elliptical machine?
You'd be very well-suited with any of the options listed above. Really any machine that costs more than a few thousand dollar is going to be commercial grade and, more than likely, of extremely high quality and durability.
My favorite commercial elliptical from my research would have to be SportsArt Fitness G875 elliptical… It's an awesome machine in its own right, but I really like the energy offset factor. It's pretty minor in the scheme of things, but it's really cool and motivating to know that the harder you work on the elliptical, the more you're offsetting its energy cost. I don't know, I could see something small like that making a big difference in how often you use it.
If you can get your hands on any of the machines above, you'll be in great hands with a fantastic machine that should last a lifetime.
What's the difference between home and commercial ellipticals?
There are a couple of key differences (besides the most obvious one… the price tag!)
First, commercial ellipticals are way more durable. A consumer grade elliptical might get used for an hour or two per day, tops, but a machine that's meant for big box gyms might literally get put through intense work for 10 hours a day or more, every single day.
Different people are constantly climbing on and off the machines, dripping sweat, spilling beverages, punching buttons, changing resistance and incline levels… it's a lot of wear and tear, and really high end ellipticals have to be able to withstand that punishment.
That leads us to the second difference, which is the warranty. Ellipticals meant for commercial gyms will typically have much longer and more thorough warranties (the companies will frequently send service representatives out to fix, repair, and maintain the machines) due to the heavy workload.
And finally, there are usually way more features, adjustability and customization options available on commercial machines. You'll typically find they fit a larger range of people (heights and weight), have more incline settings, more resistance settings, and more bells and whistles (like built-in TVs, heart rate monitors, calorie trackers, pre-programmed workouts, etc.)
What are the best commercial elliptical brands?
Most often in high end ellipticals typically found in gyms, you'll see the same couple of brand names over and over. The most common and best are usually Precor and Octane.
(I go to the YMCA and they use mostly Octane machines… I've also seen many Precor ellipticals in my gym days.)
These two are the standard, but it really depends. There are lots of great fitness companies you may never have heard of that make incredibly machines, like SportsArt Fitness and Harison.