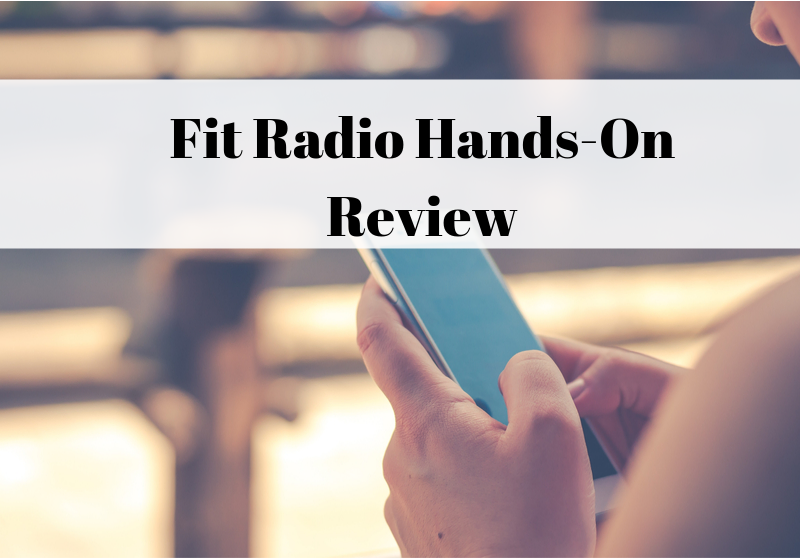 I'm on a mission to find the best of the best fitness apps on the planet.
Up next is Fit Radio.
You might have heard of Fit Radio before. A lot of people think it's a glorified "Spotify for working out," with a couple of cool playlists built for you to sweat to.
But it's actually SO much more thanks to a major upgrade to the service over the past couple of years.
Here's my honest, hands-on Fit Radio review and walkthrough after using the app myself.
Overall, Fit Radio is an incredibly useful and well-designed fitness app. The music and playlists are fantastic, but that barely scratches the surface of what Fit Radio has to offer — you'll also find tons of audio-guided cardio workouts, guided yoga, stretches, and meditations, along with full multi-week strength programs you can follow along with.
All for about $2 per week! I'm not sure I would pay for an extra service like this just for the music, but if you're looking for easy and effective workouts to follow, you'll get a lot of bang for your buck here.
Now let's dive in a little deeper.
But first, click here to get 40% a Fit Radio subscription by using my link.
---
Signing Up & Getting Started
I had very little idea of what to expect when I got started with this app.
I had heard it compared to Spotify and even Aaptiv, but otherwise I didn't really know what I was in for.
Below, I'll walk you through downloading, signing up, and getting started with Fit Radio.
Fit Radio is a mobile app that you download and install directly onto your smart phone, and you can grab it for either Apple or Android devices.
(You can even get Fit Radio on your Apple Watch!)
Just go to your app store and download it (or start with my link first for a special discount).
You can sign up for the app using your email address or your Facebook profile, up to you.
From there, you'll be walked through a quick set up and customization process to make the app your own.
First, you'll choose what you're looking to get out of Fit Radio — cardio workouts, strength workouts, or mostly just the music?
(You can access all of this inside the app no matter what you choose, but the way your home screen and dashboard are laid out may change based on your choices.)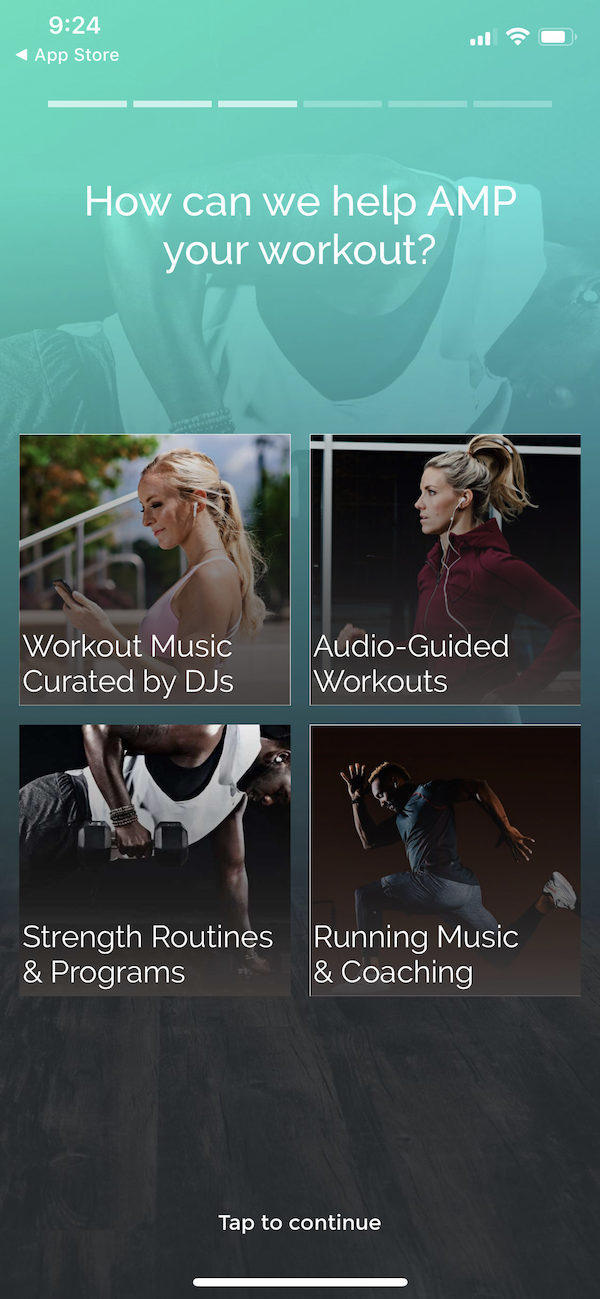 From there, you'll be able to watch (or skip) a short introduction video that shows you how to use the app.
Now the fun part.
You'll get to choose a handful of your favorite music genres so Fit Radio knows what kind of tunes to suggest for your workouts.
There's a LOT to choose from here including:
Top 40
Decades
Hip Hop
EDM
Country
Pop
High energy
Party
Electro House
House
Trance
Techno
Indie dance
Dubstep
Trap
Festival
Alternative
And dozens more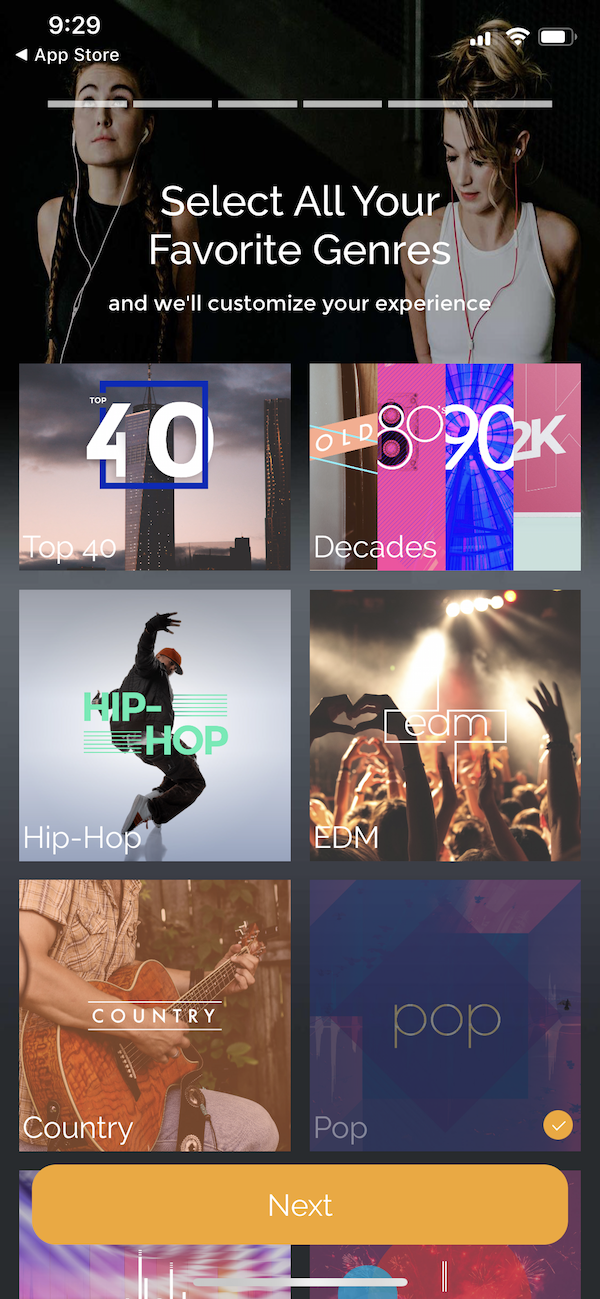 Finally, you'll get to check out the terms of your sign-up and preview the cost.
When you sign up, you'll get to try Fit Radio free for 7-days.
(You don't need to add a credit card, but I believe it will charge you through the app store if you forget to cancel.)
After your trial ends, Fit Radio costs $2.15 per week (27.99 for 3 months access).
Use my link to get 40% off — $17.99 per quarter or just $59.99 for the whole year.
Now you're all set up!
When you log into Fit Radio the first time, and every time, you'll have 3 main choices.
---
Pick a workout playlist and do your thing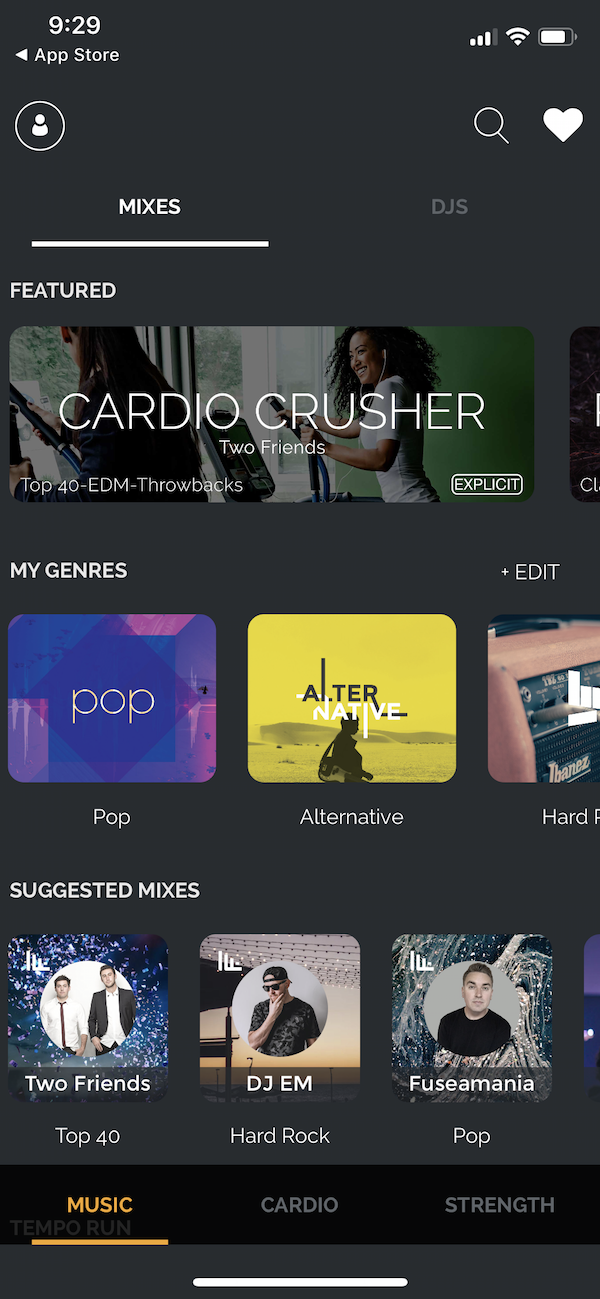 Though there's a lot more to the app, Fit Radio is probably best known for its music features.
If you already have a workout you like to do, whether outside, at home, or at the gym, you can log in anytime to get an absolutely killer playlist that's perfectly suited to your workout.
This isn't like jumping on Spotify or Amazon Music and playing a generic "workout" mashup, there are so many great and expertly-curated playlists — you're guaranteed to find the exact one you need, every time.
You can also choose playlists that are:
Organized by beats per minute
Designed around specific mile-paces for running
Fitted perfectly for lifting, the elliptical, spin, yoga, and more
Huge lists of one genre
Genre mash-ups
Built by well-known DJs
The playlists and genre stations are designed for one song to flow into the next without even a pause (thanks to some slick DJing).
(Fit Radio also has NO commercials. Commercials totally ruin your vibe, so I love this.)
It's not like throwing on any random playlist on Spotify. It's a much more tailored experience designed specifically to suit your exact energy and workout.
The song selection is also excellent.
Pop & Top 40 includes some stuff you'll hear on the radio, and definitely artists you'll recognize, but it has enough new songs mixed in to make it well worth a listen.
I'm not a huge music-head but I REALLY liked a lot of the features here.
If I had to pick a downside, it would be that the Search function doesn't seem to work very well for locating specific artists or tracks.
---
Follow along with an audio-guided cardio workout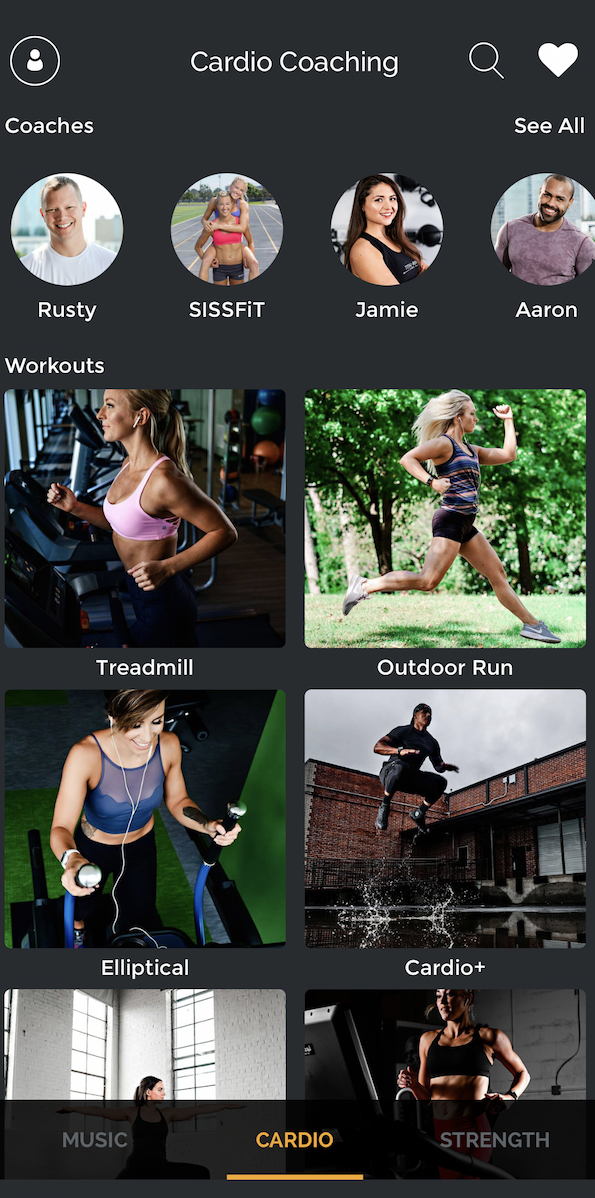 If you're the kind of person who has a gym membership but doesn't really know what to do when you get there, this is perfect for you.
This section is called cardio but it really goes a lot deeper than that.
In this section, you'll find audio-guided:
Treadmill workouts
Outdoor running workouts
Elliptical workouts
Cardio workouts
Fit flow (yoga and meditation) sessions
HIIT cardio workouts
Stair climbing workouts
Low-intensity walking and jogging workouts
Core workouts
Bike & spin workouts
And stretching routines
Each workout uses a playlist from one of your favorite genres by default, but you can customize each one before you begin.
If you feel like jamming out to Older, Electronic, or some mellow Cool Down music, you can do that whenever you feel like it!
The workouts have great production quality and are easy to follow along with.
And don't worry — the workouts are audio only, but pictures will appear on the screen to help demonstrate certain moves. So you'll never be confused as to what's going on.
But I do love the audio workouts, because you can feel free to turn your phone screen off and just get in the zone without staring at the instructor.
If you cardio isn't your thing, you can also…
---
Choose a strength workout or program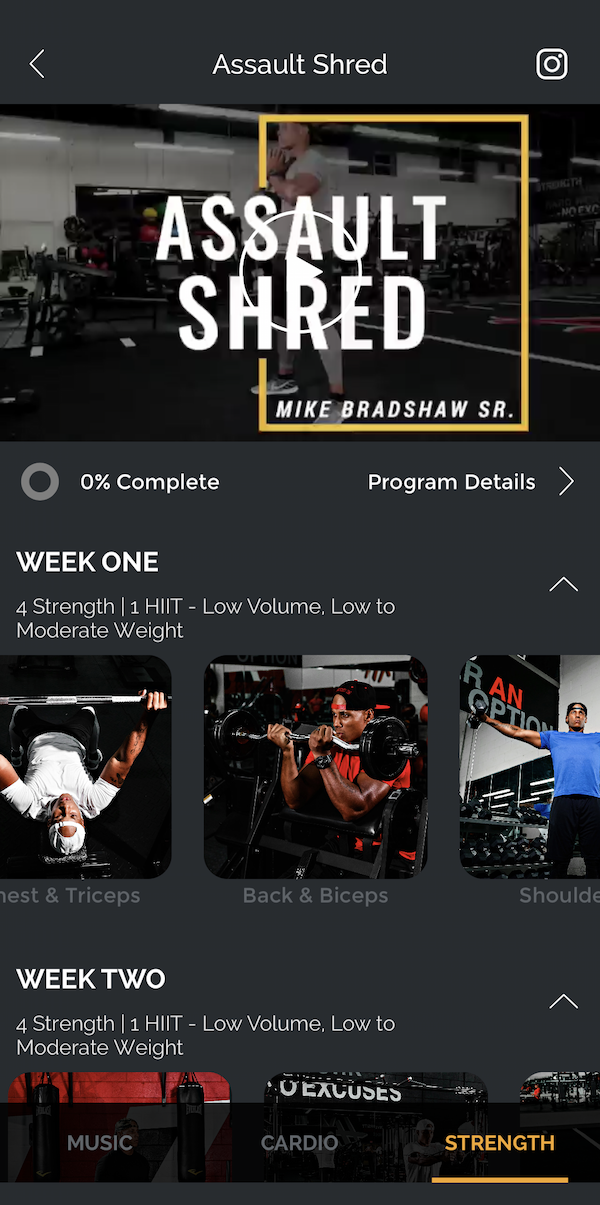 I love that Fit Radio offers actual workout programs and routines beyond their one-off workouts.
These are awesome because many of them are weeks-long programs that walk you through different workouts a few times per week, including how to progress from one week to the next.
(This is a SUPER important aspect of strength training that's overlooked by most programs. You can design a killer workout, but if you aren't teaching people how to add weight and add reps over time, you might as well be wasting your time.)
I took a look at the Assault Shred program, which promises to help you gain lean mass over the course of a few weeks.
I was happy to see the programming was well-done.
Each day, you hit the main body part with moderately heavy to heavy compound lifts (leg day starts with squats, back and biceps day starts with pull ups and rows… thumbs up from me!), before moving on to isolation-type movements.
(The moves in the strength workouts are audio-guided by default, but each move comes with a short video you can play if you need some form pointers.)
If you're looking to put on some muscle and get started with strength training, but you're not sure how, Fit Radio can help you get going.
---
How much does FIt radio cost?
So there's a lot to like here!
Now the less fun part…
How much will it cost you?
You can try Fit Radio free for 7-days with no commitment, so feel free to give it a shot and see how you like it.
If you want to keep the app and pay for the premium service, it'll cost you about $2.15 per week (or $27.99 per quarter).
A premium Spotify subscription on your phone costs about $9.99 per month, for comparison.
So Fit Radio is a little cheaper than Spotify, and while you get less freedom to select individual songs, you get hours and hours and hours of workouts and instruction!
Not too bad.
And don't forget to use my link for 40% off Fit Radio — $17.99 per quarter of $59.99 for the whole year.
---
What I liked & didn't like (Pros & Cons)
Alright let's get into my overall takeaways from using the app myself.
PROS
Music selection & playlists are excellent
Using Fit Radio is SO much better than picking individual songs or following a generic playlist.
They're perfectly curated for maximizing your workout, and they're mixed by pro DJs so you won't be tempted to fiddle around with skipping songs.
Cardio workouts are effective & easy to follow
I love that you can go to the gym, fire up Fit radio, hop on the elliptical, and be guided through exactly what to do.
If running outside is your thing, Fit Radio has some great run-coaching workouts to train for distance or speed.
Strength programs are well-designed
I'm skeptical of a lot of strength programs that have you blasting a bunch of isolation exercises with light weight.
From what I've seen so far from Fit Radio, the routines here are well-designed and will actually help you to see muscle gains.
---
CONS
No nutritional guide
Eating properly is 100% necessary whether your goal is to lose weight, build muscle, or just get more fit.
Fit Radio doesn't really address the nutrition side of things, and maybe that would be too much to ask, but it's worth noting that your results won't be great if you don't put in effort on your own in this area.
Search function could be better
You can search for workouts, arists, genres, and more inside Fit Radio, but the search results aren't very helpful or intuitive most of the time.
---
Wrapping Up
I was taken aback by how much I enjoyed using Fit Radio.
The workouts, music, and user experience are all fantastically designed.
And the price tag is really hard to beat — it's cheaper than a Spotify subscription!
I'd highly recommend you give Fit Radio a try for a week.
Start with my link right here, and if you choose to go Premium after your trial ends, you'll get 40% off your membership.
Hope this helps, everyone!
---
FAQ
Is Fit Radio Free?
You can try Fit Radio for free for 7-days.
After that, you'll need to pay to continue accessing the service.
It costs about $2.15 per week or $27.99 per quarter.
Does Fit Radio work on the Apple Watch?
Yes!
Fit Radio supports use on the Apple Watch, which is even more convenient for high-intensity workouts.
Can you play fit radio offline?
As far as I can tell, no, Fit Radio does not support offline play.
What are the best alternatives to Fit Radio?
If you like the idea of Fit Radio, but want to check out some other alternatives before you make a decision, you should try the audio-guided workouts from Aaptiv – click to check it out and get a free trial.
I also really love Beachbody on Demand for at-home workouts and nutrition. Check out my review of Beachbody on Demand here!