In my house, we're big on hydration.
My wife and I both tote around water bottles for most of the day.
We also use Liquid IV (Amazon) packets pretty regularly, especially after a few adult beverages!
So when I got the chance to try HALO's new daily hydration drink, I was more than game.
(I was sent a few cans of HALO for free in exchange for an honest review.)
HALO is best known for its sports drink, but the new offering for "daily use" is extremely similiar in contents and taste — so I'll break them both down here.
Here's my full HALO sport and daily drink review.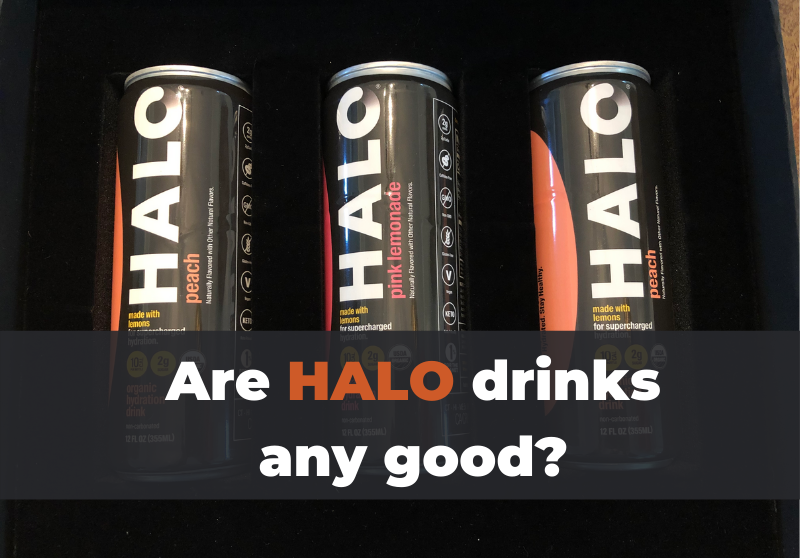 There's a lot to like about HALO daily. It tastes great — with just enough natural sugar to give it real flavor without packing in the calories (just 10 per bottle). It's not overly reliant on artificial sweeteners which can lead to a nasty aftertaste.
HALO is also packed with vitamins, minerals, antioxidants, and electrolytes — which makes it a super effective and appealing post-workout cool-down beverage.
My only complaint about HALO is the cost, clocking in at nearly $2.50 per can for a 12 pack, it might not be something you can keep around for everyday use.
Let's take a closer look at what I liked and disliked about HALO daily and sport.
(You can also grab a pack of HALO daily on Amazon right here.)
---
What is HALO daily?
HALO sport is an organic drink that focuses on hydration.
It's not a pre-workout, in the traditional sense, since it has no caffeine or other pure energy supplements.
And HALO isn't a protein shake or other dietary supplement — it hardly has any calories, let alone protein.
HALO sport is best used after or during a tough workout to replace crucial fluids and rehydrate your body.
Think of it like Gatorade but without all the sugar!
HALO daily is an extremely similar offering that's geared more toward regular, everyday use.
It's for anyone who strives for better hydration for any reason (sick, recovering from surgery, poor water drinking habits in hot weather, etc.)
The key element is the abundant presence of electrolytes, or electrically-charged minerals like potassium, sodium, calcium, and more.
According to Roswell Park Cancer Center, electrolytes:
Regulate the fluid levels in your blood plasma and your body.
Keep the pH (acid/alkaline) of your blood in the normal range
Enable muscle contractions, including the beating of your heart.
Transmit nerve signals from heart, muscle and nerve cells to other cells.
Help blood to clot.
Help build new tissue.
So — lots of important stuff!
And it can be tough to get enough of them if you don't drink a lot of water and eat a healthy, balanced diet.
HALO daily, unlike sport, is not marketed or designed to be consumed around a workout, though it certainly can be!
HALO sports and daily both have only 10 calories per can or bottle, with tons of vitamins, minerals, and crucial electrolytes inside.
---
HALO Daily vs Sport drink ingredients & differences explained
Though these two beverages are extraordinarily similar in their contents and taste, there are a few key differences worth noting.
HALO daily has less sodium
A bottle of HALO sport has 240mg of sodium, or 10% of your daily recommended intake.
HALO daily brings that number down to just 80mg.
Sodium is a critical electrolyte your body needs to perform at its best, but keeping your sodium levels lower can have health benefits like lower blood pressure and decreased cancer risk.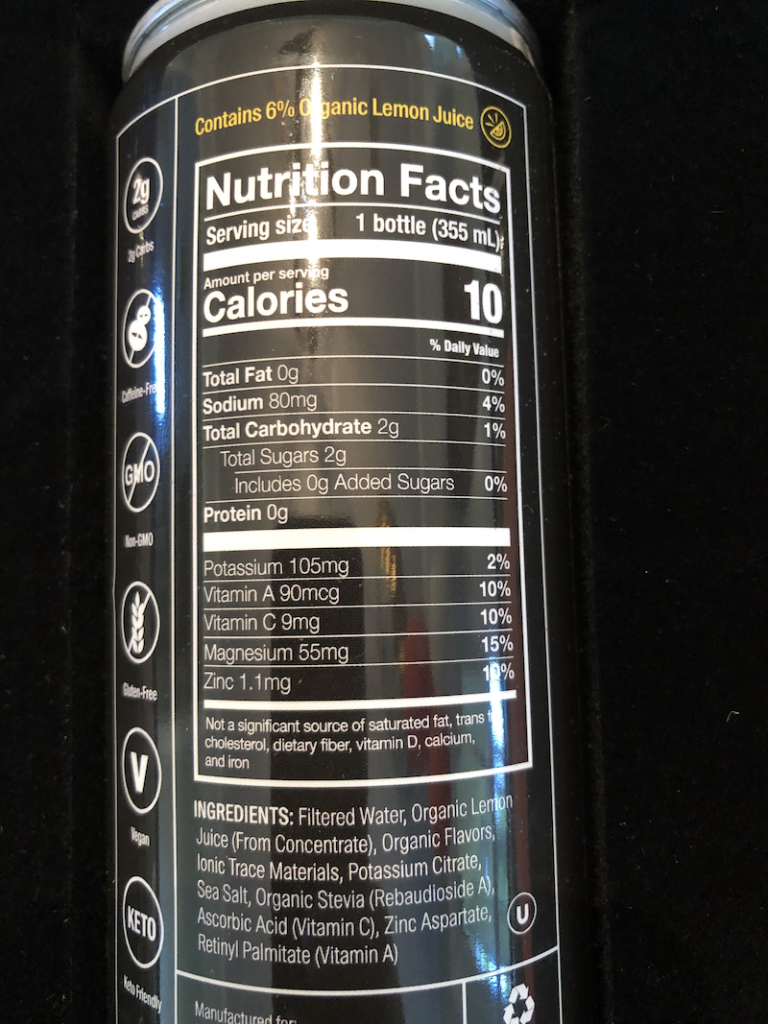 HALO daily has more zinc
Daily features 1.1mg of zinc, or about 10% of your daily recommended intake.
Getting a good supply of zinc in your body also has a ton of benefits, mostly around boosting your immune system.
Both sport and daily pack a healthy wallop of Vitamins A & C, and Magnesium.
HALO daily (currently) comes in fewer flavors
As of this writing, HALO daily is pretty new to the market and only comes in:
HALO sport, on the other hand, comes in about 8 different flavors including black cherry, blood orange, and lime.
HALO daily comes in a recyclable aluminum can
Sport comes in a plastic bottle while Daily comes in an aluminum can.
While both can be recycled, experts agree that aluminum is more efficiently recycled and ultimately the more environmental choice.
---
HALO Drink Taste
Alright, with the Xs and Os out of the way, let's talk about the most important thing:
How do HALO sport and daily taste?
I tried both the Pink Lemonade and Peach flavors and found them both extremely pleasant.
There's 2 grams of natural (not added) sugar in these drinks, which is where the 10 calories per serving comes from.
So you get a bit of real flavoring when you sip on a HALO.
The sweetness here is supplement with a dash of Stevia — but you'll hardly notice.
When you first taste HALO you'll brace yourself for the aspertame-y, artificial sweetener aftertaste — but it never comes.
The drink goes down smooth and has a terrific flavor.
I did find myself wishing HALO was carbonated (it's not), especially coming out of a can.
I love sparkling water like La Croix and I think a light carbonation would elevate this drink and make it even more enjoyable.
HALO isn't overly sweet or intense so it's definitely something I could imagine drinking every day.
---
HALO Pros & Cons
Alright so there's a lot to like, but is this the kind of drink you'll keep on hand 24/7/365?
Here's a rundown of what I liked and didn't like.
Pros of HALO sport and daily
Tastes great
Probably the most important question to ask is, did I enjoy drinking it?
The answer is Yes!
I could see choosing a HALO instead of a plain and non-electrolyte-boosting La Croix most days.
Extremely effective & healthy hydration
The next thing to consider is whether HALO actually serves a purpose or whether it's just a tasty treat.
I have to say based on the ingredients and my own personal experience drinking it after my workouts for a couple of weeks, the hydration factor is real!
I'm a big fan of Liquid IV packets for hydration, but they come with 50 calories per serving and a ton of sugar and sodium.
HALO is the healthier and more effective choice when it comes down to it.
Tons of health benefits via vitamins & minerals
HALO daily keeps sodium low while giving you a huge head start on your daily Vitamin A, Vitamin A, Zinc, Magnesium, and more.
It's hard to find that in comparable drinks.
Maybe you won't immediately "feel" the difference, but if you struggle to eat a healthy, balanced diet, you can feel a little better about what you're consuming when you grab a HALO.
Cons of HALO sport and daily
No carbonation
I really wished HALO was carbonated.
Cracking open that can and not hearing a "hiss" was a bit of a letdown!
The drink still tastes great and hydrates extremely well, but I think it might be a little more fun to drink if it had a few bubbles.
If you're used to drinking a lot of sparkling water like I am, you might find this to be a disappointment.
Expensive
A 12 pack of HALO daily runs about $30 direct from HALO and on Amazon.
That puts each can at about $2.50.
That's not unreasonable for a sports or hydration drink, but since this is billed as being for "daily use," I have a hard time seeing anyone's budget making that work.
If you just want something enjoyable to drink during the day, you can grab a sparkling water for about $.50 per can or less at the store.
I would keep HALO around for after your workouts or pick some up when you're not feeling great and need an electrolyte boost, but drinking it every single day will add up in a hurry.
---
Wrapping Up
I really enjoyed drinking HALO after my workouts (and just around the house) for a few weeks.
You'll feel great from the hydration boost and excellent cocktail of vitamins and minerals, plus it tastes great and is enjoyable to drink.
In the end, I might keep it around more often as a treat or hydration-backup if it were carbonated — it's a little expensive to drink every single day.
But try it for yourself and let me know what you think! Reviewers on Amazon rave about the stuff for everything from recovering from surgery to boosting the immune system.
Grab a pack of HALO on Amazon here.
Before you go, check out some of my other reviews like:
Hope this helps!