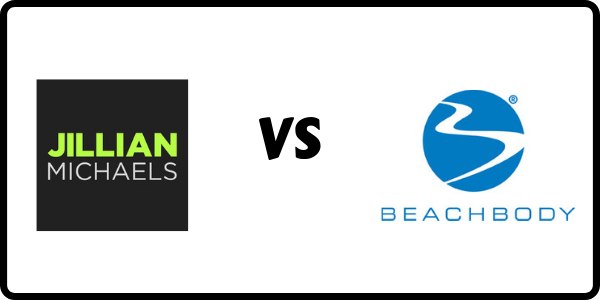 Home fitness is all the rage.
People are busy, not sure where to start, and on a budget that doesn't allow them to afford a personal trainer.
So the rise in popularity of fitness apps that serve as one-stop-shops for finally getting in shape should come as no surprise.
Two of the best right now? My Fitness, by Jillian Michaels, and Beachbody on Demand.
No doubt you've seen people on your social media feeds sharing their workouts and progress on these two programs, but which one is better?
Let's get into a full breakdown of Jillian Michaels vs Beachbody!
Overall, these apps are remarkably similar in what they offer. In both, you'll find full workout programs you can follow for a few days or even a year at a time to get from couch potato to fitness beast; not to mention plenty of variety when you want to shake things up.
In the end, you'll find more choices and more workout programs to choose from in Beachbody, along with better overall app design and production value. But the meal planning in the Jillian Michaels app is far more comprehensive, flexible, and easy to follow.
Image
Product
Details

Jillian Michaels My Fitness

12+ workout programs + access to DVDs
Powerful meal planning tool
Starts around $7 per month

Start Free Trial

Beachbody on Demand

60+ video workout programs
Access on any device
Starts around $8 per month

Start Free Trial
Now let's get into some more detail.
---
What is Jillian Michaels My Fitness?
You probably know celebrity trainer Jillian Michaels from her days on The Biggest Loser, but these days she's built up quite a brand using her own workout DVDs and now an app.
My Fitness App is a subscription-based workout app that, quite literally, contains everything you need to get started on your own fitness journey.
It's got just about everything you could want:
Complete video workout programs you can follow from home, outside, or at the gym
A meal planning tool built for you with lots of recipe ideas for every meal
Complete meal logging and calorie tracking
Progress tracking: Enter weigh-ins and save progress pictures to see how far you've come
You can sign up online or right on your phone, but the app is primarily designed to be used on your mobile device.
(As far as I can tell, there's no support for Roku, Apple TV, etc.)
If you want to get in shape but have no idea where to start and want a complete blueprint to follow, this app is a great place to begin.
Most of the workouts are done at home with minimal equipment (though not all of them), so it's great for busy people, stay at home parents, or gym-shy folks.
For a more detailed rundown of what's included, check out my full Jillian Michaels My Fitness app review.
---
What is Beachbody on Demand?
If there's anything more popular right now than Jillian Michaels, it's Beachbody.
You can't look anywhere on social media without seeing their coaches, or your friends, sharing their workouts and progress.
And I get why. The system really works.
At the heart of Beachbody is its streaming workout service Beachbody on Demand.
Once you sign up, you'll have access to thousands of individual workouts, spread across over 60 expert-designed programs.
(A workout is a single exercise session. A workout program is a series of sessions that gradually helps you reach a goal like improving strength, endurance, agility, etc. I love that both of these apps offer full programs you can follow along with each day.)
The workouts come in video form and are designed to be done at home with some (but minimal) equipment.
The comprehensive programs are my favorite thing about Beachbody. You can choose programs as short as a week, or as long as a couple of months, that challenge you more and more every workout, like:
Dance cardio
Yoga
Strength
Booty-building
Bootcamps
And more
Beachbody handles your nutrition and meal planning, too.
Once you pick a program to start, that program will give you guidelines on what and how to eat to see the best results; whether that's weight loss or muscle gain.
For more on what's included with BOD, check out my detailed Beachbody on Demand review.
---
Pricing & Cost Comparison
Let's see how these two apps stack up on price.
They both use a subscription model, so you'll either pay monthly, annually, or somewhere inbetween.
But neither is a one-time purchase. You'll need to pay to keep your membership active if you want to continue accessing the apps.
Jillian Michaels My Fitness pricing:
Get a month-to-month membership for $14.99 per month
Get an annual membership for $89.94 (7.49 per month)
(P.S. I GREATLY appreciate you using that link to sign-up vs downloading on the app store. It helps me out if you found this post helpful!)
Beachbody on Demand pricing:
Get a quarterly membership for $39 ($13 per month)
Get a semi-annual membership for $59 ($9.83 per month)
Get an annual membership for $99 ($8.25 per month)
Overall, Beachbody and Jillian Michaels have a similar price tag.
You'll get the best deal on both of them by signing up for a whole year at a time, though if you only want to commit for 3-6 months at first, Beachbody will be the better bargain.
---
The Workouts
Both Beachbody and Jillian Michaels utilize video-guided workouts in all of their programs.
Each day, you'll log into the app and do what it says to do that day.
It might be a rest day, or it might be a workout day where you'll select the next session from your program and get to work!
The workouts in these two apps are pretty similar:
Think a trainer in a well-lit studio calling out moves for you to do along with some music.
But when it comes to the workouts and the programs included, you'll find a LOT more variety in Beachbody on Demand.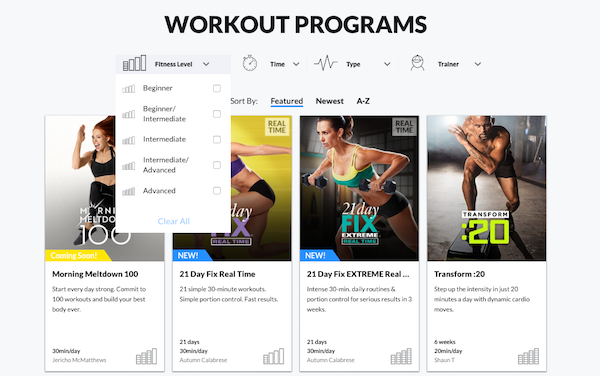 Jillian Michaels has a dozen or so different programs to choose from, and most of them are some combination of HIIT, strength, cardio, and yoga.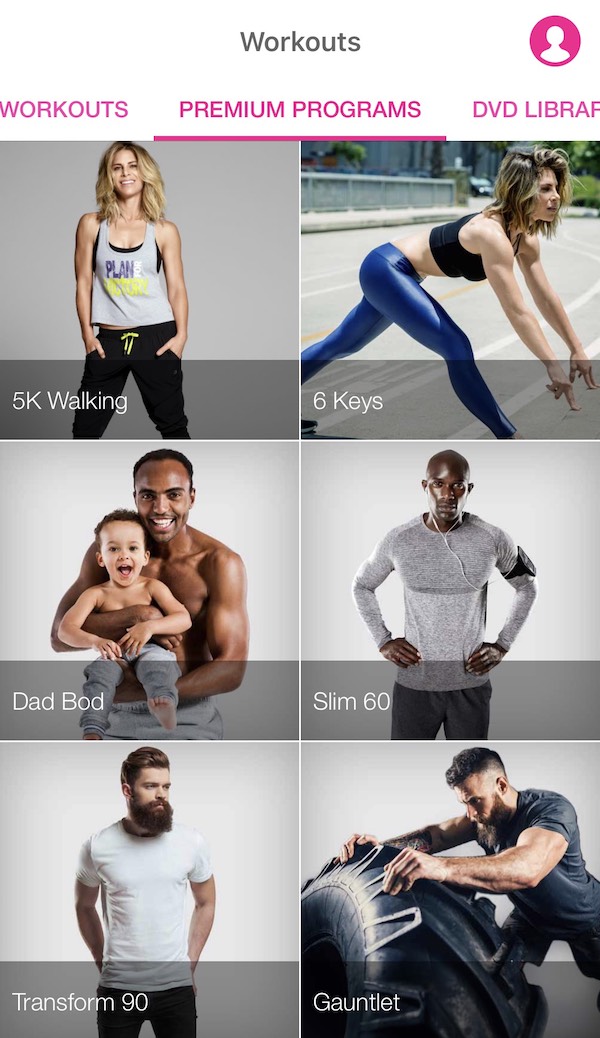 Beachbody has more to offer, with over 60 different workout programs including:
Dance-based workouts (choose country music, hip hop, and more)
A variety of different yoga programs
Strength programs
Booty-building programs
And more
I'm giving the edge here to Beachbody, just for the extra variety.
Both apps have great production quality, challenging workouts, and at least one program you'll probably love.
But if you want more choices and see yourself going through multiple programs over the long haul, go with Beachbody.
Start your free trial of Beachbody on Demand right here.
---
Meal Planning
Both of these apps want to help you get your nutrition dialed in.
After all, you won't see great results, no matter how hard you workout, if you aren't eating right.
(And that doesn't necessarily mean you have to diet and lose weight. These apps can also help you maintain a healthy weight or even gain muscle.)
In Beachbody, you'll pick a workout program first, and that will program will offer you a detailed eating guide.
It usually comes in the form of a readable guide and maybe a printout you can use to track your nutrition.
The eating plans in Beachbody can be a little convoluted. They love to color code meals and meal prep (green containers for veggies, blue for fats, etc.)

If you can follow them properly, they'll work great, but I had trouble wrapping my head around some of them and it seemed like a LOT of work to get your meals for the week prepped properly.
In the Jillian Michaels app, the meal planning tool is a lot more flexible, interactive, and easy to use.
Inside, you can:
Choose if you want the app to recommend all meals and snacks, only on certain days, only dinners, etc.
Input food allergies or restrictions
Plan meals for a couple or family (HUGE for parents)
Plan ahead by making big batches of certain recipes
Get a detailed grocery list of everything you'll need
Enter your calories each day for whatever you eat, whether you use the app's recipes or not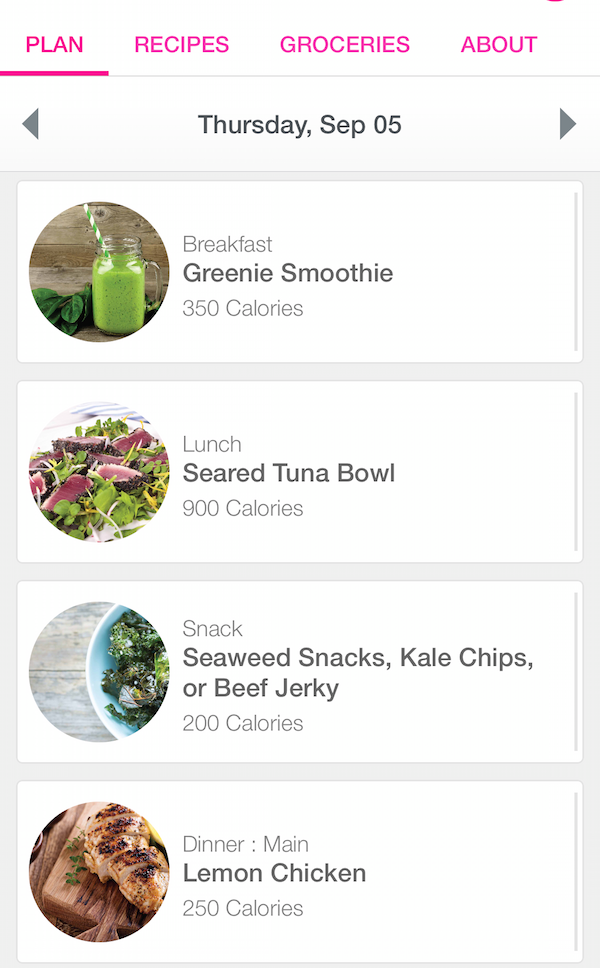 This is where the Jillian Michaels app really shines.
The meal planning tool here is incredibly powerful and, for a lot of people, probably worth the price of the app by itself
Edge: Jillian Michaels!
(Learn more about the incredible meal-planning features of the Jillian Michaels app right here.)
---
Ease of Use
Both apps are really intuitive and comprehensive.
You shouldn't have too much trouble navigating the interface in either case.
But if I had to choose, I'd say the design, user experience, and production value is just a tad bit higher on Beachbody on Demand.
Plus, Beachbody gets bonus points for being available on:
Apple TV
Chromecast
Roku
In addition to laptop or desktop and, of course, iPhone and Android
You'll have more choices for when, where, and how you access your Beachbody account versus Jillian Michaels.
---
You might like Jillian Michaels better if:
Now let's get into my final recommends.
I really like both of these apps, but Jillian Michaels will be the better fit for you if:
You want a meal planning tool that works better for a couple or family, and is easier to follow
You love Jillian Michaels workout style (maybe you've tried her DVDs before)
You want the best deal possible and you're willing to pay for a full year upfront (Only about $7 per month this way)
---
You might like Beachbody better if:
On the other hand, Beachbody on Demand has a LOT to offer.
It's probably the better fit for you if:
You want more variety and to cycle through different workout programs over time
You want to pull your workouts up on the big screen via Roku or Apple TV
You don't mind a lot of complicated meal planning if it helps you get results
---
Wrapping Up
Overall, I think both of these services are an amazing value.
They're FAR cheaper than a gym membership, and you get a lot for your money beyond just workout videos to follow, including meal plans and a supportive online community.
It really comes down to what you need out of the app.
For more variety and quantity of workouts, go with Beachbody on Demand.
Start a 14-day free trial of Beachbody right here.
For a more flexible and powerful meal planning tool and calorie tracking, go with Jillian Michaels.
Start a 7-day free trial of Jillian Michaels My Fitness right here.
If you want to give either of them a try and you found this comparison helpful, I really appreciate you using my links!
I hope this helps!
Let me know if you have any questions about either of these fitness and workout apps in the comments, I'll do my best to answer!