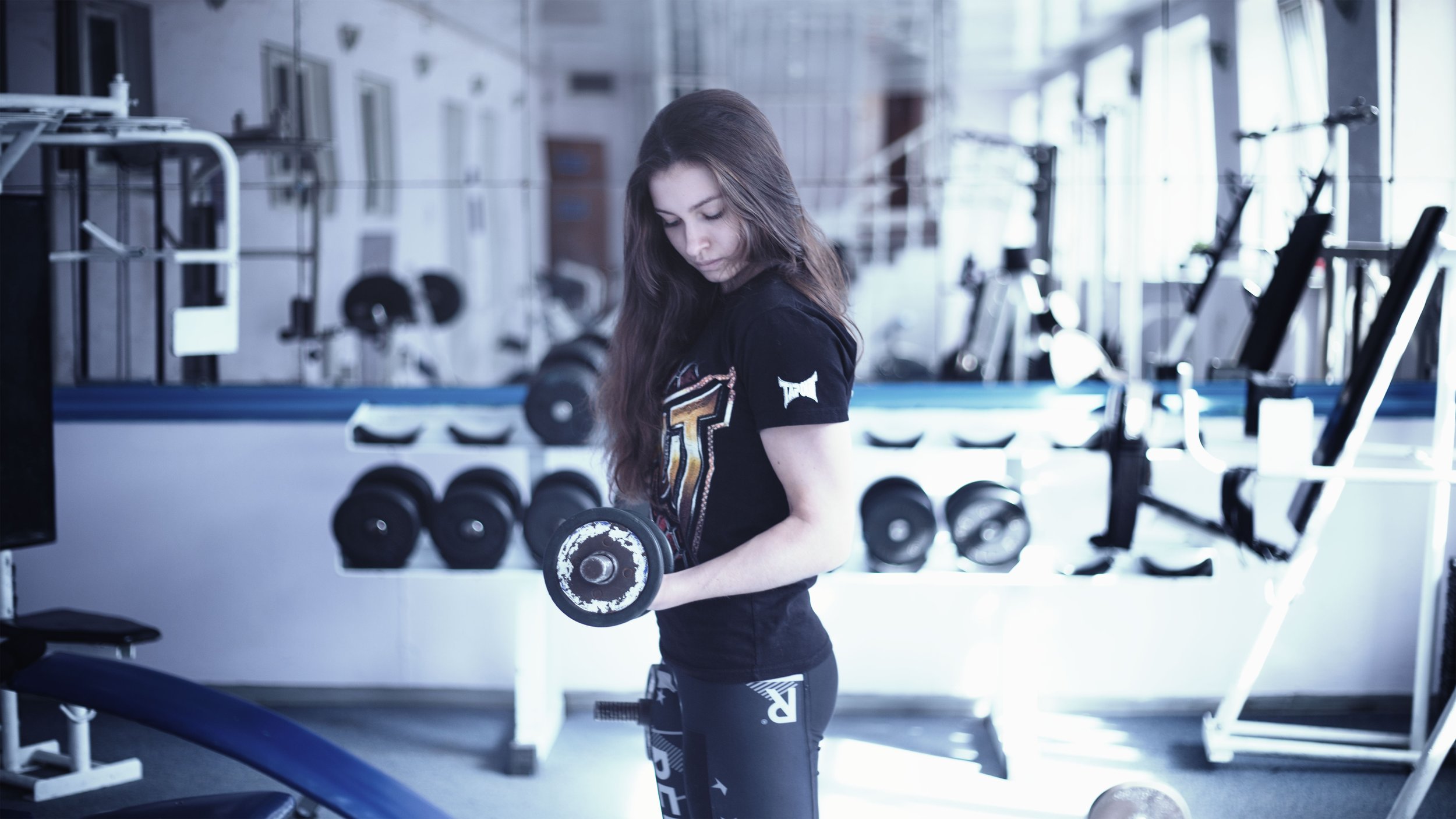 Did you know that a lot of insurance companies will reimburse you for all kinds of different things that keep you healthy, like joining a gym?
After all, it's in their best interest that you stay fit and don't need to cash in on your plan.
These programs aren't always boldly advertised or super easy to cash in on, however. So in this short guide, I'll walk you through everything you need to know about Aetna insurance's gym reimbursement.
---
For starters, if you're reading this guide, you probably fall into one of two categories:
Scroll down for:
I already belong to a gym. Will Aetna reimburse me?
I'm looking to join a new gym. Give me the scoop!
---
OK, so. You already belong to a gym and want Aetna to pay you back. Now what?
Good for you! You're already way ahead of the game.
Start here:
Here is a PDF provided by Aetna explaining some of the details of their fitness reimbursement program.
(2020 update: This PDF has been removed and the information may no longer be accurate.)
A few of the highlights from the now-removed document:
Fitness reimbursement comes at no extra cost to you
Gym memberships, group exercise classes, nutrition programs, personal training, and home exercise equipment can all be eligible for reimbursement
According to Aetna, you and your partner can be reimbursed for "up to $150". No words on whether that's per month, per year, or something else.
I'm reaching out for clarification on the when, who, and how much of Aetna's fitness reimbursement program, and will update this post.
The best thing to do in the meantime?
Email Aetna directly and ask if your plan (or if you're shopping around, which plans) makes you eligible for gym membership reimbursement.
(If you're still considering other insurance carriers, check out my guide to Blue Cross Blue Shield gym reimbursement.)
---
If you're looking to start from scratch and are looking for some good fitness discounts through Aetna, here's what you need to know.
Congratulations for getting a jump start on your fitness, AND for being smart enough to try to get someone else to pay for it 🙂
Here's how to get started, or what you can expect after enrolling with Aetna.
Once you're logged in, look for the Health Programs tab near the top of your screen.

Choose "Discounts" – the link should be about halfway down the page.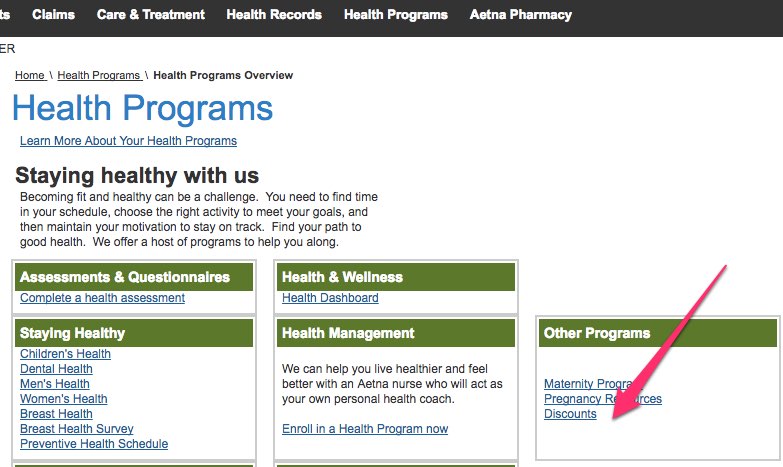 Then, choose "Fitness" for a list of exercise and fitness related things you can get awesome discounts on!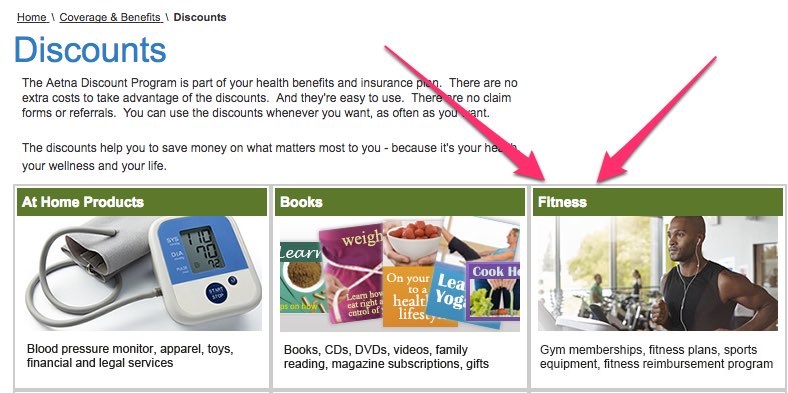 From there, Aetna will direct you to one of two places:
GlobalFit – Primarily, GlobalFit provides discounted membership to various gyms around the country, including most of the big chains and best gyms.
After just some quick browsing, expect to find deals like:
$5-10/month off Anytime Fitness
About half off the activation fee at LA Fitness
About $100 off the initiation fee at Curves
LifeSmart – A sort of general purpose discount site. In addition to a ton of deals on travel, hotels, and theme parks. Here are a few LifeSmart health and fitness discounts you might like are:
Free shipping on a new Fitbit
A free bonus gift and extra workouts when you sign up for a Beach Body program
Discounts on meal prep services like Blue Apron and Hello Fresh.
You'll have to sign up with both GlobalFit and LifeSmart separately to get the discounts, and to be honest, both websites leave a lot to be desires in terms of ease of use. But the discounts seem helpful!
It's also worth mentioning that Aetna Members also get access to something called Silver Sneakers, which is a free program for adults age 65 and older.
It gives you full access to thousands of gym locations across the country, including big ones like LA Fitness, Snap Fitness, Curves, and Planet Fitness.
Silver Sneakers also offers its own free classes hosted at different health clubs around the country.
Pretty sweet deal!
---
UPDATE FOR 2018-2019:
About a year after writing this article the first time around, the Aetna portal looks a little different.
But the first step toward getting your Aetna gym or fitness reimbursement will still be to:
Visit Aetna.com
Login
Click the Health Programs link
Find the Discounts tab
Click Fitness!
From there, you'll still go through a discount marketplace called LifeMart where you can shop for gym memberships at a discounted price and other health benefits.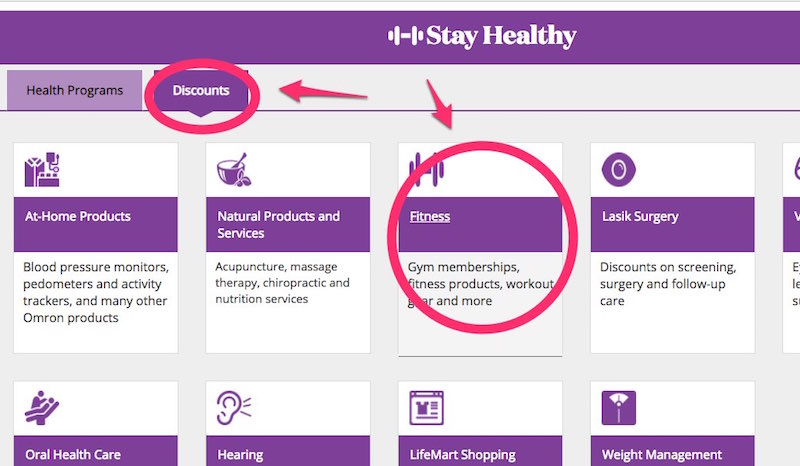 Currently, I'm not seeing any discounts on gym memberships. But you can get some decent deals on healthy meal delivery like Blue Apron and services like Lasik.
Honestly, the whole system feels a bit like a runaround.
If I were you, I'd get an Aetna representative on the phone and find out for sure how you can claim your "up to $150" fitness discounts.
---
Sound good?
Aetna has a lot of options for anybody interested in fitness discounts or gym membership reimbursements; you just have to look carefully for them.
Don't hesitate to reach out to an Aetna rep to get even more clarity on what your plan makes you eligible for.
And if you're shopping around, definitely reach out and find out what kinds of goodies they have in store for new customers.
(By the way, if it's a great deal on a gym membership you're looking for, check out my guide to negotiating your gym membership.)