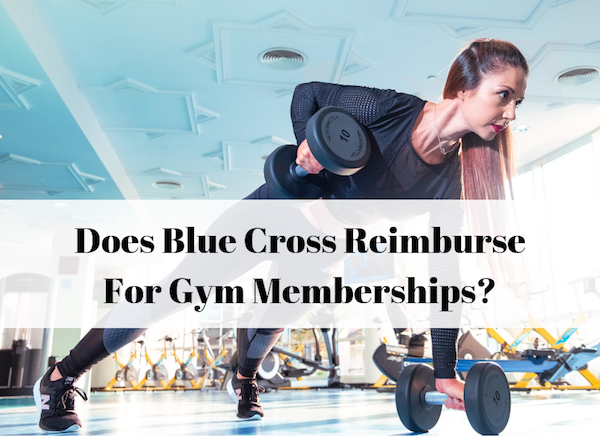 A lot of health insurance carriers will reimburse you for all kinds of things related to taking better care of yourself.
Sometimes, that includes your gym membership!
Programs like this aren't always advertised super clearly, and they're not always easy to redeem or cash in on, but they do exist!
In this guide, I'll walk you through everything you need to know about Blue Cross Blue Shield gym and fitness reimbursement.
Blue Cross Blue Shield does reimburse some members for their gym membership and some group fitness classes like yoga, pilates, spin, and more. The total reimbursement depends on your specific plan and eligibility.
However, the reimbursement only applies to certain Blue Cross companies and plans, so you'll need to log into your Blue Cross account or call a representative to see for sure whether you're eligible.
Let's take a look at some more details of the program.
---
Blue Cross Blue Shield gym reimbursement explained
If you already belong to a gym or want to join one, there's a chance Blue Cross Blue Shield will pay you back for it!
That's a pretty cool perk, and that money can really add up over the course of the year and make a difference in your budget.
You can get back certain amounts of gym membership funds reimbursed per year with Blue Cross Blue Shield of Massachusetts or Anthem Blue Cross Blue Shield.
(If you belong to another company like Blue Cross North Carolina or Tennessee, the reimbursement may not apply.)
Who's eligible?
You'll need to have a health insurance plan with BCBS, obviously.
According to the reimbursement form, you'll also need to have been a member for at least 4 months before you're eligible.
You'll also need to belong to the health club for 4 months, as well, before you can be reimbursed for joining fees.
(If you have Anthem Blue Cross, you'll need to work out at your fitness center at least 48 times, or just under once per week, in a calendar year to be eligible.)
What health clubs are eligible for reimbursement?
The Fitness Benefits program applies to health clubs with "a variety of cardiovascular and strength-training equipment."
That means full-scale gyms.
(Think LA Fitness, Planet Fitness, etc.)
You won't be reimbursed for joining a country club and working out on the tennis courts, or taking up a martial arts class.
You also can't be reimbursed for personal training costs.
To claim your reimbursement, check that you're eligible by logging into your BCBC account, then simply fill out the one-page reimbursement form.
Grab the BCBS MA fitness reimbursement request form right here.
---
Blue Cross Blue Shield fitness classes reimbursement explained
In 2019, BCBS began reimbursing members for taking group fitness classes.
That's awesome because group workouts are an amazing, fun, and motivating way to stay fit.
(For a lot of people, they're far more effective than joining a gym.)
Basically, you can be reimbursed for any group fitness class you pay for (like Cyclebar, SoulCycle, Orangetheory, Burn Boot Camp, etc.) just as if it were a gym membership.
The same rules apply:
You'll need to be a member at the studio & a BCBS member for at least 4 months
BCBS won't pay you back for one-time fees, termination fees, personal coaching, clothing, etc.
Just use the same form as above and you're good to go!
---
Blue Cross Blue Shield weight loss reimbursement explained
Did you know that you can get paid (back) for losing weight?
If you join a hospital-led weight loss program, or an in-person Weight Watchers program, Blue Cross may reimburse you for your costs.
In 2019, BCBS has rolled out support and reimbursement for online programs, too!
As long as the program you join includes healthy eating, exercise, individual coaching, and certified professionals, you'll likely be eligible for reimbursement.
(As far as I can tell, you don't have to prove that you've lost weight with regular weigh-ins or anything like that.)
You'll use a different form for the weight-loss refund, grab it here.
(Again, this is what's being offered by BCBS Massachusetts and some others. Check your BCBS company to see what they're offering.)
---
Why does health insurance reimburse for fitness costs?
It seems like a nice thing to do, and on some level it is — it's definitely good PR for the companies.
But health insurance companies like Blue Cross, Oxford, and Aetna want you to go to the gym because they're banking on it costing them less in the long run.
The benefits of regular exercise, not to mention healthy eating, are nearly immeasurable.
Chances are, if you're active, fit, and healthy, you'll make fewer claims over the course of your lifetime and cost them way less money!
So it's in their best interest to get you moving, even if it costs them a few bucks up front.
---
Other programs for Blue Cross members
If you belong to a different Blue Cross company (there are 36 of them!) that doesn't offer the traditional fitness reimbursement program, check out:
This is a program for BCBS members that helps you get discounts on health and wellness products.
For example, you may be able to join Fitness Your Way for a special rate for access to over 9,000 different gyms nationwide.
You can also get cool deals on healthy meal delivery services, Fitbits, heart rate monitors, athletic apparel, and more.
Silver&Fit
If you're a senior and a member of BCBS, you may be able to sign up for Silver&Fit and get access to a ton of gyms, health clubs, and workout classes for just $50 per year.
This program is comparable to Silver Sneakers, another senior discount program you may have heard of.
---
Wrapping Up
All of the 36 different US-based Blue Cross companies operate independently and may have different policies and procedures around fitness reimbursement.
A few will offer straight-up cashback for gym memberships and fitness classes, while others will offer discounts through the Blue365 or Silver&Fit programs.
Call in and get a hold of a representative to find out for sure what's available, if you're eligible, and how you can redeem your refund.
(PS. If you're in an area where you can't get reimbursed, but still want to save money on your gym membership, check out my guide to how to negotiate your gym membership.)
I hope this helps!